From the Editor's desk: returning to normal, Lumia 928 specs and Kessler joining the party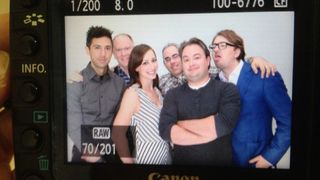 It's been awhile since I've had the chance to write a letter to our audience, keeping you posted on things and throwing whatever is not in and of itself newsworthy into a post. So today I figured I'd share a few tidbits on the site, some Windows Phone news and other happenings.
Returning to normal
Just what am I doing? #TM13
Last week, some of you may have noticed I was absent for most of the news cycle. It was a good a break, in theory, though that was not the purpose. Instead, all of the EiC's (editor in chiefs) of the Mobile Nations sites, including Kevin Michaluk of CrackBerry, as well as Phil Nickinson of Android Central, and Rene Ritchie of iMore, are joined by John P and Cali Lewis of Geek Beat got together in midtown Manhattan for "TM13".
For the record, John P and Cali are good people, some of the nicest and most interesting techies I've had a chance to work with.
The process lasted nearly a week, involved us getting up at 6am every day and late nights. You may have even caught some of our behind-the-scenes photos on our Tumblr page, Breaksclusive (http://breaksclusive.com). It was fun, but exhausting.
Of course you're probably wondering just what the hell is "TM13" and unfortunately, that I cannot share with you just yet. All I can say is it's the next-level for our previously annual "Round Robin" where all of the EiCs would exchange devices for a week and then do mini-reviews of hardware and the opposing platform. So think something along the lines of a more meta-analysis of mobile and you'll have a clue.
The most exciting part of all of this was our stepping up of production levels. You'll see it all in a few weeks, but having a crew around was very helpful, to say the least (see our new YouTube page intro above for instance).
And finally, shout out to the Windows Phone Central team who kept the site alive during my absence.
Verizon Lumia 928 specs?
We had this info dropped to us by a certain anonymous source. I can't personally vouch for it but it sounds in-line with what we are expecting the Verizon Nokia Lumia 928 to feature. That is, nothing listed here is exactly crazy.
Probably the neatest part is the idea that Nokia, like HTC, is adding an amplifier for that rear speaker to really boost sound volume while maintaining clarity. Is it true? We'll see in a few weeks, won't we?
Improvements from 920:
10% less volume than 920 and 20g lighter
New "infinity design = beautiful screen and provides a better in-hand feel"
Xenon flash
better audio performance, louder higher quality speaker with new amplifier
Dolby headphone audio enhancements
OLED display
Detailed Specifications
dimensions: 5.24x2.71x0.44 inches
weight: 5.7 ounces
Global Ready
1.5GHz dual core Qualcomm MSM8960+WTR, 1GB Ram
4.5" WXGA HD OLED, 334ppi
f/2.0, 26mm OIS camera
distortion free audio recording up to 140db
8MP 4:3 or 7.2MP 16:9
Xenon flash
LED light for video
1080p video capture @30fps
usual radios
2000mAh battery
32gb internal memory (no micro sd)
So there you go.
Kessler coming over from webOS Nation
With HP's webOS winding down (though see this cool prototype just revealed), webOS Nation's Derek Kessler will hopefully be picking up a few stories here and there on the site. I personally hooked him up with an HTC 8x and Lumia 920, so my fingers are crossed that he does something useful with them.
Derek's been writing on mobile for quite some time and his articles are always well thought out and articulate. When he's not doing his day job in the U.S. Army, I'm hoping we get to see some of his expertise spill over onto our pages here at Windows Phone Central.
Acer Iconia W510 and Samsung ATIV Tablet (500T) impressions
I owe you guys an impressions/mini-review post on the Acer Iconia W510—a well-priced ATOM-based Windows 8 Pro tablet, that also has an add-on keyboard dock. My keyboard just showed a few days ago and the combo is quite impressive (~19 hours battery life?).
Unfortunately between "TM13" last week and our George Ponder needing something light and portable on the go, I won't be able to write up anything this week. But we'll have George give it a spin and share some of his thoughts as this will be his first time with an ATOM based Windows 8 tablet.
As consolation, I'll bang out a quick first impression of the Samsung ATIV Tablet (500T), which I just picked up yesterday at my local Microsoft Store. It too is an ATOM-based Windows 8 tablet, sporting similar specs to the Acer, but it has a larger display (11.6"), more onboard memory (64GB) and most interestingly, an S-Pen digitizer (Wacom) for taking notes. It's like a Surface Pro, but way cheaper.
Truth be told, it's kind of awesome. Not perfect, but you'll see.
Lumia 520 and 720 reviews
Yes, those too are coming up hopefully this week, depending on how busy of a news cycle there is. Stay tuned though as the 720 is one of my favorite phones (though my new yellow Lumia 920 is still tops).
Daniel Rubino is the Executive Editor of Windows Central, head reviewer, podcast co-host, and analyst. He has been covering Microsoft here since 2007, back when this site was called WMExperts (and later Windows Phone Central). His interests include Windows, Microsoft Surface, laptops, next-gen computing, and arguing with people on the internet.
I'm a big fan of the ativ 500. It does all my mobile computing well with battery life that challenges my surface rt.

Rubino, call some favors in and get that damn 928 out the door.

http://wmpoweruser.com/more-details-on-verizon-nokia-lumia-928/


A warm welcome to Derek Kessler from an old webOS user.

Derek is the man. He can put away an ice cream sundae at midnight like no other.

IT'S A LIE! :O
(Portal reference)

Not a webOS user (ever), but I welcome him regardless. I was wondering what happened to him as I haven't seen him in any webcasts for quite some time. Glad to see another (potential) champion for the WP team on the MN staff.

Yeah, he's a great guy, hope he shows up on the podcasts!

WebOS nation should not die with webOS, it should live on with the successor to webOS, FirefoxOS. Although very different in implementation, they are two takes on the same idea.

FFOS may well achieve what webOS should have.

Long live the open Web.

+1
Welcome Derek. Have many warm fuzzy memories of the precentral podcasts and the rollercoaster ride that was webos. Was with you guys for about 2-3 years. Windows Phone is a good place to land. Still get to be a part of an underdog movement. Hopefully this one will be more sucessful. ;-)

+1...Glad to have Derek coming over. It's sad though, that this is just one more nail in my Pre+'s coffin.

Yes, welcome to Derek. I'm still a WebOS user, but I'm leaning towards moving to Windows Phone 8 in the near future. I would love to hear Derek's comments on WP8.

I, too, was a webOS user, and have found Windows Phone to be a very nice alternative. There are some things that Palm got right that nobody else still has, but all in all this wp8 is a terrific phone OS. Wouldn't it be great if MS took advantage of webOS' open-source nature and lifted some of it's best features for WP?

Welcome Derek! Good to see more familiar faces coming over from webOS Nation. I too am a current webOS user since day one and have gone through a couple iterations of hardware. I will be making the switch to WP8 once the Lumia 928 comes out hopefully.
Can't wait for the great writing from the Kessler!

Derek is the man. I'm also a Palm Pre to Windows Phone. I never went to Android or Apple

Daniel, I'm looking forward to TM13. I saw you used a BB Z10 when I read your Tweets. Who used a WP8?

Actually, we all have Z10s here at Mobile Nations (not that we necessarily all use 'em everyday, ahem). In fact, we all have each other's main flagship phone though I have yet to actually purchase an iPhone 5. Soon though ;)

Might as well wait for the 5S will be the same thing... Only....newer. ;)

I also just picked up a yello Nokia Lumia 920 (had Cyan Before) and I can't believe all the attention it get! I know its a little loud and all but didn't expect the cool, is that the new windows phone, etc. Anyhow, I did notice you were out and figured you were on vacation. Sounds like you a good time with the "secret" project. Welcome back!

Thanks and a vacation would be nice...haven't taken one of those in about a decade (no joke). Yeah, yellow is where it's at. I was unsure but the 720 changed my mind. Love yellow now, totally rocks.

The call me Mellow Yellow....

I want the Lumia 928 NOW!

"Dolby headphone audio enhancements" ? Maybe other wp8 Nokias will get it later aswell...PR 2.0 perhaps ?

Isn't that already available on the 920? I sure have it as an option in Audio settings

I'm in the back door of T-MO hell the carrier with only one refurbished WP8 device. Like many others stuck in this hell we get to read what others will be able to get on there carriers...

Me too. Hoping the frequncy tuning goes fast, so I can take the cash I'm not spending because I'm on TMo, and buy a new phone.

As a Touchpad and Pre 2 user, I'm glad to see Derek is still alive and kicking. The only reason I knew of WP Central was through WebOs Nation before switching to WP7 now WP8.

I am with you on that. I came over from WebOS. I enjoyed my Veer but never hand a chance to get a Pre3 :( Then I met the HTC titan, and I have been with WP ever since.

Dan rocking the new look. Looking good my man (very comfortable hetero remark).

You forgot one thing that the 920 has, that the 928 doesn't...
Availability!!!!

Daniel, why so serious?
(in the video )

Wait. There's a white Samsung ativ tablet???

No SD slot on the 928? Boo! Not surprised, but still, boo!
But more importantly, Dan, what happened to your hair?!
I kid, I kid...

Re:928 - "We'll see in a few weeks, won't we?"
I feel like we've been saying this for way, way too long.

I'm getting flashbacks to the Trophy. The rumored release date for that phone kept getting pushed back until it finally came out at the end of May 2011.

Still rockin' my Trophy, waiting impatiently for the 928.

I've been waiting impatiently and, to make matters worse, I just dropped my Trophy yesterday. Still functional, but the screen has a nice spiderweb crack, so it's not long for this world. Release the Krak- uh, 928 already!

Love my Acer W510, looking forward to your opinions

Disappointed the 928 doens't have Micro SD card slot....that should be standard by now.

I thought Daniel said it would be louder. I then read 10% less volume and was very confused. I am now going to bed after 32hrs of no sleep. Thanks for the LawLabye Daniel. Haha see what I did there?!

volume as in measure of space (Area) not sound. =) It takes up 10% less 3D space than the 920.

daniel your avater looks good all professional and all not that saying that the previous one wasn't. also great work you and all the editors. i have had all but kevin as my editor, maybe one day.

Thanks! Yeah, we're trying to spruce things up a bit around here. More to come.

Excited to see what Kessler can bring, he was solid at webos nation....the angry nerds podcast was epic!

WELCOME DK!!!! From one PalmOS/webOS refugee to another we welcome you to WP!! I have pristine Veer & Pixi+ know anyone who can use them? :)

Is the 928 exclusive to the US or will it be available elsewhere?

And if we have the bad luck of being an exclusive to the US, will it be locked to the carrier? or factory unlocked?

A warm welcome to our favorite editor, DK. Great that you're joining the many former webOS phone users here. Still using my Touchpad so I have a foot on both sites.

With that new haircut, I'm not sure I know this new Daniel.

Welcome Derek!

I left WebOs (I had 2 Pre3's) about a half year back and I really like Windows Phone. There are still a few things Pre ded better than anyone else but I couldn't stick around any longer and MS was my best option.



Guy in glasses looks just lovely

I'm still rocking my TouchPad, but switched from my Pre 2 when it started burning through any battery I placed in it. I love my 822. If webOS had the smoothness and apps of WP8...as well as this Lumia hardware, I'd stay on it. So, from one webOS user that's switched, welcome aboard Derek.

Welcome Derek, I'm still sporting the Pre3 but looking at an unlocked Rogers 920(forT-Mobile), mellow yellow of course or might wait to see the "catwalk" phone.
Good to see WP Central recognize you for the quality guy you are.

Nice new profile photo there.

I hope Kevin doesn't end up on wpcentral as crackberry is a repeating the webos site with a gradual slowdown.

Daniel, did you get a haircut? Or am I just seeing an optical illusion lol

Oh, well, No MicroSD, no 928 for me....Maybe I will get one but, I'll wait till I can find a used one for 1/2 the price off contract. A month or 2 down the line.... Why do they push a high end phone and just cap the storage like that ? Figured this would be the standard on high end phones. So, it IS just a rehash of the 920, just a 6-8 month old phone with a few updated features. 64gb or 32 witha a MicroSD should be the standard today.

No Wireles charging on it ? Wow that is kind of big...

Look forward to all the reviews. So exciting.
Thanks for all your hard work.

What is it they say, "All fun and games until someone loses an eye." Having more fun waiting on the 928 than I did before picking up my Titan almost a year and a half ago. Still no Windows Phone 8 in Japan and I would say they have thrown in the towel here.

Where I am torn now is waiting for a Windows Phone 8 device. Your love of the 720 threw a monkey wrench in the works. Expansys.jp had it on special for just barely over 30,000yen. But what I have my eye on is the slide in price for the 920. Now down to 46,800yen. When one considers adding the charging case and charger to the 720, you are almost at the price of the flagship.

But now, the look of the 928 and updated specs might make me part with a few more yen when the International version hits the shelves. Won't be long, as I see a pre-order on ebay for just over $800. Considering there are many still trying to sell the 920 for $900+, I expect it to slide in around $600, not much more than I paid for my Titan sim free in December 2011. Salivating here.

Yellow, huh?
Windows Central Newsletter
Get the best of Windows Central in in your inbox, every day!
Thank you for signing up to Windows Central. You will receive a verification email shortly.
There was a problem. Please refresh the page and try again.