Editorial: Fitbit One or Nike FuelBand for Windows Phone users?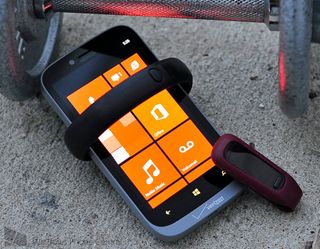 Confession: I personally started "February Fitness Month" back in mid-January and have been regularly exercising for the last few years, including a more aggressive cardio routine starting last summer. Because of this, I've been using the Nike FuelBand ($150) and Fitbit One ($99) for quite some time and I can definitely tell you which one I think is the best.
While I won't do a complete teardown I will give you the pros and cons of each and as you will see, the decision between the two is very easy.
Wait, what are these things and why?
First and foremost, the reason why we're doing Fitness Month is simple: We want to talk about how technology can improve your life, specifically in regards to exercise.
The Nike FuelBand and Fitbit One are physical devices you wear that give you personalized feedback on your activity level. While you may feel like you walk around or move during the day, technically speaking you don't have a way to qualify that "feeling". That's where these devices come in as they give you some sort of measurement.
By setting "goals" within the apps for these devices, it can help put you on a path to getting back in shape. Or even if you don't want to do that, you'll at least know how inactive you are (trust me, as a writer this can be depressing).
Make no mistake: these are possibly the most powerful motivators you can buy if you're serious about getting in shape. In fact, I'd go so far as to say they are essential if you're starting a new routine or trying to get back into exercising.
The idea that a device will give you information about how many footsteps you take, activity level, integrated with "social" aspects to compare to your friends is an excellent usage of modern technology (as opposed to Facebook or shoes that light up).
The question is, which one should you get?
Nike FuelBand is garbage, Fitbit One is the best
Ah dang, I gave away the conclusion in the lead.
That's because it really is that simple. Don't get me wrong, I had the Nike FuelBand first and it was enough to make me go "oooo!" especially with its cool OLED screen that comes alive out of the otherwise dark wrist band.
But at $150 it doesn't hold a candle to Fitbit's One device, which is not only $50 cheaper but does more than Nike's offering. For instance, the One has an altimeter in it for measuring changes in height (stairs climbed) and since it can clip anywhere, it can be more accurate (although it is easy to lose too, ask Rich).
The Fitbit One also measures sleep efficiency by seeing how often you wake up and move during the night. Sleep is mucho important and as a former polysomnographer, I can't tell you how many people I witnessed "sleeping wrong" (to keep it simple).
Fitbit integrates with a lot of services. Nike? Not so much.
So what don't I like? Nike has terrible battery life (2 to 3 days) whereas the One can go a week without a charge. And yes, it matters because having to constantly charge the FuelBand is annoying.
Nike is also dreadful with data. They're like Sony-- all proprietary--and you can't import or export anything with their service. You use MyFitnessPal? Endomondo? Sorry, it has no incorporation with the FuelBand because Nike doesn't allow it.
Fitbit nevertheless are like the Linux of exercise devices. They threw their doors open, released their APIs and in turn, anyone can integrate with them (opens in new tab). That's why you can have third-party apps access your data e.g. Endomondo, MyFitnessPal, Microsoft Health Vault, MapMyRun, etc.
What this means is if you use MyFitnessPal to enter in calories, it will sync over to your Fitbit account for full integration. It also means you can use third party apps on Windows Phone, including Fitbit Tile, Fitbit Companion, Fitbit Activity, Health State and more.
Sure, some of those apps may not be top notch but compared to what Windows Phone devs can do with Nike? Take your pick.
Features: Device
In terms of features, Fitbit One clobbers the Nike FuelBand.
Nike FuelBand ($150)
"Fuel" (Nike's formula for measuring overall activity)
Steps: Yes
Estimated calories: Yes
Clock: Yes
Battery: 2-3 days
Bluetooth Sync: iOS only
Altimeter: No
Sleep monitor: No
Distance: No
Daily Alarm: No
Fitbit One ($99)
Steps: Yes
Distance: Yes
Calories Burned: Yes
Floors Climbed: Yes
Flower (activity level, akin to Fuel)
Clock: Yes
Sleep monitor: Yes
Battery: 5-7 days
Bluetooth Sync: PC, Mac, iOS, some Android phones
Altimeter: Yes
Daily Alarm: Yes (vibration)
Oh sure, neither sync with Windows Phone but two things on that issue:
If any company were to do Windows Phone sync, bet on Fitbit in the long run and not Nike. Fitbit already have a Windows 8 RT app and they have been coy if there is a Windows Phone app in the works (translation: sounds like it's in the works).
The Fitbit One syncs with my PC. Nike FuelBand? I have to take it off and plug is into to manually sync whereas the One simply automagically connects up whenever I am within 20 feet of my PC. The FuelBand has Bluetooth but for some reason, Nike could not be bothered to make a sync app for it.
Fitbit's Web dashboard rocks
Features: Web
It's also night and day between online features. Fitbit is the whole package: calorie counter, steps, graphs, sleep, weight and more. Nike only offers to view your Fuel and set arbitrary goals.
One really nice feature of Fitbit is the ability to monitor your weight. You can even use their super pricey Fitbit Aria scale (opens in new tab), which auto-syncs your weight, body fat and BMI to your account. It can do that because the damn scale has Wi-Fi built into it. You can set weight goals and based on your height, current weight, age, gender and activity level, Fitbit can recommend how many calories per day you can consume to reach that desired poundage.
Nike? They have some pretty graphs and a little robot that dances around if you hit your goal. Yay.
Wrapping it up
The Fitbit One is $50 less than Nike's FuelBand and does way, way more on top of having better battery life and more robust support. Fitbit is also more accurate for steps with FuelBand constantly over estimating from my experience.
It's really not even a choice between the two and if I could return the FuelBand, I would.
Neither device currently syncs with Windows Phone directly but Fitbit has better third party support and are more likely to support Windows and Windows Phone in the future.
For the record, we have a few of us here at Windows Phone Central rocking the FitBit: Sam, George, Rich, Seth and myself. The rest of the Mobile Nations team (myself, Editors) are on the Nike FuelBand.We'll have more feedback on both technologies over the following weeks, so stay tuned.
Am I wrong on the Nike FuelBand? Are you planning to get back into shape? Sound off in comments and share your thoughts!
Windows Central Newsletter
Get the best of Windows Central in in your inbox, every day!
Daniel Rubino is the Editor-in-chief of Windows Central, head reviewer, podcast co-host, and analyst. He has been covering Microsoft since 2007 when this site was called WMExperts (and later Windows Phone Central). His interests include Windows, laptops, next-gen computing, and for some reason, watches. Before all this tech stuff, he worked on a Ph.D. in linguistics, watched people sleep (for medical purposes!), and ran the projectors at movie theaters because it was fun.
Nice!! Do you plan on getting the fitbit flex Daniel? I want to get one but the lack of the app is what's holding me back from pre-ordering one.

Flex is *very* intriguing as I'll be the first to admit the "wristband approach" is much easier to manage. Having said that, it does have a downside including the inability to record when you're on a bicycle and I'm not sure if it has a visible display. We'll see though as I find it quite attractive.

Honestly though couldnt you put the flex on your ankle so that when you ride a bike it will monitor that motion? I could be wrong but it is about the movement and elevation that it measures along with the speed. So for any biking move it down to your ankle. well unless you have tree trunk ankles then it might not work.

In theory it might work but Phil told us that such a method didn't work with the FuelBand, so we'll have to wait and see.

I just wish there were more fitness apps on windows phone. After Nike collaborated with Microsoft on that Kinect fitness game I figured a Nike+ run app would be right around the corner but I was wrong.

I'm still optimistic.
The Nike+ Kinect app isn't as shabby as many Windows Phone apps so fingers crossed they'll add news apps soon.

I'm using Livescape and Microsoft HealthVault to lose weight and get in shape. HealthVault is the hub - it syncs with a lot of devices and services. I'm tracking my weight with a Withings Wi-Fi weight/body mass scale (which suncs with HealthVault), blood presure with an Omron device (HealthVault Connection via USB), and blood sugar using OneTouch Ultra 2 (HealthVault Connection via USB). Livescape (a Windows Phone app) is really nice. It tracks what I eat and my activities. It has GPS tracking for running, walking, or biking. I use the GPS/steps function for my daily walk and manually enter my exercise bike (Schwinn 150) activities (time/calories). I will use the bike GPS function later this year when it gets warmer and I can use my real bike. Livescape has two way HealthVault sync, so I can see all of my info in Livescape or HealthVault on my phone or HealthVault on my PC. I've heard the Livescape developer is creating a Windows 8 app which will allow me to track what I eat on my Surface RT. HealthVault syncs with Fitbit so my next purchace will likely be the Flex wristband.

Sorry for the long post but I wanted to show it is possible to integrate Windows Phone (I have a HTC 8X) into an integrated health monitoring system.

I love Endomondo and I've even found the Zombies Run app to be quite enjoyable. Fitbit sounds like a great product but I'll wait until we have a WP application with syncing capabilities.

While I'd like a Windows Phone app to directly sync with the FitBit, it's not a deal breaker by any means. You really only need to sync once a day and can do that with your PC anytime you want.

The phone-syncing thing is nice but to be honest, the ability to enter in calories/meals is more important. There's no real reason to sync to your phone on the go unless you are away from a PC for days at a time. As it is now, when I woke thru the door, my Fitbit auto syncs to my PC without me touching it. That's good enough for myself because if I need to know my stats, I can just turn on the Fitbit and look ;)

Some very good points. Thanks guys. I'll probably pick one up.

Thanks for that info. Been on the fence for ordering one. Going to preorder the Flex since i'll be mostly running and playing basketball anyways

endomondo on Windows phone 8 lacks heart rate monitor connectivity.

:(

I like my fit bit one and aria scale. The only thing I don't like is floors counter. I live in a hilly town and my driving sets off the floors insanely. Better if you live in a flat town......

i believe you can log in the webpage that you were driven and those false floors will be erased from your daily report

I'm digging my FitBit so far. Rad little device.

I have a fuelband, but can't use my phone at all with it. Sad indeed.

Now we're definitely not getting a Nike app... ;)

I have the Fitbit and I love it.

I'd rather see the full support for Nike fuel band via wp so it worked inconjuntion with Nike Kinect game on xbox 360 via app/game companion or just a stand alone wp app that worked with nike fuel bands so info could be submitted to nike & then accessed through nike+ kinect game on the console.

There's no doubt that would be awesome. The thing is I have very little confidence that such integration will happen anytime soon, which is weird since Nike could own this field. Still, for Fitbit, this is a full-time focus of their company. Nike right now seems to treat this as a hobby and as result, their service is drastically weaker compared to Fitbit.

I've been slipping a bit lately but FitBit sounds like something that could inspire, ahem shame, me into getting back into the swing of things. I would need the one that records bike movement and I also live in a hilly city so I hope they fix the floor counter soon--it shouldn't be very had to fix that.

It's really good for giving motivation. It's all about context and Fitbit helps quantify your life and activity. I really love the service, changed how I eat, exercise and more.

Thanks, that sounds exactly like what I need.

I'm having a hard time choosing between the fitbit one or fitbit flex. Its so much easier to have it on my wrist all day but the fitbit flex doesn't know if ur going up stairs and has no screen. Those are they only two things making this a hard decision for me :(

Agree 100%. Tough trade offs. For the record, I'm in the habit now of using the FB 1, so it's not a big deal. But for the first few days, you have to be conscious of it, which can suck for some people (Rich literally lost his within the first 24 hours).

Lol if I end up going with fitbit one here's to hopping I don't end up like Rich. Maybe ill come up with some make shift wristband contraption :P but ill wait to find out more about the flex.

FitBit One does come with a wristband contraption already, so you can wear it like that if you want, it's just not waterproof like the Flex will be. In fact, putting it in the wristband is how the sleep mode is supposed to be done.

That's definitely a tough decision. For me, I'm going for the fitbit flex. I don't climb enough stairs during the day for the altimeter, and I know I would lose the fitbit one in a week tops. Lol.

FitBit hands down!!!
I had the Ultra for 4 months, then bought the One which I used for a month till I lost it while cycling. Bad news? I had to buy a new One next day because I can't live without it anymore... joking, but you get the point. Good news? Contacted FitBit telling what happened, how I lost it, told them that I already bought 4 devices (gave 2 to my family) and today I got an email saying that a free replacement is on its way.
Btw I have a group there: http://www.fitbit.com/group/228CT9

i lost my fitbit after just 2 weeks, emailed them and now they are sending me a complimentary replacement free of charge. You gotta respect their customer service

With Fitbit, they have a scale the wireless syncs back to your account. I have the Fitbit zip which has no setps or sleep monitoring. It does have a button battery that has lasted now since last November. Also Myfitnesspal(Food tracking) will sync to Fitbit and Fitbit will sync to Microsoft Health Vault.

Thanks I was just about to purchase the fuel band now I'm going the other way

Have you guys tried the Jawbone UP? One of the things that it intrigued me the most was the ability to monitor your sleep and then wake you up at the most appropriate time. This sounds great since I hate waking up in the morning. However the reviews I've read make it sounds like this doesn't work that well including the other features. The FitBit One sounds good, but I wish they would implement something similar since they already monitor sleep.

No Jawbone here, sorry. That sleep feature is intriguing. As a former sleep tech, that's how we would wake patients as it prevents you from waking during slow-wave sleep, which causes disorientation. Can't say if it works well though for that device.

I'd like to see how you think the fitbit compares to the jawbone up. I'm really thinking of getting one of those, and I can sync it to my iPad at least.

You can set alarms with the FitBit one. Nothing really special thou: set the time, and it will vibrate at that time.
And I wouldn't trust anyone but me to decide when I should wake up anyways :-)

How did the Nokia on the first picture have orange icon? Mine shows red regardless theme color...

I love my Fitbit One and Aria. With Fitbit Companion, it is great!

Yeah, Aria is awesome. Will review it soon for here.

I was set on getting the Nike fuelband for my birthday in a few weeks but I might hold off. Wearing on the wrist is the only way I'll go so its either Nike or waiting for the Flex. I do like that the Fuelband has the LED lights to display over the Flex as well.

I'll take Under Armour's new Armour 39. It's releasing with iOS App support first with other platforms to follow. Cam Newton is one of UA's star athletes and Microsoft's Windows Phone stars as well. We'd all want Cam to be able to use it with his phone now wouldn't we? :)

I saw that promo vid for the Armour 39. Seems to be like the rest of the devices out there but inside a heartrate monitor. My only concern is that they would take a similar approach like NIke where all your data only lives inside their services.

I haven't tried neither of the two, but I've got the Nike+ Sportwatch GPS and it's awesome for running! It really helps me run at a constant speed by letting me know how fast I'm running. You can then sync it with the Nike+ website (which is awesome by the way) to see all you races on a map, and graphs for you speed, distance, which shoes you were wearing, if it was raining or sunny, if you ran on asphalt, on grass, ... It really good! And you can select goals (for example you can say you want to run 6 times over two weeks or 20 kilometers in three weeks or anything like that) so it encourages you to go out and run. You also get trophies for goals and for distances or for running for x amount of weeks in a row, so achievement hunters will like it!

I was looking into the FitBit One after reading the article about the lack of fitness accessory apps. FitBit sounded the best to me so I'm glad it is being shown to be the better device. But with the Flex coming out soon, I'll have to wait for a comparison between it and the One.

I had a Fitbit Ultra, but it started acting up, showing the sleep timer at random moments and not reacting when I pressed the button (working on getting it replaced), but when it worked, it was very addicting. I had set a goal of climbing 25 flights of stairs a day at first, and would forget until almost midnight. So, I'd be going up and down the stairs in my house just to get that goal for the day before the clock hit midnight. I miss that little thing, and it works pretty well with the MyFitnessPal app, too.

Yeah, I was thinking if someone had OCD I could imagine a FitBit would be insane. I do find myself "having to" complete 10K steps sometimes, it's good like that :)

I think Daniel just accused me of having OCD! :) But, being the competitive person that I am, it just gives me that little extra push to improve and meet, or exceed, my goals. Whatever it takes, right?

Just because the "FitBit" uses a term "Flower" to measure activity, I won't buy it. I would rather go with a more professional and manly word "Fuel" as my unit of measurement. The FitBit sounds like it was created by and for women. Why on earth would a real man buy such a device? I'm getting me a Fuel Band, and as for the altimeter and sleep monitoring, I honestly don't see myself using those and my phone is my alarm so I'm set. Hello Fuel Band!

I mean, really? You're so insecure in your sexuality that because of a flower icon (which no one sees and no one really uses) you're willing to surrender superior functionality, more freedom with your data (and accuracy) and pay an extra $50? Nike is very glad that there are people like you in the world. :) As far as being a "real man" well, it's easy to talk to the talk...I mean, a lot of closeted conservatives say the same things, ahem.

Laughing out Loud ... That's how funny that is I had to type it out

Looking forward to getting a Basis band. They're currently backordered and have been for over a month.

That Basis band really looks promising. I always wondered what the current products didn't incorporate a heart rate monitor since that seemed necessary to accurately track calories burned.

No mention of using Windows Phone with the FitBit mobile website. I've heard it's quite good.

Actually i did try it and scrolling was a nightmare (too sensitive, always seleted an item), hence why I skipped/forgot about it. I'll try it again though...

Good article. I was going to buy one (one click away) until I saw the whole having to log driving (and elevators) thing to prevent errors (steps, stairs). Having to remember to do that *every single* time would be so annoying. If the thing had a GPS it could figure this out automatically but alas it cannot so it's a no go for me.

I have a Nike band and my partner has the Fitbit One. She loves it and loves its discretion where I get asked about my band often. So that is also a strong consideration as some people just don't like people poking their nose into their fitness.
On the Fitbit Flex, I'm holding out for this so I can make the jump. My concern is more that where the Fuelband sucks at recording steps (being on the wrist) so too will the Flex.. ?

I had this dilemma last year and went with the Fuel Band and no regrets. I'm sure FitBit is also a good device, but I like that the FuelBand is always on without worry of forgetting to bring it to work or wherever I'm going. The only time I take it off is in the shower even though it's water proof.
It also acts as a wrist watch and for some can be a good accessory to wear both I take advantage of. I sync it every 2-3 days and never had the battery die on me. It charges in less than 30 minutes.
Im not sure how FitBit monitors sleep, but you can monitor your sleep when you upload your FuelBand data. It shows fuel burned for each hour of the day. I typically have 0-2 while sleeping which means I sleep well, but it's not an official feature.
To each their own, but I'm more than happy with the FuelBand.

anybody knows if they work with Runtastic?

Daniel, any interest in the Amiigo? Looks like it's SDK will be available from launch and the shoe clip seems like it would be the best of both worlds as far as tracking for leg workouts, bike riding, etc. I'm seriously considering one while the indiegogo thing is still going on.

Not familiar but will look into it.

Hilarious! I love how Dan says he's not going to do a complete teardown to Nike Fuel Band is garbage but it's true you can't charge people $150 for something that you want to keep on you're wrist at all times yet you can't sync with Bluetooth and you have to charge it every few days.. Also it sounds like an apple device with all the locks Nike has put on it so I'll just go out on a limb and say that it only syncing with ios over Bluetooth wasn't a coincidence

When I first got my Fuelband the battery lasted 3-4 days but it is lasting longer and longer with each firmware update. The last time it asked me to plug in and charge it had been 3 weeks since I had last done so.

runtastic doesn't require anything but your windows phone - great interface too. Double good for because it uploads into Myfitnesspal as does Fitbit and other kinds of equipment and apps. I got a Nike product that worked with the iPod and while the product was pretty good the website where you uploaded your data sucked. Maybe that has changed.

Only drawdown to Flex... No stairs ! I plan on staying with my One till they "update" the Flex

I'm sorry for taking this off topic, but daniel, as a polysomnographer (which i assume is a sleep studier)...any tips on how to get the best nights rest?

Hello!
Recently going to buy Fitbit One, but found out that soon will Fitbit Flex. Please advise, buy now or wait Fitbit One Flex? What is the difference, except mount a hand? For what activities are better these models? Of the possible activities of interest: everyday movement, running, cycling, basketball, ghetto workout. Which is better for these disciplines? Thanks in advance.

I like an option the is not listed. Mybasis. Keeps track of lot more information including heart rate.

Is it accurate that a phone must have Bluetooth 4.0 to directly Bt sync with these sort of devices? Obviously our phones don't have it but the surface does.

FYI, Amazon has the Fitbit One on sale for $87.89 today:
http://amzn.com/B0095PZHPE
Windows Central Newsletter
Thank you for signing up to Windows Central. You will receive a verification email shortly.
There was a problem. Please refresh the page and try again.