Fitbit Companion, while not "official" it's a step in the right direction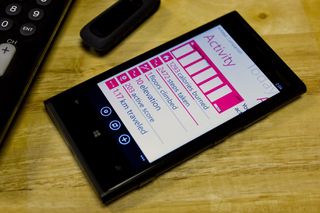 While there isn't an "official" Fitbit Windows Phone app, Fitbit Companion is nice option for the Fitbit (opens in new tab) users in the house and a step in the right direction by giving you access to most your Fitbit statistics. For those not familiar, Fitbit is a small fitness monitoring device that tracks your activities and sleep patterns.
Along with the monitoring device, Fitbit also offers a fairly extensive web based tracking app that syncs with the data from your Fitbit device and allows you to enter meals, activity and track your weight. The Fitbit Companion app taps into the web based app and delivers most of your Fitbit stats to your Windows Phone. The app uses the Fitbit API and doesn't share your personal information outside of the app.
Main pages for the Fitbit Companion includes:
Activity Page: This details your daily activity pulled from your Fitbit device that includes calories burned, steps taken, floors climbed, elevation, activity score and distance traveled.
Activity Log: Details your daily activity as logged from your Fitbit app or entered directly from the Fitbit Companion app.
Daily Activity: A pie chart reflecting how you spent your day (sedentary, fairly active, lightly active, very active).
Body: Charts your weight loss/gain.
Sleep: This details your sleeping patterns for the previous night based on the data collected from your Fitbit device.
Profile: Your Fitbit profile that includes age, location, height, gender, etc.
At the bottom of the screen you'll find button controls to access the app's settings, a refresh button and an add button. Depending on the screen, the add button will let you log an activity, your weight or sleep information. The entry screens can also be pinned to your Start Screen for easy access. These add buttons make it convenient to log data to your Fitbit account without the need to find a computer.
Up under the three-dot menu you will find options to hide charts, go to yesterday's data, set the date and see the about screen.
Settings for the Fitbit Companion include options to hide/display any of the main pages, erase your profile (data will be present but not your profile info), and chart settings.
The Fitbit Companion is a nice option to view your activities and log daily activities while on the go. The downside to things is that the Fitbit Companion doesn't provide any of Fitbit's meal tracking stats. It would be really nice to be able to add meals and monitor your daily calories from the Fitbit Companion.
On the plus side, the Fitbit Companion does give you access to most of your Fitbit data and does allow you to enter data for most of your monitored activities. While Fitbit Companion isn't an official Fitbit app for our Windows Phone, it's not too shabby.
Fitbit Companion is a free app for your Windows Phone and you can find it here (opens in new tab) at the Windows Phone Store.
Windows Central Newsletter
Get the best of Windows Central in in your inbox, every day!
George is the Reviews Editor at Windows Central, concentrating on Windows 10 PC and Mobile apps. He's been a supporter of the platform since the days of Windows CE and uses his current Windows 10 Mobile phone daily to keep up with life and enjoy a game during down time.
i wouldn't be surprised if this app ends up being BETTER than The official Fitbit app. Could be just like the FOursquare 4th&mayor debacle. These first parties would be MUCH better off just hiring a passionate Windows Phone developer instead of doing it themselves.

It is not working right on my Lumia 710...

NO fast resume, NO high resolution tiles, NO support for multiple tile sizes, NO high resolution UI...
Come on, WP8 is out!
Enough with 7.5 only apps... -.-"

7.5 app reaches 100% of the user base, WP8 app reaches 50% of the user base...pretty easy math for a developer.

I didn't say I want apps WITHOUT WP8 support, whan I mean is that the devs should start writing app that support BOTH WP7.5 and WP8.
The code uses flags to enable certain functions on different OS versions, so they don't even have to upload different .xap, it's the same one for WP7 and WP8.
WP8 will never grow without a solit app base.
And with solid, I mean fully features apps :D

when you set your target in VS2012 as a7.1 and 8 app you don't get "flags" to set. What you are looking at is a very customized project that is doing deep inspection at every turn. It is much easier to just start out with a project that safely targets both.

I know, what I mean is that you can set certain options inside the code to be enabled on a specific OS version only.
So that the app will basically be a 7.5 app, but with features like thehigh resolution tiles, the fast resume etc... turned on if you download the app and run it on a WP8 :)

How is Fitbit sold in Microsoft Stores and no official app for Windows Phone?

cause they work with Surface and other Windows 8 PCs.

Just not in The Netherlands.....

I don't mind the lack of calorie input so much since I use MyFitnessPal, which links to the service, but the inability to view my food plan means I only use this for logging certain activities. It's somewhat more useful than the official W8 app.

I just read this article, installed the app, created a profile, was abound to pre-order a band and re-read the article and comments and saw that you can't input meals on WP... I'm out now. Clear proof for anyone from FitBit that might be reading that you are losing sales because of your lack of WP support. Anyone know of a comparable that has a full App?

Agreed. I was ready to invest in a fitbit until I learned of the lack of support for WP.

If I'm not mistaken, doesn't the Fitbit mobile site allow the meal tracking? Pin the site, it's virtually an app. One of the Windows Phone advantages. That's what I did with Untappd.

Hopefully someone follows suit for the Nike fuel band.

I use FitBit, and Companion everyday... and have loved it everyday for the past five months. Best investment I made healthwise !!

Would be nice to have an app that will sync the fitbit with my phone. Right now, I have to be within 10 ft of my PC in order to sync. This app only lets you view your stats and manually update activities. I want automatic sync like apple and android have.

Stopped by the FitBit site, and they have a lot of devices. Which one is working with WP?
Will this do it all?
One™ Wireless
Activity + Sleep Tracker
Tracks steps, distance, calories burned, floors climbed and sleep cycle.
Includes clip, USB dongle, charging cable and sleep band. What i eat i dont care, but working with god old Marathon would be nice
Windows Central Newsletter
Thank you for signing up to Windows Central. You will receive a verification email shortly.
There was a problem. Please refresh the page and try again.