Editor's Choice: remembeReel for Windows Phone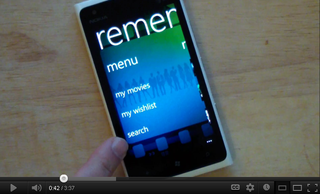 If you listened to this week's podcast, you may have heard me mention my new favorite app, remembeReel for Windows Phone.
I'm a big fan of movies and tend to watch between 3-5 a week, even while working two jobs. One of my problems though is remembering all the things I've watched, especially since I often take forays into international, independent and odd little motion pictures, hence my need for this app. (By the way, check out a film called 'PontyPool' on Netflix, really interesting). remembeReel is free, has no ads is fast and fluid and well thought out.
remembeReel simply allows you to type in the movie you're watching (or watched), it checks it against Rotten Tomatoes (site) and pulls down the info for you. With one tap, you save it to your list. A few more taps and you can add it to your 'favorites', add notes, punch in the date and share it via Twitter, Facebook, Live, etc. Not only can you share it but it'll provide the URL for the listing on Rotten Tomatoes so others can quickly read-up on what you've just watched. Brilliant. You can also sort by title or date-viewed which is convenient.
One of the coolest aspects though is the SkyDrive integration. With a simple tap you can back up your whole catalog to the cloud for safe keeping (or if like me, so you can sync it with your other phones). I'm glad to see more developers taking advantage of the SkyDrive APIs and hope to see more of this type of backup solution for other "catalog apps" in the future.
The app even has a Live Tile, flipping around to show you the last movie you entered into the database. While it wasn't necessary, we really dig these little aspects.
If I could request any improvements, it would be to have a calendar function where I can see my entries or if possible, Live calendar integration for saving. Another recommendation: instead of a single star for "favorite", maybe a rating system so we can give a more refined personal review e.g. five-stars. Finally, perhaps add in some store links so if I just watched a film an entered it I could quickly buy the DVD on Amazon, eBay, etc.
Of course that's just icing on the cake. For a version 1.1, remembeReel is a fantastic app and my Editor's Choice for this week. Pick it up here in the Marketplace for free.
Windows Central Newsletter
Get the best of Windows Central in in your inbox, every day!
Daniel Rubino is the Editor-in-chief of Windows Central, head reviewer, podcast co-host, and analyst. He has been covering Microsoft since 2007 when this site was called WMExperts (and later Windows Phone Central). His interests include Windows, laptops, next-gen computing, and for some reason, watches. Before all this tech stuff, he worked on a Ph.D. in linguistics, watched people sleep (for medical purposes!), and ran the projectors at movie theaters because it was fun.
Do like. Only one complaint. I saw the five year engagement today and it won't show up in the search.

Wow, this app with iMDb support so more international titles could be found...and a choice to call it collection instead of viewed, I got tons of film, dvd's, digital etc...so would be nice to keep it under 1 roof.

This is so cool. For several years what I've done is email myself a film name and label it to "Films" in Gmail. This solves that problem.

PontyPool is a great little Canadian flick.

Pretty cool application but I think
Better movie manager is better and more complete

I have to agree, I just checked out both apps and Better Movie Manager was an overall better experience and it supports automatic backups as well, which I like.

I found this app two weeks ago and I also became a fan. I would add another request for the developer, a slightly bigger box for notes, as 140 characters can be a bit short.

Looks like an interesting app, but guys...Pontypool was really poor! Nice premise, but the script and acting were awful. Try Exam or Doghouse on Netflix if you want something better.

I said it was "interesting" not exactly great. Having said that I didn't find it to be "poor" either ;-) Reminded me a lot of the War of the World's radio broadcast. It was fun and different, really couldn't see where it was going and that's why it intrigued me. Will take a look at those others though, thx!

Well I might stretch to "interesting" if I ever met the guy who made it ("yeah, it was really...interesting") but I think you're being pretty charitable!

Wait wait...just looked up

Doghouse

in remembeReel to add it to my "Wishlist". From RT:

"An amateurish, unfunny and unscary British horror-comedy that could be accused of misogyny." Tomato Meter: 48%

Pontypool

:

"Witty and restrained but still taut and funny, this Pontypool is a different breed of low-budget zombie film." Tomato Meter: 83%

Forgive me if I'm a bit skeptical of your tastes :-P

I've seen both Pontypool and Doghouse, and they're both great movies if you like horror. Whether or not Doghouse is reviewed well or not, I think it's a solid movie. I'm a big horror movie fan though, so I might find interest in ones others may not take a shine to. The other movie that the commenter suggested, Exam, is also really good. I'd say his taste is just fine. :p

I really dug pontypool, saw it a while ago and really held my interest. The concept of the power of speech causing 'things' to happen was very clever. If you haven't checked out 'Grave Encounters' yet, I recommend that one too, nice little indy found footage style film in the style of ghost hunters. Or 'The Tunnel', I watch a lot of movies too. :-)

Oh, and 'Troll Hunter'. Excellent foreign movie!

PontyPool! Go awesome Canadian films!

@mrjoo: Troll Hunter really is a great foreign film. I've recommended it to a few people now.

Anyway, I keep a list of my favorite movies of the year in a OneNote file on my phone. Last year I kept a list of EVERY movie I saw but that became a bit cumbersome. This app would have solved that. But I'm good for now with just keeping track of my favorites for the year as I watch 'em.

Great idea. Anyone aware of something similar for books? Seems like I'm always 50 pages in before I realize I've read it before.

Thank you guys for all your comments and suggestions, and a huge thank you to Daniel for writing about remembeReel! This is so exciting :D:D and re: your comment, I was thinking of writing remembeRead some time in the future!

Nice app. I think you should make it so you can add new movies from the start screen. It took me a second to figure out I had to go to "My Movies" to add a new movie. Not a big deal, just letting you know. It looks nice and clean, though, and I appreciate that.

And I agree, Tucker and Dale vs. Evil is a great movie.

Great app, love it too!! It would be PERFECT with more languages support (i'm italian and most films are named differently) and some category!

Weird. When I come out of the app and go back in, it no longer lets me search for movies using "my wishlist". Is this a known bug, anyone else experiencing this issue?

I tried this App out because it was mentioned on the podcast and I loved it. I haven't even bothered trying to use other movie apps because none of them have the backup/restore and I hate inputting data multiple times on devices. Thanks for finding a gem!

Better Movie Manager actually has automatic backups, you just have to make an account, so I wouldn't say none of the others have that option, but it is definitely an important feature for any app like this.
Windows Central Newsletter
Thank you for signing up to Windows Central. You will receive a verification email shortly.
There was a problem. Please refresh the page and try again.