EE continues to expand UK LTE coverage to include 11 more towns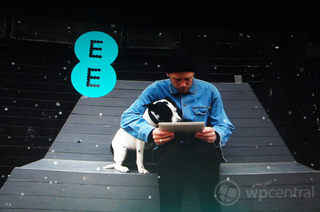 EE today announced the mobile operator has switched on 4G connectivity in 11 more towns across the UK. The new areas include Aldershot, Basildon, Basingstoke, Bracknell, Hitchin, Horsham, Leatherhead, Letchworth, Stevenage, Warrington and Weston-super-Mare. This latest expansion brings the total number of supported towns and cities to 85.
While EE remains the only mobile operator in the UK to offer LTE, the company boasts a reach of more than 55 percent of the UK population with the new technology, just 8 months after launch. Other UK mobile operators, including Vodafone, O2 and Three are set to launch their own upgrades later this year, which will introduce competition into the 4G realm.
For more information on EE, available plans and more, be sure to check out ee.co.uk (opens in new tab).
Rich Edmonds is Senior Editor of PC hardware at Windows Central, covering everything related to PC components and NAS. He's been involved in technology for more than a decade and knows a thing or two about the magic inside a PC chassis. You can follow him over on Twitter at @RichEdmonds.
Meh uk press the back button now ! Lol

Off topic
Whatsapp im still waiting -_-
When is gdr 2 and amber coming my Lumia 920 wants it very badly :D

Still waiting on Milton Keynes to get the green light its on and off here lol.

and nh - but i rather see the other networks getting LTE and EE to be forced to reduce prices -

Nh? True about the prices but im mean to be fair i find that its like when smartphones first surfaced and priced then for data was kinda crazy

EE LTE coverage is worthless anyway, the data costs are too high for most people to afford.

My thoughts exactly...I get on average 8mb/s on my 920 on 3g!!! That's more than enough speed for surfing out and about on a phone! Plus 4g kills the battery faster and the price difference is RIDICULOUS!!!

I reluctantly agreed to try out their 4G service a few months ago, using their portable 4G WiFi router-type thing, and found my data speeds were worse than they were when connecting natively over 3G. This was from my workplace in Canary Wharf, London. Not only that, I had to pay the postage to send it back afterwards, something the EE rep must have "forgotten" to mention. Just like 3G, it'll be a good couple of years before 4G is even nearly mature enough and cheap enough to be let loose on the public.

4g in uk like a Ferrari with quarter tank of gas. All the speed no road

We cant even get proper 2g signal wer i live

Indeed, i live in Birmingham and still struggle. If i cant get 3g, id be an idiot to pay for 4g

Been with EE since November. Started off great. 4G was fast in Glasgow and 3G coverage was great when I was outside 4G areas.
Now however, when outside 4G areas I have to switch my max signal setting to 3G or I get no signal at all for some reason and the coverage feels like it's halved.
I love my Lumia 920 and liked EE at the start despite their staffs incompetence. Now the coverage is shocking for me.

I'm Falkirk/Edinburgh way mate. Exactly the same.

Sucks mate. I actually thought I'd made a good choice at first. The speeds were great.
Now I'm just paying extra money for poor service. Wish I hadn't been so eager to grab the 920. Best phone I've used but not worth this hassle.

Leatherhead! Yes!... wherever that is. I've had no problems with EE at all and so far I'm getting more free stuff than im paying for, especially mobile data. The last time i called their service was pretty good, got a £5 discount on their 4gb data addon. Still pretty fast in London and Birmingham and I could watch live tv on the bus or train with very little interference. So far so good, hope they expand to the north east of England soon.

Will this be like their 4G service they claimed to roll out in Maidstone last month......the one you can't get in Maidstone but can on the outskirts?

EE's rollout has been piss poor. By the time they roll it out to my neck of the woods I my contract will be up. Never will go with EE again left 3 for them. Dumb decision on my part. Happy with my 920 though. EOS on 3 and im switching straight away. Ill sell the 920 and buy me way off this crap network.

Our company mobiles are EE and the signal is terrible. They sent us a femtocell signal booster which wont register as they have an issue with the server. Terrible!

I regularly get over 20Mbps in South West London with EE 4g

Basildon woohoo shame I switched to Virgin not that I would pay for 4G anyway

It would extremely sweet if I could get 4G anywhere other than my home (where I have fibre optic). Typical!!

I did 91GB on Three last month. My phone has actually replaced my internet connection, its faster at an average of 15Mbps, and its saving me £22 per month on my phone line and ADSL2+ connection. My phone is a Lumia 620, with 7000 minutes, 5000 sms and unlimited data and tethering. It is on Three. Try pulling 100GB a month on EE. In places where it is actually the 3/4G (yeah, they still have plenty of GPRS area's), your either have to stop at a rediculously low usage cap of face a massive bill. Until they remove the rediculous data caps, their 4G may as well be 3G. Three's network may only be 3G at present, but it is 100% 3G (they don't have 2G), it is mainly HSDPA+ DC and as such is not only more consistent than EE, but also faster in most areas's, not only due to speed but also as a result of over-subscription on EE. I'm happy to watch these fools pay £50+ per month to EE for a few gig of data, ill stick to paying £21 a month to three, with a free Lumia 620, and all the data I can eat. :)
Windows Central Newsletter
Get the best of Windows Central in in your inbox, every day!
Thank you for signing up to Windows Central. You will receive a verification email shortly.
There was a problem. Please refresh the page and try again.