Embracer acquires Tomb Raider, Deus Ex, and their studios from Square Enix
New Deus Ex, Tomb Raider, and Legacy of Kain games could be on the way.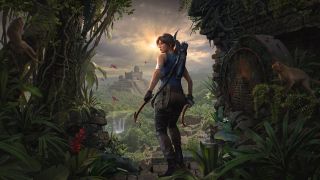 (Image credit: Square Enix)
Update May 2, 2022: The Initiative confirmed that Crystal Dynamics will continue their work on Perfect Dark after the acquisition.
We're excited to see Crystal Dynamics take these next steps with their studio. Our teams have made great progress in building Perfect Dark together as co-development partners, and we will be continuing this work with them in their next chapter. https://t.co/9gG2VGUV8uWe're excited to see Crystal Dynamics take these next steps with their studio. Our teams have made great progress in building Perfect Dark together as co-development partners, and we will be continuing this work with them in their next chapter. https://t.co/9gG2VGUV8u— TheInitiative (@TheInitiative) May 2, 2022May 2, 2022
Original article:
Recently, Microsoft entered into an agreement with Square Enix to have Crystal Dynamics work with The Initiative to build the upcoming sci-fi FPS Perfect Dark for Xbox, leading to expectations that someday, Microsoft may end up acquiring Crystal Dynamics outright. It seems that another company has beat them to the punch.
Embracer Group has been on an acquisition spree in recent years, buying up masses of core studios from across the spectrum, and today, the company has acquired a whole load more from Square Enix.
Embracer has officially snapped up Crystal Dynamics, Eidos Montreal, and Square Enix Montreal, and a range of familiar western IP including Deus Ex, Tomb Raider, Thief, Legacy of Kain, and "50" back catalogue titles from the Japanese publisher. Embracer's headcount will swell by more than 1100 employees as a result of the deal, which amounts to $300 million USD in cash to be paid once the deal fully closes. Embracer expects the deal to be finalized by September 2022.
The news comes as no surprise, as the industry seeks further consolidation in an inflationary market, with major tech companies vying for the future of gaming and virtual worlds in general. Square Enix has long neglected its western teams, arguably, repeatedly casting doubt over franchises like Tomb Raider, and canceling others like Deus Ex and Thief outright.
The fact Embracer name-checked these franchises along with Legacy of Kain is unmistakably a positive sign for fans of those games, but it remains to be seen what, if anything, comes of the deal for consumers. At the very least, it imparts some hope to getting new games under those classic franchises, but it'll come at a loss for Microsoft and Xbox, who most likely sought to acquire at least Crystal Dynamics themselves to help bolster The Initiative.
Microsoft is working to acquire a much bigger fish in the form of Activision-Blizzard right now, which will give them a mass of PC and mobile titles for its push beyond Xbox consoles.
Jez Corden is the Managing Editor for Windows Central, focusing primarily on all things Xbox and gaming. Jez is known for breaking exclusive news and analysis as relates to the Microsoft ecosystem while being powered by caffeine. Follow on Twitter @JezCorden and listen to his Xbox Two podcast, all about, you guessed it, Xbox!
$300m is an absolute steal. Microsoft must be gutted. I personally would have preferred Square's western division, IOI, Avalanche, Asobo and a few select studios over ABK.
Sadly, Square isn't to be.
The only upside is that the games will remain multiplat, so Xbox fans can still enjoy them. Some will also likely come to Gamepass after Microsoft cuts them a cheque.

The reason why people have more scrutiny for Microsoft acquisitions, is because they have taken future multiplats away from other platforms (future Bethesda games for example). Embracer, to my knowledge, isn't known to do that.

For 300 millions dollars, it seems Embracer did a much better deal than Microsoft with Activision or Sony with Bungie. Does anyone have an idea how big Embracer is right now? How it compares to the other big companies, such as Ubisoft or Take Two?

Staff wise it is BIG, 12,000 before this: https://en.m.wikipedia.org/wiki/Embracer_Group Embracer is the old THQ Nordic and most recently bought Gearbox.
Good news: lots of studios and games
Bad news: relatively low net and operating income.
Very UbiSoft-like. Embracer has 57 game development studios in 40 countries, over 150 teams
Franchises: over 200, including Saints Row, Goat Simulator, Dead Island, Darksiders, Metro, MX vs ATV, Kingdoms of Amalur, TimeSplitters, Satisfactory, Wreckfest, Insurgency, and World War Z, among others, plus Gearbox. The new studios will likely be folded into tbe Gearbox which is their NorthAm anchor. While MS might have coveted Crystal Dynamics, this deal actually helps their Activision positioning since profits aside, Embracer is (quietly) one of the bigger boys of game publishing even if most purchases, like this one, are from loans secured agsinst their (growing) stock price.

As long as I'm researching Embracer: https://www.engadget.com/embracer-group-thq-nordic-deep-silver-koch-medi... Of note: "Embracer was founded in 2008 by Swedish entrepreneur Lars Wingefors who had previously founded brick-and-mortar game retailer Nordic Games. Nordic Games Publishing, as it was then known, published its first games, making small but tidy sums in the process. In 2011, it bought the assets of Austrian publisher JoWooD Entertainment after it went bankrupt. In 2013, it did the same thing with THQ when it filed for Chapter 11, buying some of its assets and, a year later, rebranding itself as THQ Nordic. It subsequently went public, raising successive rounds of cash from investors to help it buy more companies to place under its umbrella. "But it wouldn't be until 2019, when THQ Nordic (the parent company) rebranded itself as Embracer, that the company's wild trolley dash began in earnest. Since mid-2019, Embracer has bought or invested in nearly 30 different developers and publishers. "Embracer's strategy seems to center on hoovering up as many mid-tier franchises as possible and winning through volume. And founder Lars Wingefors has said that he prefers things to be smaller, and messier, than building a company that's yoked to a single AAA franchise. In a 2018 interview with GamesIndustry, he said that his strategy was to focus on a "diversified pipeline," with a view to "slowly build something substantial that will be sustainable for a very long time." Much more at the source. I'm thinking that hoard of IPs looks perfect for a gaming subscription service.
Maybe instead of Sony, it should be Embracer buying Stadia.

My worry is that Google could acquire Embracer to fold into Stadia. As Embracer doesn't have the financial capital to buy out Stadia (I hope I'm wrong and they do acquire Stadia). However, stadia is not really doing anything new nor is geforce now. IP acquisition is one thing but infrastructure to provide streaming services is another.

That would be bad, yes.
But Stadia is useless to Google.
It won't go for hundreds of millions.
Possible buyers for Stadia range from Embracer to Tencent, Sony, and Nintendo. Maybe whoever buys UbiSoft. As Google proved, it is useless without games.
And if Google were to buy a gaming outfit they would've: they were offered Activision and they do have the cash. They're done with gaming.

BTW, on tbe Square side, their statements are they will use the new money for Blockchain games and NFTs so getting those franchises and studios away from Square is a plus. On the gripping hand, never mind MS missing out (they have to lay low until their deal closes) a much bigger question is SONY didn't buy the studios given their close relationship with Square. Sure, the games are similar to their wheelhouse (third person action) but the studios *know* PC development. And bring decent catalogs that would look good in spartacus. Very odd. Are they already commited to buying something else or...tapped out?

Sony has a close relationship with Eastern Square & don't have much of any relationship with Western Square. Plus buying Western Square would be redundant for Sony

Getting Competent PC programers and IP is redundant?
Oh-kaayyy... I saw the Square press release and their justification for divesting Eidos et all, is "they are not a good fit for SAAS games like Final Fantasy. As in, they're over single player games.
Embracer, on the other hand, is ldaning into single player with a vengeance and prepping a long stream of "lesser" games that "only" sell 10-12 million each. Like DEUS EX. Counterprogramming, as it were.
Considering how cheap they're getting most of their studios (€20-30M) they'll easily get at least 10% net return on their $2-3B valuation. With lots of room to grow regardless of how the market swings...

PC programmers can be hired without acquiring studios. And yes, Sony already make games just like what these particular studios make/made

Are you sure of that? Experienced *game* programmers?
Then why is Sony buying up support studios and paying $6B for Bungie's expertise and why MS had to contract Crystal Dynamics to support PERFECT DARK?
Or why Activision turned entire crestive studios into support studios? The entire world is facing labor shortages and the programming community is no exception. Proven teams are worth gold pst pandemic. More, there is the IP. Negotiating exclusivity for the next Tomb Raider alone might pay off tbe entire deal. in *their* press release they pointed out they expect a net profit from tbe deal just off the back catalog. And tbat's easy to believe; just put all of it on Gamepass. Square is chasing a pot of NFT gold but EMBRACER almost certainly took them to the cleaners.

I'm 100% certain that these studios Embracer just acquired aren't the only studios with PC programmers or experienced game programmers... So like my original reply said Western Square is redundant for Sony

Of course they're not the only ones.
Just the only one available, available cheap, and with lots of IP and a backcatalog worth most of the price. Would anybody have blinked if the news were "MS buys Eidos for $1B "? Would those games look good on spartacus?
How many PC games does Sony have? How many employees experienced on AAA PC games? They chose not to buy for tbeir own reasons and priorities but redundancy is not it.
And good luck finding 1000 experienced PC game coders with Eidos gtade pedigree in today's environment: https://www.cnbc.com/2021/10/20/global-shortage-of-workers-whats-going-o... 2022 isn't 2019.

Yes please to a new Legacy of Kain game.

Whatever takes games out of Square's hands is good, now that they're in Sony's pocket.

I don't know how I feel about this. Of course I wanted them in XBS for selfish reasons. Hopefully they not only remain on the platform, but are willing to remain in Game Pass deals.

Acording to Embracer, they'll likely be up for auction.
One thing to consider: Embracer gives their studios near total independence.
So it will be up to existing EIDOS and CD managers what they do with their games.
If GP is truly a plus to total income, they can continue it. Embracer seems to prefer the studios be self funding so they can use thdir cash for acquisitions. For now they get most of their "profits" in terms of valuation boosts, much like early Amazon. So a $3B conglomerate only generated $20M in reportable profits but has another billion for more buys. We're not done hearing about Embracer, especially now that the majority of their studios are in the US and Canada.

Interesting. Hopefully that independent mindset will continue into the future

Ooh, interesting I didn't realise Embracer had that much free fiscal spending capital. I was really wondering how were they going to fund the stadia acquisition (if they were to do so) with very low profit margins. It's a great thing to see Embracer allowing studios to be independent and too hope it continues long into the future.

Their spending is all loan based.
It's all bootstrapping: they use their stock as collateral for loans to buy studios which raises tbeir asset values so they can borrow more to buy more studios. A viable strategy until recently when interest rates in the developed world were so low as to be near zero. That may not be doable anymore, but owning Gearbox and Eidos and their back catalogs should generate enough cashflow to make ends meet and a bit more.
Plus they still have that billion dollar line of credit. No longer a stealth operator but very much a power to contend with, Ubisoft-sized. Main challenge they face is similar to Ubisoft, getting net out of all those developers.
Interesting story unfolding.
Windows Central Newsletter
Thank you for signing up to Windows Central. You will receive a verification email shortly.
There was a problem. Please refresh the page and try again.