Enjoy beer? Check out Untappd, the beverage social network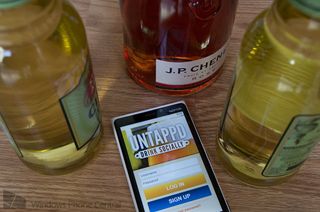 The popular beer-focused social network Untappd (www.untappd.com) has launched a Windows Phone app. In a nutshell the network allows users to find nearby craft beers and bars, check out what beers are currently trending, as well as what friends are drinking.
Using an Untappd account (can be created within the app), users can check out personalised recommendations and utilise Untappd to locate the nearest establishment which sells the desired beverage. It's then possible to track, rate and take a photo of the beer and share with friends. A variety of badges can be unlocked as beers and locations are explored.
Here are some highlighted features of Untappd:
Easily discover new beers and bars near your location
See where you're friends are drinking and meet up with them
Personalised beer recommendations based on the tastes of you and your friends
Find where you can get a specific beer nearby
Share ratings, reviews and photos of your favourite beers with your friends
Post your activity and photos to your Twitter, Facebook and Foursquare
Create a wish list of beers you want to try in the future
Unlock a variety of badges for trying different styles and places
It's good to see integration with social networks and Foursquare, which can be handy should you wish to meet up and enjoy a few drinks with friends. The Windows Phone version of Untappd looks much like the iOS and Android editions, which is a shame but the functionality is there. We would like to see more use of Windows Phone features, including more advanced Live Tiles (size, etc.) and more.
You can download Untappd from the Windows Phone Store for free (listed for Windows Phone 8 only). Also, if you haven't already done so, our own Jay Bennett has a beer app available for Windows Phone. Thanks, Keval, for the tip!
Rich Edmonds is Senior Editor of PC hardware at Windows Central, covering everything related to PC components and NAS. He's been involved in technology for more than a decade and knows a thing or two about the magic inside a PC chassis. You can follow him over on Twitter at @RichEdmonds.
Where's the link? It doesn't show up on the wpcentral app.

Been hearing alot about this app. Can't wait to try it out

That UI sure doesn't look metro, but it's not bad at all.

yeah, not bad but it is inconsistent..
as for the styling everyone should note that all untappd apps are based on its mobile web app, ported to each os with PhoneGap. they just happen to have the mobile site themed to best match iOS so both WP8 and Android keep that experience. that being said, they could have put some effort to optimize for wp a bit..
at the most basic level, moving the navigation elements to the bottom and styling them as is common across wp. that should be fairly feasible and the good thing is they're listening to feedback.. if anyone has suggestions visit their blog and comment on the release announcement or their support page and add to the related threads for WP8 issues and feedback/suggestions.

They use PhoneGap, Engadget said.

Looks exactly like the Android port. Sigh. Better than nothing I guess...

Update: it's not bad, but it's not good either. The lack of swipes really is annoying. The new Twitter might look like iOS, but at least it has swipes, so I don't have to stretch my thumb too much. Playing with this iOS/Android-style app really highlights the archaic nature of those UI.

Overall, it is slow and tedious, and I find the mobile web version is faster than this app! I won't be unpinning that in favour of this.

I really hope they rebuild the app with metro UI in mind.

That may look like the Android port, but that styling is 100% iOS

Doesn't everything Android have iOS styling?

I really appreciate the functionality of this app. I feel like we're getting everything that iOS gets and that really says something. It would be nice to see a metro version but I'll take this over nothing any day.

*Shades falling* ....... Deal with it.

I think I'm going to stick with BeerTracker.

I can't find the app in the store. Been wanting this for a long time.

Hi, my name's David and I'm an alcoholic lol

Hi, my name's Dane and I'm an alcoholic :'( J/k, but I'm sure a few alcoholics clicked on this posting...

Nice to see the image for a beer app using rose wine and cider as props ;)

I've been using Untappd for yrs and have been waiting for this day to come on my WP device. Sadly, not sure I can use this app in it's current ported state. I appreciate the Untappd guys getting something in the WP Marketplace but it totally kills the Metro UI feel and fluidity of WP. The web site is actually faster and shows more info on screen than the app. No Live Tile support either. This app could be KILLER on WP but only if it embraces the UI and Live Tiles. All the "button" presses to navigate makes it incredibly tedious to use. I'm sad. :(

"The web site is actually faster and shows more info on the screen than the app." Ok since when has an app for a product or service been faster than the web version?? Even more so apps are not meant to completely replace a websites content and functionality. You're viewing it on a 4 inch screen for crying out loud.

He probably meant the mobile website, which is true somewhat.

Yes, the mobile site that I have been using for yrs.

I really got screwed buying this Lumia 900, I should have just kept my Arrive

Yeah it is a bit of a pain in the arse BUT... there is an app called 'Mmm beer', which if you can get over the crappy name, is a good solid 3rd party client for untappd which i've been using for a while.

The Untappd mobile works fine for those of us on older Windows Phones.

Mary Joe Foley will be happy :)

Ha. Was thinking the exact same thing!

Lol you and me both buddy. Shoulda waited for 920


Looks like we're getting shafted compared to Android and iOS.
Hmm needs better location integration like… ie take me to the pub, or display the nearby pubs on a map and such. Hopefully we'll get that in some later versions. Also missing the writeups on the pub so you can't see a little info about the place before you pop in.
Shame because I was well jealous of my friend who has this on a crappy HTC desire… we could be anywhere in London and he'd find us a good boozer by his app, find some info about the place, whether it did food or not and then have a map to take us all the way there. When I heard this app was coming to Windows Phone I was well excited… now, not so much. Also you need to hit the back button and go back through EVERYTHING you've done in order to quit the app.
Really REALLY needs some updates to bring it up to date with the app on competing platforms.

You need to drink a lot of beer for that app not to appear ugly

That's the best comment I've seen so far!

Oh, now I want a Caipirinha social network app!! :)

There is also the Beer Knurd app for members at the Flying Saucer (Spoiler alert - Shameless plug of my own app)... http://www.windowsphone.com/en-us/store/app/beer-knurd/a13c05ae-8fed-4413-83b9-4ad84393cc80

They should have hired you to make the app.

Never heard of this app before but I like the idea. Downloaded it and signed up. Interesting to see there are people at my local (award winning, CAMRA etc) who've been posting (who knew?) That said, UI is giving me shudders and ipod touch flashbacks. Also seems a bit laggy. I'll perserve however; if nothing else I can see they've changed the guest ales as someone has just been through them this afternoon! American Pale Ale and Windsor Knot apparently.

Thanks, just turned 21 four days ago!

The biggest letdown I've ever felt from an app. Almost nothing works smoothly, and not even going to start on the ui related bits!! Maybe I'll write my own version!!

How about we just be grateful we got a proper app?

Exactly. Beggers cant be chosers ;)

I'll stick to using the mobile site. The UX sucks, location detection in the app sucks, navigation/exit is totally broken and requires tons of back button presses to quit. So disappointed.

Appears not to be in store anymore

You can download it from the WP central link

What about one for liquor?

It's nice to see another of the apps from my old android phone finally make the jump, even if it was nowhere near the top of my wishlist.

Lmao how did I know wp8 only?

Uh, because the devs said so on their blog, and reported here, months ago.

Oh excuse me for having a life and missing some articles. I didn't know there was a heads up to ignoring 7.x.

Just use the mobile web site, it's miles better than this 'app'

Yeah, I think it would be nice to flag the articles with something more than a fine print in the tag.
Might as well change the name to wp8central.com pretty soon... seems like us 7.x are getting left in the dust by both MS and the majority of developers now.
That "the end of the smartphone beta" ad campaign is funny in retrospect. WP7 looks like nothing more than a WP8 beta at this point.

The UX in this app makes me cry… I really hope they will redo the app as a native one with full live tile support (even though that's most likely not going to happen..). It would also be awesome to have photo check-in accessible via a lens!!! That would make the beer taste really bitter for them Apple/Android fanboys! ;)

This is Great. I was using the Mobile site that is really good but an app is way better.

It crashes when I try to connect to twitter or Facebook. But overall, I'm happy to have it. For those that want to just use the mobile version, Web Apps is a nice way to do that with a nice tile.

My only reall problem with it is it doesn't really feel like an App it just feels like a cleverly designed mobile website... :/
Windows Central Newsletter
Get the best of Windows Central in in your inbox, every day!
Thank you for signing up to Windows Central. You will receive a verification email shortly.
There was a problem. Please refresh the page and try again.