Support for the ESPN Fantasy Football Windows Phone app will end on Sept. 21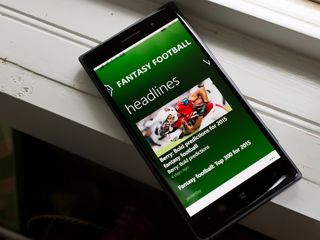 Emails are being sent to users of the ESPN Fantasy Football Windows Phone app, informing them that support for the app will end on Wednesday, Sept. 21.
Here are the contents of the email sent to those users:
The ESPN Fantasy Football app launched in 2012, first as an exclusive for Nokia's smartphones, and was made available for all Windows Phone users in 2013. The app allowed users to manage their fantasy teams and monitor performance with real-time FantasyCast scores and news.
Thanks to everyone for the tips!
Windows Central Newsletter
Get the best of Windows Central in in your inbox, every day!
Hasn't worked for me on my 1520 in ages anyway. Support ended long ago...

Same. Stopped working a year ago.

Same, mine ended a month and a half ago when I logged out. The b*st*rds didn't even tell me when I flat out asked in support requests if support was ending. So annoying. I guess we can hope for a UWP app that will never come. I'm going to rant on them one last time through their support link. I may even use NFL.com next year.

If they are going to focus on the enterprise, windows will still need apps. Business people need key apps like American Airlines, Concur, Hotel apps, and so on and maybe even fantasy football and Quickbooks. We need help over here people.

I have Concur on my 950 XL right now. WP7 version i am sure. It sucks, but it's there of if need it. Although at this rate I am sure that will end soon too.

Obviously, but apps should meet the quality criteria. We do not need apps just for the sake of it. In this case, ESPN FC/fantasy/cricinfo/watch ESPN do not meet the quality criteria and they have not updated these apps after putting in the store.

The WatchESPN app is just fine. You can't throw that one in with this group.

Ask our mistermind nadella..

It's kinda funny they waited for the football season to begin before doing this. I see everyone saying it didn't work anyway so it doesn't matter really.

It not working causing complaints is likely why they are pulling it now

For real, it didn't work well so is it really a loss? #ByeFelicia

It was a horrible app. Screw them for not updating it.

It stopped working months ago... You can still get to the fantasy information from their main ESPN app, but the convenience of updating lineups isn't the same.

All of the Fantasy apps on w10m have not worked. Sucks not to have something that works. The website works for managing your roster but not to draft. So disappointing

If you are talking about the official NFL Fantasy app... Try uninstalling and reinstall it... got it working for me... Although the mobile site is better at some things, I use the app to compare teams.

I have tried that and it does not show my current team. It has another Fantasy league i created but can't edit on the website or app.

StatGnome worked well for Yahoo! FF.

It was barely useful and last got updated for baseball about 2 years ago. Was the football one trated better?

This. CBS app crashes on startup. Also, Go Browns! lol just when I thought we couldn't get any worse...

Email cbs sports about building UWP APP will help us, email link in store on CBS FF app listing

I wish we had something for football fantasy on yahoo.

There are some third party apps for yahoo. Unfortunately our league moved to Espn this year so I didn't get to try them out. All I can say is the ESPN app didn't work anyway.

There is a decent third party app for Yahoo!...not sure if they updated it for 2016 but it was always pretty good.

Agree, the best yahoo football fantasy third party app I found so far is STATGNOME.

thank you for that. I've been looking for one for yahoo for a while now and couldn't find one. This didn't seem to pop up when I searched fantasy yahoo. maybe I just overlooked it. YCS

Fantasy ferret in the store works for yahoo

I have no problem with yahoo on edge. People in my league don't get to vote in polls with app on android, don't get league messages and more, full sites are better than apps often

Didn't work for me, either, which caused me to migrate to a different sponsored league. I still appreciate the exquisite grace note in pulling the plug 2 weeks into a new season. Bravo!

That's what I was thinking. "Hey everyone -- we are going to pretend like this app is working, and suddenly pull the plug in the middle of the season because obviously."

I made a third-party app (updates still in progress) to help support this gap called LeagueLeader: https://www.microsoft.com/en-us/store/p/leagueleader/9nblggh52428

CAVX, This app seems to be pretty good replacement for ESPN fantasy...thanks for your work.

Spectacular, good work, best FFball app out there at the moment. If you could get it to work with Yahoo and ESPN at the same time id actually pay for it.

Getting an error retrieving league info, but I'll keep checking to see if I've done something incorrectly. Thank you for your efforts in bridging this gap. YCS

Sorry about that! There are some league settings I probably haven't accounted for. If your league is public, you could send me the league and team ID. If not, perhaps a screenshot of your roster would help, along with any out-of-the-ordinary league settings you may use. I'm definitely looking for these cases, so let me know if you can send something like that over. Thanks!

Send these through the feedback app? I see my leave name pull up, but I am getting the error when trying to access my team. It says team is not editable, and couldn't cross reference team information.

You're welcome to, yes. I'm trying hard to figure out why some people are having issues. I might implement a more explicit way to send me this information so that I can figure it out.

I sent the screen shots. I am not sure how the feedback works going to you, please let me know if you received it and need more info.

I also sent feedback through the Feedback Hub for a similar issue, and included a screenshot.

Same error here :/ I'll stick to the desktop for now:)

App is working for me now. Thanks!! This will come in very handy on Sunday.

Just tried the app. Great work. How can I send you feature that would be nice to have on the app? If I go to submit feedback it sends me the microsoft feedback app

Thanks! The Feedback app should open to a page specific to the app (you should see "LeagueLeader" under "Refine"), so that should still work. You can also DM me here or on reddit, Twitter, etc.

I submit the feedback in the feedback app with attachments hope you can implement those features

I just received a new update for your app today. Really happy to see how quickly you were able to add player subs. Hope you can add other features/ and stats news . Great work for the only alternative to fantasy football keep it up.

Do you think you can make one for Yahoo? I'm sure several of us would love that!

Thanks for making this! I will try it out, really only need last minute sub ability or scores.

I guess no 8.1 support? Oh well. I guess I'll have to wait for another year or two until the Surface shows it's face... if ever.

Maybe they're making a UWP and adding Fantasy PED use and Fantasy Domestic Assaults.

Doubt it, their metro app for win 8 is still listed in the store and doesn't work either

But they will make a UWP right? Right¿ anyway I really don't care, it was useless. They did it for good

It would seem so. Never used this app but it feels like every time I look here there's news about another app or a developer pulling support etc. I like the platform, so happy to stick regardless of what gets pulled etc. Still interesting to see where Microsoft go from here though.

Microsoft is not going anywhere except to the irrelevance in the consumer market.

Along with the fanboy denial.....

Problem is...it's been bleeding for years now and no band aids around the corner....

The app simply didn't work like it should. They stopped supporting the app a long time ago. On the flip side if there were more Windows Phone users there would be more apps and apps would be updated on a regular basis.

Although I am a fan of Windows 10 mobile. I understand ESPN's BUSINESS decision. Too few Windows 10 mobile users using this app driving a low amount of REVENUE that pays for bug fixes and new features. We simply cannot expect companies to altruistically support apps on a mobile platform with too few users.

But what about a UWP app? I understand not supporting a legacy WP7 app any longer, but they should realize how many Xbox/Windows 10 users there are that play this. I have been needing an Xbox app since the 360. It is absurd to blame mobile to not support the rest of the devices right now.

Is there an app for the PS4? Is there one for Apple OS? I truly don't know, but if there isn't why should they make one specific for Xbox and Windows 10? I assume the options they have are mobile device apps and website access. I'm all for UWP but don't see companies rushing to create them if it isn't necessary.

They had a watch ESPN app on the 360. NFL.com has a FF app on the 360 and XB1. How is this different? How is it not necessary to cater to your customers?

I'm sure im not alone in wanting a desktop/tablet app as well as an app for my Xbox.... UWP would be amazing. Watching the games through your Xbox while being able to snap your fantasy would be something not possible on any other os

Yep... I believe that's what you could do last year on XB1 with NFL.com FF. I think you could even do it while watching games on Tv, at least in concept stages.

That is the problem with UWP. You can't count on the PC dominance to encourage app development when a PC doesn't need apps. The Web browser is all the app you need. For many of these services, a Web browser should be all you need anyway on any platform.

UWP fantasy app? Still a ESPN business decision NOT to build. A potential UWP app would do little to expand their ad revenue - which funds app development. Today, the same potential users of a UWP app still use the Fantasy sports in a mobile browser. UWP fantasy app only makes business sense if it drives NEW revenue and quickly reduces maintenance cost of the UI for the fantasy league. Those two conditions can be met IF there is a large windows 10 mobile user base to use that UWP app. So without a new W10 super phone that drives NEW W10 mobile users from Apple and Google ecosystems, there may be no real hope for a fantasy sports UWP app.

How would console apps not add to their ad revenue when people would have the app snapped to the side for most of the day for Sundays and many hours in the week? Sure there wouldn't be new customers, but there wouldn't be anyway. Most people who are going to play, already play. Ad revenue is based on app use not customer numbers. Putting the app on XB1 would increase revenue. I also disagree with the W10 comment above. Sure if you are talking about bulky desk tops, but what about W10 tablets? My transformer book and other 2 in 1s could benefit from a mobile app rather than a web browser when using in tablet mode.

I got an email back from CBS FF customer support saying they're forwarding my email to the app developers to look into UWP.

Microsoft better say something amazing next month. This is getting old. No new band 3, losing apps. Hell. Now that damn apple watch 2 does exactly what I need (tracking swimming) how am I supposed to stay with Microsoft. Just make what we need... Why is this so hard.

I have the ESPN and Watch ESPN apps. The regular ESPN's features never work like scores, favorites and news most of the time. Windows will always be the red haired step child to these developers.

CBS fantasy football app worked awesome with Cortana and they still support wp8.
I've emailed them asking them to make their win10 app a UWP app. Hopefully more people will

This is why Microsoft needs to perfect Edge, so that web apps work flawlessly.

This sucks. Windows 10 mobile doesn't even have the most popular sport app for fantasy. So sad.

I am still waiting for a Yahoo FF App....

Such a bummer. Finally jumped ship to Android (nexus 6p since I enjoy updates) a few weeks back. My home security/automation system, my car, and fantasy apps were the reason I switched. Still have my 950 and carry it occasionally. Such a shame because it's a pretty decent OS. There are a few things I miss like the keyboard, live tiles and the Outlook email and calendar experience is better on WP (did I mention live tiles?). I really hope at least some of these apps come back as UWP (not holding my breath) so I can at least consider the Surface Phone or whatever they're cooking up next. Posted via the Windows Central App for Android

You can get the Microsoft Keyboard on Android and iOS... I use that on my LG G4... Honestly every good part of Windows Phone (accept for the live tiles) are available on every other OS ... Why even stay any more ?

Tired of all of these !@#$less companies/developers stopping support for apps that hasn't been updated since they were released. If you want to get more downloads then make better apps idiots and for those that don't support Windows/Mobile and complains/developers about them not having users, it's because of you, you ******** not making apps or good apps for Windows Mobile so blame yourselves, we've done our part and you idiots let us down... lol and I'm not even mad, but I want the platform to succeed and have those good apps that other platforms have. My rant on these companies/developers. Feel free to copy & paste to any developer or company.

App was horrible. I hope they make a UWP app, but I'm doubtful

Who cares. Nobody uses ESPN fantasy football anyway. Hopefully the NFL fantasy football app gets updated. After all Microsoft pays them a heck of a lot of money. The least they can do is update the app.

"Nobody uses ESPN"? WTF ? There are millions of people that do. That's why the servers crashed out last week because no one plays. Thats why people and commenting on this thread that their support already ended, because they dont use it. That's a great blanket statement that you pulled out the left corner of your *ss.

Really espn FF is garbage

It maybe, but we still use it. =P

Moron...Just because YOU dont use something, does not mean others dont....

And it's this why Windows Phone is a failure.... I talked my family members into a WIndows Phone device... 3 higher end phones...1520 and 950XL (also an ICON but, that was earlier).. They BOTH use this app... and they agree with me...Windows Phone/Mobile is a great OS, if that is ALL you need but, you expect and deserve more from a modern phone. Windows Phone can no longer fit for most people today. I told them both, if that is what you need to do to do it... and One is getting an iPhone and the other is getting an Android device. Crap, even Microsoft makes better apps for iOS and Android than they do for their OWN OS... NEver mind the BING email I got the other day.... with Moble apps...Andoid, iOS and Amazon....but, NO WINDOWS PHONE but, AMAZON ? Microsoft has pretty much given up at this point

To David. That's the plan. Being associated with "mobile" doesn't mean ALSO manufacturing smart phones. It can mean developing apps and providing services in the mobile space. This is the path that MS wants to take. This is why their apps are better on iOS and Android. That's where the users are. That's where the profits are. MS cannot put all their eggs in one basket so they're creating apps for the other two platforms. MS wants out of building phones except for a few top end phones every 12 or 18 months. MS wants the OEM's to take over the phone building. MS will provide the software. This is the plan. Look at all the OEMs now making devices ala Surface tablet. Bingo.

True, but you can't do that and also say "you are dedicated to the 5" screens" or act like you are trying to make W10 the ultimate OS by incorporating mobile into it.

That's because Bing is native to Windows. You don't need a Bing app on Windows 10 Mobile.

APPS aren't always the best answer for the most part use the real site in edge, works great on 950

When you have league manager rights, the scoreboard page looks like crap on my 950 XL. The App was most certainly the best thing for quick lineup changes and live scoring on mobile, especially since that's all it did.

I'm league manager in a yahoo league, edge works better than league members with android/iOS app, fact.

Just let their parties use ur api's to make their own..would it really kill them?

Why drop this at the beginning of the football season? Duh...

I tired using it once and then deleted it 10 minutes later

I was wondering why the baseball was getting bigger and bigger and then it hit me... :'(

Can Windows Central contact themto see if they are planning to port the iOS app over to Windows?

You can contact almost every app maker using link in store on app page

I asked before, they referred me to the FAQ page, just like when I tried to get support for the app not working.

I received an email back from the CBS FF app contact listed in the store app info. They're having devs look into win10 UWP since I mentioned it.
If only more people did that instead of comment sections devs would see the interest

People complain about these apps leaving, while also stating that they didn't work very well. It could well be that they have been told, by Microsoft, to fix the app or see it banned for excessive user complaints or non-compliance (again, for showing little value to users). Microsoft is clearing the crappy chaff from the store to make the better apps more easily available to the users. Most of these apps marked as leaving have returned in much better UWP apps and some still haven't been announced, but will in the near future. Some will not come back in the near future, and, while that is a shame, I'd rather these crappy, underperforming apps stop clogging up my store search results.

You most certainly have a point. I never really complained about the crappy features of the app because i knew as a WP user, I was lucky to even have one. Even when I gave feedback to them through the app for the past couple of years I said that. If the app didn't stop working for me before this, I would have been highly pissed off. Considering it didn't work, it made the blow a little better. Their reviews on the app definitely showed that their support ended a long while ago, and MS could have told them to support or end it, but it would just be nice to BE TOLD that the app is being developed for W10 in their Dear John email if that's what is happening.

Anyone has any idea when would the Premier League UWA launch? I read that its in the making.

The regular ESPN app is probably next. It doesn't work well at all. I click on a story...it flashes on the screen for a second and then I get some site map looking thing. I've uninstalled and reinstalled and get the same result.

No one (Customers & Developers) will wait till the end of 2017 for the next Windows Mobile flagship. Even Microsoft is very confused about the future of Windows Phone. Then why others will come to support them?

For now ppl have to use statgnome I guess. But that too seems to be a wp 8 app only. The windows store has removed the ability to see the last updated date of the app as in wp 8, so I guess we won't know that as well.

If you are running Windows 10 on your Mobile, then you can easily check the last modification date on the 'Downloads and Updates' section of the Store app. Here, you will also be able to see the last version updated.

Yeah. But not in the app listing itself isn't it?

Hey league leader gets another update. Nice to see the developer work on an alternative to fantasy football
Windows Central Newsletter
Thank you for signing up to Windows Central. You will receive a verification email shortly.
There was a problem. Please refresh the page and try again.