Exclusive First look: Windows Phone 8 version of NewsSpot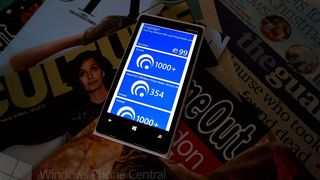 We took a look at NewsSpot back in October when it was last updated, things have now progressed to the point where the app has now reached the lofty heights of version 3.0. With the latest version comes the all-important support for Windows Phone 8.
NewsSpot is a Google Reader client and works hard to help you sort through all that is good and all that needs to be ignored in your quest for relevant content. The app has plenty of Windows Phone 8 specific features in tow, we take a quick look and invite you along for the ride.
If you are unfamiliar with Google Reader we should explain a little of what the service provides. It is possible to subscribe to feeds from websites and view them all in an abbreviated newsfeed. The advantage here is that you don't need to load multiple pages to scan through all your favourite websites quickly.
When we are mobile it can be tricky to keep up to date with news and so the service is particularly useful here. When a Google Reader client like NewsSpot fires up it grabs all the headlines and allows you to sort through them quickly, getting you to the things that matter quicker. Google do not make a reader app for Windows Phone but as you'll see that's of little importance as we have some of the best reader apps on any platform.
Windows Phone 8 has only been out a short while so it's good to see some developers are keen to incorporate the newest features of the operating system into their apps. NewsSpot has been fully embellished with updated high resolution graphics for the newest screen resolutions. The app already looked very clean and slick before the update so it's good to see that the look has been left mostly alone, after all it's the content that matters.
Reading and sharing is fun!
Features that are specific to Windows Phone 8 include full support for fast app resume, Tap To Send via NFC and now lock screen integration. You can see your unread article count and also have the lock screen show images from posts from the last six most recent in your feed. Good stuff indeed and we hope to see these features continue to improve how useful that lock screen can be.
The app also supports the new double wide Windows Phone 8 tiles and that gives the ability to see even more information from feeds at a glance. If you want to go crazy you can pin different feeds to your home screen and put them all into double wide size (which we did for the cover shot).
Share articles
If you want to share an article then NewsSpot has you covered, you can send things the following ways.
Copy Link
Delicious – Private and Public
Diigo – Private and Public
Evernote
Facebook, Twitter, LinkedIn (via Windows Phone built in sharing)
Instapaper
Link Via Email
Link Via SMS
Pocket
Readability
Go Double Wide on those tiles - yeah
We're really please to see the progress that is being made with this app and the roll up of Windows Phone 8 features is impressive so shortly after the initial release. Everything about the app oozes class and its quick and responsive to use. The app will hit the Windows Phone Store very shortly so keep an eye out as we'll do a post as soon as it does.
The app costs US $1.99
The app costs US $1.99 and can checkout the current version from the Windows Phone Store here
Grab the app via QR code below
Get the Windows Central Newsletter
All the latest news, reviews, and guides for Windows and Xbox diehards.