Exclusive First look: Windows Phone 8 version of NewsSpot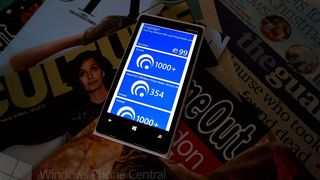 We took a look at NewsSpot back in October when it was last updated, things have now progressed to the point where the app has now reached the lofty heights of version 3.0. With the latest version comes the all-important support for Windows Phone 8.
NewsSpot is a Google Reader client and works hard to help you sort through all that is good and all that needs to be ignored in your quest for relevant content. The app has plenty of Windows Phone 8 specific features in tow, we take a quick look and invite you along for the ride.
If you are unfamiliar with Google Reader we should explain a little of what the service provides. It is possible to subscribe to feeds from websites and view them all in an abbreviated newsfeed. The advantage here is that you don't need to load multiple pages to scan through all your favourite websites quickly.
When we are mobile it can be tricky to keep up to date with news and so the service is particularly useful here. When a Google Reader client like NewsSpot fires up it grabs all the headlines and allows you to sort through them quickly, getting you to the things that matter quicker. Google do not make a reader app for Windows Phone but as you'll see that's of little importance as we have some of the best reader apps on any platform.
Windows Phone 8 has only been out a short while so it's good to see some developers are keen to incorporate the newest features of the operating system into their apps. NewsSpot has been fully embellished with updated high resolution graphics for the newest screen resolutions. The app already looked very clean and slick before the update so it's good to see that the look has been left mostly alone, after all it's the content that matters.
Reading and sharing is fun!
Features that are specific to Windows Phone 8 include full support for fast app resume, Tap To Send via NFC and now lock screen integration. You can see your unread article count and also have the lock screen show images from posts from the last six most recent in your feed. Good stuff indeed and we hope to see these features continue to improve how useful that lock screen can be.
The app also supports the new double wide Windows Phone 8 tiles and that gives the ability to see even more information from feeds at a glance. If you want to go crazy you can pin different feeds to your home screen and put them all into double wide size (which we did for the cover shot).
Share articles
If you want to share an article then NewsSpot has you covered, you can send things the following ways.
Copy Link
Delicious – Private and Public
Diigo – Private and Public
Evernote
Facebook, Twitter, LinkedIn (via Windows Phone built in sharing)
Instapaper
Link Via Email
Link Via SMS
Pocket
Readability
Go Double Wide on those tiles - yeah
We're really please to see the progress that is being made with this app and the roll up of Windows Phone 8 features is impressive so shortly after the initial release. Everything about the app oozes class and its quick and responsive to use. The app will hit the Windows Phone Store very shortly so keep an eye out as we'll do a post as soon as it does.
The app costs US $1.99
The app costs US $1.99 and can checkout the current version from the Windows Phone Store here
Grab the app via QR code below
Best reader out there on any client. I'm searching for an app like NewsSpot on my iOS device and none comes close which is pretty astonishing. Feedly and Reeder are really okay. BTW, I don't understand the hype for Reeder in iOS. It looks like poorly laid out and thought app (but with lot of features) compared to many reader apps in WP. To be fair, I find many other category apps better in iOS.

Wow, this is what I call a compliment! Thank you very much (from the developer :)

Any chance you are going to make a version for the Windows 8 store? I like to use he same reader on my Lenovo Yoga and Surface (RT) as my Lumia 920. As a result I use NextGen Reader because it is available for both Windows Phone 8 and Windows 8 (Metro). However, I think NewsSpot looks great and if it were on both platforms I would give it a try.

Yes, development on the WindowsRT version has already started. However, I'm not ready to give a release date yet. Stay tuned :)

I eagerly await the windows rt version.

Nice app, but I still prefer Nextgen Reader. It's quicker and has a nice, no-BS user interface.

Looks nice but I'm hooked on NextGen Reader, I want to see what they do with Windows Phone 8.

I am in touch with the dev and it seems the WP8 version is coming some time this month. Can't wait. :)

The Nextgen reader doesn't pull down all of my feeds in one go, I always need to sync it several times.

I never see any love (or even mention) of wonderReader. I don't understand it- I tried every RSS app in wp7 and WR is the only one I can stand to use; the rest are pretty but have such gaping design flaws that I just wouldn't use RSS on my phone if it weren't for WR.
My criteria is simple: live tile opens to the list of unread with thumbnails, next/prev to navigate between articles, and open with ie/send to pocket should be easily accessible. Somehow no apps except WR do these things satisfactorily.
Also WR updated to wp8 and supports voice commands- not enough apps take advantage of that yet.

These are hardly "gaping design flaws" - more personal usability requirements. I for one don't even know what a "send to Pocket" button is or what it would do. Does it return the phone to my pocket? Handy!

As for Wonder Reader, its interface is actually notably slower than the competition - obviously it's still fast, but other apps are way faster. I would actually use it if it were faster; sometimes it seems to take an age to start up.

Well I didn't mention what I feel are flaws, only what my criteria was. Another thing about wr is the gallery- that's nice. Pocket, formerly known as Read it Later. Syncs articles on your devices for offline reading.


Hello there, I'm the developer of NewsSpot and maybe I can add something to the discussion here.
First, I remember Wonder Reader being covered here on WPCentral just recently. ;)
Second, Wonder Reader and NewsSpot have different approaches when it comes to syncing. As far as I know Wonder Reader takes its data directly from Google every time it starts, which might be a little bit slower in the beginning. However, this approach is pretty fast if you have a lot of articles, since it does not need to load the articles of the whole feed or label or whatsoever, but only the first chunk. When you scroll down then, it continues to load. NewsSpot is quite different in that it syncs all articles and caches them on the phone. Hence syncing in NewsSpot takes more time, but eventually you have your articles on the device and there is no need for an internet connection until you have to sync again.
Anyway, this leads me to my third point: polish and choice:
Windows Phone is such a wonderful system when it comes to Google Readers, Twitter clients and a couple of other areas. I've used both iOS and Android, and both platforms are easily beaten by the level of polish and choice that is present on WP. I mean, people complain a lot about the app situation on WP, and the ecosystem not being able to keep up with Android or iOS. But anyone just name me 5 good working and polished Google Reader clients on iOS and Android. I can not.
(And this is a kudos to all my fellow competitors ;) )

Yeah I just tried nextgen again- you can't pin all unread to start, which means I have to go through two menus before I can get to my articles; less efficient and very annoying. Moreover it isn't displaying direct links to videos in my feed. Third, no thumbnails in all unread view. When I read my RSS, I expect to be able to do whatever I do on the desktop. Wonder reader is the only WP app that comes close to full functionality, all the other apps are either missing features and/or poorly organized and ugly.

WR is great but I stopped using it when I started beta testing for the NextGen Reader developer. Haven't looked back since, as he's been implementing almost every request that's been made by users.

I've only used NetGen Reader, but this looks pretty cool. Looking forward to wpcentral's post and review when the new versin launches :)

This narrowly beats out NextGen and WonderReader for one reason in particular:

"SHOW IMAGE CAPTIONS"

Great for webcomics which use image captions - xkcd being the prime example, but many others do the same.

Until there is an rss app (I like) that can sync between wp8 and windows 8, I need google reader. There is literally no alternative. I deleted my google account, but I hijacked my friend's google account to use reader until there is an alternative...

There's nothing like Google Reader or YouTube. It's all fancy to boycott Google to make a point but boycotters are really the ones missing out.

Betwwen NextGen, Fuse and NewsSpot, I believe the best one is NewsSpot imo

Sadly, I've been checking for an update ALL day! When is the update going to be live.

Hey there, the final version should go live early next year. However, you've got mail ;)

I think I need this. The review sold me. I have a year to go before I can update to wp8 so it should be awesome by then. :)

Does this app have voice speak for articles? I've been using Weave and enjoying the voice speak for articles while I'm driving.

Not yet, but its definitely on the task list :)

Aww sweet! And with that, you've just earned another customer!

Thank you very much and Merry Xmas :)
Windows Central Newsletter
Get the best of Windows Central in in your inbox, every day!
Thank you for signing up to Windows Central. You will receive a verification email shortly.
There was a problem. Please refresh the page and try again.