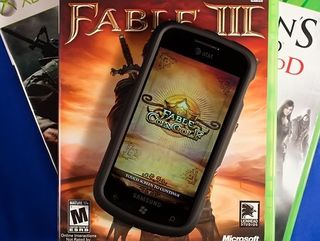 The Xbox game Fable has been around for years, dating back to the first generation Xbox consoles. It is a widely popular game (it even has its own Wiki Page) that is on its third installment (fourth if you count the Lost Chapters) and has now come to your Windows Phone. Well, in a manner of speaking.
Fable Coin Golf is a companion game to the XBox 360 console game and incorporates several elements of Fable III in a table top golf game. The object, as described in the Marketplace, is to "rid the land of evil and conquer each area by getting your Hero Puck into the Pillar of Light in as few shots as possible." The evil in which is spoken of includes characters from the video game including Hobbes, Balvarines, Hollow Men and other colorful characters who are intent on destroying you.
Fable Coin Golf is a wonderfully presented game that has challenging moments that border on being a pain. To find out more about this XBox Live game for your Windows Phone, slide on past the break.
Lay of the Land
The main menu for Fable Coin Golf will send you to the game, your game achievements (eleven of them), game leaderboards, and the help/options menu.
Settings are basic, controlling sound effects, volume and toggling between a fire button or pull/release method of shooting your Hero Puck (a.k.a. golf ball). The Help Section covers everything from how to play the game to scoring and where to find your achievements on Fable III.
The game is divided into three progressive chapters (levels) that contain fifteen stages each. To advance to through the stages you will need to score high enough to earn a bronze medal in each stage. At any point, you can revisit a completed chapter and stage to try to best your previous scores.
Before each stage, an opening screen will appear detailing your starting bonus (starting score), scoring levels for each medal, and the current high score. When all is said and done, a summary page will appear after each stage.
Fable Coin Golf also has a storyline to it with narration windows appearing before each stage. Luckily, there is a "skip button" available so you jump right into game play.
The layout of the game screen itself has the number of gold coins you've collected to the upper left, your score in the upper middle and current medal level to the upper right. Just below the scoring panel you have buttons to restart the level and access the games settings.
To the bottom left of the screen there is a control lever that will allow you to tilt the game board and just below that lever is a button for an overhead view. The overhead view comes in handy when you're trying to strategize your way to the Pillar of Light (a.k.a. the golf hole).
The Hero Puck is controlled by either a fire button or pull/release method. In using the fire button, all you need to do is tap and pull back on the puck to set your aim and power then tap the fire button. With the pull/release you still have to tap and pull back to aim your puck but to fire, simply release the screen.
There be dangers along the way
Along with the twists and turns of each hole, you will have to contend with water hazards, ice hazards, barrels of TNT and forests. On top of that, you also have characters from the Fable III game around to hinder progress. You've got Hobbes (ogre type creatures), Hollow Men (skeletons), Balvarines (basically a werewolf) and other monsters that if hit, will deduct points from your score and kick you about the playing field.
To help battle these obstacles, you have bonus coins to collect that will wipe out the monsters(the Soldier's Sword), build bridges across streams (the Carpenter's Hammer), and chop down trees (the Woodsman's Axe).
All along the way to the Pillar of Light, there are gold coins (hence the name Fable Coin Golf) scattered around the course. Each coin collected earns you game points and equals one hundred gold coins in Fable III.
Scoring is based on the number of moves it takes to get your Hero Puck into the Pillar of Light. Each move that doesn't move your puck into the Pillar deducts 100 points from your starting score. You can earn additional points by collecting coins, taking out monsters, cutting trees and other actions that might help compensate for extra moves.
Game Play
Graphically, I have no complaints whatsoever. Fable Coin Golf is one of the better games for your Windows Phone, graphically and with respect to animation. From the wind blowing the small trees to the animated monsters, Fable Coin Golf is a very good looking app.
Load times were a decent but at times could be a little on the lengthy side.
The stages within each chapter are a mixed bag. Some are easy, some requires a little concentration while others can be so difficult they border on frustrating. You will find yourself settling on a bronze medal simply to get past some of these stages.
Stability wise, I did have Fable Coin Golf crash in mid-stream twice. The game re-loaded without difficulty and while the crashes weren't a deal breaker, they are worth noting.
The biggest problem I had with respect to game play is the same complaint I have with Fable III. The game is simply too short. It took me just over two days (about two hours of actual game time) to complete all three chapters. Fable III went just as quick (about six hours of game time) to complete. Luckily, Microsoft has a few add-on packs for Fable III to give that game a little more life. One can only hope the same is in store for Coin Golf.
XBox Live
Fable Coin Golf's tie in with XBox Live goes beyond adding achievements to your XBox Live Profile. Gold coins collected in Coin Golf are transferred to your Fable III game and bonus items for the XBox game can be unlocked based on your performance in Coin Golf.
Gold coins and bonus items can be found in the Sanctuary of Fable III as presents. After you complete each stage of Coin Golf, you will see how much gold you've earned, any bonus items, and what you could buy in Fable III with the coins (cumulatively) earned in Coin Golf.
Overall Impression
The Fable series of games for XBox are among my all-time favorites. I have been looking forward to Fable Coin Golf since it was announced at the 2011 Mobile World Congress. After completely the game, I was left wanting more.
Coin Golf is tremendously well presented with fantastic graphics and animations. The game play has enough variety in challenges to keep you interested without frustrating matters.
Load times are a bit lengthy but considering the amount of graphics and animations involved, the times may be appropriate. I didn't care for the storyline narration and was thankful a "skip" button was available.
While there is room for improvement, if you are a fan of the Fable console games, Coin Golf is a must have app for your Windows Phone. If you haven't played Fable, Coin Golf is strong enough to stand on its own. There is a trial version available to let you try things out before buying.
The full version of Fable Coin Golf will run you $4.99 and you can find it here (opens in new tab) at the Marketplace.
Windows Central Newsletter
Get the best of Windows Central in in your inbox, every day!
George is the Reviews Editor at Windows Central, concentrating on Windows 10 PC and Mobile apps. He's been a supporter of the platform since the days of Windows CE and uses his current Windows 10 Mobile phone daily to keep up with life and enjoy a game during down time.
I agree with Mr. Ponder - this game is amazing, but far, far too short. It needs about 100 more levels, or even a feature that lets you design your own tables, or pull up a randomized table.

Wonderfully boring.This game has nice graphics, but that's all.I paid for it and then discovered that it only has 3 levels (!), with a fake Boss at the end of each.After only half an hour I finished the whole game. It's a shame.

I lost faith in all things Fable after the second one. And that sucks, because I loved the first despite all of its shortcomings and Molyneux's broken promises. Le sigh ...

I'm with you in losing all interest since Fable (original), tried Fable III and put it down within minutes.

Honestly, this is the first game that has what I want from WP7. Fun game play in a style that really makes it feel like there is a real connection to the game. The fact that it allows you to earn gold in the Xbox game is amazing. That is what we need to see more of. I really would like to see a game for **** Effect 2 or 3 that lets you collect minerals from a mini-game on your phone.

Hear, hear... It's like with every installment the series took steps back instead of forward. I loved some of the humor and some of the ideas, but they never actually materialized into anything of value.

My reply button isn't working for some reason, but I agree with Arturo.The game has some pretty graphics and a nice sense of humor, but it is WAY too short. Nothing here makes this game worth the asking price. For one the gold you earn in the game is so minimal that it'll have zero outward impact on Fable III. Two, the game has so few levels that you'll be wondering where your $5 went in about an hour. And three, the game is so incredibly easy that it won't take long to figure out the general swiping motion required to win. They basically spell it out for you every level. Angry Birds this is not.If this game were $1-2 I'd say snatch it up as a small distraction, assuming you have nothing better to buy, but it's no where near its current value.

Completely disagree with anyone who says this game is too short. If you haven't got a gold medal on every level you haven't finshed the game. Anything else is just a walk through. It takes a decent amount of time to get all the gold medals and the challange makes the game so much more compelling.Also, I don't know Fable III so I can't say if the gold I have acquired in Coin Golf is valuable or not. I do have enough to buy Clixby-Stanners Manor though. Sounds good to me. I've never had a manor before.

I'm with you there. Settling for less than gold (and less than the full 200 Achievement Points) just doesn't count.
Windows Central Newsletter
Thank you for signing up to Windows Central. You will receive a verification email shortly.
There was a problem. Please refresh the page and try again.