Facebook Beta for Windows Phone updated to version 10.0 with new settings, more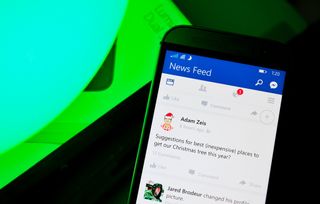 The Facebook Beta app for Windows Phone appears to be getting a pretty interesting update this evening, at least for some folks. We've received several tips that the beta app has been updated to version 10.0, which would be a big push up from the current version 8.3.6.2, and it brings some new settings along for the ride.
We haven't yet received the update on our end, but Windows Central forums user Nicholas EK has reported some interesting changes. First off, in the Settings menu, there are new sections labeled "App Permissions" and "Upload and Roaming Settings." The former is currently empty, but the latter contains toggles for allowing the posting of media via your mobile connection, roaming Facebook settings across devices, and the ability to draft posts on one device and finish on another. In addition, there appear to be some Windows 10 aesthetic elements along for the ride as well.
Again, we haven't spotted this update on our own Windows 10 Mobile devices just yet, but the number of tips we've received indicates that something is happening. It's possible that the rollout is phased, or the store simply hasn't updated for everyone yet. Still, you can check at the Windows Store link below to nab the latest update if it's available.
Thanks for the tips, everyone!
Download Facebook Beta for Windows Phone (opens in new tab)
Dan Thorp-Lancaster is the former Editor-in-Chief of Windows Central. He began working with Windows Central, Android Central, and iMore as a news writer in 2014 and is obsessed with tech of all sorts. You can follow Dan on Twitter @DthorpL and Instagram @heyitsdtl.
It's awesome!!! Now just for messenger!!!

News feed is actually current and complete now. Not just a random pick of stuff. It matches desktop version.

Can we see and reply comments now?

Reply comments just show up as regular comments right now but I hope that it's coming.

Just send them feedback about this feature

In other words, the app is still shit

Where is the link to Facebook beta for windows phone. I have 8.1? Please

I cant get the link for it, but on WC app, search "facebook beta" and click the download app link in another article. It works :)

Why is there no download app option in this article? They've not given a download app option for a few articles now. Are they getting rid of that option?

Giving up on Windows Phone, we all use Android now.

So you need to post the link to Facebook for Android :P

That's really funny Dan (or maybe you're serious), but the "download app" link is a huge convenience and it's becoming more & more rare. Then there the fact that app has been become barely useable on Windows 10 and you guys have been extremely silent about an update.
Seriously, app updates, app quality and communication are the of the biggest issue with Windows phones and Windows Central is perpetuating that.

What's really funny if the app is better on android than wp

They arent being quiet about it, They have said multiple times that there is a universal WC app in the works, why waste time updating an app thats already being replaced? it's a waste of time/effort.

https://www.windowscentral.com/e?link=https2F2F...

Even windowscentral app is better on the android and its frèe too.....

I don't think this update is available for windows phone 8.1

It should be available, I got it before wp10 came out. The good thing that you cannot do on android is you can have 2 Facebook tiles with 2 different accounts on them at the same time. One on beta and the other on the regular app. No conflicts. You try and do that on android :P

Im on 8.1 but have beta how i get file or update it to 10??

Anybody upgrade current build 15049

You may want to check the previous article!

Today I downgraded to WP 8.1 so good to see the new Facebook update

Does this current windows 10 mobile build 10549 is suitable for my L1520

Live tiles didn't work on Lumia 930, so I downgraded

Me too had the same problem on my L1520 so downgraded...

Is this different from the regular FB app?

I don't think so, its same as regular

More features than regular, fb beta is where they test new features 1st to implement on regular one

Basically any new features are loaded into the beta version first (and any bugs ironed out) before the update is applied to the 'main' app that can be found when searching the store. Similar to the Windows Insider program, just much, much, much smaller.

Anybody tell me real feedback of this current build 10549

i am using it. its awesome on my 930. Try new display scaling. keep in middle for phablet experience :)

Its mean should I update current build 15049 on my L1520.

If you don't need Mobile Hotspot. I upgraded my 920 and as much better as this build seems, without that working when the screen times out, I can't upgrade my 1520

Mobile Hotspot has been working since the build prior to 10549. It only didn't work on the on prior to 10536

It works fine until the screen times out, then it disconnects

Turn off WiFi and Bluetooth before turning on hotspot. On 10536 it stopped working for me when screen times out if wifi and Bluetooth are enable at the moment I turn on hotspot.

Just stay away from that terrible Edge browser and you should be fine. It just sucks and sent my Lumia 920 into a continuing looping of "resuming". Other than that so far it is blazing fast and responsive. Posted via the Windows Central App for Android

The update doesn't show up on my WP8.1 L1520.

Yeah I went to the store listing for facebook beta and it says this app is not available for your phone. The description said it was redesigned for windows 10

MMissionary: Download "Sys App Pusher" & u will get the beta app for FB over there.
Except this, there is no way to download beta app for FB.

I really hope this is just Microsoft updating the 8.1 apps before Facebook publishes their Universal app. I really want Facebook to make their Universal app from scratch, not taking over the one already developed by Microsoft (which is sh*t)

Well said. I can barely admin pages with the present fb app. It's horse manure. Hope FB makes a better n full fledged app for the universal store

Seeing Mark Zuckerberg has confirmed universal apps for Facebook and Instagram; is very likely that they have started fresh canvas, very likely they will port the over from iOS and/or Android and adjust relevant areas to work better in the Windows platform.... well one can only hope so.

I am keen to update windows 10 mobile but afraid coz I have only one primary device and I love with my L1520 very much, I don't want any bugs but crazy of windows 10. Now, I am helpless

Sounds like you should clearly stay on 8.1 and not upgrade. Don't be tempted, it still has bugs. Posted via the Windows Central App for Android

Swith to slow insider then! Just step out of insider programme and then relogin and apply gor slow insider. You will have less bugs!!

You should updates. It's almost bug free. Of course the build will degrade overtime but if you disable Cortana you will be fine. And by the time it's actually degraded, they will probably have already pushed out a build to fix the issue.

I doesn't like Cortana feature, its really boring

Universal Facebook App is happening! version 10 is the clue guys don't you get it?

That's what I was thinking, or at least what I think they should have done. Not sure if that's what this is.

And also now, we can see stickers in comments! One step closer, folks!!!

And new expanding and contracting animations for opening and closing pictures.

and can watch videos without opening it seperately :D

new app is awesome, finaly looks and works like it should...

Isn't fb making universal app?

Yes, but it probably isn't ready yet.

How do u download fb beta? I don't see it in the store.

Just follow link in this article to get beta fb..

wait. wasn't a universal app directly from FB under works? why work on this old WP app anymore? :|

I think FB has stepped in and is doing the development directly together with MS. Once the app is finished, I suppose they will change the branding to Facebook Inc,. Do you really think they are allowed to create this UI without FB's intervention?

That's what Facebook having been doing all along, working with Microsoft. I would assume that Facebook will take over development when W10M is out.

This isn't the same old WP app. Silverlight/Win8.1 Apps doesn't contain API for interactive notifications.

I've been using it, it it's a huge leap.. It's awesome

Now have interactive notifications :)
And you can copy comments.
https://twitter.com/vitorgrs/status/654464945325776896

Just recieved and installed the FB update for Windows 10 mobile :) It looks pretty good.

Can anyone post some photos of the new Facebook for Windows 10 Mobile? PS: You should make clear that the update is for Windows 10 Mobile... Some of us who are still with 8.1 got excited as well

this update is not for wp 8.1 ?

It is not, I have a 635 with 8.1 and I can't see the update button, while people with Windows 10 Mobile already have it

I'm on win10m and still no update

I can't live without this update. It is so important to meeee!!!! Thankyou I was just watching http://www.twitch.tv/eastxtwitch live and needed to take the time to comment here. Thankyou to the author for posting such an important and informative article.

Rolled back for the new OS update and now my apps are restoring and I opened the facebook app and it was different. Caught me off guard. Doesn't look like it has threaded replies still which is disappointing.

It will eventually get there :)

Update for 8.1 too damnit! I'm not upgrading my phone to the bug ridden W10 mobile crap anytime soon!!

Appear online people chat ?

Still havent got the update. Also not available in the store if you search.

Update not available for WP 8.1

Surely this is not the universal app facebook is developing for windows 10?

I hope it actually gets to be universal by the time this version is released to the public. The desktop app is ridiculously bad

I think their W8.1 app is pretty good actually, it is just not made for Windows 10 but it works fine and it is made by Facebook Inc.! The Windows Phone app is another story, that one is really really bad (ofc it is made by Microsoft), I just hope this new Universal app is made by Facebook Inc and it is a total rewrite (not just a update of the existing app).. or even better, the new app could be a rework of the Desktop app which I say again, is really good, it just need improvement

I think FB team also worked hard on server side as well.. From today even WP8.1 app loading everything quickly even in 2G network.. Pics, comments, news feed and everything loading so fast..
No more error messages appears for loading content which was i noticed everytime before..

Thanks for the download link in the WC app, DAN.

I can't see the link in app

Uninstalled because the tile disappeared and it wasn't in my apps list either and now it won't update. Stuck on old version. Maybe tomorrow. So weird.

simply launch app from store or restart ur phone. then the app shows. its a bug in the OS

Hopefully when I rejoin the WP fold the Facebook app will be on a par with whats offered on Android Posted via the Windows Central App for Android

Not showing any update for me

Got it on 8.1 not on 10 Posted via the Windows Central App for android on Windows 10 mobile

Lol.. How do you got update on 8.1 if it is only available for W10M??

I got an update but its weird. It says on 8.1 that last updated on 15-10-15 but the version is not 10. And no update in w10m

Facebook 8.3.7.0
Facebook beta 8.3.6.2
It is weird... Why regular version for wp8.1 have higher update than beta?
I can't see any difference between regular and beta...

If you're using mobile download here
https://www.windowscentral.com/e?link=https2F%2Fclick.linksynergy.co...

do u know if i can get file for this download? put on sd card then install as I'm on 8.1

How is it possible that I've just downloaded fb beta and the version is 8.3.6.2 and not 10.0? I think it is not for wp8.1 :/

Yes this only works on win 10

No, the 10 version is pulled. Even on w10m you get the old version.

Lol I rather use browser and wait for an original fb app. Can't you see MS the hardships we have with your OS over the years...frustrating. That is why I have not upgraded my mobile lol and it was the right choice. Will see how everything goes in couple months then will consider upgrading or switching OS

How to download it? Not available ffor me,it downloads old v8 and I'm in latest w10m build.

http://www.windowsphone.com/s?appid=93da5d29-daf0-4783-9ed5-a87b33247ec6

WTH is this? Still a link to the older version!!!