Facebook Messenger launches on Windows Phone 8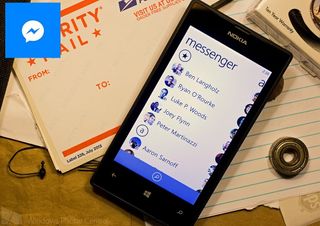 Facebook Messenger (www.facebook.com/messenger) has today launched on Windows Phone, just as announced back at Mobile World Congress. The joint venture between Microsoft and Facebook brings the familiar messaging experience from the popular social network to Windows Phone. Before you assume this app to be dead weight with Facebook integration in Windows Phone already present, think again as this expands on functionality. Head past the break for details and store links.
What does this app do that the built-in messenger system fails to feature? You've got stickers, images and more that's new for the platform in an official offering. Should you find yourself communicating with friends through Facebook more often than not, it's worth checking out. Just like Facebook Messenger for iOS and Android, Windows Phone owners will now be able to check messages without opening Facebook through the official apps or Internet Explorer.
Not only that, but there's a sweet list of features included in Facebook Messenger:
Get to all your messages without having to open Facebook.
Bring your conversations to life with stickers and send photos privately.
Have group conversations and make plans on the go.
Share your location so people know when you're nearby.
Know when people have seen your messages.
See who's using Messenger and who's active on Facebook.
Stay logged in so you never miss a message.
Turn off notifications when you're working, sleeping or just need a break.
Never lose your conversation history or contacts.
Since this is a standalone app from both Microsoft and Facebook, we can see this solution being updated regularly (or more frequently than the full-featured Facebook apps). You can download Facebook Messenger from the Windows Phone Store.
Windows Central Newsletter
Get the best of Windows Central in your inbox, every day!
Rich Edmonds was formerly a Senior Editor of PC hardware at Windows Central, covering everything related to PC components and NAS. He's been involved in technology for more than a decade and knows a thing or two about the magic inside a PC chassis. You can follow him on Twitter at @RichEdmonds.
Can someone explain this joke to me.. I've been seeing people say this on here for weeks and still have no idea why!

Because after an update, that usually doesn't actually change anything, people go, "Hm, seems faster" Recently, its gotten out of hand. This time I think he meant that the app was released shortly after it announcement.

Also , this joke apply at the first comment .

Bummer. I had been wondering the same thing, but had hoped there was something more to it than that, considering how often the joke is repeated. :D

actually everyone who uses Facebook/Facebook Beta for WP knows that this app is slow as f... (even it has seen 30+updates since v.5 debut) I think thats why everyone is joking. Also it started with some people being serious with "it feels faster" after small bug fixes/improvements updates. :p

What does that have to do with this app? ... and Facebook works fine for me, are you sure it's not your connection?

Yeah! I know right. Facebook apps. Both of them are Really fast for me. I get Notifications Instantly and the Performance of the app on the phone is really good as well. I have no Idea what problems the rest of you lot are having :?

Agreed. Its instantaneous for me. He must be on Sprint's 3G.

Ye,only intelligent knows the true meaning of comment "hm faster"

Man oh man, I hope Microsoft announces and releases WP8.1 like this!

Well I think the confusion comes from the fact that Microsoft fixed the messaging portion of their Facebook app. So now u get the messages instantly. Now I get two messages instantly haha

I don't get it either. Couldn't they have just added the capabilities to the official fb app? Why have 2 separate apps?

Same to me, I feel now being penetrated 3 ways - messaging hub, and two apps - and thinking about wtf in multiplicating same functionality...

I think I'll just disable Facebook chat and use this instead

Exactly, think they're moving away from hub functionality. Easier for people to migrate over when 8.1 comes. Now I get three duplicate messages, annoying as hell to delete 3.

Just disable "use facebook chat" option from messages and disable toast notifications for other apps -_-

You can actually set your status as "offline" on the Messaging Hub and you can turn notifications off for messages on the Facebook app. That way you'll be penetrated only once :3

LOL DID NO ONE ELSE GET THE INNUENDO?! :D

Too bad disabling notifications in the WP FB app syncs with the W8 App and disables the notifications there also.

Exactly. Wish I could've turn off pushes in messenger and app and leave them in hub, but still have messenger and app installed. Because hub is great for rapid free messaging but lacks images.

No you should change your settings under messaging to not use Facebook Chat.

I want fb messages in messaging hub turned on and both fb app and fb messaging app still working but with no pushes. Problem is, turning off WP fb app's pushes reportedly influences W8 fb app while turning off pushes in fb messenger app permanently is impossible, only 1 hr and til morning options available.

"Reportedly" or you know it for sure? Because I haven't had any issues with the Windows 8.1 Facebook app notifications.

Tomasz a few comments upper reported. I tried, thank you, you saved my ear from one bebeep per message.

Check your settings in the Facebook app and on WP settings under messaging. You must disable it from the ones you don't want notifications from.

not sure why they couldn't just add the sticker and other capabilities but mind you iOS is the same so is android, they all have a seperate messenger app but i guess we'll find out if the facebook app for WP8.1 will be no par or even have some distinc feature that the other 2 OS doesn't have

To modify the system app they need to release a system update. It is impossible to release system updates each time Facebook add a feature to Messenger.

They need a really good, extensible messaging API that everyone can hook their apps into. I'm happy to install a FB Messenger app, I just wish it would work through the standard messaging in WP.

I agree, not liking where this is headed. The hubs are maybe the greatest things with WP. Ok, so they want apps to be upgraded without having to upgrade the OS, well make the hubs to oridanry apps so they can be upgraded withut having to ugrade the OS. I'm ok with standalone apps IF all the hubs have good API so for example the chat-apps like whatsapp, this facebook chat app, skype and whatever apps using some sort of chat can be used in the messaging hub. The same with the people hub, standalone apps that connects to the people hub.

Agree completely. I liked having the hub for messaging. Didn't matter if it was text on SMS or text on Facebook. They're dismantling one of the things I and the people that used it saw as one of the selling points of WP. Not good.

I'm with you. One of my favorite features was the hubs, very convenient. With that being said, it was kind of annoying when someone would send me a picture, i had to swith to the FB app to see it.

It's all about branding and to say "we have this app too".

Well messenger is instant not only in its sending but receiving, something that you have to manual update on the fb app, plus you at least don't have to go through the process of open the app then clicking the messages!

thats not true, for about the last 2 or so months we have been getting messages instantly. additionally, you can pin the messages section to your homescreen, which is essentially "facebook messenger"

That is kinda true, however, when I use it, it feels sluggish and if someone sends a message longer than some point you have to click on SEE MORE which opens up explorer and send you to the online fb to read the message. And yes the notifications work but when I used a different fb app (booklet) those notifications would come first! I could deal with it if the app wasn't so sluggish for me! Also for me alot of times when I'm open the app to check for messages, the red bare will drop from the top saying something like it doesn't have enough data connection or something...

The Facebook app is developed and published to the Store by Microsoft, though I've read FB has recently been co-developing. This new Messenger app is by FB, and is actully their first officail app in the Store. Hopefully FB will be publishing their own offical app that will work better with it. For the time being, you can turn off the notifications for the FB app and Hub integration.

no this one wasnt a joke, it is really fast, but usually after an udpate we have this inside joke to say that.

It really is fast...tho it lags a bit but better than others in performance...

It works but seems pointless. Now I can chat in there places. Why can't they just make the main app better?

Just read my comment. The system chat can't be upgraded without a system update.

Exactly and we still haven't seen all that WP8.1 has to offer so the Messaging app may allow for apps to plug into it or even replace the system app altogether. We all need to wait until BUILD to see what happens.

Not only is it faster, but now my friends even reply faster. Amazing work!

Now we need the ability to have more lock screen icons. Txt and fb were same icon now two and I don't want to remove any others... Annoying.

Thanks to you we now have a comment thread about getting penetrated fast, multiple times, and choking in the process...

Just another day at the office :-)

And it doesn't have push notifications!
Another half done app to the count.

Push notifications work as expected

Yeah, not sure what xratola is talking about. Works great.

No, seriously, I am not getting messages after closing the app. The app has to be opened.

My notifications work with app closed.

You've gotta be kidding what phone do u have? .-.

i have Lumia 1520 but if you have battery saver on you will not get notificiations take it off and see if it works

My ATIV S recieves them as well, you must be using it wrong!!

Just tested and I get notifications with the app closed (using x button).

Same problem occurs with my L520

You don't receive messages when you close the app.
It must be opened to get them :/

Is your phone in battery save mode? Didn't try the app but it's usually the reason why

Nothing on power saving or data restriction. Are the notifications coming from the Facebook App, In-built messaging or the Facebook Messenger App?

its working with app closed....i am getting push notification from all 3 of them

My notifications are definitely coming from the messenger app without it running in the background.

Perhaps you just have too many apps running in the background, got to settings background apps and disable few of them, then reboot and try again. :)

Which is why I don't understand why people are so enthusiastic about "official" facebook apps.

It does have push notifications!

I have the same problem on my Lumia 920.
Not receiving notifications after closing app but it works fine on my friends L720

Look at the threat on the forum I gave a possible fix.

I can't find the thread in the forum. Can you provide the link to the forum discussion?

http://forums.wpcentral.com/showthread/267921.htm
Hope you fix it ;)

Fixed it. Working perfectly now. Thank you so much :)

Apart from the stickers, the integrated messenger is way better!

Excuse me where is the integrated chat anywhere better than this app apart from the stickers? And why are stickers a big deal anyway?

You can't sent messages to offline people(mail) in the integrated messenger. Fail

fb discontinued their mail service, that's why you can't do it anymore.

You can still send messages to offline contacts through the Facebook Messenger app, just one of the many things the integrated version is missing.

i can send messages to offline contacts !

Actually you can send messages to people offline in wp integrated fb chat.. Works for me

The only app ive missed since switching from android. Hope it is just as good as their version!

I find it to be redundant given the hub integration built into the OS - but I guess this is another sign that FB integration is going to be removed in 8.1.

I haven't been able to use the integrated facebook chat in months. I don't want to reset my phone to fix it. I'll take this app to help with that annoyance..

Jst remove the memory card and sim nd restart it will fix

Really? The built in client sucks, and it is only for chat, not messages. There's a difference.

Chat and messaging are one and the same in Facebook now.

But things like photos, stickers, and group messages don't work with the Hub integration.

Finally! I'm getting tired of this "Integration works great"! I'm a WP fanboy and had it since WP7, sending images and stuff with GREAT speed, and being able to see if they saw ur msg, and send stickers and group messages, with the most reliable toast notifications is waaaaaaaaay too good to pass and would be an insult to the app to say it's the same.

noone said integration works great. the only thing that works great is the idea of a unified expierience with a single messaging hub. I expected it to fully integrate FB (with group messages, media content and proper conistency of messages) rather than have another annoying app flying around that I would have to use. I want One App for messaging and One app for info (people hub). That was the Idea behind Windows Phones integration of the Hubs. Shame to see it go really.

I agree, not liking where this is headed. The hubs are maybe the greatest things with WP. Ok, so they want apps to be upgraded without having to upgrade the OS, well make the hubs to oridanry apps so they can be upgraded withut having to ugrade the OS. I'm ok with standalone apps IF all the hubs have good API so for example the chat-apps like whatsapp, this facebook chat app, skype and whatever apps using some sort of chat can be used in the messaging hub. The same with the people hub, standalone apps that connects to the people hub.

wp 8.1 let us to choose ths app in hub thats greatest thing follow wpcentral dnt act lk dunno anything :) greates app i love it

Same here, the integrated chat is missing so many features and either spontaneously stops working or suffers from serious latency issues simply because all the messages have to go through Microsoft servers first. This app connects directly to Facebook servers which makes it far more reliable.

You find it redundant? Did you read the article?

Yes, if you only use it for messaging. That said, I have since been alerted to the ability to send photos, etc. which is not available in OS version - as such, I retracted.

Don't think u get convo threads in messaging app. They are conforming and it sucks.

I didn't like the integrated messenger because it mixed up text messages and Facebook messages. I found that confusing, and I know it said what the message type was, but still.

I don't think they will remove it. They give just people the option to choose what they like to use. #fingerscrossed

Yep, this app is awesome, notifications are instant! Notifications on the glance screen is really good too and along with wp 8.1 I will finally be able to say I'm completely happy with WP. There's no longer any feature I'm missing, apart from maybe contactless payments.

Baked in version doesn't work most of the time.

Is your status set to available?

Yep,it kicks in every once in a awhile.

Hmm.. Mine did that for a while.. I also didn't received any messages on my game hub as far as game invites and messages. That is until I figured that I needed to set my status as available..

My baked in app works flawlessly. That said, it doesn't support pictures or groups so I'll be using the new one.

And also it is damn ugly and very non-WP-like, just like the Skype app.

It is ugly. In the alphabet screen, the symbols aren't even centered properly. The tile doesn't help either.
Edit: It doesn't seem to cache data, like images.

Amazing creation ( but God's better tho :p )

F Yo Jesus, I don't want I unicorn!! Isaiah 34:7

Atheism for life or until your religion is proven.

Your rights to choose your beliefs .

Why not agnostic rather than athiest? Atheism is hatred.

Please Wikipedia atheism and show me its hatred, its only the lack of beliefs in a god.

Its literal meaning is Without God.

Antitheism is hatred, those dudes are the worst fundamentalists around.

Whatever dude, all it really means is without God and they like to make fun of religion about the unicorns in the bible and stuff, not hating the people. Unless your being sexist to women and children or gays because your beliefs say so. I should know I'm in a community about.atheism and all we do is debate about our point of views about the subject, not hating people unless they are being anti gay or sexist.

There is a difference between atheism and antitheism.

"The silliest religion is the one that people believe there's this big giant universe and it's expanding, it's all gonna collapse on itself and we're all just here just 'cause..... just 'cause'. That, to me, is the most ridiculous explanation ever." - Trey Parker"

Yeah and Christians believe in Unicorns, snakes can talk, world made by two people and were all incest and much much more fictional things. There are like about 1800 different gods over human history.

Not sure what your point is bringing up Christians and Unicorns, but you probably were replying to a different comment. No worries.

There's a sticker for that.

I really don't think God cares much what name you call him. I find it hard to imagine God the pedant, certainly such would seem hard to praise.

Sup buddy, The religion fight is like 3 comments above.

Finally. The built-in messaging through official Facebook app is so bad.

CANNOT CONNECT TO CHAT what does that even mean?? :c

That you cannot connect to chat :D

GREAT! Now let's wait for Facebook "Blue"

: Full featured Facebook app coming with WP8.1 :D

Really? From where do you know that?

I have a feeling it is but for the Facebook Beta. Why else would they not roll out the recent Facebook Beta update? Unless they found a major bug in beta before release, I bet they're delaying to rollout the all new Facebook Beta.

I'm sorry i can't follow, did i mis something? Because i didn't know there is an all new Facebook app coming, apart from the current Facebook app and Facebook Beta app?

Facebook integration will me removed from Windows messaging in WP 8.1. This is a clear sign that Facebook is working on building an official Facebook app for Windows Phone.

Hmm interesting, i have never used the built in chat, because it never worked for me.... But is it confirmed that Facebook is currently building the official app for Windows Phone or is this just speculation? That's all i want to know :P

Just speculation. I scour the internet daily looking for news on all the tech I love. But it does make sense. After all why would Facebook give official support for a messenger app and not the full featured app? That wouldn't make much sense at all! If I had to bet, I'd put my money on a new app being in the works. Something with the awesome performance and functionality as this newly released app :)

Yeah i have to agree, it would be stupid only to make a messenger app and not a full featured Facebook app. It does make sence! Thanks for sharing :)

It was confirmed! Just look at the channel of WP8.1 leaked videos by: yash : the one that leaked all the new WP8.1 features including Cortana & open the video of "Lumia920 running 8.1" You'll notice That when he opens the camera roll he'll find the ability to upload it via "OneDrive" & Facebook and it's written"Facebook Blue" the same name that was leaked before that is a Full Featured Facebook App!! :D

Yes, Facebook blue is there. But it is still not confirm that it is an official app. And why Official Facebook app is called Facebook 'blue'? Why Facebook use MS internel codename for their official FB app? I still hope I'm wrong, & that 'blue' word will be removed at RTM. And I also wish it is Official Facebook app form Facebook Inc.

That was fast! EDIT: Tried for a couple of minutes and now I'm imagining a Facebook app made by Facebook with that quality.

Facebook finally made an app!

And it doesn't actually suck.

I know, it's amazing what 1st parties can do! Now, I'm just waiting for Paper by Facebook to complete the apps from Facebook that I want...

Well, released with swiftness, this was.

Developers, I guess its time to stop ignoring us

Developers, Developers, Developers!

Finally! Hopefully the notifications are instant.

You need friends first! :P I keeed I keeed

lol nice one but really i have gotten several messages but the app has yet to notify me even my Built in chat in the hub has stopped working just says "can't connect to chat"

Are you still on Amber or Portico?

Seriously, this app is smooth and good. I'm quite impressed.

Bit ugly but hoping it will get better

See, that's the type of feedback developers want. Just utter bullshit.

Yeah don't what ammoiz is talking about. This app is gorgeous!

I am sorry to say but the bright white background gives me pain in my eyes

That's your fault for having weak eyes. Turn the brightness down.

I think ammoiz has a point. Besides, white backgrounds on my phone's AMOLED screen give me the battery-drain-heebie-jeebies.

Auto brightness but the fact is that it is way bright unlike Twitter white design.

OMG, so my theory of MS holding everything to BUILD is failing!!! Hahaha

This one was made by Facebook themselves. I guess they finally realized that leaving the development of the apps to Microsoft was a terrible idea. =P

Yeah Microsoft has definitely shown incompetence with the Facebook app big time

Microsoft have the best of the intentions here. Screw FB for not having at least tried before, as MS has been done with the social network app that is not theirs, since WP7. But well, this Messenger is good. It's time for FB take care of their things and let MS focous on their own services.

Yessss..im glad it comes to wp.

Nice! WP user's life just got easier!

What happened to windows phone 7.8 I'm using the Samsung focus and I'm feeling so left out.

Happens on every OS eventually, upgrade or get left-out to dry.

Lumia 520 is cheap brother

Its version 3.0 THE HELL IS THIS!!!!!

So would it be better on the battery to turn chat off in the messaging hub and use this instead????

Very good and important question

No because this app lights up the screen like July 4th

So does the chat in the messaging hub when u get a new message

It's at least functional.

Not good I have I windows phone 7.8 and I don't think is fair that we don't have this app...

Yeah, I also want support for Windows Mobile 6.5! :'(

I also want messenger for my rock :(

Not really the same. WP7 devices are still being sold. If Microsoft and their OEM partners don't withdraw the available units from the market, it's obvious that people will buy them and be mad at the lack of support.

Where are they being sold? I haven't seen one at any store in a year. I think only about 20% of Windows Phones run WP7.

Europe. For example, over here, FNAC (a huge international chain of stores that sells books, cds, films, computers and all sort of consumer tech including phones) still sells WP7 devices.
And I've seen WP7 devices being sold by FNAC in Belgium too. Because, unlike the US, most people who buy phones in Europe goes to stores like FNAC, the phones are still being sold. Otherwise those 20% would have been gone way easier.

Seriously? :o I haven't seen any WP7 device anymore, i don't know what FNAC is, but i do know that all the operators and Media Markt don't sell them anymore .... What is FNAC btw? :p

FNAC is French multinational chain of stores that has presence across european countries and overseas. Countries like Portugal, Spain, France, Italy, Belgium, Switzerland and Brasil. It's similar to Media Markt except FNAC's main focus is in culture and entertainment (so, no washing machines or domestic supplies). Kinda like Saturn in Central European countries.
So they basically sell all kinds of CDs, DVDs, Blu-Rays, gaming consoles, games, books & magazines, PCs, laptops, tablets, phones (from dumbphones to smartphones) photography cameras, TVs, projectors, dvd & blu-ray players, music players, and everything IT related (keyboards, mouses, webcams, etc etc). It's basically a tech's geek heaven and they're the main place to go to buy a phone without a carrier.

why are you saying "Europe" like its a country like the US is. FNAC i have never heard of, i live in the UK, doing a google search it seems FNAC is a french company so why dont you say France instead of talking out of your ass and saying Europe. I haven't seen a WP7 device in any store in the UK for almost a year and not from major operators in longer than that.

Tesco Mobile are still selling some of the older lumias. Fun fact. The lumia 900 cost more per month than the lumia 920!

It's not only about being or not sold. In Argentina for example, Windows Phone 8 devices arrived terribly late (they just started arriving in Q2 2013, and only the Lumia 920 at first), so some of us are still on a contract with our Windows Phone 7 devices. I, for instance, still have to deal with my Lumia 710 for 3 more months, and even then carriers have a strange policy when replacing phones; they stopped selling the Lumia 620 so they could offer the 720, and the 520 is 150 dollars even on a 18 months contract. China and India are not so "emerging markets" anymore, some countries are really worse.

I hope the Spotify update comes tomorrow or something

That would be a dream come true. Spotify and Whatsapp are terrible on WP8, and i'm cosindering an Android just for these two suckers.

You are considering an android just because whatsapp and spotify? HA HA Charade You Are. Lying to yourself, what a bad kid.

I guess you are right and i'm wrong, you seem to know me better than i do. Thank god you came into my life.

This is redundant and less convenient than the built in messenger on the OS via Hub.

The built in one *never* works on my 920, it does on my 520 though, but not always, this is more reliable.

the built in one eats a lot of battery when using mobile data, and If I message using other devices, the message will not appear there

So, while I took the majority of what I said back; as far as what you've said goes, I can't help but think that this will use a fair bit of battery as well.

The app should be using push notfications in the backgroud. If you already have push notifications coming in on your phone, there shouldn't be any significant battery drain increase.

The built-in messaging is nice and convenient, sure, but this isn't really redundant since this lets you send images, shows you when messages are read, gives you full history, and more. Seems to complement the built-in functionality nicely when you want a little more.

Good point, didn't think of it that way. Only considered straight messaging.

Why don't people understand that there is a difference between Facebook chat and Facebook messages. This app is NOT redundant. It doesn't work with groups either

What is the difference between FB chat and messages? Serious question.

FB chat is instant messaging i.e both of you have to be online to talk to one another. If you go offline people cant 'chat' to you on the integrated client. FB messages are the equivalent of text messages. You can be offline but people can send messages to your Facebook inbox and you can get notified like a text message. So essentially the integrated client is used for one on one instant messaging while Facebook messenger can be used for that and as something like an online text messaging service. FB messages also work with groups.

"less convenient" depends on your point ot view. I've always hated to have it mixed with my normal sms's. So I had to disable it and use only the facebook app. This is most convenient. And I hope Microsoft gets rid of the integration on 8.1. So, as you see, convenience is debatable ;)

It theory, anything is debatable.

Sweet! I prefer this than to the built in one, as I have issues with that...

The messenger app? Mine hasn't worked for months. Keeps saying it can't connect. :C

The one built into the messaging app, that shows your text messages.

OMG NO WAY!!! oh wait, no one cares about FB anymore. Nothing lasts forever. Just think MySpace. Everyone thought it was great. All great things must come to an end. Good to see its available. More options, more customers. More funding. More windows phones. Bring it.

You don't care. Others do

No one cares about Facebook? What do the cool kids use now?

Cool kids get jobs and make money. Buy Audis and make something of themselves

Kids have jobs? That sounds like child labor. Aren't there laws against that?

Children under the age of 16 should be playing sports and being supported by their parents. Social media shouldn't be the majority of their life. Which sadly, is todays general youth. Parents now a days see Social Media as an excuse to not have to take care of their kids. Bcoz they're so preoccupied with it. And video games. Parents are the fault. They always will be. Im sick of seeing parents on their cell phones more than their kids.

So you don't know and were speaking out of your ass? Got it.

Lol. Just let me enjoy this beer. Sick of getting replies.

That's a nice dictatorship you have planned there.

Tell that to the 1.1 billion Facebook users.

A BILLION people use Facebook. MySpace never had a tenth of its user base. You have no idea what you're talking about.

Maybe u shud watch the news and see the facts. FB has a billion users. But the word "user" is a loose term at this point.

I find it more amusing that you used 'the news' and 'facts' in the same sentence :D

Sadly, I must surrender and agree with your logic.

No, you're confusing facebook with Google Plus. Facebook only counts active (accessed in the last month) users; G+ counts everyone with an account even though majority never accesses it at all. Facebook is vibrant, growing, and international and every anecdotal piece about its "dying" is US focussed, which is irrelevant when 96% of the world's population is not American, and easily refuted by looking at global usage. Facebook isn't going anywhere.

Ha! Everyone I know is on FB. I'm 40 and don't feel the need to jump social networking sites every year to be "cool". I have a feeling there are a lot more of "us" than "you". :-)

Its the youth that are losing interest. Thats the problem. The guy who created FB has been worried about it for a while now. Kids are more interested in the new stuff. They've been talking about It for months now.

Yet my kid sister and all her friends use facebook

Does it always make me online? Don't want to be online facebook 24/7

I think you go to "Active" and hit the button on the navi bar.

In the app go ovet to the "Active" section and there is an option on the bottom navigation bar that allows you to be offline or online. That should solve the "always online" concern.

It can't automatically sign in with the FB account;
When you touch "see timeline" it doesn't open the FB app, but the web site instead. My only complains so far.

Maybe they have an -official- Facebook app in the works and the messenger will open that app for timeline? :D We can always speculate.

Hrm, I don't use FB messaging a lot. In built integration worked fine enough for me. I've just started IM testing and it is indeed snappy. Lets hope this means FB will is more committed to WP. Until another less evil alternative pops up, its all I have for comprehensive contact management.

Great app. I wish it looked more like a FB or MS app and less like a Google + app. Also, can we get some live tile color change option? I like the color choice of the tile in the store but the tile is my theme, which is red. Not digging so much. Just sayin.

Ahh no live tile :/ no emoticon ..i mean like when u put ":P" that doesnt change to fb's emoticon :/
Anyways I am crying :')

Just use the yellow emoticons instead since they work in this app.

WTF are you talking about, it does have a live tile. Check your background tasks and stop any that you don't need.

Where is the offline button..

I think you go to "Active" and hit the button on the navi bar. Hopefully that does the trick. I'm testing now.

Thanks.. I figured it out..

Love this!!! And this is actually way more stable than the actual app for Facebook!

Love it! Simple , beautiful, functional !

Biggest deal of 2014 I see.

next BBM and flipboard :D

I don't get it. How is not having to open the FB app but still having to open this app to send a message any better than just opening the FB app? Why not just improve the messaging capabilities of the FB app instead of creating redundancies? I already get annoyed that I get FB messages in my Text/SMS area and the FB app too (so I basically have to check them twice just to get rid of the notifications (I prefer the simplicity and speed of the Text/SMS app for FB chat, that's why I don't turn it off). Admittedly, the messaging in the official FB app sucks, now I'll have 3 areas where FB messages come? Sounds like a nuisance. Someone please tell me how this is better than just improving the messaging in the existing FB app.

Yeah confused over this one as well....

I agree. As a long windows phone user and still at 7.8, I am also confused by these developments. This was not the intention and mission statement put forward, back in the day Joe Belfiore put forward the idea behind the windows phone platform. It was all about an integrated experience with deep facebook integration and putting people first. To give people a coherent experience of having a lot in one place. Now it's all only about the apps, just like other platforms. It's unfortunate to see this as to me it shows that althoug windows phone is coming up with needed improvements, the fact that there are now three major facebook apps is ever more confusing and fragmented. People may now be happy to see the newness and shininess of the apps, but 6 months down the road I believe people will start to think more critically of the events that have taken place today. Many features in all these seperate facebook apps were supposed to be part of the peoples hub. I would still love to see this happen. Right now the facebook integration in the peoples hub is quite good. All it's missing for me is being able to add photos and use the facebook message app within the peoples hub. That would have completed it for me. For otherwise there is otherwise quite an adequate portion of the necessary facebook functionality within the peoples hub. And the adresses are closeby. Now I feel I'm forced to take a hand in a soft obligatory unwanted switch to different apps for different functionalities. In th begin perhaps cool, but the ever switching of apps in the longrun will getting tiring. Windows phone is about getting things done with a coherent experience. Get in, get out. Done. Get on with your life. Now I feel it's bcoming more of a thing to keep fidgeting with apps and apps switching and tweaking a la android just to fill in the time and waste it. A very bleak and sad development, wouldn't you agree?

You're not forced to download this app. Or the fb app. Or to be on fb. But it is much faster to message from this app than from the message tab on fb, and this app isn't as unreliable and has far more functionality than does fb chat via the messaging hub.

Everyone is aware that they aren't forced to be on Facebook or use their apps. What's the point in stating that? Especially since I am clearly on Facebook already. I get that this is faster and more feature-rich than the message section built into the app (and not as fast but still more feature rich than the built-in Facebook integration into Windows Phone's Message/SMS app), but my question still stands: Instead of making a separate app, why not just add these features to the existing Facebook app. That is, make that app better. As it is, we've got redundancies all over the place. I can send Facebook messages from 3 'official' applications right now. Simplicity is king.

Cause more options that's why.

My point is that they could simply bring those "more options" into the already existing apps rather than create a new one that is otherwise superflous.

This is a preview to what's coming along Windows Phone 8.1. Your issues will be gone with that update and the new Facebook app.

If that's the case, and if 8.1 is really months away, then releasing this app makes even less sense.

Everyone is aware? You're making it sound as if you're not. Yes there are redundancies if you use all three services-you turn off fb in the messaging hub, there goes one redundancy; you message from the messaging app instead of the fb app and there's another. You sound like somebody complaining that they receive email on the Windows Mail app and in Outlook and at outlook.com AND on your phone! That's redundant! If the redundancy bothers you so much, turn off fb in the messaging hub, don't download the new app and pin the fb messaging tab to your start screen. No more redundancy. I for one love the standalone app.

I'm making it sound like I'm unaware that I do not have to use Facebook? Is that a serious question? Your outlook examples are a false analogy. Outlook.com is for viewing email on computers that don't have Outlook installed. Outlook 2013 is for viewing emails in Desktop mode of a Windows PC. Windows Mail app is for viewing emails in Touch mode of a Windows PC or tablet. Outlook on Windows Phone is for viewing email on your phone. In contrast, all 3 of these Facebook messaging services are for the same thing: viewing Facebook messages on the same exact phone. It's redundant and redundancies are anathema. I'm well aware that I don't have to download them or use them, but I hope you're aware that they create confusion among the consumer market, and that's not good. That's great that you love the standalone app, but despite your love for it you haven't actually justified its existence.

Because the Facebook app is published by Microsoft and this new Messenger app is published by Facebook. This is leading many of us to belive Facebook will soon be publishing their own app and taking development out of Microsoft's hands, as they should. That is just speculation though. If they do, it will probably work better together. Why make them seperate in the first place? I recall Facebook wanting to do a Hub like thing of their own where all your messages, including SMS would go through their app. This would ultimately work better with a standalone messaging app than one being bogged down by all the other stuff going on in the app I guess.

I agree with you but it's not a Windows Phone problem. It's exactly the same for iOS and Android. They have 2 differents apps (one for Facebook and other for Facebook Messenger) and you're able to see your messages on both of them, and even receive notifications on both of them. The only difference is that the chat on Facebook app on Android and iOS is the full experience. So, if you don't want to install facebook messenger you're still able to chat in the Facebook app. Hmm, thinking again, maybe that's what you want :)

I used to have Android (worst experience ever) so I'm aware there are two apps there too. But we on Windows Phone now have three. It's a tad much. I like simplicity and would prefer they made one method and made it the best, rather than three different ones. And, as others have noted, it defeats the purpose of one of the features of the Windows Phone OS, which is integration with social networks.

This is BS. I don't know people always complain. Use the app. It is Georgues & Fully featured. We already seen how aweful the integrated fb msngr from last 3 or so years. & it is also lot dificult to update that portion of integration & wait for OS level of update.

The FB app is buggy. If a person just wants to mesage back and forth with his FB contacts, this is a much better solution than trying to use the full FB app.

That's the point of my argument: fix the FB app and integrate this smooth experience into it rather than saying, "Well, that one's kind of buggy, let's just pull out one feature and make a new app for it".

One question, would it be available for 7.8 too!?

Es tiempo de conseguir un Windows Phone 8 :)

Aja, no todos podemos comprarnos uno, wp7.8 todavia eatan en el market I es injusto que nos dejen atras. Just saying

Does this mean we're getting an official Facebook app as great as the iOS one?

That was fast :D Off-Topic WPC the Microsoft News Website is using a MAC ???!!

I think they noticed it because they changed the main picture haha

Hopefully 8.1 come able to have more notification on lock/glare screen.

like our facebook page to get more interesting stuffs like this. http://www.facebook.com/winplugin

Awesome. This is big. Thanks Facebook.

If i install this, that would mean i will get 3 notifications from a fb message. 1. Fb app 2. Messenger 3. Built in integration. I just need one reliable and on time fb notification for messages.

2nd would be better, turn off the other option.

Yep, that's exactly what happens. Turns out for me the FB messenger notification is always the first to come through so I turned the other two off.

I usually keep the integrated chat off because it is so unreliable, and I have the message notifications off in the.Facebook app too. Hopefully the notifications are near-instant

Unless you have messenger friends or you use Rooms - integrated chat is now redundant. Microsoft has to replace it with Skype and that's when it is useful. There is no way to make new friends on messenger so integrated messenger isn't an option anymore. Stopped using it months back.

Been checking wpcentral for this constantly the past few days for this. Thank God!!

Jesus fuck that was fast! Although it looks like an iPhone just invaded my screen, its a fast and fluid app, thank you Facebook.

Actually looks like a good mix of windows phone in there, more original than the iPhone and android versions

I wonder whether this was unintentionally made public ... otherwise, I'm surprised!!!

Omg, freaking awesome app. Love it!!

Do you actually like those?

It is much faster when involved in multiple conversations. I would have to say at first no but they grew on me. I have a Note 3 as well as a 1020.

I actually need those :'(

Can someone tell me if will come on wp7.8 too!?

No it won't, man. Jesus, this app was expected by most to come for wp8.1. It's time to accept that wp7.8 is dead, no more support. I hope you understand this. It is time to upgrade. There's the Lumia 520, it's cheap, it has wp8 and more importantly, it will be upgradable to 8.1. If you decided to get the 7.8 knowing that it was eol, then that's on you. Time to let go.

Cannot save sent picture .

"Error. Store isn't available right now." What in the actual fuck does that suppose to mean ._.

Glad this finally here, I have a lot of friends who live out of country and this is our only way to talk, so this is a blessing. The love the way it looks, but I really wish they had the option on iOS/Android for the bubbles. I figured that feature wouldn't cross over, but it's still well done.

The store isn't available right now :)

The built in Chat app on WP never works properly it always goes offline Posted via the WPC App for Android!

Wow waiting for this long time.. Thanks to Facebook and Microsoft...

OMG its out. Yippiee....Finally an official app by Facebook available for WP users. Excellent !!

Just downloaded it and it looks promising. I just need to run it through the daily rigers

Well, first off, I think stickers are just completely stupid. And, thankfully, I don't know anyone who wastes time with them...must be a feature for 8 year olds. And I already GET all my FB messages without opening any app, so I don't see anything new here. I use the built-in Groups and Rooms features to do group messaging & coordinate things on the ago, so, again, what's the big deal? In fact, outside of the childish stickers, I don't see anything with this app so far that I don't already have built-in. And didn't FB just kill this same thing on Windows 8 desktop?

so does your build in fb integration support media content, group messages and consistency of messages? no it doesnt. I expected that to work properly rather to have a stupid third party chat programm that is even nosier than microsoft. that integration of everything into one gui was the idea behind WP. Dont get how they "just get rid" of this. might aswell jump android now since it is the very same shitty expierience

If you really, seriously cannot see how this app is a vast improvement over the overly basic, unreliable built-in messaging version with its awful selection of emoticons (which is where stickers are very useful), then it is not for you...so don't bother downloading it, and stop whining about what is an awesome option that has been missing on this platform compared to the others (even many featurephones have had FB messenger for ages). The fact that you don't get the point of it all doesn't mean you have to crap on those who do.

Cant beleive how quick it has come after mwc. I expected it to come out with 8.1. Cant wait for that now. I love my microsoft. Use all there services. Hope more developers follow fb and see that we is here to stay. Posted via the WPC App for Android!

Thank goodness! I wasn't expecting this until 8.1!

I hope they fix the Facebook app they have up now so we can notifications and improved feed and status check and hopefully its under Facebook and not Microsoft as much so the its actually fix and the UI is really cool!

Glad it launched so fast. It runs really fast and the design is refreshing. Definitely different than the full app.

Notification not working though.. I'm getting notified by fb app not through messenger app

No it's working fast and good

Its working for me. Had to turn off my FB notifications for messages and turn FB chat off in the native messenger I was getting 3 notifications for one message. The FB messenger notifications always came through first.

Works extremely well & it's the fastest i've ever seen when it comes to chatting on facebook! Great Job!

They should update for windows phone 8.1 the built-in one. It works perfect for me but yeah, the lack of features, even though it doesn't bother me so much since is not that important might be an issue.

Lol need to fix something i guess, tried using sticker and is not pointing to the right icon.

Is it just me thinking this is a huge departure from the original idea behind the Messages hub? FB messenger was supposed to be integrated... And integration has been on a steady decline for a while now...

Maybe an option will appear in 8.1 ;)

If messenger changed (which it has), but it worked just fine before then it's because FB changed something on their end.

No it is not just you. i am sad seeing this all going to third party apps with the idea behind the people hub and messaging hub. why would i want to have 2-5 different guis just for all this stuff. i want it integrated into one single experience without all the drums and whistles. the messaging hub would have just needed to have skype integrated and support group messages and media content and of course message consistency which was not allways given. i dont want that ugly facebook stuff on my phone. not the fb app and not the messaging app. work out how to provide the stuff on the hubs and everyone should be happy.

Well that takes care of my decision on which alternative messaging service to use. FB Messenger and Skype for the win.

freaking awesome and fast. thanks ms/facebook

Great. Now I'm getting notifications from the native messenger, Facebook beta and Facebook messenger every time. Very annoying.
Anyone know how to disable some of those?

Uhm... Disable toast notification and block background task? EDIT: With the native messenger, just put the Use Facebook Chat option to Off.

Yeah I got it now.
Turn of messages in toast/notifications under settings in the FB app and turn off FB chat under settings/applications/messages in WP settings.

Turn off Facebook chat option, now have to run this app to see who's online.

Interesting that they figured out how to add pictures to these messages, but still can't do that with the "in-house" Skype product. Also, turned OFF "Message" notification in the regular Facebook app. No double messages. :)

This is made by Facebook.

"The joint venture between Microsoft and Facebook" <---from the article we are discussing. Besides, if FACEBOOK can add picture attachments to a messaging product on Microsoft's platform then Microsoft should be able to add pictures to a Microsoft owned messaging product on Microsoft's platform. Right?

My point is, different priorities. Microsoft can add it, but for whatever reason they haven't done so. They obviously will. They've been spending the last couple of years rethinking nearly their complete product line, takes time dude. The wait sucks and they seem slow, but none of us really have any idea whats going on behind scenes.

I forgive Microsoft a LOT, but Skype has been part of the bigger problem of MS brands not taking care of other MS Brands. Skype has always put resources into competing platforms before tackling Windows Phone. Obviously, the access is there since Facebook can attach picture and so can WhatsApp and other apps. Microsoft KNOWS the code because they helped build this Facebook Messenger app. What seems to be happening "behind the scenes" is a lack of coordination between Microsoft divisions. Obviously, I'm not the only one that thinks so. Things take time, but honestly, they could do this one feature in almost no time.

Some people just keep on whining! So annoying, jeez!

Seems faster than BBM launching

And yet the Facebook app still sucks..

I feel like Windows Phone is more and more diverging from what it was at the beginning. Detached Music App from the Music Hub, no improvement of the Messaging hub and instead leading to (suboptimal) Skype and Facebook apps, ... Things which defined the platform for me. Sure it is getting better and better overall and may soon be on par with other mobile platforms, but the differentiating factor for me is vanishing.

And the FB and Skype apps feel so out of place with their white backgrounds and round bubbly avatars.

So far so good. Better than pinning the messenger part from original app. And liking pusheen and other smileys.

We can't save photos from it, but it looks really good.

Very good app! But i have four complaints, yeah already xd lol, 1: if i send a picture with this app the quality is pretty bad, they are not sharp. 2: when turning of location i get sometimes a message from the app that location is off, but i don't want everyone to know where i am. 3: i want the same notification sound found on iOS and Android device's, not the default Windows Phone notification sound, you know, the sound when you first logged in into this awesome app :) 4: seems like you can't logout from this app without reinstalling the app ... Peace

What about the real facebook app from facebook? Is it coming or not?

Jesus Christ! Some really simple people out there

Its simply fast. Loving it the support from fb.

Super mega duper hyper extra fast duuude, coolio!

you like it ? you will love the next update http://www.virtualizationsquared.com/?CR_CC=200372765

Will it get the facility of chat heads like android and ios in the next update?

I love this app! Much better than the original Facebook app that MS has built on WP.

Do you now get 3 notifications, Facebook app, this app and inbuilt chat

I have turned off all the others except this!

With native off, not showing as online in Facebook chat, just messenger chat

Hopefully Facebook will import whatsapp into this app, and with ms involvement maybe skype.. An all in one app :)

Well MS links to FB in apos, so why not the other way round, or is facebook to high and mighty now ;)

They've had the framework of that in place sine 2010, but too many people cried for an "app".

The built in app works fine on my 920 but its bare bones. I will be using this app instead of the built in one.

Not showing as online with this app, so guess will be to leave Facebook chat native on as well. Only showing online to those with messenger

I wish wp fb had b'day reminder's

It does in WP calender if you turn that function on in the calender app.

I'm loving it! The stickers are fun! Lol!

When we are getting the free calls?

Screw all gods atheist for life!!

This is great for people that want to use chat but not the Facebook app. I for one like a break from mindlessly swiping through fb.

Super fast awesome app waiting from long time.

Such a great app, I've been using it for some minutes now and I liked very much...

The built in one works fine for me but I'll give this a go. Works smoothly.

This is very much welcomed.

Finally, now bring the official facebook.

Would like to be able to change the colour of the tile to the normal blue. Instead of your accent colour. I hate all tiles being the same colour, drives me nuts

Still prefer the built in chat but guess theres nothing that can be done about that anymore since its getting removed, so welcoming this i guess.

Chat on FB not so good if your carrier signal is poor. This works fine .... a welcome option

Noticed a drain on battery. On l920 we have used 9% in a hour since installing

my god! i cant believe it works! its notifications are synchronized! it works! i can send pictures without having to wait several minutes until they are sent! I CAN HAVE A HIGHLY FUNCTIONAL FB CHAT APP ON WINDOWS PHONE!!! PRAISE THE LORD!!!!! if more apps like this keep coming up , apps that will keep me from missing the perks of android and having fully functional apps for everything , ima stick to this ecosystem

Should have released bbm before releasing this...

BBM not coming anytime soon. They announced it for summer this year.

just quit facebook. hope BBM coming soon for WP.

Microsoft should just get the wheels churning on the global takeover and push www.so.cl to replace Facebook! Then figure out how to compete with youtube.

Guys I cannot receive push notifications,neither do I have notifications on the live tile! What should I do?

Nice. However I still like the idea of an intergrated message hub. If Microsoft can't integrate fb chat with the builtin messaging hub nicely, I would really hope this fb messenger can receive text msgs so I can ditch the built in message app. Already too much messaging app installed on my device!

You can change the default messaging app in WP8.1. And plus FB messenger was asking for your phone number so I guess this may be an indication it'll support SMS

Well thank the people who have spent the past few months kicking and screaming for this "app". The integrated messenger has worked fine for me as well.

I love the native apps of wp
A) they never show the resuming screen except in crazy cases
B) they're much more faster
The a reason is very annoying for third party apps in phones like 520.

I expected them to modify the built in hub in such a way that developers could add their apps to new tabs in that hub, that would've been cool, all WhatsApp texts fb viber at the same place !

I agree. But then people would complain about it.

Nice app, but ya, pointless. Microsoft already has it covered, and well, from two places. Thanks anyway Facebook.

Not pointless at all.. Some of us don't like the built in service.. Thanks!

About damn time! But I noticed you can't download pics from within this app unless I missed it. Otherwise no complaints.

What's the point. This is going to be so confusing because I have messages coming to my phone from the hub, the Facebook app and now messenger app. Seems a bit redundant to me

Switch off message notifications in Facebook app, but ive left on in hub so none messenger Facebook users can seems online :)

It's because wp8.1 is removing the inbuilt Facebook features in the OS.

Turn off notifications from the two that you don't want. Done.

Meh, I'll wait for a review before I install this. I'm satisfied with the separate pinned FB Messaging tile using the Facebook app, as I get synced conversations across multiple devices, and I've turned off FB messaging in the WP Messaging app since it was slow and didn't always sync across devices properly. Not sure why stickers are such a big deal, or even needed...?

This is the first app from Facebook Inc.

By seeing the performance i think Facebook.INC should bring there official app on windows phone 8....!!!!!!! Facebook integration is there but still i don't use it !!!!!! An app is a must and it should be official....

It's possibly the best thing yet! It's just missing the sound clip message. :3 Few issues I've run into using the Lumia 920, Lumia Black: Sometimes, it won't display all messages recently received if you bounce back and forth in between the app with others. A refresh doesn't always fix it either, but most of the time, it does. Sometimes, the ellipsis icon (The "..." to show the other person(s) is typing) overlaps the messages already there. This only happened to me twice so far. Animated stickers randomly freeze and restart. I believe they're supposed to keep looping. That's all I've run into that's an "issue", but they're super MINOR, with the exception of the incompletely refreshed messages. For anyone who is getting notifications from the other Beta/FB app, simply go to the settings and disable them. What I've noticed is that this won't take effect immediately, so you may have to wait for it to kick in.

Sweet. Was waiting for this app to release... Just disabled the built in chat and turned off the msg notification in the fb app ;-)...

How do you disable fb chat in the fb app? I can't find where the option is...

After you open the app. Touch the 3 line at the top left, scroll down to setting - Notification uncheck the message box. Hope that helps..

The sounds are so cute and finally STICKERS! ah, I really didn't want to let go of the integrated chat but this is starting to sway me...

Wow.. So fast availability of this app and W8.1 features make me think that this is the start of end of Android and iOS..

Dude chill we have to get other apps to in the store. Not all like a mess in droid but rhe required ones. WP isnt android its shouldnt be for kids

Dude.. But before there was no any other way to chat on facebook without problems. That is a very big problem where I live. Aslo, now many apps are coming. Instagram is here. Others will come quickly seeing how mesenger came in just 2 weeks. WP8.1 is feeling all the holes that WP8. So I think it can now compete with Android and iOS..

Yeah youre right. But still 2 years to go for WP to capture a large market share.

This is kinda weird. I have to open the app to get the messages!

I agree, but hopefully it will drop into hub on 8.1 :)

Happen to me. Sometime, my friends don't see me online. It's fine and beautiful, but I just keep Messages hub online.

Good news to wake up with :)

Thats an awesome surprise ... :)

Holy yisus, this might be the best app on windows phone

Where are those animations we get on iOs and Android Messengers??

Sad , this is link to IE instead of directly Facebook apps ..

IF you are using WPCentral Windows 8 app, you can use the QR image with the camera of your phone... much fun

Superb.....but it drains lots of battery.....

Yep same here. This mainly because its always on. Down 25% in 2 hours, and phone has not been touched.

The built in messanger in Wp messaging suck. It's very useless.
This fb messager comes to wp so fast and the app seema to be faster too

N also plzzz update WhatsApp...

what update do you wish for whatsapp?

Awsome ..gr8 surprise...thanks to fb and microsoft...

So long, farewell IM+ and ICQ

Wow .. Thought we need to Waite for WP 8.1 to come.
Thanks for the tip guys!! Downloading...

Now it's time for Facebook to replace the official Facebook app from Microsoft !

They are going to sync fb with MS account

I used it for a moment. I really like it. But then it made my default messaging app look weird...because there was an online tab....that seemed redundant. I deleted the Facebook app moments later. I love the functionality of the default Messaging app....oh well.

It sends location information with message even after location services is disabled. Might be a bug.

Wow..Great news but sadly no chat heads facility like android or IOS..:/

Chat heads needs some APIs from ms .. And as far as I think .. We will not see that on WP :)

Installed! Nice UI. Love it!

They're ruining why I came to WP in the first place. :|

Windows Phone is being ruined because of an app?

Still no "Chat Head " feature. But it is good for now Posted via the WPC App for Android!

The app is awesome. An exact port from the ios and android versions. The only thing missing is the ability to pin individual contacts to the start screen.

It's neat and fast and very smooth! I am hoping improvements and more features will follow soon!
On a side note, I think this is where fb is headed with the chat options - The fb messenger will integrate with Whatsapp and eventually there will be just one messaging platform with consistent features from fb. If you noticed, the app asked for your mobile number while logging in. MS will keep on working to make Skype better which will be the answer to Google Hangouts and the primary messaging app on WP and Windows. All of this will be deeply integrated in the Messaging Hub in WP8.1. With the ability to choose your default messaging app, everyone will be free to decide what to use and what not to. Ok, maybe I am still dazed because I just woke up and used a FB app that works perfectly straight out of the box :P

I said whatsapp / skype integration and got laughed at.

Skype mostly meant for its video calling as at its best. Just needs regular updates which r required monthly or quaterly. Skypes app on WP only sucks while transfering files and other stuff etc. But ppl mostly use Skype for video calling.

I use for calls to staff aboard

Sadly all these quirks are getting worse not better. Whole OS needs to be sorted, and needs better battery management

What about telegram? They forgot?

I'm not loving all these circles!

Inspired by Whats app is it????

Why r these people not making apps for WP 7.8??
Really not liking this unfairness.

Still lots of people r using it.

Umm one question here ... Why the app needs my phone number when its not meant to replace my default messages app? And I can't see an option that allow FB messenger to receive SMS ... ?

Great app, I turn off the Facebook chat that built in with Lumia

MS should take a good look how Facebook, Inc create their apps. It is working so smooth and well. Push notifications received on the fly. Is a shame how MS create the Facebook app for their own platform. Is a total self-pawn.

I agree, shame its draining battery. 46% in 3 hours

It wasn't there when i searched in the store, but then I downloaded from the link and it's working fine.
Cheers to MS and Facebook for bringing this so fast after the announcement.

The messaging hub in Lumia 720 never works. Can't connect to chat is all I get.
I thought its the same with everyone else. But no.. You all are talking about That.

I had that issues for 2 weeks, turns out it was links between Facebook and MS

one F (facebook) which was recently announced is available...now where is another F (flipboard) which was announced way back at the end of November

Ask the Flipboard devs, Microsoft announced the Facebook Messenger (which was developed by Microsoft & Facebook) and here it is.
MS can't control companies, despite what so many expect.

you don't have to say me that....i know microsoft can't control companies......i have been contacting flipboard in their twitter account since last few weeks.....so far zero reply from them....

Anyone knows how to sign out from messngr app?? Lol!!

can't. you'll have to reinstall.

lol!! they shoul've some coffee before launching an app..

And STILL no Flipboard!!! It was "coming in weeks" last year...still no clue...!

FAST! SMOOTH! REAL-TIME! FINALLY...

Meh.. I'm good with the msg hub...

Great! Now for Windows 8.1

Most of this is already available in the itegrated messenger.
So yeah, I think I'll pass. :-/

I wish we had one Messages hub with all messaging apps included and connected either fine working notifications centre (I can't wait to get it after Build). My friends all use different chat services (VK, facebook, Whatsapp, Viber, kik, Skype etc etc etc), so I had to merge all helpful apps I use into Nokia's folders and pin all those countless messengers, so now my startscreen looks like messy bunch of small tiles wich freacks me out, because I don't want to have Android while I have WP.

okay! Things are getting ever more dizzying. There's facebook app by microsoft, there's facebook beta app by microsoft and now this facebook messenger app. Where is windows phone's philsophy from back in the start of the windows phone platform of a further integration of facebook in the people's hub? It was supposed to be a more integrated experience. That sold me to go for windows phone. All I see is more of the same and an evergrowing fragmentation. Has microsoft lost it's mission statement for windows phone and lost bearing of their compass?

Is hard to work as integrated hub. Is very difficult for MS to update the hubs services due to the tight integration. A fine example is why our People Hub so lousy as compared to an official Facebook app. We cannot even share news in People Hub, neither can we like posts added by others. And yes, I do agree that Windows Phone is breaking apart like it seems to be. Hence, I'm ready to move away from Windows Phone soon once Nokia XL is available in my country. I can still enjoy MS services while have good Android apps supports. Hubs are over-rated.

Starting to feel the immense battery drain. Had to uninstall. I submitted a report to them about some issues. I think everyone who is dealing with it should do so as well. It may help get their attention on the issue.

UPDATE:
Okay, I think to turn it "off", you have to turn off notifications. However, there is no simple "off" setting. It can only either be suspended for an hour or until 8AM (8:00 for non-US users) the following day. I think this is actually working because my battery is actually charging instead of staying at a standstill while on the charger...

No battery drain at all on my 1020. Check your other apps.

I triple checked everything that ran in the background. There are only 2 other apps doing so. Weather (hourly) and 6Snap (Every 30 minutes). Other than that, an hourly pushed email account. It was obvious it was the Facebook Messenger app draining the battery, because my battery was only dying this fast after I had downloaded it as opposed to before. D:

It's not bad. Actually it's really nice app. But the only advantage against integrated FB chat is, that u can send pics. It takes some time to load the app, while integrated chat in msg hub is instant. And i tried to turn off wifi and switched to 2G (edge) to test how it will work on my cottage. It simply doesn't work. It doesn't load profile pictures and when you try to send message, you have no chance. Msg hub work quite well even on gprs. So if this app is gonna replace the integrated one, then I'm expecting big updates.

Update me when there's a dark theme

Idk if its just me, but i cant add photos, videos, or my location to chatting in the baked in version.
This app should solve problems for all. I hope FB develops their own official app and make Microsoft ditch its own version

So happy it's finally here :)

If works well, maybe i will uninstall the facebook app and see my notifications through the built in account


The integrated messaging hub is better... Excel for stickers... For my phone its so so very slow. I got the toast notification and I tried to open it took almost a minute to open and that too without the updated message...

Im just missing voice messages.. Anyway its great.

Could this be a sign of a better Facebook app to come, from Facebook corporation

Haha when I just set it up there it killed the music I was listening to, whatsapp lol

i Want to see a FB app from Facebook. the one from MS is slow buggy and notifications still not coming in time. They gave us a messenger while we need more a FB app

I'm fine with the MS Facebook app, but I need a better chat messenger which provides real time messages like this one.

Facebook chat integration in messaging is good enough for me..

This is very well put together

With this app I just disabled fb chat.. WOW

I feel some of the comments here,why not make it into one destination, why do I have to download this app, damnt im getting text,fbchat,plus this all at the same time, but im glad we have a perfect option for massaging

Its designed in line with WP8.1 - the headers are smaller like People Hub in 8.1

Really nice looking app, though the fact it looks just like Skype makes me wish that it was just integrated directly into that app, like Desktop Skype.

Love it so far! Though I found that it shares the same notification "problem" with the Skype app. Which instead of showing the number of unread message, it shows the number of people who sent you message instead. I don't know if it is a bug or work as intented... And for those who kept saying the integrated chat works, please remember that cos now we have a separated app, Facebook can continue to update the messager app inline with iOS and Android version. We don't have to wait for a system update to get new function for Facebook chat anymore. How can this be a bad thing?

I'm pretty sure that was intended. The Facebook app itself does a similar thing; it gives you the amount of different types of notifications and from different people instead of them individually. I'm sure there's no way around that because Facebook on the web does the same thing.

I will never like my tile to show 400+ notifications if my bf sends me 400+ nudies!

I know the expectation is that they can/will update the app, but as I've said way too many times, please take note of facebook's stellar WP support up to now. Just sayin'.

Finally but wud love to see chat heads

Oh look. It is Facebook messenger ==

Not bad, it's fast n fluid - not like the fb app itself.

Finally!!! Gotta go grab it

Not bad, fluid n fast - doesnt like its FB app

Hey how to log out of this messenger.......

How to logout of this messenger

Very cool and fast app. It works so fluid. Its far better than android and ios versions. Love you windows phone

Still waiting for the flipboard app

Still waiting for the official flipboard app

I have everything I need from switching from Note 3, after 8.1 update to get the smaller things I miss, I will finally be complete and have everything I need from lmy 1520

Am I the only one not getting notifications right after I switch to a different app?

Needs a few tweaks doesn't always load images right away otherwise its excellent

The additional features can't be included into inbuilt messenger.
If the integration of Facebook will be removed then I will not upgrade my phone to wp8.1

After seeing this app which works flawlessly, I feel we should make a demand to get a fb app made by Facebook only. The current app made by Microsoft is a piece of crap.

The app itself is great and works smoothly but there is one flaw: why there is only an option to use Windowsphone's own notification sound? (whatsapp is annoying already because of that) I mean Come on developers! It's possible now after GDR3 to either add you own notification sound or give the user possibility to change it

After seeing this app we should raise the demand to get a official Facebook app made by Facebook Inc. The current app lacks so many features and way behind it's android and iPhone peers. Current messaging hub integration isn't reliable enough and there's no way to send images and stickers.
For those who are complaining about having 2 notifications for the same message, they can easily uncheck the option in official Facebook app.

Wooow. What a great surprise!

Is it that hard to make it available for WP 7.x ???

Mine is not showing profile pictures. Why?

Nice! finally! and its fast! few complains:
-no custom notification sounds?
-it could use a dark theme (optional)
-needs normal smileys!

I want to change live tile color :(

Yea, I like how blue the official logo is, not my cyan theme.

This is good as a version 1 app, next stop: save photos from the app!

It should have option to set up dark theme, save recieved pics and change notification sound. And it should start faster. I switched from 3G to 2G (edge), to test how it'll work on my cottage. Simply, it doesn't work. It doesn't load profile pics and you have no chance to send message. So if this is gonna replace the integrated FB chat, I'm expecting big updates.

I don't receive any toast or tile notifications from this app, while facebook beta notifications arrive instantly. Battery saver is switched off of course. Any ideas? edit: app does not appear in background tasks.

How can I delete the stickers?

There're still more to be done on the app, the messenger app n Facebook app aren't linked. If you click on view timeline of a friend on messenger, the app opens the mobile Facebook page in internet explorer. That's not the case in iOS and Android versions. Hope the Facebook app will be overhauled even though I like the neatness of the Microsoft official version

Not possible to sign out?

I like the app. Works fine for me. Though it would be nice to have custom notification sound for Update 3, hope they will implement it, as whatsapp is in their current beta.


A dark background maybe ideal..:)

Anyone else have the issue of entering the app through toast, and the chat is not populated? To see the latest message, you need to get back to contact list and re-enter. I guess its because the app doesn't run in the background. Not a major problem, but definitely an inconvenience.

yes. i've sent a feedback report. you should do the same.

Is anybody getting toast notification or tile count or anything with this app?

What impresses me the most is that MS does an amazin OS but is not capable of doing an Skype application as fast as this Facebook Messenger or Whatsapp

super awesome!!! but on thing missing....autorotate/landscape mode :/, how can they leave this out!!!! come on!!

No need to have the full Facebook app on my phone now.

Djeezzzz.... is the mod on vacation? What a mess...
Anyway... three things about this app which make it pretty much a beta to me: - It's slower in loading up than watching grass grow... - Notifications are hit and miss: after some idle time toasts don't come through anymore - Worst-of-all bug: impossible to register my phone number as it keeps auto-filling a surplus zero! #fail! Nice first try at it, but needs some quick update to adress these issues

Wow..classic good work developer

Why so much trouble when the inbuilt chat in WIndows Phone is so much better??? I stoppped using the Facebook beta app and now got used to the beautiful IE experience.

We can't send and view photos in the integrated FB chat, I once loved that too but find it annoying that I need to open another app just to view a photo. And for me, that is not "better."

Seems pointless to me. No emoticons shown in message, unavailability to change background to dark, no landscape mode. MS seems to be getting rid off of the things and adding the WP8 was (un)known for: notification centre, no hub as we know it, and much more

I've never had any problems with the Facebook app, and I see nothing wrong with the new messenger app.

20% battery use in 2 hours? Uninstalled it.

I like it, any improvement is good

Downloaded it, turned off notifications from the FB app, and me and my friend went on a 5 minute sticker rampage. Did you know they have Lego Movie stickers? Anyway, passed with flying colours. Everything is awesome.

It doesnt send the pictures. It comes up as a blank message when you send a picture to someone!

Is it just me or there's really no log out option on FB Messenger? I uninstalled it for that reason alone.

I would hate for Microsoft to abandon hubs in WP. For me it's what sets it apart from other mobile OS.

NO LANDSCAPE MODE?? What the...? An app that's sole purpose is to type text. Well, back to good old integrated then...

Not getting any notifications :(
Anyone with same problem? Solution
L920

This app is nice, to those complaining of battery drain, perhaps it's the fact you leave the chat option active in facebook messenger. You can disable the chat and you'll still receive messages and notifications. Hope i the next updates they provide a dark theme. Windows Phone now is nearly perfect and wit 8.1 I won't miss anything from Android.

That was fast. So, im thinking about Flipboard. Shame on you Flipboard, shame on you.

We need the dot like ios and android app...

This team should also make such an awesome app for Facebook . This messenger app looks very similar to Skype ,still it simply rocks . awesome job

I was expecting those floating balloons on the screen like the ones from iOS and Android. I wonder if that is a WP restriction. One gripe I have, though, is that when we click to enter the contact's profile page, it takes us to IE instead of the app. Other than that, nice addition; the built in app hasn't been working on me for quite some time now.

Just lost 20% battery on Lumia 1520 without app being open and a very hot phone, Uninstalled

This is a quality app. Hopefully we'll be getting more apps like this in the future instead of outdated half assed ones. If WP 8.1 brings apps like these then WP is definitely going in the right direction.

Only issue I'm having is not being able to receive notifications when I receive a message, as in when I don't have the app open! :S

Why is this stupid Facebook messenger way faster that the app? And yes I am talking very serious, I have the 1520

I wont be downloading this. Ive gotten acustomed to using the built in messaging hub. Less bloat.

Plzzz someone launch the sharing app like flashtransfer to Windows phone....

When they release facebook messenger for windows 8.1 (not phone) then I'll feel confident enough to replace my nexus 7 for a Thinkpad 8. Everything else I need is available. The regular facebook app is not an alternative for me.

The best part about this is that I can get rid of the FB app now. I only used it as a complement to the hub FB chat, I prefer looking at the mobile site and use the native WP image upload.

Develop the black background, like a theam.

If you install this app, does the official Facebook app smartly shut off Message notifications, or do you get doubly inundated?

This will make ppl happy that have no glue that windows phone already has a Facebook chat messenger included in its core software. Posted via the WPC App for Android!

How to logout from the app??..no such option in the app..@danielrubino

@danielrubino ...how to logout from this app??..there isnt any such option to do so...

Sometimes it fails when it comes to realtime notifications/chat updates. So waiting for something better than this. Something like wp 8.1 with facebook messager inside.

I have to say, im actually disappointed with this app. i had to uninstall it. what it was going was just terrible. first theres the issue of getting 3 diffrent chat notifications all at once. that was killing me. luckily i figured out how to only get notifications from the messenger app. okay, so that problems fixed. but then comes the problems with the notifications i get in the app. if i happen to be listening to music (with my ringer on) and i get a notification from any other app, the notification is overlayed OVER the music. but with this app, if im listening to music and i get a notification, it STOPS my music to make the facebook sound. if i have my music app open and my phone locked and i get a message, which stops my music, all i have to do is unlock the phone and press play. but if my music app wasnt the last thing open? it completely ends the entire music process. i have to go back into the artist/album/playlist and start all over. what the hell, Facebook. after looking through the settings though i saw an option to turn the sound off. which is great. but it ONLY works when you're actually in the app. so, ringer on, music on, in-app sound OFF, and i'll still be notified/music will stop. I then tried turning my ringer off (which is just stupid because i tend to need it on most of the time), turned off in app sounds, started my music, and hey guess what? that DIDN'T work. still got the notification out loud while outside of the app, AND my phone still vibrated. ive tried all of this with and without headphones and still get the same results. being someone who usually gets 30+ messages on facebook a DAY having conversations with up to 4 people at a time, and playing music through my phone is bad enough when its constantly vibrating through the regular message app, but having the facebook dings every single time? just.not.cool. anyone else experience something like this/have a fix? as much as im loving how fast this app is, the UI and just overall quality, this is a deal breaker for me. also, with the actual Facebook app, i turned off message live tiles/toasts. which is a problem because recently i had an issue where i wasn't getting chat notifications in the system messaging app, but only through facebook. It would be very helpful if we could get the options to disable livetile notifications OR toasts, not just disable both together. i cant wait til the notification center comes out. ugh.

I wish they could just update the facebook chat in messaging hub instead of having the facebook messenger. Wp integrated fb chat is unique and people are amazed when they see me using it :D

Well that's straight bull pucky! Microsoft discontinued messenger for fb on March 3, yet now mobils can get it! Pissed, I want it back!