Facebook's official app is now available as beta for Windows 10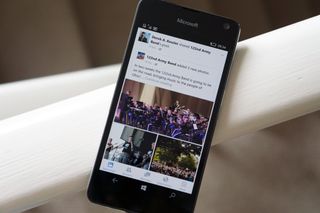 Microsoft has long been the developer of the Facebook app for Windows Phone. While a pain, the company has done a solid job on its offerings throughout the years. But it's time to step aside as Facebook has just rolled out an official app in beta. Should you be rocking Windows 10 or a phone on Windows 10 Mobile, you'll be able to enjoy Facebook's new UWP app.
Loading up the beta on both our Windows 10 Mobile handset and Windows 10-powered PC, we can safely recommend the app for those who simply have to remain connected to the social network. For a beta, it's a solid experience and one we've had little issue in using thus far.
Fear not if you're unable to download the app as the store is still likely propagating. If you have managed to install the app, give us your thoughts in the comments!
Thanks to everyone who tipped us!
Rich Edmonds is Senior Editor of PC hardware at Windows Central, covering everything related to PC components and NAS. He's been involved in technology for more than a decade and knows a thing or two about the magic inside a PC chassis. You can follow him over on Twitter at @RichEdmonds.
Well. This will definitely make A LOT of people happy. Finally.. No more whining about a Facebook app.

Definitely the best FB app we've seen yet. Glad they came through with a quality product that has shared content replies and reactions intact 'cause I thought our only chance at getting a good FB app would be Huyn. (EDIT: If you can't install it, change your region to Germany and restart your device - that's what I had to do)

Are livetiles and photo synch to contacts and actionable notifications working? If that's not the case it looks like an uneven tradeoff and I'll stick to old version till I can...

Yes that was also one of my main worries

You know, you can keep the old app installed.

I'll keep new one installed but use old one for now, I like it better, new one will improve in time

It looks like iOS because it is basically the iOS app. Facebook bought a company called OSMeta, and used their technology to create the iOS apps, and Windows 10 app. OSMeta is basically a virtual environment within which they can run one code base. So the iOS Facebook, and Instagram apps are written using OSMeta. The OSMeta runtime runs the exact same app on iOS, Android, and Windows 10. Makes sense for Facebook, as apart for a few platform differences here and there, they write one code base, and have it run on all platforms. Unfortunately for us it means we basically get an iOS app on Windows 10 :-( Sucks! Oh and that's not to mention the lack of OS integration. No contact and calendar sync to the people hub anymore, so secondary tiles, and no continuum on Windows Mobile The OSMeta apps are not true universal apps..not in the Windows 10 sense

We all know this and there are many wrong things in what you say, like OS integration, they can implement it, let's see if they will.

I think we all can see that OSMeta techs isn't something great compared to UWP app, I mean performance even for beta is terrible on every Facebook app. They have to improve that. Also, why the heck a company such Facebook does soooooo long to make the apps in the same level with other OSes? I mean they have the source code, this isn't to difficult, we're talking about Facebook!!!!!

Osmeta produces UWP apps lets net go into this again. You can write good uwp apps and bad ones. Osmeta produces uwp code that is not so optimized. And again as a remainder UWP apps doesn't have to be deployed everywhere to be called uwp. You can create an UWP package for mobile and another one for PC even if it defies the UWP best quality that is one codebase everywhere. I know that to non programmers it won't make much sense but this is how it is.

Actually I read something different about OSMeta techs. Sorry if I misunderstood. ☺

It could be entirely possible they used OSMeta to get it onto Windows10M then they can implement the needed features for the OS later on. Only time will tell. :p

@rollsindice Are you sure this is OSMeta, and not a React Native based app? If it's its React Native then it _is_ a UWP app.

Live tile does not appear to work (and it's not transparent either), and photo sync/OS integration doesn't even look to be part of the app. The News Feed is a *lot* faster though, and lets you do the other "reactions" instead of just liking things. I kept the old app installed, but I put the new one on my home screen and turned off the old app's notifications for now to force me to test it. I'm already unsure of how long I'll keep it there.

Live tile was working for me on new app. When there is no notification it doesn't show your photo though.

You are indeed correct. I just didn't have any notifications for three hours :'(

Not yet but it's still way more functional than Microsoft app.

Seems like I missed it cause it says it's not available...

France worked out for me. For both fb and messenger beta

Nope. It's asking whether you want to search an app for that. Wait some more i guess.

If you have it on PC already (been available for a while) then just go to the store on phone > Hamburger > My Library > View all Apps and then find it in the list, should have a download button next to it

and to do get it for your pc just go to region settings at settings region and language and change it to germany just to get this app no restarts required.


Changing to Germany works for me.

Thanks, that did the trick for me. I could get to the store page but it wouldn't let me tap Install.

That certainly did work. Thanks a ton

Not available in India :(

Change region to Germany and get it

The page says that I own the app but the install button is greyed out. I'll try changing region. Edit:- Germany worked.

Change your region to France

The app is butter smooth... Just needs some UI tweaks

scrolling is pretty good on the 950's

Actually it also needs some needed features like Contact Sync which is massively missing here. I rely on using Facebook metadata to automatically update and organize my contacts, not having this would be a huge loss and inconvenience. Gladly it's beta, but I'm afraid this going to be publicly available and may replace current Facebook, which isn't all too bad which at least have better integration than this new one which is non-existent.

About Contact Sync, I am missing something here... It's been months (like 8-9 months) that I am unable to sync my facebook contacts to my phone. I loved that feature, updating the pictures of my contacts with their facebook profile. Microsoft even said that this feature is not available anymore as Facebook Connect is no longer available : https://support.office.com/en-US/article/Facebook-Connect-is-no-longer-a... But what I don't get is that it looks like that I am the only one that was affected by this. When using the Facebook app made by microsoft, I get an error message saying that it is unable to sync the contact info, but all the facebook events sync perfectly (they are not affected by this). I have 3 friends around me using a windows phone and the contact sync IS working for them. We have the same phone (Lumia 950XL) so I am really annoyed by this error. I noticed this problem since my Lumia 930 when one day, this error message started to appear (I'm guessing due to the fact that Facebook Connect was not available anymore). How come it is working for everyone else, eventhough it should not be working anymore???

In regards to contact sync, the feature is still available on Windows Phone 8.1 and Windows 10 Mobile because it uses the Microsoft Facebook app to sync. This could of course change if the Microsoft Facebook app is pulled and the new Facebook app does not gain the sync feature. As stated in the link you provided, it is not available for Windows Phone 8.0 or earlier nor outlook.com or any versions of Windows PC that had it built in such as 8.0 and 8.1. Why it does not work for you I'm really not sure. You may wish to do a hard reset and install our apps from scratch (NOT restore from backup) to try to resolve the issue though we don't know if the feature will be discontinued or not when the Microsoft Facebook app is replaced.

Well if you look at the link I provided, it does state that it will not work with the contact app of Windows (they don't specify which windows). I've tried everything, with wi dows 8.1 from scratch (no back up restored), Windows 10 Mobile (without any restore from a back up either) and all other versions of windows mobile also (I kean the insiders one). With the Facebook app from Microsoft, I get an error message when trying to sync the contacts, but all is working for events. I'm not able to link my Facebook account with my Microsoft one. I seriously am annoyed by this, because it is a feature i really loved. I'll try to pit a picture of the error I'm getting when I get back home later

You are correct! Facebook killed this feature a while back on android. I hate that I can't sync Facebook to my contacts and calendar on my note 5 Posted via the Windows Central App for Android

If you can't download it on mobile, get the desktop version first. Then you should be able to download the mobile version.

Or change region to one of: Italy, Romania, Germany or the US. I suspect that there are more though as the article stated, app is still propagating the store globally.

Only missing contact syncing from what I understand! Sweet!

Just keep the Microsoft version installed for Contact syncing until Facebook includes it into the official app (if they do)

Sync option to MS band 2 is missing too

For now stick the Action Center/Notifications tile on your Band and filter it down to the apps you want notifications for - A workaround at least. Those tiles always seemed slightly useless (Fbook and Messenger) to me as you can't take any action on the notifications - It was more of a problem on Band 1 as the number of tiles was limited, Band 2 can have a load though so they don't take up valuable space or anything.

Really hope this comes. Small feature but, in my opinion, really brings WP to life when all my contacts have photos automatically assigned.

It's one of my favourite featues of Window Phone. Only time it was a drawback was when one of my contacts changed his Facebook photo to one of his "artful" nudes. :(

Indeed, it's a huge loss really. I hope this wont replace the current MS Facebook anytime soon until it gets all the features from it. I'm really afraid that they will replace this soon. There are other things that I wish this new app have like better Live Tiles, Lock screen integration (I don't personally use this, but some do), swipe navigation, and some UI tweaks. But having to implement Contact Sync is a real must, this seriously must not replace the old one.

Ummm...Is this a replacement for the recently released Facebook app for Windows 10 which apparently Facebook itself released? This recently released app that I am talking about is not a UW app.

It's the same app, not a replacement. And it's sweet.


Seems like it's a new version. I see a few improvements on the beta version compared to the W10 official app that has been there for a while.

Isn't the desktop version already available... By Facebook, in an official capacity?

Yup. Even I am confused about this. Didn't Fb recently release an app for Windows 10 desktop?

This is the same app as far as the store is concerned - They use the same Store ID

So, this is a new app with the same store ID as the recently released app by Fb?

One store listing can have multiple packages. If you look at the listing in the store it has both PC and Mobile screenshots - i.e a single listing. When you upload your packages though you can have completely separate ones for device families if you want to - So they have ported their iOS apps to two separate UWP apps that don't use a single adaptive UI. With the store you can (if you want to) develop your Windows 10 PC app completely separately from your Mobile app and upload two separate packages. It doesn't usually make sense if your doing it from scratch as you lose some of the UWP benefits, but as they ported these from existing apps it was probably easier to keep them as separate packages for now

Thank you for the clarification. I get it now.

And getting your head around adaptive triggers and viewstates is a headache :) But it is amazing if you can finally get to one app and it work like magic on both mobile and desktop.

the store id is where the "universal" starts AND ENDS for facebook apps, sadly... but i wont have a problem with that as long as they behave as a single entity: SAME functionaly/features, no double notifications and things like that

it can still be a universal app, but you can still create 2 , 1 for mobile and 1 for desktop. You still get the benefits of faster startup etc even if it's not 1 app.

The desktop version has been available for sometime now but theyre not UWP for the time being atleast.

They are UWP (That's what their tool ports iOS apps to) However, they are not using the same package and a single responsive layout - They have access to all the UWP APIs. It's a common mistake to think that "UWP" literally means one app, it's a platform / set of APIs like WinRT was/is for WP 8.1 and Windows 8/8.1 apps

Thanks for clearing that up, didn't know

That of course means Continuum won't work...

@realwarder no, it does not mean that.

It uses the same listing from the first UWP betas. But this time it has some improvements and it's finally available on Mobile.

Why don't they launch globally from start only... Messenger Beta also available in few regions only till date and now this also... what a pain Also when i changed the region to US or Germany it show that facebook does not work on your device.. Its facebook what the heck does it need even 6GB RAM??

Because it's beta for how long... that's what frustates me

Well Instagram wasn't Beta for long to be fair and they made some nice changes to that app quite quickly

Agree but the also that the caches increase the app size to 350MB from 90MB in a day and is not installable on SD card is a huge drawbak

Well it's beta for a reason. Messenger for example always crash on my experience and very frustratingly slow to type on, which is unacceptable for a messaging app. This new Facebook also lacks very important integration, Contact Sync is nowhere to be found here. Not to mention that Live Tile is dumbed down into icon most of the time, showing only notification if it works which a bit inconsistent.

It takes time to get it up on all regions. It showed as non-available for me earlier but I was able to download it from my library (when the Store let me in, lol).

Not available in Australia.

This is available in Australia. Installing it now

Yeah I couldn't get it either (AUS) :(

Why do all the ported apps by FB (Instagram, Facebook, Messenger) have such a large install size? Its absurd.

Depends on what phone you have I suppose, 90MB isn't a problem to me

Isn't much different on Android.

some people say its because ios apps are larger, others say its because they are ported so maybe the files are larger, but who knows for sure?

Hope they can solve it, and performances some how wasn't good enough, not talking about fb and messenger, but the instagram

If Instagram may be used as an example they're going to cut down the package size in the final builds before public release. It's called optimization. ;-)

They just dumped a huge bug in Messenger Beta app yesterday, now i can't even launch the messenger app from within this app. But overall, it's a huge news for Microsoft and myself.

When I try to launch Messenger form the beta, I get sent to the store for the Messenger Beta which is not out of the private beta, though I imagine it will be soon.

Working nicely here, and I just reinstalled it due to some issues when installing Facebook (Beta). Try reinstalling/resetting Messenger.

How much more time it takes me to download ? :/ :?

I'm confused I thought Facebook already launched this about a month ago? Zuckerberg was on stage about a month ago talking about Universal app, no?

They released desktop version,now it is mobile

PC version was available, but now there is a mobile version of the app. Same store ID, two separate App Packages

now as an insider i wish they would allow me to try the new messenger too :P since the one we have it does its job but sometimes this endless suncying is killing me :3

Messenger app was unavailable for me to download. Changed region to germany, got the App, switched back to U.S

The UWP Messenger app is already available in beta. Daniel reported it already, download this Facebook app and it will lead you to the download page of the messenger app. Change your region if you have to.

Unable to download, says Facebook app is unavailable :( do i need to change region or something

I am in the States and I could download it. Try changing your region.

Your avatar is a cluttered mess. No wonder the tiles are reviled around the world. Windows Phone failed purely because of those disgusting tiles. Classic Shell says thank you as you have made their company a success. Windows 10 is ok in my opinion but those tiles make my eyes vomit into the back of my head every time I see them!

You are lost.Tiles are way better than what I see on Android and iOS!!! It depends how one arranges their tiles

I hope they bring integration with the people app. Apart from that I love it. Massive improvement on what we had. Good work on Microsoft filling the gap till Facebook pulled there finger out.

Does not have rich notifications like the Microsoft Facebook app.

Yeah. It's a very nice app, but losing the People integration and rich notifications is a deal breaker for me.

That's why I kept the old version installed as well

Guys I live in Greece and I could Download it without changing region !! This app is awesome and I haven't experienced any crash yet!! Finally a great Facebook app!!

Εμένα γιατί δεν μου κατεβαίνει; έχω Lumia 950 xl

Αλήθεια δεν κατεβαίνει;; εμενα κατέβηκε μόλις μπήκα στο store ! Άλλαξε περιοχή Γερμανία κατέβασε το και ξανάβαλε Ελλάδα

Thanks for the tip, I did it and it worked

Please add sync option with MS band 2, for now I need to have both app install on my phone.

Okay for people wondering why this is on pc too its because this one is UW app from what at least i understad as i read and if you look at the store it says available at pc,mobile while the old one that facebook released says only pc so from what i get is its still the same app but upgraded to UW app

Says I own this product but I can't install it

Change region to France. It realy works.

One reason to keep the MS app around (and to hope they keep fixing any bugs) is for those who want to use it with Continuum for phones. I gave it a go but it just shows a black screen at the moment - Really hope they are intended to add support for it, but it really depends if their porting tool allows them to, and if they are re-porting it from iOS each time, or switching to developing additions to the app natively

Note to all: This app and also the new Messenger app are NOT UWP apps. They are built by Facebook using their own cross-platform SDK. That is also why these apps are so huge in size (nearly 100MB). Continuum does not work. But this approach also has other disadvantages on other platforms (Android/iOS) so we'd not be crying alone. But the app is fast and works really well. And it is from Facebook, so what more do we want :)

People app integration. That's what I want badly :D

yea well i hope they just support more and more features of the UWP app , really dont care the app wont scale down when i get the windows bar to dismiss :P but some things would benefit fb itself to have it on UWP. Still messenger is faster than the old one so we are in a fine road :D

I installed it on my phone (Lumia 535, build 14364) and it does nothing, just shows the splash screen, and than crashes :( Even if installed on my SD card, or on the internal memory :S

Finally! Once the UWP Facebook messenger is published. The job will be done. Thank you Facebook. After all these years.

What makes you think that?

That it's an iOS port created with OSMeta? :D It doesn't utilize almost any of the unique features of Windows on PC, and I guess it won't on mobile either. Sadly. :/

Hopefully this is a precursor to a UWP app coming soon....

I wish they add people app integration to it

The install option is missing. Can't seem to install it.

Hahaha... This guy won the comments section.

...its a Fakebook...where you create fake profile and post and waste your time!!!

How will this affect the way the phone syncs your Facebook contacts and info in with your phone contacts?

In general app looks good but missing people app integration

That's what I was afraid of. My life would be harder without people app integration :/

Anyone in the UK been successful? Says it's not curerntly available for me...

I already had Facebook Beta on the PC, so just go into the store on your phone and into the My Library section - Find the app there and you can download it directly from that list. The PC and Mobile versions don't share the same package but they do share the same Store ID

Please include contact sync option, otherwise this app is crap.

Ugh. You got that right. I hope Microsoft doesn't abandon theirs for this reason.

Again for those who can't see download button ! Temporary change region to France and it will work

95 MB download for Mobile. Jeez, it's like I'm back on iOS again hehe. Well, not available for me just yet. Hopefully it offers the same level of contacts integration in the People's hub as Microsoft's app does. If it doesn't, that'll be VERY disappointing.

This! So very much, this! I don't want to lose many of my contacts phone number just because of this official app. And I neither want to lose the automatic profile picture sync.

It doesn't have those features yet (Maybe it will in the future) They have access to the same UWP APIs that Microsofts app has but up to Facebook whether they choose to implement this. Hopefully they add interactive notifications and contact sync - This version is probably a pretty raw port so far witht the basics like their Instagram app was/is. They can add these things if they want though.

It shows not available when i tried to download. :(

This Is For Indian User, Change Region To France & Restart Phone ☺

Yep I understand, its the first beta app for official FB. It crushes all the time so understandable. Will wait for the next update to polish and fix this.

Meh, I have no issues with the app we already have.

Well, im kinda feeling sad 'cause Microsoft was trying so hard for Facebook app. I wish they continue from Microsoft's app.

I think next one is new Swarm app

Now It Feels That Windows 10 Mobile is becoming a solid OS... Thanks FB... Feeling Sorry For MSFT who were working so hard on their beta app.

The MS app is still better in some ways - Interactive notifications and Continuum support. Worth keeping both for now.

This is the best decision Facebook took for Windows phone for like 5 years now ! The app is amazing , With 8 or 7 bug fixes updates and a big update for Messenger Beta Soon they are going to be on point with Instagram and Facebook and messenger and whatsapp ! PORTING apps is the easiest and the best solution for UWP mobile but not for pc ! they cant spend time dev a new apps from 0 and even if they do they wont reach the ported android apps performance and features , Best decisions Facebook Thank you

I couldn't see a download button in the store for this app

And Yet Still.. No "Facebook Live" Feature

They added this to the PC app, so give it time and they will probably do the same on mobile.

Okay, so I tried the app and it's very cool, we can have all the appreciations (like, love, etc..) In fact, it's completely the iOs app, but there are none bugs or crash (instead of the Messenger Beta app).

weird, I think the official facebook app is from this link https://www.microsoft.com/en-us/store/apps/facebook-beta/9nblggh6ct0l . They look the same, same Facebook Inc publisher but this one has 809 reviews, a lot more than the link in this article ??

Cannot download the app:(

I couldn't see face book beta or messenger beta in store. But my messenger app now similar to android. It has same settings menu. Only missing thing is pop up bubble.

Seriously all I need now is to Facebook, Messenger and Viber use rich notifications ! and oh the people hub sync.

meh, I prefer the latest MS beta

When I try to dowbload the app via store on my wp10 it says that the app isn't available at the moment - why is that so? :(

change the region to France or Germany

I actually prefer the Microsoft one. Much cleaner. These ports always look weird and feel weird

Definitely some clear advantages to the MS app, but it's also a lot more mature than this early port. I'm going to keep both on my phone so I can keep track of how well the official version is coming along - Keep the MS version for interactive notifications, sync with contacts and if you use it...Continuum for phones

MS app had everything to be great, but they stopped developing it when FB started to port their apps. Of course it would make no sense to have that app parallel to an official one when they can simply focus on developing other things, but I'd really prefer it if it had feature parity and a few performance/UX fixes. iOS apps look terrible

Downloading option is not available in windows phone??

Finally Microsoft is on the track. Thank you developers. Keep on updating & developing all the apps including messenger, instagram, and viber until those become similar to the IOS and Android versions :).

Very nice. Install it without problem. Available in Greece. Fast and smooth. Lumia 640 redstone insider

What an irony. Already deleted it. I don't like that is not integrated with the system. At all! No contact connection, no posible way to stop all notifications at once. I liked the old settings menu better!

I still can't able to download. I've changed my region to US but didn't work :/ any suggestions?

Newer Facebook app designs have been ***** i use the web version most of the time

I'm confused. The official one (non beta) on Win10 PC made by whom then?

I think WC are also confused. As far as I can tell, this is just a beta of the app FB released a while ago on PC and on mobile. And the funny thing is, they reported it: http://www.windowscentral.com/facebook-windows-10-download​.

The official non-beta Facebook was always developed and published by Facebook going back to Windows 8. The "official" and beta mobile one was always developed and published by Microsoft. This is the first time a version of Facebook, made by Facebook, is available on mobile Windows.

The FB app mention in this article is made by Facebook, Inc., the other FB app we normally use (the official one) is made by Microsoft

Very good application. Just, we have not synchronisation with hub contacts and calendar. No transparent tile, but dynamic. The notifications work well.

The app is smooth but when sharing a post thru messages or even trying to view a message the fb app asks you to install the messenger app even if you have the new beta messenger app. So I guess this is near end of beta and will be done maybe in time for the anniversary update

It says . not available for downloading

why does mine show just blank, no install button or no banner saying ican't download it, just blank, but i can view the app just fine...maybe the store is still updating... UPDATE: changed my region to france then back to US...no probs on my lumia 730, hopefully it doesn't stay beta that long

The same goes for me too (lumia 830) :(
Do you know why is that so? Edit: it seems to have to do something with the region you selected.

which region i should pick

Like finally, when my Facebook usage has gone down to no more than thrice visits a day from more than 20-30 visits a day. Posted via the Windows Central App for Android

It feels like just a web wrap to me.

Hey is somebody having issues with the store app on the latest RS1 build, it says you need an app to download this when I open it

The Microsoft made Facebook app may have less features compared to this app. And the People app Integration with Facebook is just awesome thing what Microsoft can do for Windows 10 Mobile users.

After all the hijinks required to get this beta to install, I can say it's pretty good. Not that the stalwart Microsoft version hasn't been a valiant stop gap solution, but you just can't beat an official app. Looking forward to this one improving and adding features that hopefully will bring it on par with the other platforms.

They should make it more Windows 10 like ...

Why I can't open the app on my Lumia 950xl?

You may reinstall the app or move to internal storage.

But i don't use sd card , removed n reinstall many times too☹

Yeah, this is great news for the 7 people who still use Windows Phone (and I'm one of them). I'm sure the official app will do a better job than Microsoft's at assuring that only Sharia-compliant and anti-Republican/conservative news headlines are ever shown to Windows Phone users of the app and helping to get Hillary elected, which is Facebook's goal.


Now now Killary pledged to rein in Wall Street during her first 100 days in office!

Oh gosh your newsfeed reflects what you subscribe to and what other people make trending.
And thankfully Hillary seems the most probable to get elected. The world doesn't need an ignoramus like Trump in charge of nuclear weapons.

Perfect. Really, really nice app. But it's it missing People Hub integration...? Wahh!

I still can't understand what is the issue with the present fb app.... It works flawless for me Using L730(10586.420)

You will get it all after experiencing it on Android. I had Lumia 720 and 640 XL. When I purchased Lenovo Phab Plus I found that Facebook app is totally something else in terms of smooth transitions and features. I'm a windows dev guy so I don't promote Android but Microsoft seriously are way behind in mobile development and they now focus on VR without any promises about improving their mobile OS

But why I can't open it on my lumia950xl ? I changed region to install it...

Well, it seems it isn't available in Romania. Are there other people experiencing this problem?

Not available in India too

so 2 negative likes for saying this stupid beta app is not available in INDIA ? lol.... how many -ve likes for MS for not releasing bugless OS and keep us all waiting for years ?

change to Germany the region, install the app, put Romania back, it worked for me.

I just wanna say this; after being ao sick and tired of the previous fb app (including the beta), I am honestly so happy to have this very close to decent fb app and messenger. I'm not a heavy fb user but I use the app on a daily basis and experiencing this improvement is just so awesome. Keep it up!

It looked like the iOS facebook app, will it get another UI changes for this or is this already the original UI for facebook on windows?

Just change region,according to previous comment. I switched mine to France and was able to install it.

Its like alternative of mobile website with fb app layout/frame... -Slow scroll
- Like FB full pc version, it is automatically close( CRASH)

Its not available in Antartica yet.

The app size in the store is 96.5MB after installing it's 797MB is that normal for an app

Takes some time to load .. 10-20 seconds on my Lumia 930 , and scrolling is not that fluid, also if I press the messenger button it tells me to install the app even if I already have it installed.

Now it's time to update the messenger app too for windows mobile .... Not so best experience ....

it was just updated on Wednesday, the only thing it lacks is voice and video calling but that is coming soon. these apps are still in Bweta, so yes it's great they are here but they still need poliching folks.

Every third post is an advertisement! That's how iPhone and android get the maximum number of apps. Now I appreciate MS's facebook app - less feature but cleaner and integrated with people's hub!

I really hope that the UI/UX on the Facebook and Messenger apps on both Desktop/Mobile will eventually change, maybe they will re-write the UI layer from scratch as XAML after they have finished porting the back end (Which is possible with Project Islandwood not sure about Osmeta). The UI for these apps are basically directly from IOS, so I really hope they are eventually redesigned to conform with Microsoft's Design language.
If they don't re-write the UI as XAML, maybe they could at least make their Storyboard layouts look more Windows-y.

i think a lot of people are going to cry. lol edit : cant download it just yet

WOW! Installed successfully on my L1520. It is 100% functional and butter smooth. Two things missing of course 1. Contact syncing with People app. 2. Share photos/videos externally to WhatsApp, Email etc. Images and Videos loads pretty fast. Super excited for upcoming builds. Cheers!

Hi! I have no clue why I can't see the "install" button on my 1520... was everything smooth for you or you needed to do something? Thx :D

Just change your region to France. No it is butter smooth from the moment it load. Loading also pretty fast.

Same here! Installed on 950xl but on 1520 'Install' button is greyed out!!!

You can download in the US now just did it.

Clicking on "messages" tells me about the messenger app instead of opening up the messenger app as in ios version. Unless I'm missing something?

Why all these new apps are too large? Messenger beta 70 mb facebook beta 96 mb instagram 50 mb. Is it because ios porting?

both apps have millions of links of advertisements and precise location feature!

Just downloaded it on a 640 U.S..seems different from android version, not sure how it is, but it is. Posted via the Windows Central App for Android

Doesn't even open...crashes always

Loved it but it's too crashy

Anyone else having problem with what onscreen keyboard not showing up? Lumia 950

Which build did this app support tell me

I'm using the new app, but I can't say I like it compared to the one MS made. I'm sticking with the new one simply because that's what MS "wants" me to do. Wants me to because that's really been the whole point in MS making a Facebook app and other apps which lacked an official one - to have an app available until such time that Facebook and others decide to come forth with their own app.

I can't download it, says not available and using a 950xl.

The apps not available for the UK that's a bit daft much

For some reason I can't download the app. Not just this one bit few other beta apps. Can any one guide me to install this. I am ok latest insider preview fast.

Does it sync contacts with People?

It's great to have the "full featured" "official" facebook app on the windows platform, but is this app design REALLY what people with iOS are used to? The navigation is horrible, there's no panorama style swiping between sections, you can't pin things to start, it's not integrated with photos like the current Windows app is... I knowit's beta, but if porting is going to result in unique Windows features being removed then I'd rather they didn't!

It keeps telling me the app is currently not available (US). I'll have to try a little later.

What's strange is that I went into my Store Library and clicked on the Windows 10 official Facebook app that I have installed on my desktop and it's telling me the app is no longer available. I wonder if they are in the process of transitioning the app to support mobile, which is why I cannot download the mobile version of the beta either...

Not complaining because the app seems to work well - but live video which is in the desktop universal app is sorely needed - hopefully coming soon..,

BTW, if you can't download the app, temporarily change your region/country to GERMANY, restart and BOOM - there you go ;)

And again (like with Instagram and Messenger) it feels/looks just wrong on a Windows Phone. Hope they'll at least include true Back button functionality.

True.... It may all have the bells and whistle but It does feels out of place on WP

i'm not able to download it here in India!

Shows up in the store with no option to DL or update. USA. Will wait bit and try again.

Still unable to download it.

The only good thing it's reactions emoticons, but it's slow and an old fashion design

I thought the current app was the official one. Was it a stop gap while facebook carried on developing? as it was a lot better than the 8.1 version at least. Can't download at the moment but looking forward to trying it. Hoping it's not just a direct iOS port like messenger as at least the Ms Facebook follows the design language of windows 10

Guys! Messenger (Beta) is also available!!

Hey Rich, it looks like the store link you're using is for the UK store (en-gb). Maybe that's why some folks can't install it?

I do not think so, as the store usually automatically redirects. I turned region to Germany and could download using the link from this article.

One big feature is missing which is contacts syncing. The features is one of many features that makes windows phone great. Imagine when Microsoft withdraw thier facebook and replaces with this official facebook app from facebook then windows phone is just like everyone and I might have no reason to stick around anymore.

Looks like this and messenger will go out of beta this summer when the anniversary update is released.

Can see it. Can't install it.

Any news for YouTube official app

No. And it's useless... All the 3rd party yt clients on windows are better and more feature rich than the official yt app on android...

I can't download this app. Why?

Change your region to france

It does not have an install button when I go to the app

I can't seem to download it. The entire page loads, but the 'Install' button is missing.

Change your region settings (eg France) it should appear after phone restarts

It says not available on 950. What gives?

Change your region to france

More iOS ported apps. Although it's a good thing considering that the updates will probably follow up it's counterpart, I simply hate using those apps like Instagram, Messenger, that has nothing to do with the new Windows design. At least I'm not a heavy user of Facebook services. Let's hope the userbase grow enough to make them consider a true UWP app.

Is this different from the beta app they released before?

Yes it's basically the iOS port way better than that outdated crap we had before

No people app integration, no interactive notifications, no cover photo on the tile when there's no new notification, doesn't work in continuum, is an iOS port with navigation bar issues (like the other OSMeta apps), and the most important, it doesn't even start on many phones (including mine), and just crashes on the splash screen. And what do we get instead of all these features? Stupid new reaction bs, which is fancy, but useless compared to all these features. So I wouldn't call it better at all. And this is not "all in in Windows 10" as fb said before, at all...

If you had the old Facebook beta app, you can force it to download by looking in 'my library' and downloading it from the list

I'm still not able to install :(

Change your region to france

Ok, downloaded and installed, but it just crashes when I open it. Facebook should have used Xamarin instead of just going it alone.

Not sure if this will help you, but I fixed the crash by rebooting the phone. Worked after that.

I changed my region to France to download it. Its OKAY. Needs so more optimizing. Scrolling is odd. Feels somewhat like a web wrapper. Worth a download and can replace the Microsoft FB app IMO.

Got it installed. Thanks for the Germany store switch trick everyone! It pictures the 'Live' feature in the store. Does anyone know if this is included as part of the beta cos I can't find it?

Unable to see comment in notification on windows central build 34 only shows NEW NOTIFICATION on each comment :( wp build 10586.420

I miss the live tile showing my cover photo and how the old app had interactive notifications. They should integrate these functions into the official app I like seeing my cover photo as a tile

Exciting news! Messenger beta, while still crashing once in a while has been great and I expect nothing less from this offering.

Redirects me to the store for messenger ... I have messenger installed though ...

Can't download now. Not available showing in store.

The one thing they better not get rid of is Contact Sync as that's essential

Still can't get it with a US region set. Sure takes a long time to propogate lol.

Germany or France please.

For some reason I can't install it, the install button is grey out :/

Jeez, please, read the darn article, would ya!? As a workaround you can try setting your region to something like Germany or France; where people reported it to already be downloadable

No integrations with People??

I'm confused! What is the difference between this app which has been available for a while now? https://www.microsoft.com/store/apps/9wzdncrfj2wl

There is no install option on my store for this app.. ??? Why that option is blank ??

Read the darn article. -_-
As a workaround you can try setting your region to something like Germany or France; where people reported it to already be downloadable

Been using the app for just 5 minutes, but I can safely say this is the app we've been waiting for. It just needs People Hub integration and more app settings, but it's looking out great so far.


It's a damn iOS port. There is, on top of your point, no performance optimization at all (start up on my l950xl is horrendous), no live tile, no lock screen, no continuum, idiotically placed staus/photo/check in at the top of the screen, no swipe actions left/right to change to Requests/Notifications etc.. And why is it not recognizing that the messenger App is installed? And many more oddities. For now it is really just a plain iOS App port without any optimizations to make it actually work & integrate good on Win 10. Lets hope there is some good progress over the weeks to come.

I'm having issues in that it must not be picking the right resolution for for Win Blu HD LTE...the left & right sides are cut off. I'd say maybe 10 pixels on either side, so I'm not seeing everything. Otherwise, I had to reboot a 2nd time after installing to get it to launch, but now it seems to work just fine (with Messenger Beta too). However, yeah, it needs a little more big fixing before releasing it.

You can tell it's the iOS app;
ugly as hell, unintuitive, slow and clunky. However it's more feature filled than previous versions so it's an improvement. Just need to get the Post button moved down from the illogical spot in the top right of the screen.

No notifications sucks. Pretty good performance though.

Start up performance of this beta app on my L950XL is pretty horrible.

No live tile, or any other mobile specific feature or settings.

So should I unistalled the Facebook(beta) from Microsoft now. or shold I do that to the Non beta from Microsoft as well?

Keep both of them. Experience it for a week and decide for yourself.

I see the app in the store yet no download button is showing on latest build

Please read the article! As a workaround you can try setting your region to something like Germany or France; where people reported it to already be downloadable

So I read the article smart a.., I read it when this came out and twice now.

Then you have seen the last paragraph twice already. Quote:
Fear not if you're unable to download the app as the store is still likely propagating.

Like all the apps pushed/owned by Facebook, this doesn't work on continuum mode.

I think it is currently a bad iOS port. There is no menu where you can set it as lock screen app, nor change Live tile behavior, or sync contacts and events with the device and neither does it work in continuum. The post a status update field is illogically placed at the top of the screen *breaking my fingers* - but luckily, there is the 'long press the windows logo' trick to circumvent such idiotically placed buttons. It also does not recognizes that the messenger App is installed on the device and gives you the install page instead of switching to the messenger.
Lets see what happens in the weeks to come. For now I definitely keep the Microsoft FB App installed.

The algorithm of MS FB app seems broken to me. I hate it the most.

What algorithm are you referring to? I am confused. @_@

I liked Microsoft's app design way better than this one. iOS always seemed ugly to me. Also, it's much more natural on W10M, being a native app. If both apps had feature parity, I would stick to the MS one, but they abandoned it in favor of the official one, it seems. Just hope FB brings People and Calendar integration in the future. Also, I hope they fix the OSMeta horrible performance (please don't answer "it's on Beta", cause Instagram app has been released and it's still ******)

Is anyone going any notifications from this app?

Im unable to install it from . App is currently not available. Plz help

Please read the article As a workaround you can try setting your region to something like Germany or France; where people reported it to already be downloadable

Hell i am not able to download this app
Its not showing its install button

Yes, please read the article. As a workaround you can try setting your region to something like Germany or France; where people reported it to already be downloadable

Downloaded and uninstalled. Not usable at all. Slow start up. Forever resuming. Battery heat-up during use.

Its good they finally did it.....but no stickers except 2 packs?.....sometimes pokes dont work..layout not that keen. I went tried my Android omg no comparison flew and was so much easier! :(.......Lets hope this trainwreck gets better I loved windows phone in 8.1 struggling to like it in 10, I'm liking material design on droid better.

This app feels and looks a lot better! Thanks

People are always complaining remember this app is beta there are going to be a couple of hiccups with time it's going to get better we should all be happy that we received this Facebook beta app if you don't like this platform go some where else.

Not connected to the phone, not even connected to there own messenger app?
Just solid IOS app running without any integration to the system. Can't download videos. Other core features seems to be working(live tile and notifications aren't) some people here says notifications are working No they are misled, notifications they see is coming from other app ( Facebook app by Microsoft). Looking forward for updates.

The share function from Photos is not working

Lumia 735 build .14367, when I tap the download arrow on the article it takes me the windows store, as usual, and fb beta comes up but with no download button or any button for that matter.

Change region to Germany. Worked for me.

Does anybody know why I can't install it? The install button is greyed out. Lumia 950 XL on build 14367

App now appears in the store but I dont have an install button to install it. I'm on 14367 Lumia 950XL UK. Do like the look of this though.

I too have same problem. I am on latest build and own 540.

Did you get a fix? Other than region thing

the new FB app and messenger ( beta ) does not have the option to show them in the lock screen (Glance screen). its a nice app by the way better than the previous. i hope that impovements will come sooner than later

Not available to download on my 950XL

Anyone finding with this new FB (beta) for W10M, that you can't launch Messenger (beta) from it? Keeps telling me to install Messenger (beta) when I go into that section of the app, but Messenger (beta) is already installed!

Is it a "known issue", i.e. does everyone have it, or is just you/me & a tiny subset of users?

I can't even download the app

come on microsoft.... all we windowsphone users allways wanted is to fix the old app... it was a uinque app this is ios... not windowsphone and it will never get the functions of the old app

Better app, but they shud make available call option

I am not able to download it . In store i don't see any tab showing "free" or anything so that i can download the app. I have 540

Change the region to France.

PC version looks the same as the MS version. Phone version is pretty nice for first beta release

The structure of the app is good enough... my main problem with it is that the display is too wide on my BLU WIN HD LTE. Stuff gets cut off on eithe side and it's annoying. I'd rather that be fixed first and then any other bugs/glitches and whatnot.

Call me crazy, but I don't like it at all. MS app is more elegant, clean. This new app just don't looks good as it should. Too bad, MS shouldn't gave up on it. They should keep going and further developing MS facebook app with sync the phone and people hub - that was unique!

Messenger (beta) is also available and it's way better than the older messenger we use in wp. The new messenger app is now my main app coz it loads faster and is really up to par with web and other platform experience.

Can't download, in US any one else still have same problem.

Yes. Same problem. Not going to bother changing regions, even temporarily, just to load this App. the Microsoft version does enough for me.

Yep same here. Shows up in the store but there is no download button. I'll just stick with the MS version until they get it sorted out.

Installed. The best FB app. The End

It's great having an official app. Now need love time, notifications, and integration into people & outlook.

I love the app I think we all know it needs to open a lot faster. But I know that will come with time so I'm looking forward to the updates.

I am from India and I can't get this app

Still cant download and I have checked everyday since the article. No install box nothing.

It takes about almost 10 seconds to open on my L,550, but once it opens it works pretty decent.

Still can't download in Australia, I've been checking each day since this article was posted. Simply no download link when it takes you to the Store.

I d'loaded in Oz, IIRC I simply emailed the link in this article to my 950XL, opened it in Edge, clicked "get app" (may not even have done that), then I had an option to install from the Store app. I had already installed the Messenger (beta) app a few wks prior, by changing the region temporarily (to Germany I think), so maybe that has affected why I could see it in the Store.

i try to download but the button download is unavailable. It says Facebook (beta) is not currently available. What happen? can anyone help?

When did i get my Facebook beta app

Hello all......I'm wondering if anyone else is finding that the app is not only power hungry, but data hungry as well. I used about ¾ of my monthly data in about 5 days. It doesn't show how much data any apps are using for mobile, but the new beta is second on Wi-Fi and second on battery usage as well......any thoughts?

what happen with this app? cannot be downloaded

Same here, I'm anxious for an updated app

Anyone having issues with the Facebook Beta app not showing up on the list of apps available for photo sharing on mobile? I have to go into the app, then attach the photo. Messenger is listed, as an app under photo sharing, but not Facebook Beta. Any fix for this? Thought it would be fixed with the update but nope.

OK. Perhaps it has something to do with the porting over from IOS, but tthis rogram is NOT on the list of available programs to share to. Trying to share a photo has Messenger as an option, but not Facebook. Am I missing something? Any way to get this to show up?

Why am i not able to install the app on my Lumia 950 in canada
Windows Central Newsletter
Get the best of Windows Central in in your inbox, every day!
Thank you for signing up to Windows Central. You will receive a verification email shortly.
There was a problem. Please refresh the page and try again.