Fantasia Painter for Windows Phone finally updated after over two years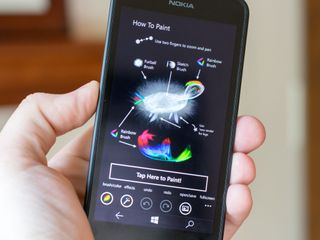 Fantasia Painter is a photo editing app for Windows Phone that we reviewed way back in May 2012. Even though the app has not been updated since January 2013, it still has a loyal following. Today, the paid and free versions of the app both received updates after over two years.
In fact, the team behind Fantasia Painter has been working on beta versions of the app for the past several months, according to its Facebook page, after members of the team took a hiatus to deal with some health and family issues. However, the Fantasia Painter app pages on the Windows Phone Store site don't show a change log at the moment, so it's not clear what's been added, improved or fixed in this new 3.7 version. If we get that information, we will update this post accordingly.
In the meantime, here's a summary of Fantasia Painter, which allows users to place in paint-like brushes and effects on photos:
Brushes
Eye color/shadow/makeup
Fur, Furball - Paint cute furry animals, furry flowers, add fur to photos.
Sketch - Create pencil sketches, with far less strokes compared to real pencil
Fairy lights - "alive" abstract brush
Rainbow - Beautiful organic color transitions add life to your paintings.
Twisted Squares, Paint, Dirty Paint, Pen, Eraser
100+ Effects
Colorize - change to grayscale; brush back color with your finger.
Dark Dream - gloomy feel; brush on and off to add subtle and powerful changes
Sculpt - change smiles, thin/fatten waists, make curved flowers, and much more
Vintage, borders, collage
Text: amazing, rare fonts, 500+ symbols, comic/speech bubbles
Lifelike Colors - combines steps from online tutorials to improve most photos. Tap Invert for before/after view.
Recolor, Soft light, Blur, Gentle Painter, more
Both versions have all of the app's features, but buying the $1.99 version of Fantasia Painter eliminates the in-app ads.
Thanks to everyone for all of the tips!
Download Fantasia Painter Free from the Windows Phone Store
Download Fantasia Painter for $1.99 from the Windows Phone Store
Get the Windows Central Newsletter
All the latest news, reviews, and guides for Windows and Xbox diehards.