Fantasia Painter for Windows Phone finally updated after over two years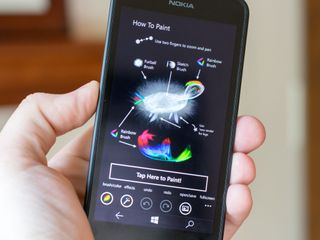 Fantasia Painter is a photo editing app for Windows Phone that we reviewed way back in May 2012. Even though the app has not been updated since January 2013, it still has a loyal following. Today, the paid and free versions of the app both received updates after over two years.
In fact, the team behind Fantasia Painter has been working on beta versions of the app for the past several months, according to its Facebook page, after members of the team took a hiatus to deal with some health and family issues. However, the Fantasia Painter app pages on the Windows Phone Store site don't show a change log at the moment, so it's not clear what's been added, improved or fixed in this new 3.7 version. If we get that information, we will update this post accordingly.
In the meantime, here's a summary of Fantasia Painter, which allows users to place in paint-like brushes and effects on photos:
Brushes
Eye color/shadow/makeup
Fur, Furball - Paint cute furry animals, furry flowers, add fur to photos.
Sketch - Create pencil sketches, with far less strokes compared to real pencil
Fairy lights - "alive" abstract brush
Rainbow - Beautiful organic color transitions add life to your paintings.
Twisted Squares, Paint, Dirty Paint, Pen, Eraser
100+ Effects
Colorize - change to grayscale; brush back color with your finger.
Dark Dream - gloomy feel; brush on and off to add subtle and powerful changes
Sculpt - change smiles, thin/fatten waists, make curved flowers, and much more
Vintage, borders, collage
Text: amazing, rare fonts, 500+ symbols, comic/speech bubbles
Lifelike Colors - combines steps from online tutorials to improve most photos. Tap Invert for before/after view.
Recolor, Soft light, Blur, Gentle Painter, more
Both versions have all of the app's features, but buying the $1.99 version of Fantasia Painter eliminates the in-app ads.
Thanks to everyone for all of the tips!
Download Fantasia Painter Free from the Windows Phone Store
Download Fantasia Painter for $1.99 from the Windows Phone Store
Windows Central Newsletter
Get the best of Windows Central in in your inbox, every day!
This is to me still the best photo editing app on WP. Good to see it updated. I'll fire up the 1020 to see what's new. Posted via the Windows Central App for Android

Yeah... Hype around W10 is making the developers come out of the woodwork..
.......
MS must keep this level of hype up.... There has to be something big weekly until the average consumer gets it...

OMG.. Finally.. Updating... The number one photo editing app in windows phone from the beginning itself..

Agreed. No photo editor on WP store to match up with this one, unless PIXLR Express ever makes its way to WP.

And when I emailed Pixlr team.. They replied that they are getting more and more of these requests from WP users.. And they are watching every changes being made to Windows phone..especially unification of OS... Let's hope for the best

Glad to hear that! I'll let my WP friends mail them more requests. It'll definitely work should they see the demand! Cheers!

I am going to mail them as well. I hope we don't end up pissing them off.

Nah, it's alright. They should realize there are enough of us wanting that app so bad :P

+10, it's my default editing app since very first day I bought Lumia.

Waiting for kik to update too

Kik? Haha they left us, will i go back to them? Well probably not even if they return. They take ages to reply mail and only fav tweets.

This is still the app I end up going to and I have installed just about every photo app in the store. This app simply rocks and a huge testament to the developer who can go two years and still not be run over by all the new apps.

Very nice, one of the best photo editor apps on any platform, cant wait to see what they updated!

Apparently people complained about the old one. I happen to like the old one. It was nice of the developer to have the option to keep the old tile.

Thanks! Just to make sure others find the old logo choice - it's in settings!

Hi nokola, thanks for the app, been using it almost everyday since the begining, love it!! The possibility is endless. My iphone and android using brothers always ask me to do heavy editing using your app.. Thanks again.. p/s when's for windows 10?

It's the same time as Android - couple a months away. I'll keep posting updates on the facebook page. Thanks for the support! :)

This app updated after 2 years. I wondering WHEN Live Lockscreen Beta will update ? 4 or 5 years .

Not really. Ads ain't placed badly. But if you're a core user like me, you may want to buy the paid version and say goodbye to ads forever.

I never had problem with the ads... I dont even remember reading an Ad. in the app.. :D

I don't too; yo tampoco recuerdo haber visto propagandas en la app...

I always hate ads on application, so I either uninstall it or pay to remove it. This one, I gladly pay for it actually.

Congratulations !!!!! :) I mean it

Instagram update? Sorry no where to be found
Twitter update? Sorry went MIA
FB messenger update ? Oh, no comments
Whatsapp update ? Hmm try the beta

Just switch to android or iPhone if you're going to keep whining about this. We have 6tag, way better than official instagram apps on iOS and android. And I dont think anyone uses the call features on WhatsApp or messenger. So that's not much of a trouble.

Oh you think, and how about twitter, and I don't whine

MeTweets is much more better than twitter in Android.. And It's free too.. Loving the app

meTweet is very good yes, but sometime i have touch issue on there, when i select something it either selects Tweets that are above or below.. do you have this kind of issue??

that bug is getting me on my nerve. I raged, and navigate to the Store; purchase Aeries in a heartbeat.

Definitely I'll switch to iphone and leave this pathetic platform.

"I dont think anyone uses the call features on WhatsApp or messenger." Okay.

MSFT said Twitter will release a universal app for Windows 10....

Nice to see developer support for customers

I'm glad they went with a new logo

Hey John, if you open the app you'll see the list of what's new in this update.

FINALLY!!!
IT'S ONE OF MY FAVORITE EDITING APPS EVER! :D
THX DEVZ! :D

It's still my number one photo app on windows phone. Too bad we can't get the tablet version.

I'm going back to sleep, wake me up when kik too updates.

This is one of the first Apps I purchased, and it was more than worth it. This is essentially not only a photo editor, but a painting and effects App that can rival some of the features in Corel Painter/Adobe Photoshop, and it runs wonderfully on the phone. Hopefully they will be adding a Universal version to run on the desktop and tablets.

It's in the works (same code base as the Android version)

It's definitely the best editor out there, on any platform. It goes beyond filters and the level of control is un-match.

A serious request. Why do people edit pictures on their phone? I have never had a need or a use for such apps.

Mostly for quickly fixing/retouching a photo before you post it on the go. Very useful. And fantasia is very good, surprising things can be done with it

My peers and I are car modders and such, before attempting anything (car paints, stickers, how low etc) we use previews on the go to share opinions, because we're far apart n need urgent decision the app do come very handy indeed..

Same fonts from what I can tell. No new filters.

There are 14 new filters. 12 new in the distort section on the bottom of the effect select screen :) Same fonts :)

Something inside me is saying that I shouldn't be worried about people whining WP for apps and games.The situation will be going to change very soon.

Thanks everyone for the support! We've got 14 new effects and translations. I've posted some images with the new effects on the Fantasia Painter facebook page. This is the official developer! :) Just started working on Android version.

Thanks for letting us know....:) wish you luck with your android version too....:)

This is great news! This is the number 1 editing app in the store if you ask me. Thanks guys ;)

This has always been my goto photo editing app on my phone. I was glad to pay for it. I'm glad to see it getting some more attention now.

I was using the beta version since last month. Nice Update.
Pretty to see the developer Nokola here.

Thanks for the Beta testing Sawan - I appreciate it!

Great app! Would love to see on windows store so I can use on my surface ans venue tablets

Love the new icon, love everything in this update, always perfect!

They said they were going to come with an update with new UI.. Where is it? :/

I tried the new UI with Beta customers and they liked the current one more... The new UI wasn't very suitable for translation in multiple languages (one of the main changes in this update is translation) because there was less space for the text and in some languages it was cut off. You can still see some of the new UI if you scroll down in the photo albums on the facebook page for Fantasia Painter. I'll need to iterate more to get to a new UI that is usable. If you'd like to try out the new updates you can sign up for the Beta version - just sent me a private message on the facebook page and I'll add you to future betas!

Ok ill send you a private message.. I would love to test this app.. :)

One of the best apps of all time

Still Fantasia Painter With 5 Star Rating... Laughing Like a boss

Many new effects have been added. Such as Old Movie, Fast Motion, Swirl etc. It is much more awesome now. Just that I am unable to control the newly added effects properly :D :P

Finally but it actually was still the best app!

Once you start the app after updating, you're welcomed by a changelog greeting.. :)

Just published another update (3.71) containing 3 issue fixes. It will take several hours for the update to propagate accross the world. :) #2 is the top reported issue in email in the last 2 years! Fixes: 1. sporadic issue when uploading translations 2. fix for painting after pressing back button on the crop screen when opening an image 3. fix for a gradient editor sporadic editing issue. Also we have 18 languages translated now, due to our awesome customers! Less than 48 hours after release! :)

Again updated with 14 new effect. Date:28-05-2015

Updated again! v3.80, with 3D objects, high res-support and Windows 10 look, even on Windows 8 phones. More info: https://fantasiapainter.com/press
Windows Central Newsletter
Thank you for signing up to Windows Central. You will receive a verification email shortly.
There was a problem. Please refresh the page and try again.