Far Cry 5 runs at native 4K resolution on Xbox One X [updated]
Far Cry 5 looks crisp and smooth on Xbox One X.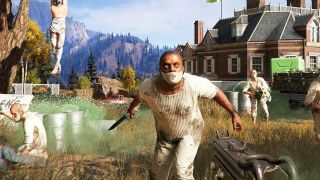 Far Cry 5 launched on March 27, 2018, but since then many gamers have been asking about which console version to get. Recently, Digital Foundry conducted an analysis of the PlayStation 4 Pro (PS4 Pro) version in which the team said that it runs at 1620p on the system. However, a small excerpt inserted into the YouTube description provided some details about the Xbox One X version.
Updated March 30, 2018: Digital Foundry confirmed that the game runs at native 4K resolution on Xbox One X in a detailed video. There isn't any dynamic scaling involved.
Yesterday, Digital Foundry's John Linneman confirmed on ResetEra that the game was indeed native 4K on Microsoft's new console. However, the outlet was still conducting tests to determine if it used dynamic scaling to maintain performance. So far, it appears to be a fixed native 4K presentation.
It's great to see that developers are taking advantage of the 1.8 teraflops difference between the Xbox One X and PS4 Pro to push higher resolutions on Microsoft's console. We had the chance to play Far Cry 5 on both systems and the difference in clarity is immediately noticeable on a 4K display with using the Xbox One X. Upscaling an image from 1620p to 4K introduces some blurriness. The Xbox One X's native 4K presentation gives it a significantly crisp look because there's no upscaling involved.
Far Cry 5 is set in America, a first for the franchise, where it offers players total freedom to navigate a serene-looking yet deeply twisted world as a new junior deputy in Montana. Players will find that their arrival accelerates a years-long silent coup by a fanatical doomsday cult, the "Project at Eden's Gate", igniting a violent takeover of the county. Under siege and cut off from the rest of the world, players must join forces with residents of Hope County and form the Resistance.
Far Cry 5 is currently available at retailers and costs $59.99 for the base version. In our review, we called it "the best open-world shooter on Xbox One".
Keep an eye on WindowsCentral.com/Gaming for all the latest in Xbox and Windows 10 gaming, accessories, news, and reviews!
Windows Central Newsletter
Get the best of Windows Central in in your inbox, every day!
Asher Madan handles gaming news for Windows Central. Before joining Windows Central in 2017, Asher worked for a number of different gaming outlets. He has a background in medical science and is passionate about all forms of entertainment, cooking, and antiquing.
And to think everyone said the One X would only get PS4 Pro resolution on most games because developers are lazy ...

That was all the Sony/PS4 fanboys blabbering

Not to mention, this is Ubisoft, the unofficial "King of Laziness" and "graphics downgrade". Still, I chose to play FC5 on my PC rig, instead of my X, because I'm able to get 4K + locked 60fps. But I'm loving all of the X-Enhanced games, especially those that didn't have proper controller support on PC, like TES Oblivion, and Mass Effect. The $500 paid for the X is ridiculously cheap, compared to the $2000+ I have in my current PC build.

This comment seems way outdated.

Exactly, the best version is on PC. The best play to play on console is PS4. More content and better community.

You're full of crap dude lol NO single Gpu Pc in existence can run FarCry 5 native 2160p 4k 60fps not even a Gtx 1080ti or Titan Xp.... Also the XboxOneX runs full native 2160p 4k locked resolution plus locked 30fps never dropping a single solitary frame. The XboxOneX beats both a Gtx 1070 & Gtx 1060 level gaming Pc's in Far Cry 5 as only a Gtx 1070ti or higher can match the Native 4k locked 30fps of the XboxOneX.... Gtx 1070 34fps average with dips as low as 28fps Gtx 1060 has 25fps average with dips as low as 21fps The XboxOneX is a beast Nobody is running Far Cry 5 at native 4k 60fps as not even a Gtx 1080ti or Titan Xp can do it ...... Gtx 1080ti 54fps average with dips as low as 45fps TitanXp 52fps average with dips as low as 44fps

Everyone said that??
Can you provide links please?

Lmfao! Why do accounts with no avatar always ask for links. Shady sheep's.

You know clowns run out of argument when they start talking of people's avatar or lack of it... LOL So what does someone's avatar got to do with anything? If I have a Master Chief you are some kind of special person? I still see no links so there you go, we know where you guys are coming from...

The game is DYNAMIC 4K, not NATIVE. Xbox has nothing that looks as good as Horizon. Nice try, though!

Stop being a Pony cause a game looks better than Horizon! U must be not able to read nor be able to see. Dark1x clearly speaks of it DOES being Native 4K in the end.

The XboxOneX is true native 2160p 4k dude but nice try lol ...... The X is locked 30fps at native 2160p 4k while a Gtx 1060 averages only 25fps with dips down to 21fps, and a Gtx 1070 averages 34 with dips down to 28fps..... The X uses a frame rate cap as it could run much higher than 30 but not close to 60 so it's capped at 30fps, however even at 30fps the X outperforms both a Gtx 1060 mid range Pc, and slightly surpasses a high end Gtx 1070 level gaming Pc as the 1070 can't lock to 30fps as it dips to 28fps while a 1060 isn't even close with 25fps average & 21fps minimums...... Fyi, NO single Gpu Pc in existence can run FarCry 5 native 2160p 4k 60fps not even a Gtx 1080ti or Titan Xp.... The XboxOneX is again night n day better than ps4 pro as the X murders the pro just like it murders it in 99.99999% of all major triple a 3rd party games as the X is the absolute best n most dominant console ever created....

The game isn't dynamic. The Digital Foundry analysis just came out. Please stop spreading misinformation.

@Asher Madan
the irony!!! LOL

Just because you're upset that the PlayStation 4 Pro version isn't as crisp as the Xbox One X version of many games doesn't mean I'm wrong. I always back up my articles and stories with facts and have even confirmed the resolutions with Ubisoft and other developers on many occasions. There's a lot more that goes into writing these stories than you realize. The only irony here is your comment history. It's easy to troll and be abusive like you but I would recommend that you try to be civil in the comments. Gaming should be an enjoyable experience and your abuse ruins it for everyone. Adopting a more positive attitude would help you too.

LOL why should I be upset. I don't even have a PS4 pro. LOL
It's irony, because you say that when a commercial doesn't say a game is coming on XB1 it's misinformation. But you do the exact same thing in the titles of your articles.

Lmao. Why r u such a fanboy??? Don't get your panties in a bunch but Hellblade and no man's sky a complete edition at that is timed ps4 exclusive and both are headed to xbox one x this year. Without competition consumers don't get the best product's... stop being such a fanboy lol. Switch graphics r subpar but they seem to be doing well...

Oh btw far cry 5 is in native 4k on the X. If the developers say it is why would any 1 believe your nonsense? Just because u say soo?? Lmao

Not surprised as the game is very optimized on PC.
Ubisoft did a great job this time.

I know. First Assassin's Creed Origins and now this. Ubisoft is really bringing it for Xbox in the past few months.

Ugh, I'm stuck in Bohemia.....open world adventures in America will have to wait. Aye, alright so.

More BS from the Microsoft camp. Farcry 5 is DYNAMIC 4K on Xbox X. Faux 4K checkerboarded like. $500.00 for sub-par 4K and 30fps. That's sad!

How about that ps4 pro ey... Ouch!! What a 0.5 half machine it is next to the Xbox One X.

Which is why I now have a One X and a standard PS4. So anything that's enhanced I can play on the X, games that aren't enhanced I can play on the PS4, get the best of both worlds.

Lol. Umm...digital foundry isn't the Microsoft camp you troll. Hahahahaha. Idiot.

dynamic 4k is native 4k, as in it renders at 4k, there is no rendering at lower resolution and then upscaling it to fit 4k screens.
i wouldn't be surprised if both X and Pro have dynamic resolution, it's just that X can actually achieve and hold 4k on the high end while Pro tops out at 1620p.

Nope, they are different.

Native 2160p 4k no dynamic scaling as it's locked native 2160p plus locked rock solid 30fps at all times as the X version never drops a single solitary frame as the XboxOneX beats all gaming Pc rigs accept ultra high end Gtx 1080 or higher level Pc's.... Gtx 1060 averages only 25fps with dips down to 21fps Gtx 1070 averages 34fps with drops as low as 28fps as it's unable to sustain locked 30fps as the vast open world of far cry 5 is just to demanding at native 4k for 1070 & 1060 Level gaming Pc's or lower as you need at least Gtx 1070ti in order to match the XboxOneX
Windows Central Newsletter
Thank you for signing up to Windows Central. You will receive a verification email shortly.
There was a problem. Please refresh the page and try again.