Faster Than Windows Phone? Challenge at CES 2012 recap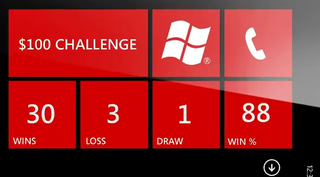 A recap video has been published on the Windows Phone YouTube channel (as can be seen above), which could be considered as a recap of the recap of the challenge that Ben Rudolph (Ben the PC Guy) was offering to those who wielded competitor handsets. Putting $100 on the line, Rudolph went around challenging CES 2012 attendees who were up for attempting to best Windows Phone on a selected task.
The video runs through many of the challenges Ben faced, whether it be posting pictures to social networks, or searching nearby restaurants. While Windows Phone won the majority of the battles, there were a few that were taken by competitor handsets. In the end, our beloved platform achieved the following:
30 win
3 loss
1 draw
88% win
Those who lost had to suck it up and admit they were smoked by a Windows Phone. All was not lost though, as a consolation prize, the losers were given a Windows Phone. In the end, not many were laughing at the Windows Phone platform.
Source: YouTube
Windows Central Newsletter
Get the best of Windows Central in in your inbox, every day!
Rich Edmonds was formerly a Senior Editor of PC hardware at Windows Central, covering everything related to PC components and NAS. He's been involved in technology for more than a decade and knows a thing or two about the magic inside a PC chassis. You can follow him on Twitter at @RichEdmonds.
Hey that, image with the red tiles would make a great landscape mode for windows phone...!!!

Maybe its MSFT teasing us!

Please let it be a tease!

The tablets will fill that void.

Yea, I think it would look good as landscape, except for that glass effect. I really don't like chrome!!!

That's the phone's screen reflection :)

I would like to have a landscape feature, too! Hopefully Apollo, or even Tango!

man, I sure hope that this "landscape" mode will be announced at MWC this Feb... Ohhh please let it be true! My Arrive would be so awesome in Landscape! jejeje

Great publicity. Im hoping to see a super bowl commercial for WP

me too, this would be a memorable Superbowl commercial b/c it's actually serious marketing!

A free WP if you lost! Nice!

This video rocks. I love the look on the 4S guy's face!

Too bad, I would gladly take that challenge and WIN!
(currently rocking Dell Venue Pro):):):)

All hail the mighty windows phone

Cut!! That's a wrap! Now on to post-production and direct to TV Marketing! I need to see this on TV asap, its perfect for a tv commercial.

Agreed, it does look brilliant for a tv commercial, although might brag a tad too much...? Not sure there

If you got it, flaunt it!

I know you're in the UK so you probably didn't see them, but Verizon's first Droid commercials in the States were all about "Droid does what the iPhone doesn't". So I say brag away. (Posted from the WPCentral app v2. Great update btw!)

That's a fair point! In which case yeah brag away lol

just run this all year.....put all the money here....and maybe a few cool Nokia commercials.

I think this and a few other spots during the Super Bowl could actually generate a buzz.

I should have brought my little sister android phone and compete with wp7 so I could lose in order to get a new windows phone 7 :D

Yeah I looked a chance with windows phone when I upgraded my phone and I've never looked back. How can you go wrong with MSFT they are a software company after all=)

That design looked awesome! The phone is what I mean with the tiles.

That is an awesome video!

This video is great and shows WP7's potential against other platforms. Microsoft should definitely promote this video because it is truly promoting the brand! Go MS, lets show these foos wassup! jejeje

Its a good start but people love their phones and the whole speed thing has already been pushed my MS with little effect. I'd like to see this combined with demonstrating the tile concept to show people why its so fast and it looks cool at the same time.

I agree, the concept of the people hub, live tiles, and data integration should be shown. People choose phones based upon their needs, which is why android is popular. It's as easy as you want, or as hardcore too. To gain hardcore users you're going to have to show the cool stuff. Honestly, I don't care that I can post to 10 social networks simultaneously, who does that? Maybe on just old.... :-)

Smart Idea to market the windows phone, I like the look on some faces who were really pissed and like no way my iPhone/Droid is better. But Ben should've demonstrate why the windows phone is faster as well, like how the live tiles, people hub, zune and bing search makes it easier to do things or look up stuff.

This is just a mash up of several smackdowns by WP7. If you look for the other bids on their YouTube channel you'll see the individual competitions where he did show how and why he beat them.

Edit: if you look for the other VIDEOS, not bids! *face palm*

Definitely a worth commercial to put up!

I think I would have lost on purpose. You win, $100. You lose, $400 phone. Hmmm... :p

I would've brought my wife's ORIGINAL iPhone... And scored myself a free upgrade lol!

Good video, good demonstration. Seriously considering dumping my android... Upgrade in April, maybe Nokia 900 will be out.

I've always said from day 1 we need a landscape mode UI... Windows phone windows8... Oooh lala

I guess it's safe to assume that landscape mode on the home screen is coming to Apollo (if not Tango) for sure since it's on their minds with the marketing in the video.

Did people know in advance they'd get a new phone if they lost?
I have a windows phone, but I would have brought my Palm Pre+ over for a chance to get a newer one. :-)

Edit - I agree, that landscape shot looks pretty nice!

You know... I know I am reading it the wrong way, but unless I am mistaken isn't the point here that the Windows Phone is worth less than 100 bucks?

Thank you for this great advice. This was all most helpful. My friend will be thrilled to hear that she was right and my pesto will be all the better for it. General contractor Nassau County NY

Good sharing such great details by us in fact appreciate every thing that you've done here with am glad to know that you really care about the earth that we live in. water cleanup Des Moines IA

It would have been nice of Apple to tell us this. Since updating the software I haven't bee able tp read in bed with the constant rotation. I think this was a dumb move. Flood Damage Woodmere NY

This post has helped me for an article which I am writing. Thank you for giving me another point of view on this topic. Now I can easily complete my article. water removal Marietta GA

I think its quite pricey but I am taking options. I am also planning to put up a mini-spa inside our bathroom but I do not know how much work should be done for it. I am looking forward for consultations soon. water damage Tinley Park il

This post has helped me for an article which I am writing. Thank you for giving me another point of view on this topic. Now I can easily complete my article. Stump removal Bolton CT

There is no issue against your interesting blog page. You certainly know how to keep a viewers entertained. I am positioning out you offer a more interested information. Rezart Taci

I found your website perfect for my needs. It contains wonderful and helpful posts. I have read most of them and got a lot from them. To me, you are doing the great work. los angeles Slope repair

The post is written in very a good manner and it entails many useful information for me. Thanks for sharing the information.<a href="http://rail.yuplee.in/" title="Train from">Train from</a>

It is better approach to carry on the education and really very good post on your blog. Train from

Its like you read my mind! You appear to know so much about this, like you wrote the book in it or something. I think that you could do with some pics to drive the message home a little bit, but other than that, this is great blog. A great read. I will certainly be back. Landscape lighting West Hartford CT

hello, i already register my self but im willing to do the challenge with a friend, how do we register as a couple? Outdoor Lighting Hoffman Estates IL

If you live in Los Angeles, you problably know that we are long overdue for an earthquake, we always think about it when is too late... Any Home Owner should consider hiring a home inspector to get a professional opinion on the status of the foundation and the bolting. I found this site very informational about this topic: http://www.retrofittingcalifornia.com/foundation-repair/
Windows Central Newsletter
Thank you for signing up to Windows Central. You will receive a verification email shortly.
There was a problem. Please refresh the page and try again.