Check out these 8 new kickass features in IE11 on Windows Phone 8.1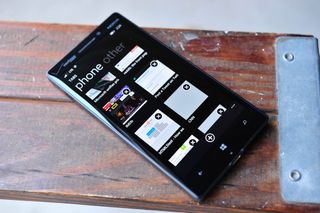 You can now get your hands on Windows Phone 8.1 thanks to the Preview for Developers program. You're going to notice a lot of changes after you upgrade from Windows Phone 8 to Windows Phone 8.1. We're going to go over some of the new features in Internet Explorer 11 and why we love them.
Here are the headline grabbing features that are new to IE11.
Pin websites as Live tiles
Inline video
InPrivate mode
Unlimited tabs
Save passwords
Synced tabs and favorites
Reading mode
Swiping left and right to go back or forward
Those are some awesome features, but now we'll jump in and clarify/expand what's new and special about them. Here we go.
1. Pin websites as Live tiles
Like on Windows 8.1, you can now pin websites as Live tiles on Windows Phone 8.1. It's of course up to the web master of a particular site to really support this awesome feature. Pro tip: Our site supports this and is a good way to test out this feature. Just go to wpcentral.com in IE11 on Windows Phone 8.1 and pull up the menu. Select 'pin to Start 'and you'll now have a Live tile that you can resize. It'll also dynamically update to reflect new content from that site. Pretty cool right?
2. Inline video
Another feature that will shine on sites like YouTube is the ability to support inline video on webpages. Now you can click a video embedded in a page and have it play without automatically going full screen. You can even keep videos playing under the Lock screen when it's like this. Want to read more about the improved HTLM5 and inline video support in IE11 on Windows Phone 8.1? Check out our detailed post on it.
3. InPrivate mode
Here's a fun new feature for when you want to visit the nefarious side of the web. InPrivate mode is a browsing session in Internet Explorer that doesn't leave a trace of your activity. It's very handy if others frequently access your phone and there are some certain websites that you don't want them to know you visited. Whether it's an adult-themed website or secret gift shopping, InPrivate mode is for you. Cookies, temporary Internet files, history and other data won't be found after using InPrivate browsing.
4. Unlimited tabs
Raise your hands if the 6 tab limit on Windows Phone 8 drove you mad? We can't even count the number of times we ran out of tabs in Internet Explorer on Windows Phone 8. Internet Explorer 11 and Windows Phone 8.1 introduce an unlimited number of tabs. Just scroll down and you can now handle as many tabs as needed.
5. Synced tabs, favorites and history
Your Microsoft account will sync a handful of useful features between Internet Explorer 11 on Windows Phone 8.1 and IE on Windows 8.1. Tabs, favorites and browsing history will follow you from device to device. It's a beautiful, cloud-powered world we live in.
6. Save passwords
Passwords for your favorite websites can now be saved on the device. You'll find this option in the settings for Internet Explorer 11. A very useful feature for those sites you frequently visit and would rather not re-enter the password each time.
7. Reading mode
Here's another feature that Internet Explorer on Windows Phone 8.1 borrows from the tablet and desktop versions. The new Reading mode will optimize web pages for reading, assuming the web page supports it. You'll find a look book icon in your address bar on supported pages. Tap that book icon and you'll be given reading mode where text and images are displayed in a clean layout without ads, logos or other distractions.
8. Swiping left and right to go back or forward
Another feature that's really cool that IE11 borrows from Windows 8.1 is the ability to swipe to navigate. You don't have to press the back hardware button if you want to navigate to the previous page. Instead, you can just swipe to the right or left for going forward and backward. Just place your finger down and glide to the left and right with confidence.
Have Windows Phone 8.1? Share your favorite new feature in Internet Explorer 11 down below in the comments!
Get the Windows Central Newsletter
All the latest news, reviews, and guides for Windows and Xbox diehards.