Fhotolens, a fish-eyed perspective for your Windows Phone Camera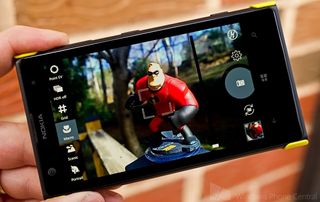 We first mentioned Fhotolens some time ago when the Windows Phone 8 photography app was in the beta stages. Fhotolens has now made it through the beta testing and is available in the Windows Phone Store.
Fhotolens is a camera app from the developers of Fhotoroom that creates a virtual 10-24mm lens field of view to give your images a wide angled look to things. The app also has a High Dynamic Range (HDR) mode along with front camera support and a nice collection of scene settings.
The app still needs a little fine-tuning but overall, if you are looking for a fish-eyed lens approach to things Fhotolens is worth a try.
The run down on Fhotolens' viewfinder has a help button in the upper left corner of the screen with your flash, settings, shutter button and front/rear camera toggle lining the right side of the screen. The viewfinder controls will rotate on the screen as you shift your Windows Phone from landscape to portrait views.
Fhotolens Settings Menu
When you tap the settings icon, a series of options will line the opposite side of the screen that includes:
Point EV: This place a shutter symbol on the screen that can be moved about to set your exposure based on that particular spot on the viewfinder; a spot meter of sorts.
HDR on/off: Fhotolens does have an HDR mode that will take three images at various exposures and stack the three images to capture the full visible range of light in a photo.
Grid on/off: Turns on and off the Rule of Thirds grid.
Scenes: Fhotolens offers three scene choices, Macro, Scenic and Portrait.
You will also see a slider bar when the settings are exposed. This slider bar regulates the amount of curvature your image will have. As you increase the curvature, the image will zoom in slightly. This is done to eliminate the black space above and below the image that the extreme wide angles create. This feature was not present during the early stages of the beta version of Fhotolens. You can see the black voids in the sample image below taken with the beta version of Fhotolens. There is a slight distortion to the viewfinder because of the zoom but it is not reflected in the final image.
Fhotolens Sample Pre-Release without image stretching
This is a nice feature for those who don't care to edit images and gives you a full frame image. Fhotolens produces images in the neighborhood of 1700-2560 pixels on the wide end, depending on the lens slider. The majority of the 10mm test images shot ended up with a resolution of 1723 x 1287 pixels.
Fhotolens Sample
Fhotolens does support tap to focus but to capture an image you will need to tap the on-screen shutter button or your Windows Phone shutter button. However, Scenic mode does not support tap to focus and instead sets the camera to the infinite focal point. You can also pinch to zoom in on a subject as well.
Once you snap a photo, it will take several seconds for Fhotolens to process the image and a small thumbnail will appear on the right corner of the viewfinder for that image. Tap the thumbnail and Fhotoroom (if installed) will launch so you can edit or share the image.
Fhotolens Macro Sample
The HDR images will require you to hold your Windows Phone still while all three images are captured. The slightest movement will make image alignment difficult and we recommend a tripod to help keep things steady. I found a Joby Gorillapod (opens in new tab) worked out nicely with the Nokia Lumia 1020 fitted with the camera grip for photographing the testing out the HDR mode with Jiminy Cricket.
While I like the concept Fhotolens brings to the table, the app could use a little fine-tuning. It lacks the in-app ability to review your photos without jumping over to Fhotoroom. This can cause problems if you do not have Fhotoroom installed in that you won't be able to review your images. An independent means of viewing the last captured image from within the app would be a handy feature.
Fhotolens HDR Sample
It does take a while for Fhotolens to process your images. There is a lot going on under the hood but if there is a way to shorten this time, the app would have greater appeal. Patience is the game in using Fhotolens but that's not necessarily a bad thing in that the end product isn't too shabby.
Image quality is good but I did notice a blue color cast on many of the images I took. The cooler image tone wasn't critical and easily adjusted for in Fhotoroom, Nokia Creative Studio or another third party photo editing app. Images could also use a little contrast but again, you can always tweak things in a photo editor. The fish-eye effect is nicely done but, I could not help but think there needed to be a little more curvature at the 10mm setting. HDR images are nice may lack enough "pop" for many. I would not mind seeing a way to tweak the exposure settings with the HDR mode.
All totaled Fhotolens is a nice addition to the Windows Phone 8 photography lineup. While there is room for improvement, camera apps may be some of the more challenging to develop due the wide range of variables that come into play. The app has come a long way since the first beta version and is but another creative tool to add to your Windows Phone camera bag.
There is a trial version available for Fhotolens that has a six image capture limit. The full version is currently running $1.49 and is available for Windows Phone 8 devices (including low-memory devices). You can find your copy of Fhotolens here (opens in new tab) in the Windows Phone Store.
Windows Central Newsletter
Get the best of Windows Central in your inbox, every day!
George is the Reviews Editor at Windows Central, concentrating on Windows 10 PC and Mobile apps. He's been a supporter of the platform since the days of Windows CE and uses his current Windows 10 Mobile phone daily to keep up with life and enjoy a game during down time.
The number of quality photography apps on the windows phone store, is too damn high!

The number of posts on wpc on weekends are too damn low

Thank god i though wp community was dead for a second there.one thing iv noticed after Nokia world there is a awesome game or two every week ;)

I upgrade my phone to GDR 3 preview program.my question is that when nokia release the official update than my warranty will be back again?

Even though supposedly u lose warranty by dev preview one can always reset :) and yes u shud hav ur warranty back.anyways u installed it so late nokia itself is rolling in comming weeks ;)

I updated it for when windows phone 8.1 comes Microsoft may again release it for developers.but if i update with official GDR 3 how can nokia care able to know that i was installed the preview program?

Good photo app but the problem is, fhotoroom currently not available in store(Malaysia).

working on that, we just got into Indonesia and we will keep expanding.

change region+language to US or UK etc. Restart, and then it will be available.

Yesss a real fisheye lens!

Hey Everyone, thank you again to WPCentral for the review as alaways. A few additions. The Trial limit is set to 6 photos. A new update (v1.0.1) was already submitted yesterday with a fix for 512MB phone. I am also adding a viewer to the right now and will push it out as soon as the present update get's approved. v1.0.x was primarily focused on making sure Fhotolens will work on every single WP so the code is laidout for easy fixing. v2.0 will address the performance but we really wanted to make sure this app works great for everyone. Enjoy ;)

Not saying u r app is not good or anything.
1. There are already a zillion photo apps on wp
2.99 percent people stick to Nokia camera
So my suggestion is to make ur app free with ads.jst a suggestion don't scold me now

Ads on a camera app are an expect fail. There are a zillion camera apps that all want to be exactly like the Nokia Pro Camera (which is awesome camera app) using Nokia's own SDK. To me that makes no sense just like the Aviary apps that are all exactly the same with a different name on them. Fhotolens is not like any other Camera App on WP. Some do Fisheye, some do HDR, most do Camera Modes (repeat of Nokia Pro Camera) but none do all except Fhotolens. Everyone wants to be the best DSLR camera on WP8, cool, we want to be the best point and shoot for everyone who doesn't want to spend time playing with a half a dozen sliders. Your point is exactly why and how Fhotolens is different, thank you for you feedback. Try it you will see it is very different. Lastly Nokia Pro Camera doesn't do fisheye, HDR, or Dynamic Point Metering :)

U can ad ads on the settings page /splash screen.
And hardly ppl understand.
Anyways all the best bro happy developing :)

Those are options and will definitely consider it very seriously. Thank you for the feedback. If this is something others agree with let us know, these things are not engraved in stone and even then stones can be broken ;)

u should make it free. And see the awesome response.

I don't doubt, the Windows Phone community is great and a lot bigger than outsiders realize, but if did that all the time there would be no Fhoto-anything apps in the store by next year. Almost 2 years developing on WP and this is the first app i am charging for.

Ads in a camera app? Hmmm that will look so unattractive.

True :'( devs hav a hard time theese days.anyways could u develop a proper fb app we badly need one

Please make a suggestion, always looking for ways that are better for users to really tryout the app. Please remember, to be able develop great apps, us developers do need to try to generate a little revenue otherwise why would we develop anything.

How about improving shutter speed

v2.0 will bring all the performance boost, but Camera apps always have a lot of stability issues, so v1.0 is all about making sure it works on every single WP unlike so many apps the don't even bother trying to develop for the 512MB WP or say they will and 6 month later release a 512MB buggy update.

I know it may not an interest. But we do badly need a fb app

My suggestion is not making it free. Enough with ads, there're dozens of photo apps with ads. Be different, don't mess the UX.

Friggin Auburn Gnome, Die Auburn Die! ROLLLLL TIDDDEEEE!! On another note, app looks interesting. Might give it a try.

Fisheye? Maybe for the kids...

Please guys, don't litter the comments section with 'please make it free' comments. The developer must have worked very hard on the app. Im sure he must have been coding for months, trying to make this the beat he can. If he decides to charge, he must have a reason for it. The app is worth the dollar you spend every hour.

Great interface. The results look so much better than most other fisheye camera apps I have seen. Pay for quality guys.

Dynamic Point Metering is a lack point in all photo app for WP.
THANKS FOR INCLUDE IT!!!

Purchased your app today. Finding focus quite difficult "not in hdr mode of course" and problematic. Any advice?

The most common issue for this is trying to focus using scenic mode, which actually uses an inifinte focal point thus not focusing well on closer objects. Use either Macro or Portrait which both support different focal ranges. Portrait is the best default option which will be in the next update. It appears that default sometimes goes to scenic over the other. Fixing it already. Thank you for the feedback and support.

The most common issue for this is trying to focus using scenic mode, which actually uses an inifinte focal point thus not focusing well on closer objects. Use either Macro or Portrait which both support different focal ranges. Portrait is the best default option which will be in the next update. It appears that default sometimes goes to scenic over the other. Fixing it already, we are pushing out updates as fast as the WP team can approve our updates. Thank you for the feedback and support.