Find fast food fast with Hungry Now for Windows Phone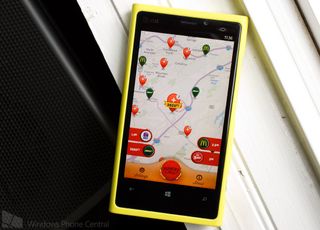 Hungry Now is a simple fast food finding app for your Windows Phone. It's an app that can come in handy when you're traveling or when your stomach is growling and you need to find fast food fast.
Hungry Now will help you locate worldwide locations for McDonalds, Quick, Kentucky Fried Chicken, Starbucks, Subway, Taco Bell, In-N-Out Burger, Burger King, Carl's Jr., Dominos Pizza, Dunkin' Donuts, El Pollo Loco, Fatburger, Jack in the Box, Johnny Rockets, Pizza Hut and Wendys.
Hungry Now is designed fairly simple with your main view being a map of your current location with details about your preferred fast food restaurants along the bottom sides of the map. Along the bottom of the screen you can access the app's settings and view the about screen.
Hungry Now's settings allows you to identify four fast food chains as your preferred establishments. These four chains will be displayed on the main map. Additional settings cover distance options (miles/kilometers), turning on/off location services, and audio on/off.
The preferred tabs on the map view will show the distance to the closest such eating spot. Tapping on these tabs will hide those preferred listings on the map. Tapping the Hungry Now button centers the map on your current location.
Fast food joints not on your preferred list will show up as pin points on the map. Just tap on the pin to pull up the particular information about that fast food location. The information bubble will off you options to generate driving or walking directions. The directions aren't generated within Hungry Now but instead are done through one of your navigation apps on your Windows Phone (Nokia HERE, NAVIGON, etc.).
All totaled, Hungry Now is a very nice app. I can see it coming in handy while traveling when you're looking for a particular fast food spot.
Hungry Now is a free app that you can find here (opens in new tab) in the Windows Phone Store.
George is the Reviews Editor at Windows Central, concentrating on Windows 10 PC and Mobile apps. He's been a supporter of the platform since the days of Windows CE and uses his current Windows 10 Mobile phone daily to keep up with life and enjoy a game during down time.
I've used this app a few times recently and it is nice. It works well and is quit fast. The layout is fun and clever and very easy to use. However, it is only useful if you often look for the same chain restuarants to eat at.

I have to say well done to the developer/s, it really is a nice clean yet useful app. Animations are smooth and like you you said the controls are easy and fun.

Is their a restaurant app like this

I've found that Local Scout in the search feature works perfectly for finding eateries when traveling

Local Scout doesn't work in every country unfortunately :(

I love Johnny Rockets but too bad we don't have an In-N-Out Burger where I live.

indeed Johnny Rockets is DELICIOUS !

Its great.... Loving it... the layout is the highlight of the app...

I see Johnny Rockets. Sold.

Might be good if you live out in the hinterlands. Around here, you can throw a rock in any direction and hit 3 or 4 fast food joints. The app does look good though. Whimsical. I like that.

Lmfao, I laughed way too hard at that

Does this beat Local Scout?

I dont know, but i try to improve it and make it the best ! :)

Should be renamed too find cancer fast

great UI, easy to navigate in the app, havent tested the accuracy of results yet.

Test it ! and let me know ! if you see something wrong, let me know ! It helps definitely !

Wow, how could I have missed this app, it's awesome! What I think it's missing is the option to populate the restaurant list with local offerings taken from Open Street Maps or something. Only 5 or 6 of the chains in the app are available in Spain, for example. If we could add info from chains that are big here, this app would be AMAZING

Tell me what you do YOU want :) And i will try to add it in the futur :=)

Wow, thanks for showing up! I have a long list of places *I* would add, I can send you guys an email ;)

Love this app. Works great, fast. Too bad it doesn't have Five Guys, Shake Shack, Uburger.

We will add more and more restaurants ! Just keep it updated

Hello i am Paul the creator of this App !
Thank you everyone for your comments, we'll try to improve as fast as possible the app and its datas !
Feel free to contact me if you have any comments : hello[at]03july.com !

Hi Paul looking forward to an update to this great App .5 stars from me. One thing I would like is to see Burger King appear in my list as this brand just opened a flagship store in South Africa.Thank you

Hey Paul, I just downloaded it and I'm already a fan (I eat a lot of fast food, so sue me, health nuts!). But why not have a "modern UI" style on this? Seems like the perfect candidate for a stripped-down, no nonsense UI. I like apps that feel like they are part of the OS. I might be in the minority though. And it does have a very nice fast-food styled UI right now.
Other than that, it's great. And beware of feature creep - this does what it does very well, and other than maybe an additional preferred chain and more chains overall, I don't think it needs any more features...

HI,

Well i am not going to add more features, juste more infos and more restaurants. Also more languages ! That's it !
For the modern UI, i chose to not follow the MS design guidelines because i want to give a funny experience for a simple application. This is what i am going to do with the others apps.
Anyway, thank you for you nice comment ! i really appreciate that !


This is awesome. It'd be even better if we could add more restaurants like Del Taco, etc.
Windows Central Newsletter
Get the best of Windows Central in in your inbox, every day!
Thank you for signing up to Windows Central. You will receive a verification email shortly.
There was a problem. Please refresh the page and try again.