Firefly Runner flies into the Windows and Windows Phone Store as a universal app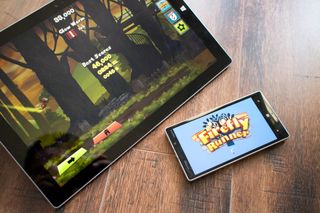 Firefly Runner has been released earlier this month for iOS, Android, and Kindle. The Windows and Windows Phone versions of the game just recently followed. It's an action-packed, endless-running adventure game that you might want to check out. We've installed it on our Nokia Lumia Icon and Surface Pro 3. Head past the break to watch our hands-on video and gameplay.
Features:
Run, fly and shoot through a stunningly beautiful rendered forest world.
Fun and charming 3D insect characters, including cute fireflies, grumpy hornets, burping slugs, scuttling spiders and mischievous praying mantises.
One touch gameplay that can be picked up instantly and is fun to master.
Three diverse environments to explore; The Rolling Countryside, The Forbidden Forest and The Crystal Caves.
Unlock achievements and beat your best scores.
Collect all of the flight badges and unlock the many achievements.
You play as Switch, a firefly that can run, fly, and shoot. Press the left side of the screen to elevate. Switch automatically moves forward. Click anywhere on the right screen to fire the slingshot towards insect foes like grumpy hornets, slugs, and spiders. Avoid obstacles while collecting cherries, light orbs, and magical keys. This includes slugs that can fire green glob in the air and praying mantises with traps.
The top left corner of the display shows how far you've gone, how many orbs you've collected, and how many cherries you have left to fire with the slingshot. The top center of the screen shows your current score. This increases when you collect items or hit insect foes.
Firefly Runner is easy to play and quick to master. It costs 99 cents with a free trial available. Since it is a universal app, you can buy it once and download from both the Windows Phone Store and the Windows Store (opens in new tab). We're enjoying this game and think you'll like it, too. Go check out Firefly Runner and sound off in the comments!
I love them universal apps/games!
Looks fun, gonna try it :P
Downloading now...

That was good planing on MS's part.. It looks like they really do have a solid plan to move Windows forward into the 21st century... Converging all of their products onto one core OS is something that Apple, and Google currently can't compete with.... It's a long process getting everything to all fall in the right places, but we can already see benefits from the "three screens" approach..

I'm tired of this comment section in WPC, it requires immediate fixes... Here's your original comment Rodney (luckily it was cached in IE) sorry for the trouble, my friend hadn't logged out of my phone and mistakenly i was using his account...
--------------------------
It's a pretty sneaky plan by MS.. And, it's like I've always said.... MS isn't in the same position that iOS was in back in 2007, or Android was in back in 2008... They have to do things differently, and to be honest even if WP had app parity with iDroid do we really honestly think that people would buy it as much as iDroid?... Not likely, now.. Even apps can't increase WP market share.. MS is going to have to play with what most people go for and that's popularity...
.................................................
Marketing and awareness has always been WP's biggest problem.. The only way that WP will catch on, in the US at least, is if consumers are bombarded with WP, and W8.. Consumers shouldn't be able to turn on the TV, listen to the radio, drive down the highway, go to the grocery store, the mall, electronic stores, wall mart, SixFlags, Universal Studios, the airport, major sporting events, or anywhere without WP devices being marketed to them... If this level of marketing had been done the last 4 years we would be seeing WP at well over 10% market share by now... Apps are important, but people need to know that the platform with said apps exist, and they need to think that everyone else wants it...

MS adverts are the WORST! Always cheesy and cringe worthy...makes me shudder.

Wow! What happened to my comment?

now that it's cringe-worthy XD

A lot, kinda long to explain.

I'm not telling about rest of the world since I don't really know but in India, lack of "free" apps and "less" apps in WPs is one of the main reasons people often deny this platform. That's, it's not that people haven't heard of the platform here. They've, but it won't match their necessities. While I've myself managed to convert 11 of my friends (and some of their family members as well) to get a WP, most people are still reluctant. I understand that the scenerios iDroid had back in 2007/8 was different and is not comparable with what WP is having today. And I do agree popularity actually matters and I think you already found the reason what MS lacks, marketing. It's been a big downside of MS, and it's a big let down of MS even today. It feels bad that a software giant company lacks this.
By your comment, and apparently, people in US are too sticky to androids and iPhones and marketing needs a major role there. While I've started loving this new Microsoft, I don't understand when will they understand marketing??? They should go take lessons from Samsung on this. If their is something that spread Samsung Galaxy across the world, it's basically the name, caused by intelligent and massive marketing.

I'm not telling about rest of the world since I don't really know but in India, lack of "free" apps and "less" apps in WPs is one of the main reasons people often deny this platform. ...so if more apps were free, more people would use WP, but the devs still wouldn't be making any money... I'm sure there's a flaw in this plan somewhere, but I can't seem to put my finger on it.

That's what I've been keep saying. People keep saying it had lesser apps as compared to Android and lesser free apps as well. India sure is a good place to increase WP's "market share". But I'm really not sure how much developers can profit from this. And I'll also say, overall growth of WP here will help developers in some or the other way as well. Only, only if developers make the apps more like the android apps (not wholly, but partially), i.e, keep it free and integrate ads. Make a purchase option to remove the ads, if people like the app they might buy it as well. In this way, even if they didn't buy it at first, developers will still earn. That's how Android's been so successful here. And yeah, let's not forget the local OEMs that made Android devices affordable for the masses. Good to see more OEMs are coming out with WP as well...

Well said❕ .. You're exactly right, my friend!!!

Okay downloaded. The character is greatly detailed, music is awesome only if the shooting sound could be a lil bit better -_- it irritates me...
Overall, a really fun game. Looking forward to play it further...

I keep feeling like starting one of these games
But then I feel like I'd want it to have XBOX Live support before u start playing an App

LOL I know it's hard to forget the joy of achievement we got from WP Xbox games. But it's already dying so we have to accept it and better, enjoy it! ;)
One thing i still don't understand. Why they renamed "games" to "XBOX games" if they don't really want to support it further? Or just to brand it like Xbox videos and music?

Is it 99 cents for Android and IOS too??

Not sure about iOS, it's free in Play Store with in-app purchases

I wonder if WP version unlocks everything since we are paying for it....

U r asking as if u are gonna report the case on the publisher that why he is doing partiality with the OS :p :P

By the way its free on both except WP :)

Would prefer to purchase apps than have IAPs. So this version is the winner for me ❤

It is free with ads, to remove ads its the same price (on Iphone at least, not sure on android) ;)

If we want Devs to support the platform, then we also have to support the Devs and let them make a little $.

Agree 100%..... Downloading now

Perhaps.. But even so,if a dev makes an app for Windows Phone and Windows they need to make sure if it's not better then at least make sure that it's on par with the other platforms. Not saying that it's the case here,but it is for others. I have a ton of apps that I don't even use often,and some that I haven't used at all. I do it as support,however the devs in to be consistent if they want to get the money flowing in more.. Again,in some cases not all.

I agree with you. And I know the cases you're talking about. I often see reviews in store that goes like "Android version has this....
Android has that....
This version is inferior to that I have in my Android....
Please update the app like iOS" and so on... Developers bother this platform the least for various reasons. Mainly, market share. But they need to see WP is actually a good platform of they really want to profit. I can't recall but I think Paul Acevedo wrote an article on it how WP can me more beneficial. They need to see things more clearly.

Jussttttttt awssssssssmmmmeeeeerr !!!!!!!!

My brown coat heart always skips a beat when I see a title like this.

Hehe, know what you mean :)

Keep fighting the good fight, you big damn hero.

The look and idea remind me of lucidity on xbla. I'll give this a try...

Nice to see more and more universal apps cant wait till they start coming out for the xbox one as well

Nice games to play on both platforms. Which is awesome.

Universal? This sounds good... I may buy even if I dislike just to show the developer that I appreciate their strategy and hard work.

I have one question about universal apps. Do these apps sync progress, settings and achievements across devices?

Some games do, some don't. Not sure about this one. I've downloaded in my phone and will soon do that in my PC... Will inform if it does

If only there were reavers chasing...if only.

Click anywhere on the right screen to fire the slingshot towards insect foes like grumpy hornets... Is there any other kind?

Just tried the game. And it feels like an actual game and different then other endless runner games that I've played before. So far so good. I really like it. No bugs, no crash, nothing like that the game had been very polished for me. +521!! :D

Same here! I haven't played or purchased any games since I bought my Lumia 521 two months ago...even though my phone came with Angry Birds out of the box. This little game feels great!!!

It would be cool if more Windows Phone owners purchased the game than on iOS or Android (are there any games where this is the case yet). I just bought it and its very good.

I'm not much of a game player, but just had to purchase this app after seeing this little review...played it for a few minutes. Like it a lot!

It is a cute game. It does seem a little laggy on my 1520 but perfect on my surface pro

Now this one is cool!!!! I downloaded....and i liked it...at least for now i liked it

Cannot believe people whinge about 99 cents. You stick more coin than that into most arcade games for 1 turn. If you really are a tight arse then you have the option to TRY the game for free. I might complain if it was 2 or 3 dollars and the Android and iOS versions were free, but 99 cents is nothing. I hope my 99 cents encourages the developer to keep writing for the Windows Phone platform.

I've seen two, count 'em TWO adverts on UK TV this last week for games that feature the Windows Phone logo along side the other two at the end of it. Things are picking up!

isnt it a good feeling if app adverts show the three store logos underneath. kind of makes you think that your system seems to be more accepted

It is! I can't remember the damn games though. One might have been an app actually.

Pretty nice and catchy game. I love it especially because it's an universal app. Would've been even nicer if it were free, though.

who care about this?
Bring Cash of Clans

Oh... An actual firefly... Well, there goes my Serenity. I'll still try it, though.

Sigh...a cool game that I would of played but no Xbox No buy...#SaveXboxWP
Windows Central Newsletter
Get the best of Windows Central in in your inbox, every day!
Thank you for signing up to Windows Central. You will receive a verification email shortly.
There was a problem. Please refresh the page and try again.