First Call of Duty: Advanced Warfare DLC pack coming to Xbox Jan. 27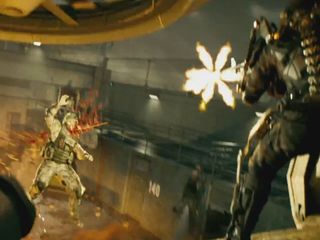 Call of Duty: Advanced Warfare is about to get its first DLC pack, Havoc, which will debut on Microsoft's Xbox One and Xbox 360 consoles on January 27. Other platforms will be getting access to the pack at a later date.
The Havoc pack will contain four new multiplayer maps:
Core: Deploy to the Gobi desert where the ravaged ruins of a nuclear fusion plant set the stage for a high-octane warzone. Take down enemies through the wreckage in long-range combat or get up-close and personal in the tunnels surrounding the central turbine. Activate decontamination drones using the map-based scorestreak to help clean out the competition.
Urban: Prepare yourself for brutal, high-speed combat in Dallas Ward 3, a future mega structure, funneling players into a close-quarters free-for-all. This modular compound's verticality unleashes the exoskeleton's capabilities. Stay focused during the timed event as blast doors alter the map's flow and sightlines.
Sideshow: In the shadow of Devil's Tower, Wyoming, this abandoned inn's open layout amplifies its creep factor. Blast your way through the clown inn with close-quarters battles or use long-range site-lines from the mining facilities and natural terrain. Use the map-based scorestreak to activate the lights, music, and magic of the clown marquee and rain down a barrage of rainbow smoke-trailed cannonballs.
Drift: An idyllic ski resort high in the Rocky Mountains is transformed into a festive high-altitude playground, perfect for an all-out firefight. Make your way to the highly contested over watch in the glass observation deck or take a ride on the carousel to deliver 360 degrees of carnage. Players can use the map-altering timed event to their advantage as an avalanche of snow and debris disorients players, intensifying the battle.
Havoc will also contain a new weapon, the AE4 directed energy assault rifle, along with its custom weapon variant, the AE4 Widowmaker. Finally, the DLC pack contains the first chapter of Exo Zombies, a new co-op mode where players have to contend with the undead wearing exoskeleton suits. Players can control the four characters who have to fight off the exo zombies, which have the likenesses and voices of actors John Malkovich, Bill Paxton, Rose McGowan, and Jon Bernthal.
The Havoc DLC pack will be priced at $14.99 on its own but Call of Duty: Advanced Warfare players can get it as part of the game's Season Pass, which will offer all four planned DLC packs for $49.99.
Source: Call of Duty
Windows Central Newsletter
Get the best of Windows Central in in your inbox, every day!
*checks price*No thank you.

Nice, can't wait to download.

Hope we get the mystery box and its fun or I'm done....

This is probably the best call of duty campaign ever made and the multiplayer is close to black ops 2. A buddy of mine wasn't getting this game because he said it was too much like halo with the jet packs. Then he played the campaign and loved it. Then he discovered the classic multiplayer game types without the exo abilities. I feel like they hit a home run with this game.

The campaign mode on AW is top Quality, But multiplayer mode is Behind MW2 & MW3, Those 2 games set a benchmark for online gaming

I call bull on that. I think everyone just has a sense of nostalgia when it comes to MW2 but everyone I know hated MW3 and ended up going back to BO because they just didn't enjoy the multiplayer experience.

You're getting carried away with yourself, what you actually mean is you find cod-AW Easier to play because of the jet packs. You have people disagreeing with you already I will say it again MW2 & MW3 Set the Benchmark, & I bet you use The HotRod jet pack

I don't know what part of AW I mentioned in my comment. I persoannly do enjoy AW but I still think overall that the black op series were superior to both AW and MW. Zombies were phenomenal and I found online to be a lot more enjoyable.
Oh and by the way, I use elite career exo just in case you were wondering

Say no more, I personally don't rate the one as a game console for alot of reason's sorry to say. Its that bad they couldn't give me one for free

As long as your logic is sound

" I personally don't rate the one as a game console for alot of reason's sorry to say" woow what a hater man.... just because you dont like it doesnt mean its not a gaming console

I never said it in a nasty way, I said I personally me, my lad has one, my other lad got shut of his & got a PS4. So you confuse me on the hater, wow I'm most perturbed by that.

I could not disagree with you more. This is just Halo using CoD themes as the jetpacks have ruined the traditional pacing of the game. These will be the first map packs for CoD in six years I won't buy.

Zombies that's what I waiting for

Yes, Hope this doesn't suck cuz if it does Call of Duty will be done for.

Not everyone likes zombies

I can oily imagine the zombies to be top notch, zombies isn't my game, it goes on to long with the right players got blagged to have a game one night @ 23.00pm a quick game 6 1/2 hrs it lasted never played it again

I barely played the game. Been so busy with life lately.
Windows Central Newsletter
Thank you for signing up to Windows Central. You will receive a verification email shortly.
There was a problem. Please refresh the page and try again.