First Impressions of the Microsoft Lumia 532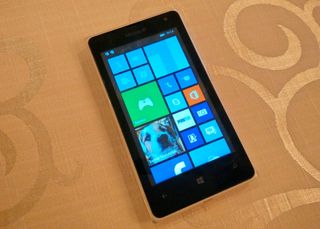 Last week, Microsoft announced the launch of the Lumia 532 in India. Another budget device, the Lumia 532 fares well on the specifications sheet and costs less than Lumia 535, the other latest phone on the shelves right now.
The phone promises an uncompromised Windows Phone experience with an excellent Lumia design and always dependable build quality to compete in a crowded market of budget Android smartphones.
Design
While closely resembling most Lumia models, the Lumia 532 borrows the dual shot design from the Nokia Asha series (and Lumia 620), which had a lot of fans, including me. The dual-shot casing wraps the matte finish back on the edges. While the build feels solid, the dual-shot design adds to the charm. It's compact and fits very nicely in the hand.
The volume rocker button has a depression in the middle that makes it look like two buttons next to each other. It doesn't make a difference to the ergonomics of the button, but the tactile feedback is just right, maybe, for this reason. The camera button is missing in the 532, and the capacitive hardware buttons at the bottom of the display are not backlit. While most people push buttons instinctively on memory, it's sometimes a tad disorienting.
Display
The Lumia 532 sports a 4-inch LCD screen, which might be a little small for a lot of people now. However, it makes for an excellent, compact package for customers not looking for a larger phone or migrating from a feature phone.
The screen resolution is an average 800 x 480 with 233 PPI, and the viewing angles aren't that great. Tilting the phone, especially when you are playing a game or watching a game, changes the colors noticeably. Otherwise, the colors and text are sharp, and the touch experience is very smooth - always a worrying factor in budget smartphones. It is a fingerprint magnet though.
Kudos to Microsoft to have the phone support Glance screen and double tap to wake. These two signature Lumia features look trivial on paper but are very handy in everyday usage.
Hardware
Powered by a 1.2 GHz Qualcomm Snapdragon 200 Quad-core processor, the Lumia 532 packs in 1GB of RAM – pretty good internals for a smooth Windows Phone experience in a budget Lumia. Web browsing, navigation, and switching between apps is smooth, and the performance is pretty good for a budget smartphone.
While the phone doesn't heat up on gaming for quite a while, the graphics disappoint a little. There aren't frame skips on most occasions, but graphic-intensive games like Asphalt 8 lag a bit. Also, like most budget Lumias, the phone doesn't play full HD videos. For an entry-level smartphone though, these are fair markdowns.
The Lumia 532 isn't a miser on internal storage, and 8GB is a decent offering and there is a micro SD slot for expansion. The phone packs in 1,560mAh battery that is user replaceable. You can also buy different colored back covers to personalize the device to your liking, including orange, black, white or green.
Lumia 532 sports a 5MP rear camera but misses on Tap to Focus and Zoom options due to no auto-focus, as well as a flash. It gave a few decent shots in the hotel where the Microsoft presser was held, but I'll explore the camera more, in different outdoor and indoor spaces and lighting conditions. On the front though, there is a VGA 0.3 MP camera. While not amazing, we are glad that it is there.
Software
The Lumia 532 runs on Windows Phone 8.1 Lumia Denim Update out of the box.
Summary
The Lumia 532 phone delivers an exceptional Windows Phone experience housed in a nice, compact package that looks attractive and feels great in hand. It cuts corners in the display, camera flash, and here and there, but forms a nice, value-for-money smartphone at ₹6,499.
Do you like the Lumia 532, or would you spend some more to buy the other Lumias in the market? Tell us in the comments, and we'll soon get back to you with a complete, detailed review of the Lumia 532!
Windows Central Newsletter
Get the best of Windows Central in in your inbox, every day!
Just how many budget phones are they planning to launch?

Just how many times are people going to complain about the amount of budget phones?

Just about everytime they're announced, nothing against these phone's but people are looking to upgrade not downgrade, and I can see why they keep "complaining"

Was more of a simple question than a complaint imo

I'm not complaining, I fully understand the importance of budget phones for different markets around the world, especially in my country, was just hoping for some high end announcements in between to keep things interesting :)

microsoft has already flat out said, no flagships until windows 10, so until windows 10 is released RTM, there will be no high end phones, so the answer is "as many phones as microsoft wants to release between now, and windows 10's release"

Well, don't know about flagship, but the information that new mid-range phones 640 and 640XL will be launched is sure something interesting.

It's a good thing for me actually. No GAS syndrome.

Until every person in the world has a different Lumia model.

Until they use up every number from 400 to 800.

Lol... I sure hope so.... MS must have heard me when I said flood the market.

Go look at how many budget phones Samsung has around the world,,,, then come back and tell us how many they should launch.....
........
Seriously, MS is still behind the competition, so you should welcome these phones.

No, no, no...... It's Tru Dat❗❗❗❗

Where's the difference between this and 435???????

Processor. The 435 runs on a Dual-core processor while the 532 runs on a Quad-core processor. Also, Lumia 532 has a 5MP Camera.

Plus, 532 has a seethrough casing around the polycarbonate, while 435 does not.

Sure I can search this, but would be nice if you could put how much cost in dollar too.

We usually do. I missed it here. ₹6,499 will be US$ 105.

This is a solid budget phone, but I think a couple high end phones would attract more users than a multitude of slightly different hardware budget phones. I could be wrong though. Opinions?

Probably not, it seems from my experience that ppl who can afford a high end phone opt for an iPhone.

People normally buy on contract which is typically $199, not any more expensive than other flagship phones. This myth about high end phone buyers only buying iphones is getting old.

Not us only theefman. And the contract system is radically different in other countries. So yes he's partly right about the IPhone, it's a status symbol for a large group of people. Also more buyers in this world for budget phones then there are for high end phones.

And they opt for an iPhone because usually those people are just doing what the market tells them to do, they don't know any other phone. Microsoft in my opinion has the worst marketing strategy in the leading brands of smartphones market.

They don't have any marketing at least in the US outside of the surface pro 3

I've seen a couple here and there, but it's really weak for the most part. EDIT: TV ads I mean

In their era, 1020 and 1520 gave the same pride and luxury feels as iphone.

Sadly that was 2013. An eternity in tech.

Not everyone can afford flagship phone. In US maybe But other than it buying phone without contract and pay full price

That's true. But flagships generate interest in a platform.

Whoa, an upgrade for my Lumia 035?

It's the lowest low end phone yet. Android killer

What is the best cache cleaner app in windows phone

Hold volume down + power + camera button for ten seconds.

Just delete your system32 folder.

Want to buy Lumia 830 but it's not available in my Country..

Wow, I think anyone with the older 520, moving to this would be a huge downgrade. With the 520 already being like the lowest, they should just keep selling 520s instead of releasing this, but I guess with one less button to put in it might be cheaper to make these, then again they're doing something fancy with the case.

Downgrade? Glance, a front camera, better processor and 1 GB RAM (Yes I have a 525, still). I wouldn't really call it a downgrade, moreover its vastly improved from the 530.

It's getting kinda hard for me to keep up with these phones now....
..........
But, for the average consumer it doesn't matter... They only have what they can see in their region........ Still would be nice if they used "Icon" for all high end devices....
.........
Samsung Galaxy Note 3
Microsoft Lumia Icon XL
Apple iPhone 6s+

rodneyej, I finally found out who the rotten egg in Microsoft I'd who calls himself a marketing director: Neil broadley.... He must go because his marketing thus far stinks.....i doubt if he's behind the surface marketing and if he is, I wonder why he doesn't do the same for the phone http://m.bbc.com/news/technology-31687277

Yeah! They mentioned some other marketing sucker last week.... They haven't a clue.

Budget Phone is needed in emerging market, they are selective on spending money, so this is potensial for MS making budget phone for them to impressed them.

Wow a logical post. So nice to read, good break from why the low-end.

Interesting phone and all, the problem is still that whenever you go to a store salespeople would rather sell you an Android 2.3 phone than any Lumia, last time I went to buy one the salesman told me that Lumias didn't even have Bluetooth

Lol. Should have told him "that's fine I prefer white ones."

Lol, the point is that marketing is still the weakest part of Microsoft

No..the salesman never used a Lumia n it's not weakest part of ms..it's his problem that he lives, in 20005..that's all

He lives in 20005?? Where is that time machine doc???

Good review and polite reply's.... Danny boy should learn from you Abhi..

Hello guys I am an windows phone developer and I made a sports app for the windows phone store check it out please http://www.windowsphone.com/en-us/store/app/sports_news/7125e93e-3482-4b...

More models = more confusion. There are so many Lumia models now that its absolutely impossible to follow. Microsoft needs to fire Stephen Elop before he destroys this brand.

Just forget about the Nokia era. There problem solved. Not enough phones.

Thank you, somebody had to say it! Surface should rule the world! They simply need to infuse some surface phones in and slowly offer out Lumia or just use it for low to midrange devices

The thing I agree with you is that they should fire Elop

I actually like the stamped Microsoft logo on this phone. It somehow makes it subtle compared to the painted on logos

Yeah, its better than the one on the 535 and it's like the back logo on my 525 :)

This is perfect "Mom's" Lumia.

So many windows phone!!! It just becomes hard for people to choose... Don't follow what Samsung did!!

What, dont become the worlds largest manufacturer of smartphones. Microsoft would be happy with half the sales of Samsung. Posted via the Windows Central App for Android

Why even bother? It's another cheap Lumia. Oh I know. There is not other news about windows phone to cover.

Ha ha after few days Microsoft Lumia 001,002,003,004,005,006,007,008,009,010............. Blah blah blah is going to launch in market.........

Hi guys! I made a small review of this phone and unfortunately display is shit. Look a display's test here: https://www.youtube.com/watch?v=-fohy7XuRMY from 3:20

Microsoft is turning the Lumia line into Samsung Galaxy. Confuse and really similar phones.

looks like 532 portrays microsoft's desperateness in popularizing its mobile operating system in a setting that has been fully crowded with android devices.

1520 screen really piss of for the sensitive problem, not as worst as 525 but ignoring too, have MS ever think about to fix or any improvement via phone update???????

Microsoft becoming low end Samsung.

Market is gonna get saturated with budget phones... Now how can i sell my 525... It costed me 10,000₹. One year ago....

There are not enough numbers between 400-700 for Microsoft's taste. They will need a new junk phone naming convention. Make a 3 phones, 2 sizes each. Small and large junk phones, small and large midrange and a small and large flagship. Stop stripping out features and bands for carriers. Stop releasing a million strange derivations of your crappiest phones exclusive to carriers and random geographical locations.

That's strange, the article says the 532 can't play HD videos. But my 520 with an archaic processor and 512 MB RAM plays full HD videos just fine. What's the thingy here?

Does anyone pleas eknow where to find the Single SIM Variant of this anywhere...Single SIM is the one that has the US 3G bands of 850/1900. But I cannot find ANY stores :((
Windows Central Newsletter
Thank you for signing up to Windows Central. You will receive a verification email shortly.
There was a problem. Please refresh the page and try again.