First look at the Unification Notification center for Windows Phone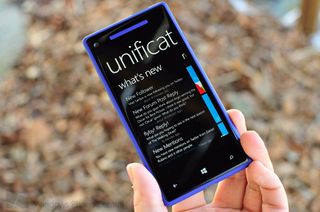 This morning we reported that NotifyMe! was in the works as an independent notification system for Windows Phone 8 and how this will be competing with Liquid Daffodil's proposed Unification system, which is already in early beta testing.
We now have more info including some new screenshots of what that Unification system will look like, including some features that users can expect when it is finally released. What makes this interesting of course is this is not just conceptual but already being done by Liquid Daffodil, moving beyond the numerous proposed models we've seen in the past from the Windows Phone community.
This is real, this is happening, folks.
Unification: Displaying supported apps, with ability to jump to their notifications
Here are some of the main features that are now working in Unification:
Not just Notifications, but Notification History, 100% managed by a user
Optional additional information that CAN'T be contained in a Toast or Tile, like 255 character message from the app
Single location to view ALL your Notifications for ALL devices, including apps on Windows Phone 7, Windows Phone 8 and Windows 8 (like fantweestic! Super rowi Bros:TweetWerks)
We've been told that all of Liquid Daffodil's apps that utilize notifications have been updated to include Unification support and are pending Store approval. Likewise, for those wondering yes, Windows Phone Central is planning to opt-in with our app as well and we hope to be one of the first non-Liquid Daffodil apps to support this system at launch.
The big hurdle that Unification obviously faces is third-party app developers adding the line of code to their apps. In reality, that's a simple step and since it is free for them, there really should be no excuse to not do it. But the question remains if users will start demanding that their favorite apps opt-in to Unification or, like the nascent 'homebrew scene', it remains a small minority. There is also the larger problem if major services like WhatsApp or Facebook would ever join the movement, which would seem important for the concept to take off.
For developers, the system is seemingly very simple and secure:
Free to developers
It only takes one line of code
Secure and encrypted
It offers way more than an eventual Microsoft solution, especially Windows Phone 7 notifications AND "additional" messages
As Unification comes closer to being a reality, we'll see about posting those developers/apps that have signed on to the system, to help build momentum. What do you folks think?
Are you a developer and wish to get involved and participate in the beta of the Unification service? Be sure to contact the team at unifyus@liquiddaffodil.com. Liquid Daffodil are after all developers who support Windows and / or Windows Phone. Unification is a free project to participate in (and will be free once the service hits gold and goes live), so we urge you to at least contact them about your app(s).
Windows Central Newsletter
Get the best of Windows Central in in your inbox, every day!
Daniel Rubino is the Editor-in-chief of Windows Central, head reviewer, podcast co-host, and analyst. He has been covering Microsoft since 2007 when this site was called WMExperts (and later Windows Phone Central). His interests include Windows, laptops, next-gen computing, and for some reason, watches. Before all this tech stuff, he worked on a Ph.D. in linguistics, watched people sleep (for medical purposes!), and ran the projectors at movie theaters because it was fun.
What kind of, if any, relationship exists between WP Central and Liquid Daffodil? Don't get me wrong, they make some great apps. But it sure does seem like WP Central pushes theirs more than most other independent developers'.

Who cares it sounds awesome!

It's all well and good, sure, but this program should be moot. C'mon MS, get off your duffs and give us some basic functionality, already.

Liquid Daffodil is probably one of the most vocal and prolific windows phone only developers out there. Thus the above average coverage of their apps. That's my guess anyways....

Yes, LD is very vocal and prob one of the most active developers for Win 8*. I met him at a developers conference, he is great. We need more developers like him.

"What kind of, if any, relationship exists between WP Central and Liquid Daffodil?"

There is no relationship. We're just friendly with them, and since they're always trying to whip up support for the WP community, their agenda often jives with ours. That's all. Fact is, this is a hell of a cool system and last we checked they are one of the only developers doing this on this kind of scale. So yeah, we endorse it.

Thanks for the answer Daniel. They do a great job and it's great to see the support of indie devs "just because".

I think it's also important to realize that Liquid Daffodil has a large number of Top Downloaded and very popular apps for both Windows Phone and Windows 8. You will obviously see more coverage of "Liquid Daffodil" due to their number of unique and popular apps.
If you take a "single" app from their lineup, they probably get LESS coverage per app than other developers. Many developers get coverage for just "updating" an app, but Liquid Daffodil typically only gets coverage for doing something new and different.
So: pretend the 20+ Liquid Daffodil apps were created by 20+ different developers, and then your paradigm will shift a little. :)

Great idea. As a developer I would add the code, but I hope this is part of Windows "Blue" where it is "free" (as in no added code).

What probably WON'T be part of "Blue" when it finally arrives, is the great "extended" messages, etc. that Unification provides, and it won't serve legacy devices like Windows Phone 7. So, OOTB "Blue" will be nice, like some of the other OOTB, but it will always be 3rd party developers who really add the "Punch".

As users, it may help if we contact the app devleopers of our favorite apps and convince them to opt into this. I can see the indie developers being more inclined than the big name developers, but it's still worth a shot! Every bit helps, and the end result is extremely beneficial to us as users. So we really stand to gain from this being successful.

Great. They need fb and twitter support though

Looks like this is coming along nicely. I can't wait to try it out.

I doubt the developer of the app that supplies the random toasts I miss and can never find on my tiles will modify their code for this :( Still don't know what app it is... drives me crazy!!

Finally! When can I have it?

The same answer for all MS availabilities.."in time for the holidays"...which means a month after they are over.

"This is real, this is happening, folks."

This should have been done by Microsoft long ago!

Agreed.....this is why WP in general is always playing catch up!!! Basic functionality shoudl NOT be coming from a 3rd party vendor. I appreaciate and will buy the app but lets get our poop in a pile MS

Will it work with wp7.8 and where I can find the xap ?x)

Yes and waiting on store approval

Its a really great idea but I have around 10 official apps that will most likely not adopt it so its really going to have limited appeal for me at least.

I certainly hope there is a view that shows more content/notifications (using a pivot based view, instead of the panorama). As pretty as the panorama view is, I'd rather the UI be more streamlined and useful, especially considering that these notifications can potentially include a large number of items being displayed at once. Keep it simple and Metro.

The goal, I believe, is to 100% mimic what users are used to in the People Hub. Although Liquid Daffodil will always make changes if fans want it...using People Hub Notifications as the design guide is the initial goal for BETA.

Any information about Beta *users*?

The only folks who need to go into BETA are the developers. The apps for Windows Phone 7, 8 and Windows 8 will be out in a couple weeks, and available to everyone worldwide. The only changes at that point will be as new Apps start getting added.

Its amazing how much of a group effort it takes to make an improvement in a system so many depend on. It takes support from many, and unfortunately mistrust, egos, or a general lag from devs could turn this MAJOR IMPROVEMENT into a what if. Fortunately most devs are great hard working ppl....much success to you all for all of your time and efforts!

As a developer, I could sign up. But as user I wouldn't be interested, simply because it won't get all notifications, just the ones of the subscribed developers.

It sounds great and probably is but I am a little skeptical. The reasons are already mentioned in the thread but it's the implementation that is a little iffy for me. I still think a better "hub" can be achieved by swiping left at the start screen and having access to all your notifications AND quick settings. It could just be like the charms bar on windows 8 and that would work great and add some much needed flexibility to the system.

The difference is that Unification is something that is actually in the works, whereas we have no real facts leaning towards (or away from) an official notification center as part of the Windows Phone OS.

I will applaud when I see facebook and twitter and other big apps working with this.
Looks promising, but Im keeping my hopes down for now.

There are plenty of third party twitter apps and probably some Facebook apps that aren't just the mobile page. You don't actually need facebook/twitter's participation...

Give me the name of one third party Facebook app that doesn't use the mobile site.

I think a big problem would be getting competitors to join in if LD offers apps that directly compete with them

Please Liquid Daffodil, please, make a new Facebook app!

He would definitely make an amazing Facebook app.... I'm gonna go to the outsiders app and bug him about making a facebook app

They already said they are making one

Good stuff
Pushes Microsoft in the right direction to add one of their own.

Really? My thoughts was that if this gets released the lazy WP-team will drop it.

I second this. Didn't they say we would be able to change sms/mms alerts awhile back?

Quick question for the developers, out of curiosity. Obviously I've read that third-party developers need to write in a line of code to make this work, but can LD grab the notifications for services already built in to WP, like FB, Twitter, and LinkedIn, and have this app display them?

No. The notifications go to the Microsoft server and then straight to the phone. So there's no real way to intercept it. Obviously it would be ideal if they could but

I'll be interested in trying out and seeing why people want a notification center. Maybe I'll be a convert. As of now, live tiles are enough for me to see everything I want to know in a glance.

Camaroon... I hope they can that would be awesome!

Not everyone wants a million live tiles on their start screen. Not to mention they are completely unreliable at times

If a heap of live tiles are unreliable then the app won't be any different?

If you need to keep up with that many tiles, you might be a hoarder or need to reevaluate some things in life.

If apps have to be modified for it to work, then consider it DOA. We'll have a REAL notification center soon enough. Novel effort though.

Question: What makes you so certain that Microsoft's official solution, whenever it may come, won't require a new API and you know, app changes as well? Look at all the new features in WP8. They all require the dev to alter their app to take advantage. I'm not sure why a Notification Center would not be similar or rather, it's not 100% clear that it won't require changes. Also, regarding a REAL notification center, that does nothing for current Windows Phone 7.x users nor does it give Windows 8 devs a chance to participate as well.

Microsoft already have all the messages coming through their server so the only changes would be on their back end in theory to push them to a notification center, or on the handset to save them. I'm all for this new system and eager to try it out

Daniel,

With all do respect, from the technical side it's very easy for Microsoft to achieve this.

The reason Microsoft's notification center will not require any app changes is because all apps are already utilizing the code needed for it. The thing is, all apps are already sending the notification data to the operating system through the Toast API. With a new Notification Center from Microsoft, the only thing that changes is the way the operating system handles this data once its recieved.

Since both Windows Phone 8 and Windows 8 use your Microsoft Account, it will be very easy for Microsoft to unify the notification system across both operating systems. They can even make apps for other platforms so that you can recieve Windows 8 notifications on your iOS device.

You are right, nothing exists currently and we don't know how long it might take. It's a valid arguement justifying the development. But this contradicts itself because Unification also needs a lot of time for other developers to support it.

With that said, this truely is a waste of time.


I guess I don't understand why they don't already use the "Notifications" area in the Me tile for this.

Microsoft does not allow this type of interaction or else it wouldn't be an issue. It's also not made to this comprehensive of a feature set.

Sent a beta request email after your first article and still yet to hear anything back from them

They will be replying to all the emails received, but remember, the BETA is for Developers to integrate their apps. All users will have the Apps for WP7/WP8 and W8 without having to be part of the BETA. :)

So these apps will be available for both Windows Phone 8 and Windows Phone 7x?

Yes, and Windows 8, and you'll be able to connect and see all notifications from any device.

Sounds great, I heard that the app has been submitted and waiting for approval. Is that true?

Is there a reason why Microsoft can't do this themselves?

No there isn't, and they WILL do this themselves. The developers are just impatient and will most likely waste there time doing this.

Can you provide a source for this? MS has been fairly slow at doing anything since I got mango officially. Never got tango refresh and was denied 7.8 until I did it manually. Still plenty of features left out that should be there and from what I've read in other comments on this site, wp8 is not better than 7 in certain aspects.

You seem to have this dead in the water before even trying it.

I would just rather see a good developer spend time on things that will improve the platform for the long run. Also, no apps that I use will ever take advantage of Unification. Lastly, I have complete faith in the platform that I support. Whatever Microsoft does will be done the best it possibly can. It always is. Most people just don't understand the considerations that need to be taken for every design choice. That's my true opinion.

I will get this once released. LD have some very nice apps and are quick to respond to any feedback/questions that I send them, unlike some devs.

When I saw the first pic with "unificat," I thought it had something to do with cats or was from a cat lover. I am very disappoint. :'(

My only concern about unified messaging apps is that if there's more than 1 or 2 solutions that's too many.
Also, MS controls their availability. Even if they do offer something unique they aren't part of the platform and can blocked in the market. Apple has done this quite a few times. A novel app appears, only to be usurped by Apple's new "feature". Who knows though, we'll have to see how things pan out.

I know that I'm pretty alone with this opinion here. I just want to mention it anyway. A lot of people actually don't want unification (including me). There are several reasons for that, such as wanting to keep your communication channels independent/separate. I think a company like MS considers such aspects in their software development.

Didn't WPH put out a Notification center app that MS yanked because they were making their own anyway?

I think it's MS responsibility to implement such feature to be built-in and developers will use it immediatly
Windows Central Newsletter
Thank you for signing up to Windows Central. You will receive a verification email shortly.
There was a problem. Please refresh the page and try again.