Notion Ink is now making convertibles, launches Windows-powered CAIN 2-in-1 in India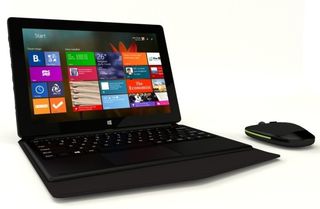 Snapdeal and Intel today announced the launch of Notion Ink's 'CAIN' 2-in-1. Powered by the Intel Atom Processor Z3735D, the Windows 8.1 convertible is priced at ₹19,990 ($330), and is exclusively available on Snapdeal, India's leading online marketplace.
If the Notion Ink name doesn't ring a bell, you might remember the Bangalore-based company's ill-fated debut in 2010 with the Notion Ink Adam, a tablet that ended up becoming the most overhyped and under-delivered product with controversies and delays over production and shipping.
That is past though, and the company makes a comeback now with CAIN, a 10.1-inch 2-in-1 device that runs on Windows 8.1. The 1280 x 800 IPS LCD display features a 10-point capacitive touchscreen, and the device is powered by an Intel Atom Processor Z3735D (2M Cache, up to 1.83 GHz) with 2GB RAM. It packs in 32 GB expandable internal storage.
Notion Ink Design Labs believes in thoroughly studying and understanding user experience and developing a solution for it. The CAIN 2 in 1 powered by the Intel Atom processor is a result of the same philosophy and delivers a unique value proposition of rolling two devices into one sleek form factor without compromising user experience.
Rohan Shravan, Founding CEO. Notion Ink
The CAIN features USB 3.0, dual charging, as well as an integrated magnetic keyboard. The company claims that the 7900 mAh Lithium-Polymer battery allows for up to 7 hours of video playback and 10 hours of internet surfing.
Delivering the mobility of a tablet combined with the power of a laptop, 2 in 1 devices represent a new category of computing that meet users' diverse needs from work to play. Powered by Intel Atom Processor, Notion Ink's CAIN 2 in 1 will deliver a compelling computing performance and great battery life to keep pace with today's mobile lifestyle.
Sandeep Aurora, Director - Marketing and Market Development, Intel South Asia
The 2-in-1 device will be available for sale exclusively on Snapdeal for ₹19,990. It comes pre-loaded with a one year subscription of Microsoft Office 365. The CAIN looks like an interesting, portable productivity device at a great price point. It is left to see if the company can offer a decent build quality and hardware internals to ward off the ill repute from its previous offering. Let us know your thoughts in the comments below!
Hmmm.... Does that price of ₹19,990 ($330) include the keyboard? If so I can see this being a decent deal. What is "expandable internal storage"? Does that mean it has a MicroSD slot or some other way of expanding the storage?

The package includes a mouse and keyboard. All in one package. Its a bingo

Specs seems good. Would pay a tad more for the active digitizer and pen function.

snapdeal India s leading online market lol

It is indeed one of the leading online market.. what is there to lol about?

It is third and quickly listing to give way to Jabong.com

Actually looks quite nice.

More convertibles...maybe with graphics cards! :D

Actually the Adam 2 was a good device on paper at least - it was a tablet with a 2nd screen - there was a binder side screen like a book binder to show notifications etc. http://www.engadget.com/2013/12/16/notion-ink-launches-adam-2-in-india/ I think Notion Ink always had the gumption to get some god ideas - but they didnt have what it takes to deliver on a mass scale.

More such products are welcome to reduce the price further and make windows 8 tablets popular

Run away! I wouldn't buy something from Notion Ink until they have a history of putting out good products. I was super excited for the Adam back in the day, and boy was I let down. Also, why on earth would you name your tablet after a person who murdered his own brother. I think that's the wrong way to make a "killer" tablet.

Also, why on earth would you name your tablet after a person who murdered his own brother.

I suppose they wanted an apt name for Adam's successor and just thought Abel sounded too weak.

Abhishek can you do a hands on with this device?

Can somebody please make 4gb tablet!! In this price range..:P I wil preorder that!!

By the way can anyone confirm if this runs 64 bit or a 32 bit version of windows 8.1 with bing?

The Atom Z3735 does support 64-bit, but with only 2GB of RAM available, there's no real advantage to using an x64 OS on this machine. I'm pretty sure the RAM can't be upgraded, so x86 would do just fine.

I think this is a good budget deal, considering it's a full Windows 8.1 tablet that comes with a keyboard and mouse for 20k. The only two things I'm a little wary of are the low 1280x800 resolution and the low 32gb internal memory, which will quickly get full as you install more apps. Even the expandable storage is maxed out at 32gb, so you can't shove too much into that. Yeah, you can plug in a USB drive, but that's going to be an added thing to lug around. Even then, I think it's great for the target user, who'll probably only use the internet, office and a media player. If I didn't already have a Surface Pro 64GB with the Type Cover 2, I'd probably have bought the Notion Ink Cain just to try it out.

Almost got one of the original notion Ink Adam, stopped following them a month after it failed. Well this is interesting... Will it be available to U. S? Posted via Windows Phone Central App

I actually owned an Adam. If Notion Ink had made the Adam a kickstarter project, it might have been a better product with real distribution. Would I buy this, sure, but I know now not to be an early adopter.

How can purchase this and have it shipped to Canada? This seems like the most exciting thing Notion Ink has done in a long time. It's almost impossible to find a windows tablet with. 16:10 ratio screen (almost all have the ridiculous 16:9 format) and this seems one of the best built and lightest one I've seen with a nice layout with an atom chip. I definitely would pay more for a 64-128GB version and active digitizer. I also wish that Notion Ink doesn't give up on the Pixel Qi screen technology… with 64-128GB version, a 3:2 or 4:3 ration screen and Pixel Qi technology, they would own the portable tablet and eReader space combined. Until then, how do I get this shipped to Canada?

Brilliant product for such a low price. Cain will make Notion Ink a better laptop maker than Lenovo.
Windows Central Newsletter
Thank you for signing up to Windows Central. You will receive a verification email shortly.
There was a problem. Please refresh the page and try again.