Fitbit close to buying Pebble's software assets, Time 2 and Pebble Core could be canceled
Fitbit could scoop up Pebble for under $40 million.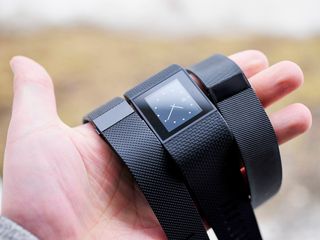 Fitbit is reportedly getting ready to acquire Pebble's software assets. Citing people familiar with the matter, Bloomberg notes that the deal is valued at under $40 million, and will include hiring Pebble's software engineers as well as the company's IP — its watch operating system, watch apps, and cloud services:
Pebble's latest watches — the Time 2 and Pebble Core — will be canceled as a result of the sale, and customers that have ordered through Kickstarter will receive refunds. If the sale goes through, Pebble's engineers will relocate to Fitbit's offices in San Francisco, and the company's offices will be closed. Fitbit reportedly rolled out job offers to several of Pebble's software engineers, although it looks like most hardware engineers and interface designers will be let go.
According to IDC, the wearable segment saw a meager 3.1% YoY increase in shiments this quarter, with fitness bands accounting for 85% of the 23 million shipments. Fitbit led the pack with 5.3 million shipments this quarter on the back of Charge HR and Charge 2, but the company's stock continues to decline on account of the slow growth in the segment. An announcement is said to be imminent, so we should hear something official soon.
Windows Central Newsletter
Get the best of Windows Central in your inbox, every day!
Harish Jonnalagadda is a Senior Editor overseeing Asia for Android Central, Windows Central's sister site. When not reviewing phones, he's testing PC hardware, including video cards, motherboards, gaming accessories, and keyboards.
Not sure what to make of this. What can be expected from this sale?

Looks like we might have to wait and see what "the people" do.

I'll be holding off on buying a FitBit device for a while, I think they have something new in the pipeline and excited to see what they do if they acquire this IP etc. from Pebble. They already show over and over again they are eager to support Windows 10 Mobile, within a year or so there might be some really interesting wearables with full W10M compatibility (Even more so than the things they will support once GATT Server is in W10M)

Making it more apparent reason for Microsoft to have shutdown the Band lineup. This Smartwatch/Fitness Tracker trend is fading before it ever took off. It's going to be a niche product that only a couple big fish make money off of. Let Fitbit be the main force in fitness trackers. Let the other manufacturers fight for the measly smartwatch scraps until that fades out completely.

Yeah I do think the market got a little saturated, and Apple pretty much came and made one of the best overall smart watches on the market on their second model - Pretty sure it was Motorola who announced the other day they won't be making anymore smart watch devices for a while now. I do think MS could have done a Band 3 for W10M users, as there's nothing that does so much on W10M but FitBit will support W10M fully as soon as they can and I think they will be building some really interesting devices in the next 1-1.5 years assuming they stay in business long enough lol. One good thing about them is they make devices anybody from a non-techy would use, up to people who really love their wearables.

Apple and Samsung are pretty much the only two companies that can afford to just keep making smartwatches if they're not a massive seller.

Look how to spend money intelligently, if an acquirement is necessary for consolidation. If it were a company we know, they would have wasted billions of Dollars on a dying company, and at the end, they would have managed to acquire the debt, and only the right to use the name for a limited time. Microsoft, wasting money since 2000 BC [/s.]

I'm a windows pebble user I have the kick started time steel model. Is a great smartwatch but the only reason I purchased was I like the idea of a screen as the watch face to then be able to change it. I'm not fussed about the fitness side of things nor notifications. I looked at the pebble time 2 and think it needs to be canceled as from reports/reviews I have read the fitness tracking side of the watch is as much use as a condom with a hole in it. It's very in accurate. But then if FitBit do buy pebble the tracking side of the FitBits and software side of pebble I can see FitBit dominating the smart watch market. If FitBit bring the functions and customizations from pebble it will draw alot of interest. Would make more function for a FitBit device other than fitness side of things.

That's what you get when you don't have a Windows Phone app. What did they expect?

Moskus, that's what did it....sure. All those non sales from ALL those windows mobile users....rigggggghhhhhhTTTTTT. I think what did it, was a sub par product from the OS side. monochrome screens are fine for the 80s. NOT now. plus, kickstarting is a big negative as well!