Fitbit Ionic review: Fitness perfection with a heaping of smartwatch features
Fitbit's new and pricey Ionic wearable is its first real effort at a smartwatch. While the hardware is outstanding, there are a few bugs that make this device only for early adopters for now.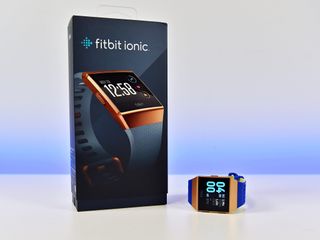 Let's get this aside: I'm a massive fan of Fitbit. In fact, my history with the company goes all the way back to the 2012 Fitbit One — a receiver that counted steps and challenges your ability not to lose tiny things. That's why I am excited about its latest wearable releases, which finally starts to show the fruits of its Pebble smartwatch acquisition from late-2016.
Taking last year's Fitbit Blaze and marrying with the GPS features of the Fitbit Surge with a dash of Pebble gives you the Fitbit Ionic. While a $300 price tag puts the Ionic out of reach for casual pedometer users those into fitness will appreciate what it can do, that is when it syncs.
About this review
The Fitbit Ionic in slate blue/burnt orange was purchased as a pre-order direct from Fitbit for $299. Additionally, the new Fitbit Flyer wireless headphones ($129) and the Fitbit Ionic Sports band ($29) were also purchased and used in this review.
specifications
Fitbit Ionic features
For a few years now, Fitbit has been cramming more into its high-end wearables for those who want more features, but also good battery life. A compromise, however, happened with last year's Blaze, which looked like the follow-up to the Surge, but lacked built-in GPS. Instead, it relied on your phone's GPS for mapping and while it worked well many prosumers did not like the idea of having to take their phone on a hike or a run.
The Ionic finally merges all the latest technologies in wearables — minus the somewhat gimmicky built-in LTE — into one device. That feature set comes at a $300 price tag, which is about $100 more than the Blaze when it first launched last year.
Here is what you get :
Nano-molded unibody made from 6000 series aerospace-grade aluminum.
348 x 250 touch display with Corning Gorilla Glass 3.
1,000 nits of brightness; ambient light sensor.
Water-resistant to 50M/New swim mode.
Built-in GPS (GPS and GLONASS).
New SpO2 sensor.
NFC for contactless payments.
3-axis accelerometer; 3-axis gyroscope.
Altimeter
Vibration motor
Wi-Fi antenna (802.11 b/g/n)
Improved optical heart-rate sensor and tracking.
4+ day battery life/10 hours with GPS or playing music.
2.5GB of built-in storage for music.
Replaceable easy-switch bands.
Bluetooth 4.0 LE.
Making the Ionic water resistant for swimmers, adding built-in GPS and storage for music, and NFC for contactless payments, all in an aluminum body justify that $300.
Metal and glass
Fitbit Ionic design
The Fitbit Ionic eschews a plastic body and instead goes in with an aluminum unibody casing. The changeup, available in three colors (burnt orange, black, or silver), gives the Ionic a much more premium feel over the Surge and Blaze, which it replaces.
Another upgrade is the display. Sporting a higher resolution at 348 x 250 the new Ionic finally has a respectable 302 pixel-per-inch (PPI) screen. Protecting that display is Corning Gorilla Glass 3. It's smooth, flush and responsive to touch. A dramatic improvement over the smudge-prone and lower resolution Fitbit Blaze.
There are three buttons – one on the left and two on the right – that let you interact with the Ionic in addition to its touch display. The buttons are grippy and aluminum as well adding to the premium feel of the device.
If you do not like the Ionic's watch bands, that's easily solvable. Just press a tiny button on the inside near the hinge, and the both band ends pop out. That makes swapping out bands for various occasions extremely simple. Fitbit is popular, so it's no surprise to see dozens of third-party and low-cost bands for all events already on Amazon. Going out? Add a stainless-steel strap; for the gym, go with a lightweight perforated band.
The Ionic is also very comfortable to wear. It's not top heavy or quite as prominent as the Apple Watch Series 2. The band is light, and the updated design with a clip for the tail is very secure. I never had an issue with the Ionic getting caught on a jacket sleeve, which can happen with other wearables.
When it comes to smartwatches, how a device looks to the user tends to be very divisive, and that applies to the Ionic. Personally, I like the semi-generic digital watch look. Nonetheless, I have heard a few people lament the Ionic's design, and I don't want to belabor the point — you either like it, or you don't. At least with the dark silver and black band version, the most you can criticize about the Ionic's is how generic it looks.
What's new
Fitbit Ionic software and apps
Like all smartwatches, the Ionic relies on companion software to sync. Available on Android, iOS, and Windows 10 (PC, Mobile, Xbox, and holographic) the app looks and functions the same across all systems.
For Windows 10 the app worked quite well, and I had no issues syncing to an Alcatel Idol 4S for health, steps, and sleep data. However, notifications were hit and miss with text messages working initially but failing later during the day to push through. The necessary Bluetooth Generic Attribute Profile (GATT) is still in beta for Windows 10 as Microsoft and Fitbit work on getting the system to work.
For Android and iOS notifications are more reliable, but even there some users have had complaints.
The cool thing about the Ionic is it's also a platform now thanks to the Pebble acquisition. Some apps include Starbucks, which merely generates your Starbuck's card barcode, Strava, Pandora, Weather, and Wallet (for NFC payments). Those apps can be added or removed through the Fitbit app. More apps are sure to come as Fitbit has pushed out an SDK to developers who wish to get on board.
There are a lot of little new touches to the Ionic's software for health and usability that I enjoy, including:
Do not disturb mode: When sleeping or working out Fitbit will halt your notifications.
Battery and notification toggle: Swipe to the right on the display, and you can see battery percentage, or toggle notifications on or off.
More watch faces: At launch, there are 17 clock faces, with more to come.
Customizable watch faces: The Ionic lets you now set color themes for various watch faces, something that was not possible before.
Set alarms directly: No need to set the alarm in the smartphone app and sync; instead, you can now set alarms directly on the Ionic.
While you can get notifications for all or just some of your apps (it's customizable) they are read-only, with no way to respond from the Ionic.
All these little improvements make the Ionic much "smarter" than the Blaze.
Heart rate and snoring
Fitbit Ionic fitness and health
Like all previous Fitbit's the Ionic is mostly a count stepper for those who like to track actions like walking, running or jogging. Hourly reminders to get up and walk around trying to keep you active during work hours.
Because of the heart-rate sensor and GPS, the Ionic can also be used for an elliptical, weights, bike riding, hiking, and more. I found the heart rate sensor not only more accurate than the Blaze but more importantly more consistent. During workouts with weights, it would not be uncommon for me to see the Blaze lose my heart rate. The Ionic, by comparison, never loses my heart rate during strenuous exercise and I attribute that to both better design (flatter sensor) and the improved photoplethysmography (PPG) green LED.
Likewise, for the automatic sleep detection and analysis, which is the best on the market.
While there is a new SpO2 sensor, Fitbit is not using it just yet. SpO2 sensors, also known as pulse-oximeters in the medical field, measure the amount of oxygen saturation in your blood. Fitbit likely sees the data from the SpO2 sensor but is working on algorithms to create additional sleep metrics before letting owners use it.
Combined with heart rate, your blood oxygen level and so-called desaturations can reliably be used to detect sleep apnea (a pause in breathing due to obesity or obstruction). That makes the Ionic potentially very exciting as a general health device and easily trounces any other wearable on the market.
liberating your workouts
Fitbit Ionic music
With 2.5GB of available storage, Bluetooth for headphone pairing, and Wi-Fi the Ionic lets users take music on the go.
While good in theory in trying to get music onto the Ionic it feels like pre-Apple iPod days. Users have two options:
Pandora (U.S. only).
Add your own playlist with up to 300 songs.
Pandora requires either the Plus or Premium paid accounts. To enable, just log into your account through the Fitbit app. You can then sync up to three of your top-played stations or let Fitbit choose some exercise-themed playlists. Both your phone and the Fitbit need to be on the same Wi-Fi as that is how music is transferred.
For your music, you can use playlists generated by iTunes or Windows Media Player (WMP). You can do this transfer using the Windows 10 app or the older Fitbit Connect "classic" app.
Transferring music is arduous. Each Pandora station can take up to 15 minutes to sync. Adding 300 songs can take over an hour, and that's when it all works. For some reason, about 100 of my songs failed to sync over, and I'm not entirely sure why. Additionally, using WMP in 2017 to make a playlist (you can't export playlists from Microsoft Groove) is odd since it's such an old app. It works, but you'll need to import your music and create a new playlist for Fitbit to get started.
Despite these hoops to jump through wireless music on the Fitbit Ionic is glorious. Being able to wear Bluetooth headphones at the gym, wearing the Ionic and leaving your phone in the locker is liberating. The controls on the watch, which let you manipulate tracks (forward, back, pause, stop), volume, and shuffle are all excellent.
While I wish getting music onto the Ionic was a better experience the result is at least worth it.
Infrequent charging
Fitbit Ionic battery life
Fitbit once again has changed the proprietary charger for the Ionic. It's now a magnetic one with three pogo pins. While the magnets are strong finding the Ionic with barely any guidance, it's very susceptible to being knocked off too. Apple's Watch charger, which is a flat disk, is much simpler to use and more stable by comparison.
The good news though is battery life is outstanding.
Fitbit claims "4+ days, " but I got much more than that. After five days non-stop usage and two ninety-minute workout sessions, I still had 44 percent battery life. That was with no music streaming or GPS, however, just indoor workouts.
Still, compared to my Fitbit Blaze in the same scenario, the Ionic crushes it.
Considering the Apple Watch can barely go a day and a half (even without LTE) Fitbit has a massive advantage for those who don't like to remember to recharge every night.
Pain points
Fitbit Ionic early software bugs
Although the hardware for the Ionic is spectacular, there are plenty of early software and firmware bugs that give me pause. A recent firmware (27.25.16.7) has done a lot to improve syncing but all too often syncs with the phone either fail or fail to update all the data. That firmware itself causes issues as owners had to hard-reset the Ionic first and repair to get it working again.
Swapping clock faces is also a bit ugly. You usually tap a clock and sync it to the Ionic, but this process can take a few minutes even over a fast connection. Very often, you'll get an error that the clock failed to load only to show up moments later.
I have not mentioned how tap-to-pay (contactless payments) work because Fitbit Wallet is not yet released yet.
Update 1PM ET: A recent firmware update did enable the feature. Bank of America and numerous other banks already support the feature, which I have not yet tested. You can read more about Fitbit Pay in its FAQ.
Syncing music, as noted above, is laborious, complicated, and it too can often fail.
All of this is, of course, solvable. It's more reflective of Fitbit's rush to market than something systematically wrong with the Ionic. The good news is that Fitbit is churning out plenty of software and firmware updates and I expect most of this to be resolved in the coming months.
Day to day usage of the Fitbit Ionic itself, however, is flawless. The software on the wearable never crashed, stuttered, or failed to do what it said was going to do. It's the syncing bits to your phone where hiccups are occurring.
Give it some time
Fitbit Ionic only for the diehards, for now
The Ionic is the most ambitious creation yet from Fitbit, who now has a strong legacy in the fitness and wearable field. The hardware is outstanding and finally marries all the features that users want in a smartwatch in 2017. Apps, swimming mode, GPS, an excellent heart rate sensor, and a premium design of metal and glass — it's all here.
However, some of these early software and firmware bugs make me hesitant to make this an easy recommendation. Personally, I love using the Ionic — initial bugs and all. I dig the look, the feel, and the battery life is outstanding. I have zero regrets and plan to keep on using it because it's fantastic.
Nonetheless, for your average consumer, I find some of those issues problematic for a first out-of-box experience. Just the setup, which includes at least one firmware update, will take twenty minutes. Add in the pairing of headphones (which was easy, thankfully) and syncing music and it can be a few hours before your Fitbit Ionic is ready to go. Even then, you may run into issues changing clock faces or syncing oddities.
Pros:
Excellent hardware, design, and sensors.
Gorgeous display that's easy to read.
Week-long battery life.
GPS and water resistant.
Onboard storage for music.
Cons:
Syncing music is laborious.
SpO2 sensor are not being used yet.
In conclusion, if you're a diehard Fitbit and fitness user and don't mind some initial quirks and frustrations the Ionic is worth an upgrade. Even compared to last year's Blaze the Ionic fits better, is more comfortable, looks nicer, has more features, higher battery life, and it has that dazzling display.
Update 12/2017: With its first major firmware and OS update now available, we're revising our original score of 3.5 to 4.5 due to fixes, new features, and overall general improvements.
But for your "average Joe" who is just starting out, I say give it a few more months for Fitbit to work out those kinks before committing.
Get the Windows Central Newsletter
All the latest news, reviews, and guides for Windows and Xbox diehards.
Daniel Rubino is the Editor-in-chief of Windows Central, head reviewer, podcast co-host, and analyst. He has been covering Microsoft since 2007 when this site was called WMExperts (and later Windows Phone Central). His interests include Windows, laptops, next-gen computing, and for some reason, watches. Before all this tech stuff, he worked on a Ph.D. in linguistics, watched people sleep (for medical purposes!), and ran the projectors at movie theaters because it was fun.