Fitbit Ionic review: Fitness perfection with a heaping of smartwatch features
By Daniel Rubino last updated
Fitbit's new and pricey Ionic wearable is its first real effort at a smartwatch. While the hardware is outstanding, there are a few bugs that make this device only for early adopters for now.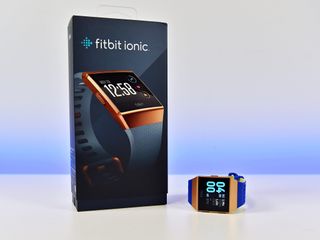 Let's get this aside: I'm a massive fan of Fitbit. In fact, my history with the company goes all the way back to the 2012 Fitbit One (opens in new tab) — a receiver that counted steps and challenges your ability not to lose tiny things. That's why I am excited about its latest wearable releases, which finally starts to show the fruits of its Pebble smartwatch acquisition from late-2016.
Taking last year's Fitbit Blaze and marrying with the GPS features of the Fitbit Surge with a dash of Pebble gives you the Fitbit Ionic. While a $300 price tag puts the Ionic out of reach for casual pedometer users those into fitness will appreciate what it can do, that is when it syncs.
About this review
The Fitbit Ionic in slate blue/burnt orange was purchased as a pre-order direct from Fitbit for $299. Additionally, the new Fitbit Flyer wireless headphones (opens in new tab) ($129) and the Fitbit Ionic Sports band (opens in new tab) ($29) were also purchased and used in this review.
See at Amazon (opens in new tab)
specifications
Fitbit Ionic features
For a few years now, Fitbit has been cramming more into its high-end wearables for those who want more features, but also good battery life. A compromise, however, happened with last year's Blaze, which looked like the follow-up to the Surge, but lacked built-in GPS. Instead, it relied on your phone's GPS for mapping and while it worked well many prosumers did not like the idea of having to take their phone on a hike or a run.
The Ionic finally merges all the latest technologies in wearables — minus the somewhat gimmicky built-in LTE — into one device. That feature set comes at a $300 price tag, which is about $100 more than the Blaze when it first launched last year.
Here is what you get :
Nano-molded unibody made from 6000 series aerospace-grade aluminum.
348 x 250 touch display with Corning Gorilla Glass 3.
1,000 nits of brightness; ambient light sensor.
Water-resistant to 50M/New swim mode.
Built-in GPS (GPS and GLONASS).
New SpO2 sensor.
NFC for contactless payments.
3-axis accelerometer; 3-axis gyroscope.
Altimeter
Vibration motor
Wi-Fi antenna (802.11 b/g/n)
Improved optical heart-rate sensor and tracking.
4+ day battery life/10 hours with GPS or playing music.
2.5GB of built-in storage for music.
Replaceable easy-switch bands.
Bluetooth 4.0 LE.
Making the Ionic water resistant for swimmers, adding built-in GPS and storage for music, and NFC for contactless payments, all in an aluminum body justify that $300.
Metal and glass
Fitbit Ionic design
The Fitbit Ionic eschews a plastic body and instead goes in with an aluminum unibody casing. The changeup, available in three colors (burnt orange, black, or silver), gives the Ionic a much more premium feel over the Surge and Blaze, which it replaces.
Another upgrade is the display. Sporting a higher resolution at 348 x 250 the new Ionic finally has a respectable 302 pixel-per-inch (PPI) screen. Protecting that display is Corning Gorilla Glass 3. It's smooth, flush and responsive to touch. A dramatic improvement over the smudge-prone and lower resolution Fitbit Blaze.
There are three buttons – one on the left and two on the right – that let you interact with the Ionic in addition to its touch display. The buttons are grippy and aluminum as well adding to the premium feel of the device.
If you do not like the Ionic's watch bands, that's easily solvable. Just press a tiny button on the inside near the hinge, and the both band ends pop out. That makes swapping out bands for various occasions extremely simple. Fitbit is popular, so it's no surprise to see dozens of third-party and low-cost bands for all events already on Amazon. Going out? Add a stainless-steel strap; for the gym, go with a lightweight perforated band.
The Ionic is also very comfortable to wear. It's not top heavy or quite as prominent as the Apple Watch Series 2. The band is light, and the updated design with a clip for the tail is very secure. I never had an issue with the Ionic getting caught on a jacket sleeve, which can happen with other wearables.
When it comes to smartwatches, how a device looks to the user tends to be very divisive, and that applies to the Ionic. Personally, I like the semi-generic digital watch look. Nonetheless, I have heard a few people lament the Ionic's design, and I don't want to belabor the point — you either like it, or you don't. At least with the dark silver and black band version, the most you can criticize about the Ionic's is how generic it looks.
What's new
Fitbit Ionic software and apps
Like all smartwatches, the Ionic relies on companion software to sync. Available on Android, iOS, and Windows 10 (PC, Mobile, Xbox, and holographic) the app looks and functions the same across all systems.
For Windows 10 the app worked quite well (opens in new tab), and I had no issues syncing to an Alcatel Idol 4S for health, steps, and sleep data. However, notifications were hit and miss with text messages working initially but failing later during the day to push through. The necessary Bluetooth Generic Attribute Profile (GATT) is still in beta for Windows 10 as Microsoft and Fitbit work on getting the system to work.
For Android and iOS notifications are more reliable, but even there some users have had complaints.
The cool thing about the Ionic is it's also a platform now thanks to the Pebble acquisition. Some apps include Starbucks, which merely generates your Starbuck's card barcode, Strava, Pandora, Weather, and Wallet (for NFC payments). Those apps can be added or removed through the Fitbit app. More apps are sure to come as Fitbit has pushed out an SDK to developers who wish to get on board.
There are a lot of little new touches to the Ionic's software for health and usability that I enjoy, including:
Do not disturb mode: When sleeping or working out Fitbit will halt your notifications.
Battery and notification toggle: Swipe to the right on the display, and you can see battery percentage, or toggle notifications on or off.
More watch faces: At launch, there are 17 clock faces, with more to come.
Customizable watch faces: The Ionic lets you now set color themes for various watch faces, something that was not possible before.
Set alarms directly: No need to set the alarm in the smartphone app and sync; instead, you can now set alarms directly on the Ionic.
While you can get notifications for all or just some of your apps (it's customizable) they are read-only, with no way to respond from the Ionic.
All these little improvements make the Ionic much "smarter" than the Blaze.
Heart rate and snoring
Fitbit Ionic fitness and health
Like all previous Fitbit's the Ionic is mostly a count stepper for those who like to track actions like walking, running or jogging. Hourly reminders to get up and walk around trying to keep you active during work hours.
Because of the heart-rate sensor and GPS, the Ionic can also be used for an elliptical, weights, bike riding, hiking, and more. I found the heart rate sensor not only more accurate than the Blaze but more importantly more consistent. During workouts with weights, it would not be uncommon for me to see the Blaze lose my heart rate. The Ionic, by comparison, never loses my heart rate during strenuous exercise and I attribute that to both better design (flatter sensor) and the improved photoplethysmography (PPG) green LED.
Likewise, for the automatic sleep detection and analysis, which is the best on the market.
While there is a new SpO2 sensor, Fitbit is not using it just yet. SpO2 sensors, also known as pulse-oximeters in the medical field, measure the amount of oxygen saturation in your blood. Fitbit likely sees the data from the SpO2 sensor but is working on algorithms to create additional sleep metrics before letting owners use it.
Combined with heart rate, your blood oxygen level and so-called desaturations can reliably be used to detect sleep apnea (a pause in breathing due to obesity or obstruction). That makes the Ionic potentially very exciting as a general health device and easily trounces any other wearable on the market.
liberating your workouts
Fitbit Ionic music
With 2.5GB of available storage, Bluetooth for headphone pairing, and Wi-Fi the Ionic lets users take music on the go.
While good in theory in trying to get music onto the Ionic it feels like pre-Apple iPod days. Users have two options:
Pandora (U.S. only).
Add your own playlist with up to 300 songs.
Pandora requires either the Plus or Premium paid accounts. To enable, just log into your account through the Fitbit app. You can then sync up to three of your top-played stations or let Fitbit choose some exercise-themed playlists. Both your phone and the Fitbit need to be on the same Wi-Fi as that is how music is transferred.
For your music, you can use playlists generated by iTunes or Windows Media Player (WMP). You can do this transfer using the Windows 10 app or the older Fitbit Connect "classic" app.
Transferring music is arduous. Each Pandora station can take up to 15 minutes to sync. Adding 300 songs can take over an hour, and that's when it all works. For some reason, about 100 of my songs failed to sync over, and I'm not entirely sure why. Additionally, using WMP in 2017 to make a playlist (you can't export playlists from Microsoft Groove) is odd since it's such an old app. It works, but you'll need to import your music and create a new playlist for Fitbit to get started.
Despite these hoops to jump through wireless music on the Fitbit Ionic is glorious. Being able to wear Bluetooth headphones at the gym, wearing the Ionic and leaving your phone in the locker is liberating. The controls on the watch, which let you manipulate tracks (forward, back, pause, stop), volume, and shuffle are all excellent.
While I wish getting music onto the Ionic was a better experience the result is at least worth it.
Infrequent charging
Fitbit Ionic battery life
Fitbit once again has changed the proprietary charger for the Ionic. It's now a magnetic one with three pogo pins. While the magnets are strong finding the Ionic with barely any guidance, it's very susceptible to being knocked off too. Apple's Watch charger, which is a flat disk, is much simpler to use and more stable by comparison.
The good news though is battery life is outstanding.
Fitbit claims "4+ days, " but I got much more than that. After five days non-stop usage and two ninety-minute workout sessions, I still had 44 percent battery life. That was with no music streaming or GPS, however, just indoor workouts.
Still, compared to my Fitbit Blaze in the same scenario, the Ionic crushes it.
Considering the Apple Watch can barely go a day and a half (even without LTE) Fitbit has a massive advantage for those who don't like to remember to recharge every night.
Pain points
Fitbit Ionic early software bugs
Although the hardware for the Ionic is spectacular, there are plenty of early software and firmware bugs that give me pause. A recent firmware (27.25.16.7) has done a lot to improve syncing but all too often syncs with the phone either fail or fail to update all the data. That firmware itself causes issues as owners had to hard-reset the Ionic first and repair to get it working again.
Swapping clock faces is also a bit ugly. You usually tap a clock and sync it to the Ionic, but this process can take a few minutes even over a fast connection. Very often, you'll get an error that the clock failed to load only to show up moments later.
I have not mentioned how tap-to-pay (contactless payments) work because Fitbit Wallet is not yet released yet.
Update 1PM ET: A recent firmware update did enable the feature. Bank of America and numerous other banks already support the feature, which I have not yet tested. You can read more about Fitbit Pay in its FAQ (opens in new tab).
Syncing music, as noted above, is laborious, complicated, and it too can often fail.
All of this is, of course, solvable. It's more reflective of Fitbit's rush to market than something systematically wrong with the Ionic. The good news is that Fitbit is churning out plenty of software and firmware updates and I expect most of this to be resolved in the coming months.
Day to day usage of the Fitbit Ionic itself, however, is flawless. The software on the wearable never crashed, stuttered, or failed to do what it said was going to do. It's the syncing bits to your phone where hiccups are occurring.
Give it some time
Fitbit Ionic only for the diehards, for now
The Ionic is the most ambitious creation yet from Fitbit, who now has a strong legacy in the fitness and wearable field. The hardware is outstanding and finally marries all the features that users want in a smartwatch in 2017. Apps, swimming mode, GPS, an excellent heart rate sensor, and a premium design of metal and glass — it's all here.
However, some of these early software and firmware bugs make me hesitant to make this an easy recommendation. Personally, I love using the Ionic — initial bugs and all. I dig the look, the feel, and the battery life is outstanding. I have zero regrets and plan to keep on using it because it's fantastic.
Nonetheless, for your average consumer, I find some of those issues problematic for a first out-of-box experience. Just the setup, which includes at least one firmware update, will take twenty minutes. Add in the pairing of headphones (which was easy, thankfully) and syncing music and it can be a few hours before your Fitbit Ionic is ready to go. Even then, you may run into issues changing clock faces or syncing oddities.
Pros:
Excellent hardware, design, and sensors.
Gorgeous display that's easy to read.
Week-long battery life.
GPS and water resistant.
Onboard storage for music.
Cons:
Syncing music is laborious.
SpO2 sensor are not being used yet.
In conclusion, if you're a diehard Fitbit and fitness user and don't mind some initial quirks and frustrations the Ionic is worth an upgrade. Even compared to last year's Blaze the Ionic fits better, is more comfortable, looks nicer, has more features, higher battery life, and it has that dazzling display.
Update 12/2017: With its first major firmware and OS update now available, we're revising our original score of 3.5 to 4.5 due to fixes, new features, and overall general improvements.
But for your "average Joe" who is just starting out, I say give it a few more months for Fitbit to work out those kinks before committing.
Daniel Rubino is the Executive Editor of Windows Central, head reviewer, podcast co-host, and analyst. He has been covering Microsoft here since 2007, back when this site was called WMExperts (and later Windows Phone Central). His interests include Windows, Microsoft Surface, laptops, next-gen computing, and arguing with people on the internet.
Microsoft should make apps for Fitbit like it has made for apple watch.

That would be interesting; no reason why they can't with the SDK.

After all its one of the hottest smartwatches right now with strong Windows support

Win10 IoT ;-) ? Hahaha..... N O T

Buy Pebble and completely ignore the expertise of the people you took onboard. That'd be a good investment.

Of course I'm nitpicking but that actually happens quite often with companies who want to skip ip patent battles in court.
Plus...ms has done that 😂 🤣😏 i joke, i joke...well...kinda lol

It would be nice to get some real world numbers on battery life when using GPS (I know it was stated 4+ days when not using GPS or music). I had the MSBand 2 and it required charging frequently like the Apple Watch. My Garmin Vivoactive HR goes for about a week with 2 or 3 4-mile runs using the GPS. I primarly use it as a sports activity tracker and the extra battery life is a game changer. If the Ionic can go 5 days with a couple hours of GPS usage then this could be my next sports watch. I really like the additional features (payment, music, etc) that it offers.

I've had my Ionic since the second and I've charged it twice because it was low and another one just to top it off because I felt like it. I generally walk about 4 to 5 miles a day and use GPS during those times. I wear it to bed for sleep monitoring as well. I'd say I've charge it at least every three or four days depending. Today is Tuesday and I last charged it late Saturday to 100%. I'm currently at 48%. I loved my MSBand 2 but I had to have it replaced three times. My Ionic is much more intuitive as well as informative. It recognizes my sleep instead of me having to active it as well as with walks and runs. If I do an activity for steadily for an amount of time it'll trigger and start tracking. I got it because I thought it was the closest thing to a Band as I could get but I actually like it much more. Fitbit's app is also much better as well.

This is good to know. I've a band 2 and haven't worn it since last December due to a split strap, been looking for a replacement but not found a decent spec, until now. Think I have a winner! Bonus points for being platform independent too, and supported on Win10 mobile.

Yes after patching my MS Band 2 in several spots and had issues with charging. I picked up the Fitbit Ionic and im pretty happy with it coming from the MS Band 2. I was looking for that perfect replacement and this was it

Are these SW issues you mention mainly with the W10M App or also with the iOS or Android Apps

The issues are with both. My Iphone and Windows phone both had issues. I worked with Fitbit Support, which is excellant by the way, and finally had to send it back for a replacement. The Ionic worked flawlessly before the firmware/software update though...it was when I received a notice that an update was available is where the trouble started. Once these little SW bugs are fixed, the Ionic is a definate must buy for Fitbit fans.

Hello jrealtor1, What kind of WP do you have? Did you have a Band 2? If you did - can you give me a quick comparison between the Band 2 and Ionic? Seriously considering one. Thanks for posting!

Dan, last sentence, of the last paragraph of the early software bugs section. Wear or where? 😉

I received mine last week but returned it the next day at BB. It couldn't be charged. Instead of getting a replacement, I plan to wait for awhile and see if other issues will pop up. It is a beautiful watch though.

One thing I really need to know is does it have a countdown timer that silently vibrates..? I'm a stand up comedian and I currently use my Band 2 to set a timer for my sets so it descretly vibrates letting me know to get off the stage.

I'm a motivational speaker and i can use this idea. I'm actually quite perplexed I NEVER thought of this use case. Great idea!

I've had mine for about a week now. Very fun, very useful, amazing battery life. Charging it every other time I take a shower is sufficient enough to keep it charged. Pandora syncs are very slow but that'll get fixed soon. Fitbit pay is now available. My bank said it had a working card but then the setup failed because it's not there yet.

Ah yeah, I missed that. Updated the review as I can add my BoA card. Will see how it works in NYC later.

Burnt orange with a bright blue wristband... Sorry just went blind.

Apology accepted. Try to not let it happen again.

At least with that color combo it'll never get lost. Or stolen. 🤣

I think it looks fine, blue and orange are complementary colors

I bought one from Best Buy, and I think its great. I had the Band2, and when MS disowned Band2, I went with the Fitbit Charge2. Im looking forward to Ionic going Smarter, but the fitness side of it works for me. I got the gold one and it looks great! Notifications are not coming through, but I hope that gets fixed sooner rather than later. I've got 29%, and the last time I charged it was Friday morning!

NIce article Dan. Since my last Band bellied up I need a new fitness watch. I've been reading reviews on the Ionic for the past few weeks. It seems like a device that I would enjoy. One thing I didn't care for was that your last workout is not kept on the watch itself. You must use a companion device to save all workouts. I was waiting for this to hit the stores so I could see it up close and personal.

No Cortana or ability to respond to texts makes me sad. Miss my MS Band. Ionic is okay. Why does MS always retreat when they could've made something much much better than this.

Did Cortana ever work with the Band? All I ever got was an error to check the Band was connected.

It worked for me with 8.1 for a while, W10M was a different story, regardless of resets, even after getting my replacement due to a broken strap. The one defining feature of the Band 2 basically never worked.

FitBit Iconic seems more like a Garmin than an Apple Watch, but doesn't seem as athlete focused as a Garmin. Will it have an audience, or will Apple Watch 3 eat its lunch?

Not really sure Apple Watch 3 is eating anyone's lunch. The reviews were not gushing enthusiasm.

I looked at Apple Watch 3 and it was to much for me and it really was fitness focused. It was more smartwatch first and fitnesstracking second. I care about the fitness tracking and coming from the MS Band 2 I think I made the right decison

This looks like pretty much the perfect smartwatch, fitbit pay is a bonus. I just hope when I do get round to buying one, the battery is similiar to the review watch.

My question is about support. I apologize in advance for my ignorance but this is the first fitbit I've been interested in.
Related to your recommendation to wait a bit, how is fitbit's track record for software updates? In other words, when can i expect end of life and how would you weigh that up against when you can recommend it; say 6 months from now...or should i just deal with the bugs (which honestly don't sound too bad as none of them are experience-breaking) to feel as though i got the full worth out of it before having to upgrade in the future?

Probably less than six months. Fitbit is good at doing app updates (Windows 10, iOS, and Android--they're all feature parity) and firmware updates (usually every few months, those are more invasive, so they don't do them all the time). I think Fitbit is one of the best companies for fixes/patches, etc. As far as bugs/how bad they are, none are dealbreakers. I'm using the Ionic every day and see no reason to go back to Blaze, or any other wearable. My point was more about Fitbit OS being very new (just over a week old), so it has some teething issue, that's all.

One last question, do notifications clear on the watch when you acknowledge the notification on your phone or do you have to clear both?

You have to clear both separately as of now

Daniel...just received my Ionic yesterday. Using a 950 XL with the latest fitbit app. Pay app doesn't work...any way to get the firmware upgrade without waiting for it to show up in the fitbit app ? Also...not seeing any notifications from my phone coming through either. Any suggestions on how to fix ? Thanks

Thanks for the review Dan. I've had my Blaze since February after my Band 2 broke again. I went through the whole beta program with Fitbit to sync with my 950XL. I really appreciate their support for Windows. I have no issues with notifications except I sometimes have to turn it off because I get too many ;). I've been thinking about getting the Ionic, but since my Blaze is still relatively new, I think I'll wait.

Nice review but a couple of questions... Can you reply to texts, even canned responses? Can you create your own workouts and DL them to the Ionic?

No you can't reply to any notifications on the watch right now and as far as I know about the workouts, no. I haven't checked out fitbit coach though. I would research that.

I'll wait a bit till Fitbit fixes the glitches...

I've been enjoying my Charge 2, although it also has sync issues and it also seems to lose GPS connectivity with my phone when on bike rides meaning it doesn't track distance correctly, now I have also rarely had issues using GPS on my phone so I suspect that part of it is mobile related rather than wearable related. I doubt I will make the shift to a Smart Watch, as a Fitness Band suits my needs, but it sounds like Fitbit are onto a bit of a winner with this, so long as they get their software sorted (which I have faith in seeing as, like you said, they are very quick with updates).

Im also a bike rider and tested it out and it the GPS tracking for speed and location was pretty spot on. This was a deal breaker for me seeing that Strava came preloaded

Nice review. Not a smart watch goer yet, but this has me thinking a little.

I have had my Ionic just over a week. Getting it setup was a chore. Lack of status during the opening box updates made me think it had bricked itself before I even put it on my wrist. All I can say is trust it is doing something. 30 minute waits and bogus error messages were not unusual. Once updated, it works ... mostly. Here are the issues I see. The Weather app in the FitBit app on Windows phone will not show a list of cities that you need to be able to setup a city. Works fine on Android. Tech support recommended an uninstall/install cycle. Did not help. Weather on Ionic is suppose to pick up your current city. Day one, it showed my home location weather. I don't know if it picked up my home location through an Android that I had used to test or if it came from my Windows phone. But it never updated with my work location when I arrived at work and my home location never updated again after the initial connection. Reset Ionic and Fitbit app, and and it updated my home location. It also updated with my work location. (still no cities listed) But after the first day, it never updated again. It is now stuck in my work location and no update to the weather. Notifications. Hit and miss is the only way to answer this. Sometimes they all stack up then all arrive at once. Other times they are simultaneous with my phone. Seems to be no rhyme or reason why. Power usage first time around. The first install I got 4 days before a low battery warning. No intentional GPS usage. My phone was also fine too. I noted that the Bluetooth on the phone never showed a connection, but notifications still showed up sometimes. Power usage after Ionic and App reset. Ionic lasted 3 days when I noticed it was a at 18%. I don't know when the warning is given. My phone frequently showed the Ionic was connected to my phone. However, my phone was going through battery at about twice the normal rate. FitBit app shows 11%, number three on my usage list. Checking this I noticed that the FitBit app background operation was being managed by Windows. I just set it to always allow. Twist to wake. Rarely works. I have played with how vigorously I twisted my wrist. Different angles. Nothing seems to help. I also read in the manual that a double tap is supposed to wake it. Only seems to work if it has recently been awakened. Loved my MS band 2. Vibration.It was set to normal. I suspected that missed it too often so I set it to strong. I can't tell that it is any different. Those are my observations, now some dreams. Notifications should wake the screen for some amount of time. It doesn't and since my twist is not reliable to wake the screen, I always have to button push to wake it then scroll to the notification. Not cool. Screen Time. There doesn't seem to be a setting to set how long the screen stays on when it does show. It is too short for my taste. The music player, should be able to control music play back on my phone. Not important, but seems obvious. Golf. I miss Taylor Made golf on my MS Band. Top notch. Just after buying the Ionic, I got an announcement from Taylor Made that they are going to Samsung devices. I hope that Golf also arrives on the Ionic. Quick replies to texts would be nice for those meeting situations.

try bluetooth classic works for me to control music on my phone. took me a day to find the option sadly

Could you elaborate? How did you set it up?

Aside from the software needing fixes, I'm a paid spotify user and I really want spotify on this thing

The first review from Windows Central that correctly outlines the state of Notifications on Windows Phone with Fitbit devices. Excellent review.

Seems very promising. I bought a Blaze to finally replace my MS Band 2 just days before this was announced, typical! Hopefully there's a v2 in a year 👌🏼

Connects great with windows 10 mobile going forward.....oh wait!

I replaced my wife's Band with the Blaze this summer and she likes it a lot. I am hopeful to pick up one of these for Christmas to replace my Band 2. My only wish is that someone would make it work with the MS Health Dashboard because I have made a buch of custom workouts including several Tabatas that I would hate to lose. Either that, or Fitbit to allow me to fully customize my workouts just like the MS Health Dashboard rather than creating the workouts it thinks I need like it seems to be the only option at the moment.

I'm really looking forward to this! Was interested in the Casio but a year after signing a licensing agreement with MS, a Windows app is still not out. Not sure if Google is blocking Android wear on Windows. I just bought a Alta HR for fun and it's great. But I want waterproof for swimming and GPS build in is just icing on the cake. Just waiting for my insurer to offer this device.

I guess you can call me an early adopter to the Fitbit Ionic. I searched and waited for a good Microsoft Band 2 replacement and I think I found it with the Fitbit Ionic. Ive had it for a week and love this thing. I guess the bugs you mentioned are hit or miss. I dont use notifications on the Fitbit Ionic. Ive had nothing but flawless workability in changing the watch faces. Bluetooth syncing seems to be pretty slow but all of my data seems to sync. GPS and BPM seem to be very spot on, I think Fitbit nailed it with this one. My bank unfortunately isnt supported so i havent been able to take advantage of Fitbit Wallet. Cant wait for more apps to be made for this device, I actually have some app ideas in mind that would make the Fitbit Ionic great. Uploading data to Strava is a breeze and was a deal breaker for me. Only issue Ive had is the Fitbit being able to count flors, not sure how it tracks this, but it may need some help in tracking this stat. Havent used the music side or bluetooth headset pairing. I mainly use the Fitbit Ionic for fitness only, everything else is a plus. But so far im pretty happy with my purchase and I was able to purchase the Fitbit Ionic for $252 after tax and free shipping with amazon Prime. I will be picking up a few bands along with screen and device protectors.

BTW im using the Fitbit app on my iPhone, Windows 10 PC and Tablet

I just bought this device on Wednesday. Best Buy gave me $185. for my Band2 since I had their protection plan. At that point, it was a no brainer. Like you I have been waiting for a device to replace my Band2 and I think this is it.

Could this be any more hideous? Fitbit simply CANNOT or WILL NOT design a good looking watch, so sad. Their best looking device the Alta Huaweii bested in every way for like $70 with the Huaweii Band 2 Pro. This thing looks like they spray panted a calculator watch orange and glued it onto a slap bracelet.

Daniel, thnx again for continuing to do the fitness tracker articles. QQ: with the Ionic dropping in price at times and getting closer to the Versa, which would you rather have/buy? I wouldn't use/need GPS and really like the Versa's charcoal with woven band, but would the Ionic be a better buy when they are similar in cost if the Ionic is on sale?
Windows Central Newsletter
Get the best of Windows Central in in your inbox, every day!
Thank you for signing up to Windows Central. You will receive a verification email shortly.
There was a problem. Please refresh the page and try again.