Alcatel Idol 4S with Windows 10 review: a great option at an incredible price
By Daniel Rubino last updated
Does the Alcatel Idol 4S stand up as a true high-end phone with Windows 10 Mobile? You bet it does.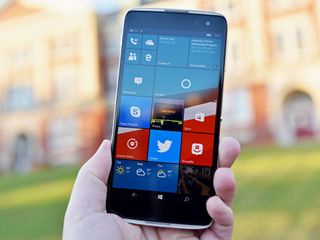 In late 2016, there are not a lot of choices if you want a high-end phone running Windows 10 Mobile. The year-old Lumia 950 and Lumia 950 XL can still be found even at bargain prices, and the pricey HP Elite x3 is likely out of reach for many.
Enter the Alcatel Idol 4S launching today on T-Mobile and you have a refreshingly great looking and feature packed phone at a competitive price. Plus hey, there's VR.
What makes the Idol 4S so good for Windows 10 Mobile? Let's find out.
Alcatel Idol 4S with Windows 10 Specs
Category
Features
CPU
Snapdragon 820 | Quad Core CPU @2.15 GHz
Display
5.5-inch FHD AMOLED
Dragontrail 2.5D Glass
Memory
64GB ROM
4GB RAM
microSD
Camera
21 MP rear camera
8 MP front-facing camera
Battery
3,000 mAh
Quick Charge 3.0
420Hrs Standby
15Hrs Talk
Continuum
Yes
VR
Yes
Windows Hello
Yes (Fingerprint)
Audio
Dual speakers with Hi-Fi surround sound
Dimensions
153.9 x 75.4 x 6.99 mm
Weight
152g
HD Voice
Yes
VoLTE
Yes
Wi-Fi
802.11 a/b/g/n/ac
Wi-Fi Calling 1.0
Bluetooth
BT 4.1
A2DP, OPP, HFP, AVRCP, PBAP
In the box
Alcatel Idol 4S
VR headset/case
Quick Charge charger + USB Type-C cable
Alcatel Idol 4S with Windows 10 Hardware
The Idol 4S with Windows 10 Mobile is a different beast than the mid-ranger Android version launched in July. The processor has been bumped to a Qualcomm Snapdragon 820 (up from a Snapdragon 652). The internal storage jumps from 32 to 64GB, and there is an additional 1GB of RAM bringing the total to 4GB (although only 3.5GB is available due to the 32-bit OS). Even the camera gets a megapixel jump from 16 to 21.
Nonetheless, there are a few downgrades too. The display drops from QHD (2560 x 1440) to FHD (1920 x 1080), and the phone oddly loses NFC, which means there's no chance for Microsoft Wallet and Tap to Pay.
The display is not a big deal as Windows 10 Mobile looks just fine at Full HD, and the AMOLED display and Dragontrail glass combo look great. The loss of NFC and lack of Tap to Pay option, however, is a bit of a letdown.
The Idol 4S has a shared tray for the nano-SIM and microSD card. T-Mobile says it can take a 32GB card and Alcatel's notes say it can take 128GB, but thanks to the SDXC standard the actual limit is 2TB. Since there are no such cards, you can at least drop in a newer 200GB microSD card for all your music, photos, and apps and use all that storage.
Overall, the Idol 4S is a balanced and relatively high-end phone for 2016. Considering it is also $230 cheaper than the HP Elite x3 at $469, Alcatel as done a great job.
Alcatel Idol 4S with Windows 10 Design
Normally, I'm leery of well-priced but high-end phones from companies outside of the traditional Samsung/LG/HTC camp (even more since I found Alcatel's cheaper OneTouch Fierce XL a bit underwhelming).
I'm happy to report that Alcatel nailed the Idol 4S's design. The phone is all glass and metal (yes, it has a glass back), but there's a reason why such models have entered the mobile market. They feel premium, and the Idol 4S is just that: first class.
I would caution, however, if you are prone to drops you should put a case on it as this phone will not take to hard floors or pavement very well at all.
At just 6.99mm thin the phone feels outstanding to hold while not veering into the too slippery realm of Samsung devices. Nothing about the Idol 4S feels cheap. No detail is missing, including the little exclamation point and grooves on the dedicated camera key. Sure, that camera key (the recycled 'Boom Key' from the Android variant) is placed in the middle of the side, but this is not concerning.
The black and gold color scheme – reminiscent of HP's recent Spectre series – is modern, but not flamboyant; elegant, not gaudy.
The Idol 4S features metal volume control (right side) and power buttons (upper left). The placement is unique, but I had no trouble adapting. It's certainly better than the Lumia 950 XL's odd setup. The buttons have adequate travel and tactile feel with no wiggle.
Between the weight (152g), thinness, and materials, Alcatel has easily created the best-looking Windows 10 Mobile phone to date. The only thing that may bother some people is the protruding camera housing. Personally, I'm fine with it.
Haptic feedback and vibration alerts fall on the soft and weak side. If you want loud and powerful, go for the Elite x3, which is like an electric razor whenever a notification comes in/
Finally, there's a white LED in the front that serves as a charging indicator and nothing more. It's a satisfactory addition letting you know the phone is charging.
Alcatel Idol 4S with Windows 10 Display
The Alcatel Idol 4S features an ample 5.5-inch Full HD (1920x1080) AMOLED display. Instead of Gorilla Glass, Alcatel has opted for Dragontrail, manufactured by Asahi Glass in Japan. Dragontrail features the usual 'high strength versus thinness' display tech with effective scratch resistance.
I like 5.5-inch screens. While the Elite x3 is arguably too big at 6-inches, the Idol 4S hits the sweet spot. It's big enough to enjoy when in use, but small enough to slip into your front pocket.
It's also oleophobic, or at least seems that way. Glass is glass, so you'll still need to wipe it down occasionally, but it feels just like the Galaxy S7's also-excellent display.
While a step down from the QHD Android version, Windows 10 Mobile looks excellent in Full HD. Because of the lower resolution, the Idol 4S gets improved battery life. It's a small tradeoff, but I think Alcatel chose wisely in this case. 1920x1080 at 5.5 inches is still a more-than-acceptable 400ppi.
I have no complaints about the Idol 4's display. It's bright, vibrant, and looks good at all angles. It's also smooth to the touch with no perceptible lags. Even brightness auto-adjustment is perfect. It gets dim at night and bright during the day all at the right levels.
Finally, Alcatel included the option for double-tap to wake and super-sensitive touch aka 'glove mode.' The latter lets you use the display while wearing gloves and is the same tech found in older Lumias.
The only thing missing is the Nokia Glance 'always on' screen from older Lumias. That's not Alcatel's fault; the technology likely belongs to Microsoft or Nokia. While it would have been awesome to have, unfortunately, that is something you must forgo here.
Alcatel Idol 4S with Windows 10 Audio
Featuring dual 1.2W speakers and "Hi-Fi Audio" the Idol 4S has the best audio in any recent Windows phone, bar none.
The speakers are placed at the top and bottom of the device and are forward facing. Nonetheless, there have some cutouts in the rear as well letting the sound "leak" just in case you are not facing the screen. The top speaker also acts as the earpiece for phone calls.
The Idol 4S can get very loud without distortion. It's quite impressive.
When holding the Idol 4S horizontally and watching video e.g. YouTube, you get a stereo-like effect. While the HP Elite x3 also features dual front-facing speakers, the sound quality is markedly better with Idol 4S — another mark towards being a more consumer-friendly media device.
Due to the speaker placement, there is little chance you will obstruct them when holding the device either vertically (like a rear-placed speaker) or horizontally when playing a video game.
Alcatel Idol 4S with Windows 10 Battery
The Idol 4S is powered by an ample 3000 mAh non-removable battery. While significantly smaller than the Elite x3's massive 4150 mAh cell, the Idol 4S also has a smaller and lower-resolution display that will demand less juice.
Combined with the improved battery savviness of the Qualcomm Snapdragon 820 and you have a winning combination of an all-day battery as well as low-heat output. In many ways, it feels like the Elite x3's battery longevity and it can easily push 13 hours with moderate usage.
Standby time is also outstanding. We used the phone all day for this review's video shoot. I left it off the charger, and the next morning it was still humming at 65% after a full day of regular use — email, music streaming, hopping between Wi-Fi and LTE, etc.
Next to the Elite x3, the Idol 4S gets the second-longest battery life among all Windows phones.
Qualcomm Quick Charge 3.0 is also on board, letting you power the phone quickly using the included wall charger and USB Type-C cable. Alcatel claims the Idol 4S can recharge fully in 100 minutes, and that seems accurate from my usage. Unfortunately, there is no Qi or PMA wireless charging technology.
Alcatel Idol 4S with Windows 10 Cameras
Cameras on Windows phones are tricky — the bar was set so high by previous flagship Lumias. Nonetheless, the recent contributions by HP and now Alcatel signal that that gulf between Microsoft/Nokia phones and Microsoft OEM partners is not as drastic as it used to be.
The Idol 4S features a 21 MP rear camera with a Sony sensor and Phase Detection Autofocus. There is also a dual tone flash. It's a decent camera delivering middle of the road photos. During daytime and outdoor shots most people will be quite happy with the results. In low-light and nighttime, you will struggle. The Dual Tone flash is OK producing some decently balanced images although the throw is minimal. Off the cuff, the Elite x3 is slightly better with brighter and sharper images.
The dedicated side camera button is a treat to finally have on a non-Lumia device. The Android version of this phone allows the button to be customized for different functions, but on the Idol 4S with Windows 10 it is just for launching the camera and snapping the shutter. Regardless, it's great to have it here, and I have no criticisms.
Turning to the front and the Idol 4S has a better-than-average 8MP camera producing images at 2448x3264 resolution. The camera shoots wider than the Elite x3, making it adequate for social shots and selfies. The Idol 4S though also has a neat trick with a small LED torch for the front camera. Although it can work in dark settings, it works even better as a fill flash to remove shadows. It's a decent twist and well worth having.
For the average consumer, the camera is likely good enough. However, due to the current low market share of Windows 10 Mobile the Idol 4S appeals naturally to fans and diehard users of Microsoft's OS. Those people are accustomed to having some of the best imaging around, and the Idol 4S is a good upgrade from the current Lumia line except for imaging where it falls short.
While I think the rear shooter is okay for regular users, it will be hard to convince Lumia fans otherwise. That's a shame for what is otherwise a fantastic phone. I think it's okay to put some of the blame at Microsoft's feet for not giving OEM partners more tools to customize and improve the camera using the SDK.
Camera Samples
Image 1 of 12
Image 2 of 12
Image 3 of 12
Image 4 of 12
Image 5 of 12
Image 6 of 12
Image 7 of 12
Image 8 of 12
Image 9 of 12
Image 10 of 12
Image 11 of 12
Image 12 of 12
The Idol 4S has some soft focusing and a very sensitive spot metering system. Photos fall into the 'OK' category, but nothing more.
Alcatel Idol 4S with Windows 10 Virtual Reality
One of the trademark features of the Idol 4S with Windows 10 is Virtual Reality. In fact, in the box, the phone comes with a very nice VR headset to use with the phone. The headset is great quality, comfortable to wear, and has no light leakage.
Personally, I'm not a fan of phone VR. It's a neat intro to the emerging technology, but even on my Galaxy S7, which has a superior VR experience, I have never used it more than twice. To be clear, that is my personal bias and does not represent everyone.
Having said that, the Idol 4S does a decent job with VR and the headset. You drop the phone into the front of the wearable, and it goes into "VR mode" through the VR Launcher. From there you can use things like the two included VR games, VR Store, VR Gallery and more. You can navigate by tilting your head and hitting the two buttons on the bottom front of the headset.
The Windows Store is sparse for VR games, but besides the two included ones (Zombie VR and Captain Fellcraft VR) there are an additional seven titles like Roller Coaster Ride VR and FireWorks VR that can be downloaded. The Zombie game made me a bit queasy due to the motion. You aim using your head and your gun auto-fires. It was clever and mildly amusing. Fellcraft lets you navigate your character through a cave-like experience and was a little more fun.
While Windows 10 Mobile lacks an official YouTube app, Tube360 is pre-installed, letting you browse and watch 360-degree videos on YouTube with ease.
One issue with the VR experience (besides the lack of content) is the Full HD display now becomes a bit problematic. You can see pixels on the screen that's barely more than an inch from your eyeballs and blown up further by the headset's lenses. It's not disastrous, but there's a reason why many VR-ready phones are QHD and not just FHD.
Buy the Idol 4S because it's a good phone that gives a peek into the world of VR. Do not expect, however, to be using virtual reality as a daily thing. I consider VR here to be a bonus and more a novelty, but my colleague Richard Devine was more confident in his time with the phone and VR headset.
Kudos, though, to Alcatel for trying something new. They built up the experience as much as they could.
Alcatel Idol 4S with Windows 10 Fingerprint Reader
Like the HP Elite x3, the Idol 4S makes use of a rear fingerprint reader to turn on and log into the phone. The sensor is smaller than the Elite x3's, and it lacks the distinctive ridge, which makes it a little harder to feel when you're reaching for it — after all, it's on the back of the phone where you're not looking.
Nonetheless, the sensor worked well. Unlike the Elite x3 and the Lumia 950, however, there is no iris scanner.
Due to its smaller size the area of your finger that it can read is also more limited, so placement can be finicky. It's a nice addition to have, and when combined with double-tap to wake and double-tap to sleep (on the navigation bar) you get an awesome finger-friendly combo.
Alcatel Idol 4S with Windows 10 Continuum
The Idol 4S is Continuum-enabled, although Alcatel is not promoting that feature too much. After all, this is consumer phone and not geared towards business. There's no included dock with the phone or Alcatel-branded one available, so you'll need to pick one up from Microsoft if you want a desktop-like experience.
Running a Snapdragon 820 and with 3.5GB of available RAM, the Idol 4S performs just as well as HP's Elite x3. In fact, there is no discernible difference between the two. You'll still run into the same Continuum limitations like being unable to run apps side by side, but that will be addressed with the Windows 10 Creator's Update early next year.
Overall, Continuum on the Idol 4S is as good as it gets, but for consumers, it is still a novelty until Microsoft improves its capabilities.
Small point of interest: I wrote most of this review using Continuum, and it worked great.
Should you buy the Alcatel Idol 4S with Windows 10?
The Alcatel Idol 4S with Windows 10 is a fine phone, physically, but a huge part of the experience comes down to the second half of the name: with Windows 10. There's no denying that the current situation with Windows 10 Mobile: it's in a barely-registering distant third place behind Android and iPhone, and the Windows Store still is struggling to fill the app needs of customers as comprehensively as Android and iOS.
Nonetheless, Microsoft is actively pushing OS updates every few weeks. As we wrote this review, Windows 10 Mobile build 14393.448 was released, which the Idol 4S promptly received with no carrier interference. That's normal for these phones and a markedly better experience over Android.
Personally, I use Windows 10 Mobile every day. Not because it's my job (it's not) and it's not because I don't have other phones (I have an iPhone 7 Plus and Galaxy S7), but because I prefer it. Sure, I don't have Snapchat, but is that really such a loss?
Pick something that you like and want. Windows 10 Mobile is here to stay, regardless of what tech media may say.
I mention all that because the Idol 4S is honestly one of the best Windows 10 Mobile devices to date. The camera is not the greatest, but other than that it's a fantastic phone. Reception is strong, the display is gorgeous, battery life is outstanding, and the phone is just stunning.
The only caveat – besides the mediocre camera and no NFC – would be that this phone is SIM locked to T-Mobile in the US. That's a shame for people who are stuck on other carriers. I've dabbled with T-Mobile over the years, and they recently put up towers near my abode, finally making them a viable choice. I'm on the prepaid $30 a month plan (unlimited text, 5GB data, 100 minutes for talk) and I'm almost at the point of making it my main line over AT&T.
If you're in the US, consider getting a no-contract prepaid SIM and trying out the service. From there, you can decide to get the Idol 4S.
Alcatel and Microsoft are silent on the issue of the Idol 4S going SIM unlocked or being sold elsewhere. I sure hope they do, because while T-Mobile is a great carrier, I think this phone deserves a large audience even if it's just the diehards. At $469 and with included VR the Idol 4S is a very welcome addition to the small Windows 10 Mobile family.
Pros:
Beautiful design
Great battery life
Modern, high-end specs
Affordable price
Vivid display
WiFi Calling (T-Mobile)
Cons:
Mediocre camera
No NFC or Tap to Pay
Only on T-Mobile in the US (for now)
VR is more of a novelty
See the Idol 4S at T-Mobile
Do you have questions or want to talk about the Alcatel Idol 4S? Jump into our dedicated forums for the Idol 4S today and get started!
Daniel Rubino is the Executive Editor of Windows Central, head reviewer, podcast co-host, and analyst. He has been covering Microsoft here since 2007, back when this site was called WMExperts (and later Windows Phone Central). His interests include Windows, Microsoft Surface, laptops, next-gen computing, and arguing with people on the internet.
Nice looking phone, with a good feature set over all... Tap to pay(NFC) and QI charging are kind of a big thing for me (things I use every day on my phones). No Verizon support kind of limits my use. If Windows Phone would get Pebble app(3rd party ones are not even close to what the OEM one offers on other platforms) and a few other minor ones, I would never have an issue using WIndows Phone full time again. It's just sad, with no major promotion, I dont see new apps like that coming. Best OS hands down, just the lack of promoting it for the consumer market will and is it's downfall right now.

I feel like abetter pepple app wll come with some time. I thought I remembered the reason pepple isn't great on W10M was because of how notifications work, and that is expected to be "fixed"

Dan, what are the dock options? Any preferences?

I believe that there's an Incipio dock that was shown in Alcatel's commericial for this phone.

I've been looking on Amazon, there are a lot of choices. It would be nice to get some advice, like "Best Continuum Dock for the Idol 4S"

Don't bother with a dock. The Screenbeam Mini Continuum Edition is a hoot. The regular Mini works ok, but the latency with the CE is so much lower that you'll think it's hard-wired.

Don't know why but very excited about this phone's release. We need more release to give customers choice.

@kenzibit; I think a very good product introduction and to throw in a VR headset make's it a very compelling purchase and hoping for a successful launch. There will always an app gap but I don't value that because as long as I can go to a website something I do most of the time without using an app I am okay because I don't want to spend the time going through that many apps which is monotonous(?spelling).

Same here. Too old for apps like snap chat so all the app I mostly use are here already. Office productive apps, Xbox app, Twitter, little Facebook, readit and a few others are all in the store so app gap in our OS isn't really a bother to me all that I hope and pray for is Microsoft to support us more and although no more Lumia, their third party partners should keep on releasing these awesome devices for us. Now really envying HP Elite X3 and now this Alcatel with VR. Really jealous.

I'm going to buy my first android phone since ginger bread just because windows store doesn't have the uber drive app. I hate Google. I'm going to load the phone with Microsoft apps

There is Uber in Windows Store.

The one for drivers is different, and it's not available in W10

I tried Android on multiple occasions as Windows Mobile has slowly ground down. To my surprise, I actually have found more happiness in iPhone, as the experience is more consistent and Google can be avoided entirely. Not my first choice, but my work doesn't support W10M, so iPhone 6S it is. I even find the 4.7" display to be a good balance of size and portability, which really surprised me.

I had to do the same issue, I had to start using Android cause they don't have the driver app... If I buy this one is either for using it just at home on wifi or get another line... They have all other apps except driver and for that you can't using web...

I have a extra android phone just for that purpose for the occasional days I do uber. I just share hotspot from my 950xl. I don't understand why they have a uber rider app but no drivers app. I've been trying to request it.

Do yourself a favor and buy an iPhone. At least you would be trading sideways and not down.

great price? No NFC, camera from 2008, VR capability? why would you use it if the games available for WM are crap? Ugly design with HUGE bezels naaah, 950/XL is much better at this price point. Sorry.

Not if you value battery life, performance, way better audio, Quick Charge 3.0, more internal storage, 1/2 GB more of RAM, and overall better design (looks). Many people also prefer a fingerprint reader over iris for biometric. I never use NFC or tap to pay, so suggesting that is a ubiquitous feature that is required is a big assumption.

Dan, great article. I have switched over to a Nexus Phone 9 months ago. After 6 years on WP, the app gaps is what had me change over. I have all MS apps on my curent phone but really miss the WP OS. I thought that the app gap was not that important, but reality it is. I check this site 2-3x per week to see what is going on and I hope that the app issue will be resolved by MS so I can get back to WP. Again thanks for the intutive articles

Can this phone record in 1080p60? Based on specs it should do 4k but none of that was mentioned, and a guy from Neowin showed the camera app had only 30fps options

Microsoft has no interest in fixing app gaps. A year and a half after a hopeful Build 2015 developer conference, the state of things is as follows: Project islandwood has been made open source, and progress is slow. Project Astoria has been cancelled, after they rolled out a generation of devices which were promised and teased to feature Astoria. Westminster is obsolete, and Centennial is desktop only.

Astoria was horrible, Westminster and Islandwood works and Centennial was always abou x86.

Can you confirm the QC 3.0 tech? It had been listed as 2.0 on tmobiles website.

Alcatel website says Quickcharge 3.0

Hey Daniel I am at .351. There is a feature with which I can recall a call which I have missed from action centre.I thought it is a feature in redstone 2.

Daniel wanted to ask, does Lumia 950 use a Quick Charge 3.0, more or less. I like how the phone charges.

No, they have slower 'USB Fast Charge', but not Qualcomm's Quick Charge. The 808/810 could support QC 2.0 if Microsoft opted for it, but they did not. That chipset is not capable of QC 3.0, however. Only newer phones with SD820 and a few others can.

Ooh I see. So this is just USB fast charge and it even marvels me, how much more Quick 3.0? Wow...now I'm really jealous of this phone. Thanks Dan.
Also Dan, in your free time if you can, can we have an article or video explaining the whole Qualcom Quick charge thing? Cuz I think most people like me get lost when it comes to it. People knowing it will make them appreciate this phone more even if it falls short with other features, thanks.

QC 2.0 is the big jump in charging rates. 3.0 adds about 10% improvement on top of that. I can charge the Elite x3's full 4150 mAh battery in 97 minutes. I documented some of that here in this article.

4150 mAh in 97 minutes??...Jeeezz wow! That is awesome. Yet to read the article in -depth so I can digest everything, almost home now.

I had thought the 950 and XL had Quick Charge. Thanks for clarifying. Though I do get from 0 to 100% in my XL in about 80 min with the MS charger.

Yeah same here. Makes me feel very comfortable.

Battery is fine on my XL. And it's 5V 3A. No fast then slow bologna. My XL barely ever needs a charge. I'll forget to charge it at night and be fine in the AM. Charge for 30m and good to go.

This is mostly true... Reading this review though drained my battery to 80 percent after pulling off the charger all day. WTF Edge? Really? And the phone was hot like I was gaming for a hour.

Having better battery life has to be plus.

I could go without Qi charging but I just started using NFC tap to pay (few days ago) and don't want to let it go at this time. After making Qi charging such a requirement on my 950xl, I've noticed I dont use it much at all now. When I force myself to use Qi charging in the car, I started leaving my phone in the car(forgetting) because the Qi charging cradle is built into the arm rest and if I don't see the phone or open and check the arm rest, it gets left in the car when i exit.

Spot on Dan, the only phone I have that I use to pay with is my Galaxy S7 Edge. I wish Samsung would license it's MST tech to other device manufacturers. I hardly used Apple pay as Samsung pay works virtually everywhere theres a card machine.

2008? woah, wasnt the first iphone released back then? Didnt knew it was shooting such a nice photos. /s

Oh yah because you really need your camera to look so amazing when you take a photo of your lunch for instagram. The 820 chipset by default makes it a better phone. The 950xl is a great phone and I own one but the 810 chipset was poorly designed and Qualcomm got a lot of bad press for it. I think giving up a bit of camera for a better SOC is definitely worth it unless you're a pro photographer who relies on mobile when not carrying professional equipment.

Cameras from 2008 were pushing about 16mp at best, at least in the consumer space. Smartphone cameras were only about 3mp. Don't know where you're getting your info from

What I like about it is the VR pairing which I hope bring out the developers to make apps for the platform. My thinking is a company may have to go it alone to jumpstart/build the wp consumer market and Alcatel's product is strong enough for folks to have a look with the hope of big sales coming to fruition gaining market share. I believe some entity is going to do it or at lease give it a go because whomever get's it going they can have basically the wp consumer market to themselves.

Sorry to burst your bubble but this camera is NOT from 2008. It's the same 21MP Sony IMX230 that you find on the Moto Pure, Xperia M5 and BlackBerry Priv just to name a few.

Wow, great review Daniel. This phone truly sounds like it is amazing and afforable for a flagship! I think it's cool that it has nice battery life and packs so much into it. I hope people will give it a soild chance. VR is not my bag, so indifferent on that but great that you touched on it though.

Buying this phone today either at lunch time or when I get off work I can't wait...big upgrade coming from my 640 XL. Great review Daniel

Same here, going to pick it up during lunch

I just picked one up and it is a nice phone. Upgrading from the Alcatel Onetouch Fierce XL that was the only option when I switched to T-Mobile from my Verizon Lumia Icon. I will be much happier with this phone.

Nice are they stocking these in all of the tmobile stores?

I got my 2 hours ago. The guys working there said they didn't have it, only to discover 15 minutes later that they did have them in stock. It's CRAZY thin... vs my 640.

Are you guys on the East coast? I called all local stores near me on the West and they don't have any in stock.

I'm in Boise Idaho. got my at 9AM

Thanks, I'll call around again after work, maybe they didn't get them yet.

My store didn't even realize they had it, they also didn't even know it was packaged with VR Goggles.

That is my complaint with T-Mobile
..they got this exclusivity deal with Alcatel...but then they don't do any advertisement...not even inside the store ...there is no promotion...and in the store I went..it is not even on display.

Miami, Fl. here and they got 'em in stock and well displayed.

On display? Holy crap. I was surprised they even heard about it when I went into the store (New Orleans, LA) today.

I didn't even think about the store having them on release day when I ordered mine early this morning. They said they actually had it at the store, but couldn't cancel my online order so I could pick the one up in the store.

I'm hoping to switch from my Fierce XL soon as well :D

If you could post your initial feedback in the forum that'd be much appreciated. Really want to hear initial impressions from other fans before I consider taking the plunge on this one.

I need a Verizon Phone. I paid $699 For this 950XL and have it on Cricket. Why the hell can't we get Verizon Phones

I feel your pain I'm on Sprint.

I dumped Verizon because they kept wanting to charge way to much for what they were offering.

Microsoft, HP, Alcatel and other Windows Mobile device manufacturers are seemingly unwilling to pay the high certification and licensing costs associated with CDMA operation. Verizon Wireless is starting to upgrade it's network with completion thought to be in 2019. More than likely, it will be at that point that Windows Mobile device manufacturers will start to create devices for Verizon Wireless customers who have been stuck on the sidelines with only 1 or 2 older units to consider (now only 1 and 0 after the new year when the Lumia 735 is discontinued) while customers of GSM based carriers have had several models to select from.

What for? CDMA is being sunsetted by Verizon in 2 years. It's all going to be VoLTE for VZW and Sprint. Sh*t, even AT&T is dropping 2G as we speak.

Customers of CDMA based carriers who are interested in a high end Windows Mobile phone have been ignored by OEMs for years while customers of GSM based carriers have had a good selection to choose from. Sure, there have been low to middle range models, but nothing on the high side. Microsoft could have submitted the 950 and 950XL for certification and Verizon Wireless users could have gotten 3+ years out of those units, but, the company against it. Thus, at the end of 2016, there will be no Windows Mobile phones usable on Verizon Wireless, Sprint and US Cellular unless one takes a gamble on aftermarket avenues.

I'm with you. I keep using my Icon, hoping some OEM will release something...

Great review!! Really nice phone... Non deal breaker...NFC, don't use it on my 950xl so won't miss it here though I can see how some may want and use it with their other phones... Nice touch with the front facing camera with 8mp and flash.. I have always wanted a phone that does this ...beautiful phone although this one calls for a case...only drawback for me is that I wish it was bigger... Lolol I am big and have big hands so a 6inch would be perfect for me but 5.5 is acceptable... Beautiful phone... Will pick it up.. the price is nice

It does look like a lovely device but VR content on Windows is thin, once the Creators Update comes out and OEMs come out with VR headsets things should change, but that's months away. For now it's a mere gimmick and if VR is your reason for getting a phone then you'd be much better off I'm afraid on Android for now. Then there's the price. Sure it's far better priced than the HP Elite, indeed generally it's well priced. But since VR is pointless at this stage & the camera isn't amazing, I don't see why you'd choose this over a 950/xl which given the recent price cuts is now cheaper than this with a much better camera and otherwise similar specs. So I applaud Alcatel for their efforts, but I just can't see much reason in buying this phone just now. Wait til the summer when it's $150 and there's VR content available for Windows 10.

I'd personally choose the IDOL 4S because it has proper optimizations for use on T-Mobile (HD Voice, Wi-Fi Calling, VoLTE, etc.).

What you said is the reason why I'm struggling with getting rid of the T-Mobile 640 or the 550 I own. I'm indifferent about WiFi calling but it is nice to have VoLTE, which I have on my other phones.

I may be wrong, but I believe the AT&T and unlocked 950's have VoLTE. Would still rather get a T-Mobile-specific phone for the other stuff, though.

This... If I didn't buy this 950XL early this year, I would be buying this for myself. The 950 is great, but damn I miss WiFi text and calling.

On the surface you are correct, but there are so many reason why someone would pick this phone over the L950s. Looks has always been a concern with many on this site regarding the L950s. Many want glass and metal. The smoother performance of S820 processor, especially if you are using Continuum. The longer battery life. The front facing camera is better on the Idol than the 950s and would be more valuable to someone who is into selfies. But the thing that stands out the most is the 64gbs built in.

Finally, I can retire my 1520. When it is available on AT&T that is. But this phone is the one for me. BTW, Daniel, these photos look pretty good to me.

Jaz my brother, don't hesitate. This phone is everything the 950 series wasn't. The looks are tight, the sounds are amazing, no overheating and the camera's really not that bad. If you do any macros, you'll really be impressed.

Yeah, I thought the pictures were really good. Wouldn't be a problem for me.

Shame they decided to not release it in Europe at all, the L950 is 1 year old already and the HP x3 is quite expensive. W10M needs more mid-range phones on our market if it wants to have a future.

Wait until they've done their exclusive with the current carrier then it will probably be more widely available.

I have little hope, this tweet from the company isn't really promising much (use google translate): https://twitter.com/alcatelmobileFR/status/794172445477535746

What's "google translate" ? ;-)

That's not really anything definitive and technically true. THIS model is not for Europe, it's for T-Mo. That doesn't preclude a non-T-Mo version. It also doesn't preclude the fact that PR is often wrong on this things.

Hey Dan, I thought you guys said this phone was unlocked - that you had put your AT&T sim in it and it was working. And one was working in the UK. What happened?

Read that article again as it was updated. My phone is a pre-prodcution unit. Store versions are SIM locked.

I was just about to ask the same thing.

Got it. Thanks. Sucks to hear this. Any guess as to how long an exclusive period might last?

Somehow I knew that when you mentioned it on the Unboxing video. Would have been nice.

I'll just use Bing Translator

Camera button placement is great for selfies though!!

When are you guys in the USA going to get angry with Microsoft for not making some decent effort at promoting these phones? How much effort would it really take? Alcatel have done the hard work, and they are the ones who are likely to lose $$$ if the device does not sell, so how about Microsoft put it on the front page of their website and offer deals and other carriers and unlocked devices? WTH are they doing? I know they gave been really stupid for years but I thought for a moment that things had changed for the better.....

MSFT is not going to market W10m until they feel it is competitive. In other words, when they launch Surface Phone. (RS3 possibly?)

Microsoft apparently doesn't care for the phone anymore.

I agree with you,,not only MICROSOFT have not done any promotion...T-Mobile dont have any either at the stores, I have visisted the local T-Mobile store at the largest mall in San Juan ,Puerto Rico,,and the phone is not even on display.... yesterday the 4 time I have gone looking for the phone,, I asked an employee,,and was told that the phone was not on display,,that If Iwanted to try it I had to take a number and wait to be called by an eployee. How any regular customer going to be interested in the phone if it is not EVEN ON DISPLAY and there is no SIGNS PROMOTING it... I wonder why ALCATEL made the exclusive deal with T-MOBILE if that company do not even have the phone on display???

I spent a week in Singapore recently, and there are zero Windows phones there. They are virtually ALL Android, everywhere, even though Android is full of Malware, and Google, and tracking (well, Google is an advertising company), and ROMs that send data to China. In New Zealand the advertising no longer includes ANY Windows phones. Again, all Android and a little of Apple (but they are losing their way now). Hell will freeze over before I buy Android, so this is all the more annoying, that a little effort could make a huge difference. How hard is it to make a Lumia 660 and in 6 months a 670 and so on, with RAM and processor upgrades. I'm not asking for a quantum jump from my 640 to L AMAZING but just a simple upgrade path that keeps up with the tech and keeps the ecosystem ticking along,

Looks sweet. I have the same T-Mobile plan and it fits my needs just fine. Currently using a Lumia 640 but this will be a strong candidate for a replacement.upgrade when the time comes.

I hate to be that person, but I hope you will be able to get it before it's dropped sometime next year. When it comes to waiting (I'm not saying that you should get it now), T-Mo has tendencies to not sell Windows phones for long.

Lol! We know it's accurate though. Sad but accurate. :/ It doesn't pay to wait for long with them. Unlike AT&T where you can still buy a 640 XL a year and some months later.

How's continuum compared to 950xl? Is it smoother? There are some lag on 950xl with keyboard and mouse, lots of lag when I tried out x3 with lapdock. How's camera app on 4s? Is there still the annoying "finishing touch" that freeze the app like on the 950s?

It's amazing what a proper processor can do with Continuum. I use a wireless adapter and it's very good. As for HDR, it takes about 5 seconds for the picture to show up in the preview window after snapping it but once it's there, there's NO "finishing touches" BS to deal with.

I have not noticed any "finishing touches" delays or freezing. In fact, HDR seems to work its magic considerably faster than my L950 did.

And what for europe? We dosnt have any phone that can replace lumia phones.

Acer Liquid Jade Primo. It's $20 cheaper than the Idol here in the US at the Microsoft Store. It's a great bundle and a pretty good phone and I think it would be your best bet as the LTE bands are geared more toward you all in the Continent.

Why do I have to click a link to read the article in Windows app, and in android app it is available within the app??

Is the battery removable? This is an important point for me, and nobody mentions this about this last batch of cool W10M phones. Of the Elite x3, the Acer Jade Primo and this one, does any of them have a replaceable battery? It's a great feature of the 950s, you know, for those of use who aren't going to buy a flagship phone a year. Edit: there it is in the article, should have read it before posting instead of just the spec list.

@Daniel Rubino Is it possible to get the VR apps on other phones as well? If not will they be available in the store?

Some are and have been available for months now.

Cant find VR360Video. im actually looking for a Video player that supports SBS playback and subtitles. Do you know any? VR video for Windows 10 is great but it lacks subtitle support which sucks for non english films.

Hey Daniel I am at .351. There is a feature with which I can recall a call which I have missed from action centre.I thought it is a feature in redstone 2.

I really hope people, and longtime T-Mobile customers who are Windows fans, go out and buy this phone. I think the camera and the app situation are still just a little too outdated for me to consider jumping back into Windows 10 Mobile full time but hopefully next year things will be different. Are the bridge resources for porting apps from other platforms still being pushed or has that kinda faded away. The only must have functional app I need is the Uber Partner app. I can live without some of the other fun apps even though it would be a slight downgrade. I'll see what next year holds.

Honestly I dont want people to buy this phone. I'd rather see Microsoft be the primary if not sole provider of the OS and Hardware. To many trash phones will not help the negitive perception about W10M. I'm not saying the phone is trash, but is is a down grade from it's Android sister. I sold my 950 XL earlier this year and the price is so low on it I'm thinking about buying it again. Not as my Daily Driver (I just can't use windows for that any longer), but I do so love the OS and never stay away for very long. Sill missing my 1520 best phone ever!

Say what? More RAM, superior CPU, better GPU, more internal storage, better camera and better battery life. The only thing the Android has over this one is the QHD display. If you're going to hate, go ahead. But at least have a legit argument so you won't get owned.

I think you misunderstood my argument. I was talking about the OS difference not the hardware. Read again. I love the phone. Still not convinced on the OS without the app support I'm looking for and Microsoft's unwillingness to even promote the OS or it's phones.

Hello Daniel, you were silent on supported LTE bands. Is it possible to run it in field test mode and confirm the bands. If I am spending more than $200 on a phone it is bound to be a travel companion. Support of bands like 3, 7, 20 and 40 are important while travelling outside US.

If the Android version is anything to go off of, according to GSM Arena, the T-Mobile model has bands 2/4/5/7/12/17. Another Android model has bands 1/3/7/8/9/20/28. So, I don't think this will be too friendly.

Photos looks really nice, especially the indoor ones.

How long will this phone be supported? Will it ever get updates? Risky choice. Third party manufacturers and especially T-Mobile are not known for pushing Windows updates.

Microsoft is the one that controls updates so it should be just fine.

Microsoft only controls updates for Lumia. They do not control updates for this device. https://mspoweruser.com/psa-not-windows-10-phones-get-direct-updates-mic...

That article is actually missing a lot of info and details. The Molly's have an issue with how they are reported in the MS system for updates. Case in point, I have a Moly W5 that gets updates and Insider builds. Also, I mentioned how this has been updated to .321 and .448 already and it will conintue to get updates. I suggest reading better sources.

So Microsoft does control updates for third party devices? Are you saying this article is wrong? Certainly doesn't seem to be the case with the x3, Jade Primo or Moly phones. They all were slow to receive the Anniversary update. Are you confident these devices will still get updated in 6 months or a year? Especially after miniscule sales and EOL?

It's more complicated than that. Updates can be put on hold if, like the Elite x3, there was some development still going on and testing with incoming firmware. It works like this: If a phone is approved for Insider builds you can just get updates each time. If you opt for Production the companies can work with Microsoft for the updates. (My Jade Primo and Moly are both on Fast Rings and are on the latest builds, for instance). There are still quirks with Microsoft's systems e.g. my Elite x3 on Fast ring had the new OS, didn't get the firmware so I had to use WDRT. I'm just saying right now the Idol 4S is receiving updates as they come out and I don't forsee that changing.

Fair enough. Fierce XL updates will give us a good idea what to expect now that T-Mobile has dropped it.

I rolled mine back to stock last week. It got the last cumulative update yesterday. It's been gone from the T-Mobile Website for a couple weeks at least. Usually the Fierce XL got updated about a week after Microsoft released a cumulative update, yesterday we got it right away. I'm wondering if T-Mobile is just letting Microsoft handle them now. Firmware might be a problem.

"...better sources."
LOL...the shadiness of it all.

But since Windows 10 Mobile they skip the carrier, only the OEM can be a limitation in update distribution.

No, you are wrong. This is not Android.

I received a cumulative update the second day I owned it. I don't Tmo is involved in the updates, possibly apart from firmware updates.

Correct T-Mobile does not support WINDOWS PHONES,,I have been visiting the local T-Mobile at the largest San Juan Puerto RIco shopping mall,,,and the phone is not even on display.... Yesterday after the 4th time I have been to the store,,I asked for the phone,,,and was tod that itis NOT on dislay,,and if I wanted to try it I had to take a number and wait to be called. How is this going to IMPROVE WINDOWS PHONES sales if they are not evenon DISPLAY and there is no a single promotiong sign at the store either?????

Daniel,
I may be mistaken but, I thought this phone was sold unlocked and in your first video unboxing, you stated that you put your AT&T sim in it and you got AT&T LTE.
Has something changed since then or am I completely mistaken and thinking of some other phone.
I am currently with AT&T and have a Lumia 950XL but I am looking for a more premium and more powerful Windows 10 Mobile phone and this looks to be perfect since I don't want to spend the extra money on the Elite X3 right now. If this device is indeed not unlocked, I may have to open a line with T-Mobile just to get it while keeping AT&T for my family and my corporate discount/better network coverage in my area.

Same phone. Daniel edited his first unboxing article to reflect that it is not SIM unlocked. The reason AT&T lte worked is because he was using a production unit.

Thank you both for the information.

(just correcting what I'm sure you meant..) It worked on AT&T because he had a preproduction unit...

Forget the pre part, thanks lol

"...it is still a novelty until Microsoft improves its capabilities"

I have a NexDock and I use it heavily, not sure how people can still say Continuum is a novelty.

It is one for the average person. Had a 950, and didn't care to use Continuum. I'm sure that there are people have the Continuum capable phones but are indifferent about using it.

And there are people that are using it because they don't have a laptop or other computer.

That is a great point too. I forgot that they exist in the Windows world too, I hear it more on the other sides with the people who prefer bigger phones.

It's a kludgey gimmick, not a novelty. That better? I'd love to see some stats on continuum usage, I think the vast majority of W10M users don't use the feature at all.

It has almost replaced my laptop at work and for sure my tablet.

I personally don't use it, but I like that I have an unopened dock in my closet in case I do. The feature has benefits. Just because I don't have a need to use something doesn't mean that someone else doesnt.

If they try Andromium I'm sure they won't look at Continuum as a novelty any longer. What a POS! As of last night, you only get a Chrome-based browser that's about as outdated as the Origami browser on my BlackBerry PlayBook, a file manager and a photo viewer. The minute you try to run any regular Android apps it just flips into Miracast. The app is always running in the background, it's a battery hog and if you sign out to shut the app down, you then need to restart your phone. Tell me again how Continuum is a novelty?

How much better is this phone compare with 950XL. Here in Mexico you can get the 950xl for $160 dlls brand new and directly from official dealers (not ebay or stores like this) so it is kind of weird to see the prices of these new phones with widnows.

A 950XL unlocked for $160 US Dollars? Geez...buy 100, put them on ebay and start making money!

hehe i though about it but as we are in Mexico the shipping and customs would have made them probably the same price than in USA. I got mine for that price though.

Where is that? I will get a new One!

Daniel, you forgot that is it also missing Qi or PMA Charging. Have you decided if you would be switching back to the Elite x3 for daily use? Or is this your new daily phone?

I mention it has no Qi or wireless charging as the last line under the battery section. I use both x3 and 4s as I have multiple SIMs.

I totally missed that one sentence haha. My bad. I'm still considering getting the Elite x3 to replace my 950xl. I need Wireless charging (it's just so convienent) and the possibility of NFC with Wallet support in the future. Still not sold on the camera but the pictures I have been seeing lately make me think it may not be that bad.

I don't wish to misquote Dan, but in the weekly podcast, he said it wouldn't replace the HP because he was given it for free. He did say (rough memory here) that if he had to pay for it he'd chose the Alcatel as it's a consumer focused device. Its a good listen if you want to hear more about the phone.

You remembered correctly! :P

Hey Daniel, I know this is a bit unrelated but I just downloaded Monument browser and it works super fast and has data compression and split screen web browsing on Windows 10 mobile. Something I've never seen on any platform. Thought you might want to check it out! :)

Me too... Right after 1am my time.

"It's a decent camera delivering middle of the road photos. During daytime and outdoor shots most people will be quite happy with the results. In low-light and nighttime, you will struggle." Unfortuantely that is a deal breaker for me.

I'm a video professional and a photo enthusiast, but I will get this phone anyway based on the pics that Daniel provided. They are perfectly acceptable and when I'm wanting higher quality photos (like a vacation or special event) I will do what I always do: take a real camera. Today's smart phones do a great job, but even a good P&S camera can take photos that are superior to any smart phone today. In the future, that might not be true. But it currently is.

Great device for a good price must buy.

Just bought acer liquid jade today at a discount price since we have to wait for some time to even get some information about other carriers availability let alone europeen model, how can windows phone get a good market share way above my comprehension.

I am a real camera buff. The whole reason im with Windows Phone is because of the cameras. I am disheartened that nobody seems to be able to come up with something worthy of upgrading to. and now with Microsoft ditching the lumia line, i don't have much confidence their cameras moving forward will be worthy successors. I don't think top notch cameras are anywhere close to their priority list anymore. I hope I'm proved wrong.

The fault lies with Microsoft for being so limiting.

It's too bad that there's no NFC or Qi. Those are the only things holding me back from switching to Tmo and grabbing one of these. It's a beautiful device.

Coming from a former Windows Phone user, without apps, what is the point?

What missing app? I really don't see a big problem with app gap, most apps are junk anyway. I'm only missing the app from my bank, and on top of that their website have issues with Edge. My complain would be that not enough Windows 10 Mobile apps support Continuum. MS should just make every app able to load on the external screen and just show in the shape of the phone screen or rotated on the side like if I flipped the phone on the side.

The point is that as a student/professional I can use it for powerpoint presentations w/o having to carry a laptop everywhere. And for my consumption needs, I can hook it upto my TV to watch/stream media, again w/o requiring a PC, a smart TV, a casting device or any other USB peripheral, tablet or something.
I can't snapchat though but again what's the point of it?

Depends on what you need it for. My parents only call, take pictures, text, map, and occasionally search. WP is the only OS that let's them put pictures of all their grandkids on the front screen. App gap is non-existence to them.

Microsoft is making all of this nice phones with nice feature,s but windows phone is lacking in apps...for example I went for a job interview today and I need a important app for the job and it,s not available I been a windows phone customer for a long time and I'm going to have to jump ship it,s just really sad.......

Did you get the "What's a Windows Phone?" or the "Sorry, there is nothing we can do for you" remark when you asked about your phone situation?

it,s funny because I was the only person there with a windows phone....

Welcome to the club! I have been here for years.

That is sad. Can you tell us what app is missing?

yeah it,s for shiftgig.....

Looks great overall. The only con for me seems to be the lack of NFC, but that's passable. It also really needs to be sold unlocked, and made available worldwide.

You can see pixels on the screen that's barely more than an inch from your eyeballs and blown up further by the headset's lenses.

This is why I didn't find my Gear VR + Galaxy S7 very pleasing. Some stuff was neat, but isn't something I see myself using for more than 30 minutes every so often to see what's new.

I'm almost at the point of making it my main line over AT&T.

Cool to be able to get a flagship class smartphone running windows 10 in this era. Personally, I think Alcatel missed the trick with continuum dock/accessory. Personally I'd rather have that included than VR headset, which frankly, has no prior (or future) windows ecosystem (in this form). Though I appreciate Alcatel for trying to attract to consumer side of things, I still think they should have worked with Microsoft regarding that creators update windows holographic shell (will it come to w10m sku?) and template hardware design guidelines by Microsoft for accompanying AR/VR accessory. Anyhow, for what it is worth, I would take this than having nothing. So good job Alcatel!

I'm sure the VR headset costs a lot less than the accessories for continuum. They're also saving money in not including headphones a screen protector and a case like they did with their Android version. But to be fair they made big spec improvements. I'd rather have the specs than the accessories.

Thanks for the review...it looks like I might go for it. Just wondering how is Project to pc/tv working, and if it has sound equalizer and FM radio

FM was removed from the OS, so even if the device has a FM tuner, you will have to download a FM app on the Store.

Appears the fm radio is disabled as fm radio apps seem unable to find it.

What kind of cases are available?

all the ones that were available for the Android version

that is one advantage of having a Windows Phone device with an Android twin brother. Accessories might be easier to find.

Incipio is the Alcatel vendor of choice. A few available on Amazon and eBay. I did see something interesting on Amazon. Skinomi has skin kits available. They look nice. I'm going to try the Carbon Fiber one on mine when it gets here. http://www.skinomi.com/sk24518-alcatel-idol-4s-phone-black-carbon-fiber-...

I was looking into those skins but will give almost no protection for the phone other than scratches. So I went with a incipio gel case(clear/black).

Why does the app prompt me to the website sometimes?

The biggest question for me is: Will this phone get Holoshell / Windows Holographic with the RS2 release? As it is now VR on a phone is not really that great, but having HoloShell there with Hololens apps it would be a whole different story, at least for me. Also the processor in the Hololens is not that much better than the Snapdragon here.

Something you won't know this year probably.

Windows 10 Mobile is here to stay, regardless of what tech media may say! This!

LOL! You keep telling yourself that...

IT's not because of fans, because there is no other option for Microsoft.

Apart from the dead OS and the lack of customization from the boom key, this seems indeed like a better version than the Alcatel Android one (this is a version of the DTEK60 without the 2K display it seems).

Well, since it is running Windows, it is automatically better and will be supported which is a big pro.

It's running Windows 10 Mobile which makes it automatically worse as it's running on a dead platform without any developer support, consumer interest or even Microsoft committment. But of course, I don't expect any silly blind fanboy to admit that.

Well, since neither of that is true I don't really see a reason to respond to it... Or is that what you personally actually believe for real??

All of that is fact. You can't respond to facts with anything but agreement. Of course, since you refuse to see reality, you will not be able to admit it. Which makes you just plain deluded.

No, it is quite obvious how wrong you are. Using the system daily makes reality a little easier to understand so I can understand why you are so wrong when you don't have any insight. Just go enjoy your android phone and pray that it will be supported tomorrow too.

This from a Nokia fanboy that can't let it go.

Yeah, I know, but i enjoy calling him out on it and see what else he can make up. :)

I'm not the one clinging desperatly to a dead platform. You are.

Since it isn't dead, and everyone who uses it know that, you look a little foolish. :)

It has Microsoft commitment.... There is more OS development now than at any point in WP history.... Only fair criticism is apps. And here is to hopping a complete islandwood bridge in the future can help out tremendously. Especially considering tablet market share.

Lack of NFC and Qi are deal-breakers for me. TD Bank just added Microsoft Wallet support, and I've gotten accustomed to using it to pay for things.

I just picked up one today to replace my Lumia 640. Just got to find a case for it. The only thing that is a bit concerning is the large camera protrusion from the back of the device. I'm afraid it will get "dinged up." Other than that I'm pretty stoked to get this phone going.

I have a Galaxy S6 with a similar bump...once the case is on it, it no longer is an issue...it'll be fine.

MS removed it from the OS a couple builds ago, but you can find some FM tuner apps on the Store.

I was referring to hardware. I don't think it has it.

Alcatel gave us BlackBerry users our last phone..... and it's not too bad. Looks like they did pretty good on this Windows phone. Just wish as a Verizon user I had it as an option.

The best part of having a Windows Phone device that has a twin brother in Android is that, you might not have a very hard time getting its accessories such as cases, extra battery, screen protector, etc. This is very true specially if the OEM is very popular. At least with Alcatel, if you wish to find a casing or a cut-out screen protector for Idol 4S, you might find it easily because it has an Android half-brother.

Also as far as I understand it the Blackberry Dtek60 is based on the same phone. so accesories are out there.

In the case of this phone it has TWO Android brothers. The original Alcatel 4S and the DTEK60 which is this phone (but with a 2K display and without the glass back) with a Blackberry logo slapped on the back of it. So there's definitely plenty of accessories.

Not many true cases available apart from incipio. I only saw one other legit case and it's a snap on that doesn't offer front protection. I ordered a gel(clear/black) case but just saying there aren't as many options as you'd think. There is a lot more case variety for Lumia 950/XL ironically.

I don't understand why MSFT doesn't just allow any manufacturer making Windows Mobile devices access to their full tech portfolio. Really like the way the phone looks, but there always seems to be something missing. Glance, NFC, Wireless Charging, Continuum, wifi calling support, volte, etc.... So far, the Lumia 950/950XL seems to check the most boxes (although I would have rather had a fingerprint reader than iris scanning). Nonetheless, bravo to Alcatel for putting this out at such an aggressive price. At first blush I was tempted...but not sure it's really an upgrade from the 950XL, maybe if I break the screen again it would be a possiblility.

Correction - the x3 checks the most boxes.

Yeah only thing wrong with x3 is that camera which isn't up to the standards you'd expect from a flagship or from a Lumia 950/XL owner. It ticks more boxes overall though. Maybe minus the price by I digress.

Daniel can you provide links to all the wallpapers you use? I often struggle to find something that works well

That Blue/Orange one is HTC's standard background delivered on the HTC 8XT (8X) etc...should be able to find it easily online.

Looks like both this and the HP Elite are great choices. Want to replace my L950XL but before choosing one or the other can you say if you have heard any rumblings of any other great phones coming out in the next 6 months or so? That should help me decide. Thanks

If you're on T-mobile you can get the Alcatel and just replace it for the new phone in the future if you lease the phone which auto enrolls you to jump on demand which allows 3 changes within a year if I'm not mistaken.

Yeah, not on tmobile, was hoping it was unlockable. Might just go with HP elite

I got this phone today and it's very nice and fast.

Even tmobile website video of the phone says QC2.0 Is it QC 2.0 or QC 3.0?

Alcatel website says Quickcharge 3.0

What about call quality, phone performance? How fast?

Daniel, A review I saw somewhere else mentioned that this phone doesn't have many LTE bands, so your peak download speeds would be much lower than with other phones. Can we get some confirmation of that? Maybe network speedtest comparisons between x3, 950 and Idol? Thanks

Everyone has been commenting on the Fingerprint Magnet qualities of the back glass. If you search covers on Amazon you'll find some nice looking skin sets. Carbon Fiber, Brushed Metal etc. When I get mine I think I'll invest $12 in one. I can't tell if they're textured or not.

Got a thin TPU case on eBay (almost always cheaper for cases) for 5 bucks. The colors sucked though.

Are the camera/photo quality issues hardware or software related? If hardware is the issue, there is nor much hope for improvement. If software is the issue, there can be improvement.

This seems like a high end phone, so why would some random guy doing another article on this phone (think in the UK) say it's mid-range????

Maybe he confused it with Android?

How do you get the free month of groove, 45 day trial of Hulu, and the halo game that's supposed to come with it? I didn't see any of that in the box I just got mines

Go here: http://www.alcatelonetouch.us/alcatel-mobile-promos

Is there a setting to enable quick charge I'm not noticing any fast charging when it's plugged in

did you ever figure this out? got mine today. its been on the charger for about 4 hours and its up to 95%. got it completely dead though. but the quick charge definitely doesnt not seem to be working.

Yea just leave the phone off don't use it while its charging it charges noticeably faster that way. Even turning off cellular data or airplane mode helps too

Why there's no Windows 10 Mobile device with a notification LED?? why??? WHYYYY??????

I'm glad - notification LEDs are anoying. However, we obviously need the glance screen otherwise we're blind.

I have an android phone simple because it's the S7 edge but trust me everything on there is windows . I would buy this phone if it is possible to unlock it

Love it! But, it won't come to my country.

I just stopped by my local T-Mobile store and they had a display model, but none in stock. When I asked when they'd get some in, the gal told me, "Well, they're not exactly going to be flying off the shelves, so if you don't check back for a few weeks, I'm sure we'll have one if we get any." I told her, "Well, they are available as of today and I'd be laying down the cash for it here and now if you had one in stock."

Typical t-mobile. I've been with them for eleven years because of good prices and cell service, but I hate having to deal with their stores. I'm ordering mine online. I can afford to wait a few days to avoid the morons in the store.

I'm right there with you, I only went in after ordering online then getting impatient. Unfortunately they couldn't cancel my previous order so now I still have to wait till Monday for shipment.

They said Monday for shipment for you? They just gave me a Grey 6 day window for shipment. Can be as late as the 15th allegedly.

My tmobile only had 4 in stock and none on display

I actually walked into a T-Mobile store and they knew what I was asking for (though didn't know the release date offhand) when I asked about the phone today. That's amazing in itself.

Just ordered mine today. i got std shipping and its gonna take a week. I am thinking about upgrading to next day air first thing tomorrow morning. Ready to retire my Nokia 1520.3

Okay guys. I bought this after I got off work today. Two things. If you buy the phone without being on TMobile it costs $500. Also TMobile can't ulock it, but Alcatel will (according to the guy at TMobile). On a side note, when I got a new sim at ATT the guy asked how much I paid and he sounded shocked after I told him the specs (I forgot to mention the inclusion of the vr headset too).

Awesome! If you don't mind, can you please share your experience in the Idol 4S forums? There are people who really want to know the same thing and how it works.

Can't wait to grab one! Owner of a Alcatel One Touch Fierce. It's been a pretty solid phone for me, so I know this will be a welcomed upgrade. The premium features of the handset are definitely appealing. Especially, since most of my previous Windows Phones felt like plastic shells except for the HTC 7 I owned.

Just upgraded to the idol 4s from a 640xl . The idol 4s definitely competes with a iPhone and / or galaxy I couldn't say the same about my 640xl

You shouldn't be able to. 640s were BUDGET phones. Why do people try to compare those all the time?

I don't think he was being 100% serious. (damn Internet for not being able to emote your tone)

I've got the 640XL. It's been a great phone - FOR WHAT IT IS! - budget phone. Nothing much it can't do. Only real limitations it has, and why I'll be upgrading as soon as I can work out what phone to get, are internal memory (8GB shocking) and battery (although could get spare). Love this phone. HP is up there at the moment for me, but waiting to see Cerulean, Surface and anything else between now and April - super excited. This Alcatel is quite good but not fussed on looks.

Lovely review. I am glad you were able to use the word "mediocre" and "ok" for the camera since I am so inclined towards the complete Windows 10 Mobile experience that I say good about almost everything. Do you think Alcatel plan to launch this phone worldwide?

Tube 360 app... I'm on Lumia 950, but when I search for this app in the store it returns no results. Is this app only available on certain phones?

The app is there for me. I think it's the creators of Tube cast.

Everything you said Dan did not convience me this phone was better than the 950 line. At the end of the day what is better, the speakers? Seems like a downgrade is every area and now that you can pick up a 950XL for under $350 I think it's a pass. Other negitive is no direct Firmware updates from Microsoft again I say go for the 950 line.

Where can you find the XL for "under $350..?" I can't it for anything under $400 (And that's the international version with no warranty). To say it's a downgrade in every area is nonsense. It has twice the memory, more RAM, a better CPU. The only thing the XL has on this is better screen resolution, Camera & wireless charging.

BadMojo probably means a used 950 xl.

Speakers, performance, battery and fingerprint. But it's subjective to which is better. Just depends what features you care about the most.

If this phone were carrier unlocked and had dual sim dual active, I would really consider it. (I'm tired of carrying two phones.. and with the topography around my place in Arizona AT&T/Cricket are the best options and in Sonora it is TelCel). I wish someone would do proper dual sim dual active in a high end phone. Thanks for covering the phone Dan.

Great apart from the camera and NFC = Not great (to me at least).

it would be nice to see a w10m phone with edge to edge display with a thin bezel, since there are on screen buttons now

Thanks for a great and insightful review. Love windows phone back when it was 7. I'm really interested in this phone. My concern is I'm in iOS ecosystem. I have a MacBook Pro, iPhone, iPad and so forth. My question is will this work with my MacBook Pro? If so I'll go out today and get it. I have cd lessons I transfer via cd drive into iTunes or Amazon cloud service and listen through my phone daily. I own no pc atm. Thanks again!

PUBLIC SERVICE ANNOUNCEMENT- Do not Enable the "encryption" at the same time being an insider on this phone. Catastrophe will occur. At least for me that seems to be the case. My first insider (release ring- no less) update this morning causing me to "restart" my phone was the last act accommplished. My wonderful 1.5 day old phone is Smitten with the dreaded BITLOCKER RECOVER Blue screen. Unfortunately, I have no way of unlocking it, as there is no option- for some insane reason this appears to be designed for PC's/Laptops with keyboards as it states Press "ENTER" or ESC to proceed. unfortunately nothing so far as I know can be done to unlock, So i'll either have to take it back to the store for an exchange or use the "device recovery tool" to reset it. (I'm also wondering if I had the display dock I could probably be able to use a keyboard to hopefully enter the key.) I don't understand why Microsoft hasn't made it possible to enter your "KEY" to unlock it. Seems like a glaring issue.

on other happier news...I hold in my hands a brand new Idols 4S for Windows. Decided to cancel myonline order and make it to my local T-Mobile store. Happy to report that I scored the last unit they had. I called early in the day and they told me they had 3 units. So Good sign from a first day sales for the device. Havent done much other than set it down for charging (since the battery was almost dead) while I came here to type this. First impressions...feels feather light and the screen looks real nice. I havent even peeled off the stickers off the screen or the back yet. VR headset is in the box. I only care about the phone. I am a happy camper.

It looks quite nice. Unfortunately, my sweet spot are 5 inch screens these days. Plus, the mediocre camera is the biggest deal breaker followed by not replacable battery. Qi charging is not a must, but it's nice to have. Guess, I might save up for a 950 instead.

If you check out the official pictures thread in the forum, you'll see that using a 3rd party camera app greatlyimproves the picture quality. Pictures are really quite good.

My own single swipe to get "show in browser" is to the left, not right. Or am I not right? Okay, I left to check after reading the last sentence and I am sure it's to the left, not right. I know I'm right. Okay I guess the Right swipe is on windows 10, right? +920; outgoing Lumia Denim.

I have been to the T-Mobile store at the largest mall in San Juan Puerto Rico since Nov 10,, the check and try the phone,,and is not on display and thers no advertisement about it. Yesterday,, I dared asked an employee,,and was told that is not on display,,,and If I wanted to see it ond try it I have to take a number and wait to be called. How regular customers (not Windows Phone followers) are going to be interested and or attracted to try it if the phone is not even on display. This way Windows Phones are not going to grow,,if Windows and in this case ALCATEL make this "exclusive" deals with companies like T-Mobile,,,and then this companies dont even put the phones on display and or have some advertising about the phone?

Q pendejos son. un buen telefono y a un buen precio.

Love the phone, only annoyances are the camera button, as the slightest touch launches it. I wish it was designed to engage on a double tap (of the camera button), that would eliminate the accidental ones. Also I wish the windows hello could be enabled with different options.. To use it with 2-3 minute timeouts.

Been a complete piece of crap, had the phone less than a week and already had to do 3 factory resets. Got stuck in a boot loop twice and the OS is buggy with apps either not opening or force closing, hit or miss whether it connects to mobile data and WiFi has a weak signal (even though its not weak) Luckily I only have to deal with this for a month before it goes in the garbage and I am back with a good OS: Android

I ​just ordered the phone yesterday. I'm really looking forward this device. The lack of NFC is a bummer but I've yet to start using mobile payments yet. I have an iPhone 7 Plus as my daily driver right now and haven't decided to use Apple Pay yet because the availablity of payment spots is too hit or miss. I either want to be able to use it everywhere or not use it at all. I wish Samsung would license it's technology to others because it seems like their system can utilize existing pay platforms too. I'll update this whenever I receive the phone. I'll probably write up a blog about it too. thechirpingcricket.com if you are interested in seeing what I thought of the device.

Be it lack of apps, or not, I miss Windows phones. If this puppy comes to Canada, I'm replaceing my Galaxy S6. I can survive without Google now.

What about call quality? I'm curious to know if when using it can the people hear you clearly? I've been using an Alcatel idol pro 3 for about a month and really like the phone but really miss Windows 10 mobile and I'm now back on my 640XL. Anyway many times people couldn't hear or understand me very well compared to my 640XL even. So short question long. Is call quality for people on the other end very good?

is there is any chance to get this phone as a gift please tell me

Being in IT at all levels for decades and staying current I can say that this design IS the future. Taking your computer with you and plugging it back in when you get home or to the office is where we should be now. The docking station already exist for Windows 10 and it is small but very functional. Plug the phone in and have your monitor, keyboard, mouse (plus what ever other devices you use) make all the sense in the world. It has taken Microsoft too long but they finally have a good strategy for going forward. Windows 10 as it gets better and better running EVERYWHERE is awesome. Now lets get the others to do the same thing, I am using a Mac right now yet use Windows for the continued testing of our enterprise Biometric authentication system which is mainframe based on the back end and when we get request for clients other that Windows will support them. The fact that we are running our software for 10 years and VERY stable with no downtime relates directly to what I am trying to indicate with the mobile / computing enviornment. If your mobile operating system can be based on the system you have been using on your computer for years why have both. It's too logical, makes too much sense. Look at OSX it is mased on BSD Unix that has run in large enterprises for decades and still does. Another example of what can be done with mobile, if I could plug in my phone and run OSX or Windows 10 on my existing monitor, keyboard & mouse I'm set. Tom Secreto

Gran celular, y a un muy buen precio nada que envidiar a otros celulares de la gama alta. Yo temgo un lumia 640 XL y la verdad un excelente celular. Que aunque con pocos recursos el S.O. Lo have que tenga un rendimiento genial.

Being an engineer and project handler, I think there is a great future for this category of device. A quick edit to a project pitch, a smart way for presentations over wifi, and in a way a light media center for quick news and videos. A concrete step in a right direction, little bit late Microsoft but not bad. Keep it happening for this new device family. Chandan Mishra

Thank you for such a great and netural review. I hang on to multiple 1020's and accessories due to NFC and Camera. And yeah... my 950XL is the new daily driver. I would go with this in a hearbeat, however no NFC is a deal killer. I love my iPad 4, netural on Google products, HATE Apple Jail on my iPhone 5s. When/if folks wake up to Win 10 Mobile is a B2B and not a B2C life of disturbed electrons making angry posts will lessen. Entered off my Mac Book Pro... I busy with other stuff on the Win 10 Leveno...

This looks like MS is going in direction of "Serve the class`s not the masses" Every company that has ever in history, that done this has seen slim sales when times get tough. It is one thing to spend that kind of money on your car payment, or rent, house payment. Even for a dyed in the wool Geek. Ms and the consumer both have questionable values!

I got this phone a week after it was released. I love it. Needs improvements... Not the phone... But the builds... Have a few bugs. So can't wait to see the improvements. There no lags and no reboot (as hater says it does) I really don't understand haters... Seriously. Why lie and make up something dumb? Cause an galaxy s7 is crap... Had it for two weeks... And it keeps freezing up... Love the camera on a GS7.. but the freezing gotta go! Anyways... I'm satisfied with my purchase of this Alcatel idol 4s windows. It neat! Amazing how windows upgrade compared before windows 10 mobile... 😃

This is a great phone...I only wish T-Mobile had service where I live in rural NC. I know that they don't because before the Idol 4s, I bought an Alcatel Fierce XL Windows phone, knowing that they didn't even have service anywhere near where I live. But I do travel a lot & it was nice to have. The Idol 4S has an excellent display & the speaker volume is good enough for me. At 64, I can't hear quite as well as I used to. I wish this phone was available in cdma mode....and also wish cdma carriers were interested in Windows phones. There isn't much gsm coverage around here. I've been with a carrier for over 20 years and they refuse to carry any Windows phones. I would love to have the Idol 4s as my only phone. Having three carriers to do what one should do is getting old....

I'm looking at buying this device; I know Win10M is about as dead as dead can be today but like one guy that bought the HP Elite x3; I can live with apps but I have a couple of questions; one is T-Mobile LTE and what happened to Band 2. I remember using their LTE service on Band 2 where I live; I was tickled pink that we got it, but when I returned to T-Mobile from Straight Talk; I'm getting EDGE now except in cities like it use to be prior to LTE being turned on everywhere; we didn't have it, we got it, and its like we've returned the old days and I don't understand what they did. I thought EDGE on band 2 was being replaced with LTE. I'm aware it's on band 12 but I don't have a new phone; I'm using the HTC One M8 Windows, HTC One M7 Android. So that leads me to the Alcatel Idol 4S that was originally sold by T-Mobile. Do we know beyond a shadow of a doubt that phone will run on band 12 where there was no service prior to extended LTE and VoLTE? I don't want to buy a device that's dead out in the boonies like mine currently is with T-Mobile. and Mint MVNO. Thanks!

A bit late to the party I know but I just ordered this phone from the Canadian Windows store for $249(CDN) inc the VR headset. I've been dabbling with a 650DS for the last year or so as a second device, trying to decide what OS to go for to replace BB10 that I absolutely love. Windows 10 Phone is a pretty decent OS and so much more logical and comfortable to use than Android, it's a shame it didn't break into the market anymore than it has, just like BB10. This phone is currently a bargain and I'm really looking forward to getting it in a couple of days :D
Windows Central Newsletter
Get the best of Windows Central in in your inbox, every day!
Thank you for signing up to Windows Central. You will receive a verification email shortly.
There was a problem. Please refresh the page and try again.