Windows 10 Mobile build 14393.448 rolling out to the public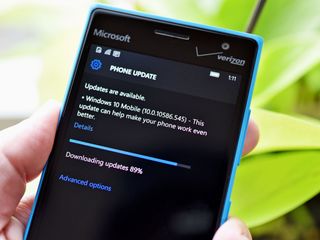 Microsoft has just rolled out a new public update for Windows 10 Mobile, bringing the build version up to 14393.448. This update features mostly bug fixes and under the hood improvements, rather than any new features as this update is a cumulative update.
Here's what's changed:
Improved the reliability of multimedia audio, Remote Desktop, and Internet Explorer 11.
Addressed issue that prevents users from connecting to a virtual private network (VPN).
Addressed issue with a scheduled task that doesn't run in Task Scheduler after reenabling.
Addressed issue to update the Access Point Name (APN) database.
Addressed issue with Japanese characters that are missing when converted by the Input Method Editor.
Addressed issue with the system tray showing no Wi-Fi connection even when Wi-Fi is present.
Addressed issue with Windows devices that disconnect from the Internet prematurely before users can complete their paid Wi-Fi purchase.
Addressed issue to update the new Belarusian ruble symbol to Br and the new ISO 4217 code to BYN.
Addressed additional issues with multimedia, Windows kernel, packaging release management, authentication, Microsoft Edge, Internet Explorer 11, Remote Desktop, Active Directory, wireless networking, Windows shell, graphics, enterprise security, and Microsoft HoloLens.
Security updates to Boot Manager, Windows operating system, kernel-mode drivers, Microsoft Edge, Internet Explorer 11, Microsoft Virtual Hard Drive, Common Log File System driver, Microsoft Video Control, Common Log File System driver, Windows authentication methods, Windows File Manager, and the Microsoft Graphics Component.
Now you know what's updated, make sure you get today's update downloaded on your phone! It should be available for all users outside of the Insider Program, and those in the Release Preview ring too.
Windows Central Newsletter
Get the best of Windows Central in in your inbox, every day!
Zac Bowden is a Senior Editor at Windows Central. Bringing you exclusive coverage into the world of Windows on PCs, tablets, phones, and more. Also an avid collector of rare Microsoft prototype devices! Keep in touch on Twitter: @zacbowden.
Waiting to download now :)

Unable to install it: Error 0x8018830f

Same here (on release preview) Getting Error 0x8018830f

Same. Release preview. In my case, Lumia 1020.

Same here . Release Preview. Lumia 730 and Lumia 735 Both

Same error. Lumia 950 dual. Tried a reboot, still fails.

I did a soft reset, and now it shows that my phone is up to date, but, it is still on the previous build.

Same Error on my Lumia 640 DS India. Tried searching for the code on the internet, found that it hapened years back too when Nokia released the Lumia Amber update back then. Still, could not find any reliable solution.

I am having the same issue.. :(

Go to Settings > Time & Language and add a new Language (may be EN-UK or EN-IN if EN-US is what you have). Restart and check for updates and install. Should go forward.

Didn't add a language but changed the region. It worked. Preparing to install now. Thanks.
Edit: It showed an error again. Tried switching to production but it says not connected to internet.

I had same error.
Here's what i did. First of all stop insider build permanently by going in setting>update & security>windows insider programme your phone will require a restart. retart your phone. now your phone will be non-insider so you will be able to download this update without any error. just check for updates. i have lumia 730 . its installing right now on my L730. Try it out. PS - it will require 1.24 GB of space so make sure you have enough space. :)

And it's done. phone works smoothly. So far so good

This worked for me, thanks

Same error 0x8018830f on my 950XL when trying to install 14393.448​. I'm on the Insider programme Release preview. I tried to optout of the preview but my phone does not comply to restart efter opting out. Any suggestions?

Try to make about 1.5GB free space in phone storage..though, only hard reset worked for me.

My phone has now updated correctly. Waiting for a couple of hours eventually opting out of the indsider programme voudl be done. When out of the insider the update 448 installed flawless and quick. And now I'm back in the insider programme again.

Opted out from Preview, installation worked. L925

One number difference from the pc version...wonder why

My best guess is that they did some additional fixes. Possibly they didn't have the mobile update ready by the time the November Update rolled out.

"Public," huh? They seem to be skipping Release Preview a little too often nowadays.

Release ring is normal use before major updates.. Not minor

You are not correct. Release preview is for the current branch patches and updates including minor ones. Major updates are tested on insider preview. Also, my release preview device is downloading now.

It is available for release preview as well. Downloading now on my 950.

It does not have to always go to Release Preview ring first and then Production ring. It depends on the changes. In software development verification there is a concept called "Impact Analysis" where you see whether the changes done have high or low risk and whether they impact other components and potentially cause a regression. If confidence is high, they can push it to Production and Release Preview at the same time.

This change log isn't for desktops?

Windows is Windows. One core, one changelog.

So where is IE11 on mobile that's getting the listed fixes?

We have it. It's being used its engine instead of edge in every legacy app accessing the web (not UWP) for compatibility reasons.

Phone's updating... Will have it installed when I wake up. Goodnight everyone! ;)

Anybody having problems with this seemingly small update? Download's quick, preparing is quick, then error with "Retry" button on my L640.

Makes complete sense do downvote that question, yes...

I have the same problem :(

Same error here. Can't install it

Had the same error, tried it again and it went through.

I've tried about 5 times already!

OK, maybe they've not "opened" it for L640 yet. There are posts on Microsofts Answers suggestion that's a reason for this error. I've tried rebooting and soft resetting, and still won't install. Maybe it'll be solved in time...

same problem on my L950 xl

"Have you tried turning it off and on again?" :D

Hopefully, they'll find a solution. I've tried about 5 times since morning..and even tried clearing space by deleting apps, and also did a soft reset..but no use..the same error flashes everytime!

Solution: Switched from Release Preview ring to Production => everything went smooth afterwards

Wasn't that the case with the previous update too...?

For me on production ring, the update is not even found....

Maybe you need to wait for some time

Didn't help me as it doesn't find update on production

Switched to production from release preview and checked for updates... It said your phone is up to date!

couldn't move out of the RP ring. it says "not connected to the internet". tried soft reset, no use. finally did a hard reset, and then again entered the RP ring..now it's installing on my 730

Me too. Other susers are reporting the same. 640 XL here

Yes, downvote me for reporting the problem. Fckn fanbois

Ya, but mine didn't prepare... It just went ahead an restarted.... Then an error message

Its back to prepare to install 17%

Same here, error 0x8018830f. Lumia 830, RP ring, US region.

Maybe it's an issue for RP ring

Yes, me too. the error code is 0x8018830f. my phone is 950 xl

Is it recommended to do a hard reset after installing this, and similar, updates?

No. Soft reset is ok. Only if you encounter serious issues.

Of course not. Do you enjoy hard resetting every month?

it's not a matter of enjoyment but a matter of system performance. Rather than working on a patched system it might be better to reinstall th full release from the ROM. I'm assuming these updates flash the ROM as well.

Generally no, but you may find it working better after hard reset after 6-7 consecutive updates.

And the main thing I expect Is ' to get rid from slow charging error(some Lumia users facing this) '

yeah it is called the calender app and cortana reminders...

What do u mean? Those two apps are the reason for slow charging?

there was a comment asking about reminder app but i don't see it anymore

That slow charging error on my 640 drives me nuts many times. Its gotten less these days. Anyway, can't install this update even. Throws an error.

Change charge settings or use trouble shooting

Internet Explorer 11? How can I launch it on my mobile?

Not on Mobile. That part if for the pc side

Screen tearing and screen blinking bug still persists in LUMIA 830

My Lumia 638 had the same problem but I have a temporary work around..
I just adjusted the brightness profiles Low to zero and mid to zero. now I am using mid and the problem gone. You can find it in Settings Extras display.

Sorry, how can I do this please explain it to me? :O

I've had this since I first updated to w10 mobile

Yep can confirm this too. Don't wanna bust anyone's bubble, but I don't think this is ever gonna get fixed...

Havin issues to install, after "preparing to install". =[

Is this the "unified update platform" update?

My phone's proximity sensor doesn't work properly since it came back from the servicing centre. No update fixed it yet.

sounds like it's fisically broken

Updated to Lumia 950 U.K C.V - hope this fixes random reboot issues.

It won't. Your battery is busted. The only way to "fix" the random reboot issue is to get a new battery. This is now a common issue for the majority of Lumia 950 XLs out there (check my post hitory here).

Improved the reliability of Internet Explorer 11?

L950XL retail, unlocked, finland. Downloaded, installed, soft resetted, booted.. Now comes the experience.

I'm not going to reset my phone.... I'll delete the update...

Why do you have to reset?

I got an error message saying i should

oh wow, ok. Never seen that before. I am on the spinning gears now. all good so far...

Do a soft reset...not a hard reset. Soft reset doesn't loose any info, data or settings.

SoftReset does not delete anything! Just press vol down and power for the phone to shutdown. Keep pressing and release only power when ms logo is on the screen. Wait for ! Mark and then release vol down... Angry birds Epic seems to run better now.. Typing also is a bit more fluent and responsive..

Soft reset didn't work for me..still getting error installing it.

VPN still not working after update on 950XL

Same here wtf it's been 4 updates that's 4 MONTHS and no fix ! Seriously hating Microsoft now.

My VPN works.. Using L2TP with cert against Synology NAS device.

I was waiting for that Belarusian ruble symbol to Br fix, that was high on my list. :(

Downloaded and installed just fine on my 950XL. Got warm but then cooled off once it was done. Seems to be working fine at this point.

Same error ppl have been reporting here, Lumia 930. Funny thing is phone backup hangs at 1/3 of the way... Dunno if related.

I hope this fixes the issue with the Lumia 950XL home screen not showing up when unlocking the phone. I hate having to restart my phone just to see the lock screen background. Everything is normally just black...

The release more look like they are for PC not Mobile

Lumia 950 xl updated smoothly :)

The list of fixes seems to be applicable to PC, rather than Mobile...

It is applicable to both.

Call recording for old Lumias is what we need.L640 here

The update is available for insider in "slow ring" too of course ;-)

It bricked my Lumia 930. :( First time that's happened in a long time. Not sure what happened but it seems like I might be one of the only ones that it happened to.

Here is my trick for the ICON. If your phone gets really hot during the update this could be the issue. I use a cold pack - one of those plastic things you put in a lunch box. I put my phone on it whenever i do any updates and they always work. I have woken up to the update cycling and the then I get the battery symbol or the gear spinning and the reboot loop. I go to the fridge - grab the cold pack - and then let it go. It has never failed me. I always take my phone out of the case and place it right on the coldpack. The more direct surface contact the better.

My 730 too. It downloads, but can't install.

Updated fine on my Release Preview 950. But the changelog looks like a PC version....

Oh boy! Almost the same issue with the previous update that was released on the Production ring (The previous updates wasn't available on the Release Preview for a while). It's fixed on my side by switching back to the Production ring. Yeesh.

Yep... Update successful!

Update installed fine on my L640 this afternoon. Chicagoland - if that matters.

Updated just fine on my L640. :))))

Can't install this build on my 640 XL release preview. I got a error message 0x8018830f

Getting 14393.551 on release preview right now... Lumia 640...Ok, it turns out to be .351. Running behind since I changed my wifi to channel 13, the L640 often does not connect. No problem on my 950xl. Now updating to .448.

What is the point of these update my phone is still buggy.

My phone got stuck on "Goodbye". After a few minutes, I decided to hold down the power-button until it buzzed. The install finished fine. :)

Cannot say I noticed any improvement except words recommendation got a little better.

3rd part vpn apps like hotspot etc do not work still

Update went fine on 640XL, release preview ring.

Updated easily and didn't take long. I haven't noticed any difference yet. L830.

950 stuck on MS logo, hope I dont have to hard reset!!!

I am not in the insider program. Do I need to be on the Release Preview ring to get this?

950xl DS unlocked update successful this morning. So far so good everything working as usual. And battery usage was great today. Battery isn't hot and haven't had to restart.

Hopefully fixes Bluetooth issues. Takes forever to connect sometimes. And sometimes won't allow music initially and have to restart.

Still quiet hours cannot use as edit through breaklist as useless as it gone to zero contact automatically.

Apps loading faster especially Store app :D -Lumia 640DS

Got it. Feels faster, working great 950

Seems faster. Some apps finally work again and their live tiles and notifications. Really loving this update.

All working fine in my lumia //830

Update went fine on my L930 except it stripped my breakthrough list from twenty contacts to two contacts

As always since anniversary update no updates offered to BLU Win HD LTE. But as I see the problems mentioned above it seems that this is luck

My Verizon Icon went flawless, a good day!

Lumia 950xl ds. It says installing updates and runs into 0x8018830f error. I tried three times but in vain. Any ideas?

Same on 730. Some say you need more free space, but I couldn't get it installed even after freeing space. Some say, if you are in release preview ring, you need to go to the production ring, and reboot your device, and manually check for the update again.

Still no VPN fix this is frustrating it's a basic feature and very much needed yet they improve IE11 because people need something to joke about ,and Belarusian ruble fix. my life is finally complete !!

I have the same issue still

Running great on Lumia 730 as of now. No stuttering and better multi tasking......

Installed without issues on my 950XL.

Why is it that every time it fails to update with that error we have to download it from beginning! Doesn't microsoft have a folder to temporarily store the update until installation is complete!? It's a small update but what worries me is the bigger updates that can go wrong too. I'm on 640 xl.

I got error on first try.but after free up some phone memory it installed successfully.

How much space is required? I had 1.2GB free space, but it failed.

You'll need a lot more than that

to users facing error trying to update on release preview ring, leave the insiders and join production , reboot and manually check fo rupdates once again

Can't leave the ring. It says I'm not connected to the internet

Getting error on L550. Can't stop insider preview, so to get public build. "Connect to the internet" error is coming even though internet is connected & phone is getting notifications from every app.

People having issues with the update please try updating while charging even if the battery is full. This worked for me.. Lumia 950DS

I am having the same problem with my 950

I have faced same issue in L550, failed twice then got the build, wasted lot of data...

I have the same problem.. Getting the error and then cannot leave the Insider Program to try the fix.

Running with no problem on my lumia 430

These CUs have a false sense of faster working, but opening apps still has a slight lag. There's nothing wrong with the OS updates to get it working optimally but I believe that we should've heard from MS by now a strong word about switching over from 32 -> 64bit. Whenever we view the rival's OSes they have a seemless feel on opening apps and OS tasks. Where Windows 10 Mobile is right now is acceptable but most if not all users still want a snappier UI feel. Let's hope we read more about the possibility of RS2/Creators Update being 64bit when released.

Add me to the pain in the arse 0x8018830f issue. 950xl also pre-release ring,, switching to production to try. Really hope their new update method currently on fast gets past this crap...just don't dare switch my primary phone to it yet

I updated just fine but now I have this annoying grey bar where the time and cell connection is shown. Can't figure out how to get rid of it Lumia 640xl

Samsung should update the Ativ se to windows 10 and breath new life in the phone because not much users on it so its cheap to upgrade it and it wont explode like some other phones

Finally got it installed, after trying for about 22 hours, it is finally installing on my phone.
1. Could not opt out of the insider program (some of the users said it will allow the installation. but it kept showing error 0x8018830f)
2. Tried soft reset..and that did not prove to be a solution either.
3. Performed a hard reset, and entered the RP ring once again. then after about 10 minutes, checked for updates, downloaded the update file, and ta-da! It is getting installed!
May work out differently for different users though. But I can conclude one thing, this mainly depends on the amount of free space on your phone. I got about 3.5GB free space after resetting my phone. (already had 1.2GB free space)
Hope this helps someone!

My 950XL has shown up-to-date on the last two or three builds. Anybody know the reason?

Huge battery draining issue after this update...

did not get update for Intenet explorer 11...

Not sure if it was this version or a previous update but I've just noticed I can swipe left to delete text messages now similar to the outlook client. dont seem to be able to customise that though

It was there for a looooooooooong tym

Working well here on my 950xl, very smooth.

Funny, I was having problem with store last night and I did a soft reset. I did not see this upgrade until today. It installed fine on my L640.

I have faced problem after download nd I'm downloading 5/6 tyms but same problem Plz help MS!
*There were some problems installing updates, but we'll try again later. If you keep seeing this and want to search the web or contact support for information, this may help: (0x8018830f)

I have faced problem nd I'm download 5/6 tyms but sane problem Plz help MS!
*There were some problems installing updates, but we'll try again later. If you keep seeing this and want to search the web or contact support for information, this may help: (0x8018830f)

Just saw this article and checked my AT&T 950 and saw that update was availible upon restart. Couldn't wait but was a tiny bit curious if it would have infact updated tonight (I always plug in at night for this purpose). Not on Insider Preview anymore to buggy for me. I had to use Windows Recovery Tool to wipe and re-install. Very happy though. I love UI. Side... I schedule service from Toyota dealership website on my phone. Was very please successfully book service. At the end the website provide ics. That download and created event in my Outlook calendar with all the details. Glorious!!!!!

The update on my 640 downloaded with no issue BUT after using my phone it froze up twice- 15 minutes apart. First time while adjusting the app/media volume slider on the screen and once again while on Twitter. Each time I had to remove the battery to reset the phone. After this the phone has worked perfectly including using Caledos Runner to track my morning run while listening to music via Groove.

Running like a champ on my Lumia 950. Installed itself overnight without any issues. I think I am beginning to like this method of updating the phone. Auto download and auto install in the night.

Yeah same here, aaand... No reboots or turning off so far.. Battery life could be improved though

Updated my Lumia 950 XL and got a black screen of dearh saying "windows failed to start...." Windows recovery tool worked the third time, been trying to restore from backup like four times now but each time I end up with a system without any Start Screen. Stupid update that has litteally bombed my system back to factory default settings. Right now I am waitiing for like 106 apps to update and download. What did they think when they sent this update out? Apps are not downloading and my start screen is not accesble. I just see a bunch of apps listed as pending. What a great system....

sorry for your issues. can't understand why so many people with same device model are having so many issues with installations. Take IOS, those updates are sent out to about 3/4 iphone models and same ipods,ipads and those I believe go smoothly. So ? is why do we MS users have such problems with our devices. MS should've gone 64bit a while ago. MS needs to find a way that those installing RS2 will have a seemless flawless install and not have these stupid bugs.

i have same issue on mobile and desktop. no mater what everytime i install a patch or update even if i install it on the same hardware and on the same system with the same software window s10 seems to pick and chose randomly what will and wont work. Even restore from image on the windows phone has only 1 time out of say 30ish given me a working windows and thats since 8.1 days. Theres definattly some sort of serious issue people seem to have side steped in the last few years. luckly thers no big updates lately. I do wish i coukld control updates cause i thingk its the worst its ever been and id love it to work but if it doesnt give us back control.

Just updated my L1520 (two year old phone STILL getting updates!) went smoothly and I now notice that my three email accounts I have on my start screen are now showing individual emails on the live tiles, cool!

Y is this public release soo buggy?

Impressed, 950 XL installed without a hiccup. Unplug about 05:30 and here now at 15:00hrs 75% battery left...

What was your daily usage

is gestures speakerphone built into touch yet. Its been 2 years since this feature worked on my lumia 930 on windows 8.1 so really want it on mobile 10. Theres no excuse at this stage not to do it microsft.

448 installed on my 640XL but problems followed. Phone directory was wiped out. Many apps needed to be updated from the store. Outlook.com email was overlayed with my gmail emails. Outlook.com account was gone. Double tap to shutdown display does not work. Apps are not shutting down, need to use 'hold down the back arrow' to show and exit apps.Screens are quite different - new learning experience. This is what I have found so far.

error 0x8018830f on installing

This update regresses the bug that blanks the screen after making a phone call. Hence you can't end the call because the screen is blank and unresponsive. This was fixed in the previous update and now it's back. WTF MS engineers and testers! My neighbour can do better job than these bunch of so called professionals. I'm using 950xl.

If you get 0x8018830f, which I did..completely unenroll from the inside program and restart when prompted, check for updates on wifi and it will download the full 1,2 gig operating system and then it will install normally..this worked for me anyway

Ok! I was an insider! But I want to be an non insider now. But how? The Microsoft process is not working! I mean I already done what Microsoft mentioned to become an non insider in their website. Now I'm checking for updates. But it says that the device is updated! Help me. Please

There is blue writting on the insider part on your phone which says "completely unenroll from Windows insider program". Click on that and reboot when prompted, when check for updates over wifi again..

The vpn still doesn't work, come on msft, we want you to fix it now.

Already updated on my lumia 540
nice

It doesn't solve my problem...in my lumia 640xl when many notification comes the statusbar icons of my phone disappear...like my singnal icons & battery the total row disappears...i have reset my phone many times but the problem stays...so plz fix this problem as soons as u can

Got it on my lumia 1520
enormous battery life improvement

I love how Microsoft expects us to wrangle ourselves to an update every so often. Un-enroll from this, roll back to that, hold this in while raising your left leg above your right ear, put an ice pack on your phone because it's the one getting hot under the collar. The only reason we do all these things, and they expect us to, is because we love our OS...sometimes. Amen?

After install can't enroll back to Insider Preview. I get "Connect to the internet" message. (I am connected) or when sometimes I can confirm enrollment but the phone won't restart and nothing happens.

Wow! Came to see if anyone noticed any changes with new build and all I am seeing is folks unable to install the update :( Anyway update went well for my L730 (non-insider)

Still didn't work for me on my l650.

I have already tried several times....although it downloads the update...there is some error while trying to install it....lumia 640xl.
Any suggestions..?

Either opt out from the RP ring, or free some space, and try again. Nothing worked for me, so I had to hard reset, and I entered RP ring once again, and then updated the SW

Perhaps might be a silly question, but how do I use internet explorer 11 on phone? Is it possible or I just have edge?

AT&T 950 updated 14393.448 installed... very smooth. Have used maps till this week... WOW it's awesome GPS and gorgeous UI.

I came back to my Lumia 640 after about a year away with an Android phone, I left because the maps sucked. The new maps app is amazing, I like the way it displays and the info it gives much better than Google Maps. I'm shocked also that we now have actual street names given in the voice. The entire WP10 system seems much better than last time I used my 640, which was just when WP10 first came out, I didn't like it at all and went back to my Motorola Moto X P.E.

Can't install on 950 and 950xl! Help!

Smooth upgrade on 650 (Production) and 550 (Release Preview).

Power saver mode isn't working properly..

640 LTE DS in HKG, I would like to know any different with previous version!? ALL bugs still remains, calendar and mail still have problem, one drive still crash, camera apps still NO what you see what get.

For anyone that has the 0x8018830f problem. I found a solution to the problem. 1. Start the Update. 2. Immediately go turn off insider release preview program.(by that I mean completely leave. Don't just put it off for a few days.) 3. Do not restart, go back and you'll see the update finishing. It also might help to turn off device encryption. But I don't know if that helped me or not. Good luck guys!

i have never run apk in window phone using astoria project. now i want to do. can i run apk in this os version(14393.448)

Successfully done on Lumia1020

Im getting the error message with my 640xl. Cant opt out of preview builds either. Getting sick of this.

I am on Release Preview ring build 14393.351 but I am not getting 14393.448. Plz help me
Windows Central Newsletter
Thank you for signing up to Windows Central. You will receive a verification email shortly.
There was a problem. Please refresh the page and try again.