FLAC support will also come to Windows 10 for phones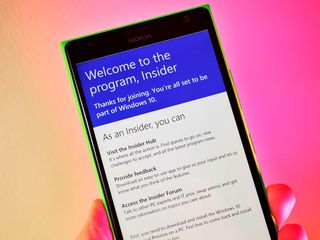 While we already knew that Windows 10 would be bringing native access to lossless audio in the form of FLAC support, Microsoft's Joe Belfiore took to Twitter today to confirm that support for FLAC files will come to Windows Phones as well.
Belfiore says:
The addition of native FLAC support in Windows 10 for both desktops and phones is great news for audiophiles who have historically had to rely on outside codecs or programs, such as VLC, to play the files on their machines.
Thanks, Yahia, for the tip!
Source: Joe Belfiore on Twitter
Windows Central Newsletter
Get the best of Windows Central in in your inbox, every day!
Dan Thorp-Lancaster is the former Editor-in-Chief of Windows Central. He began working with Windows Central, Android Central, and iMore as a news writer in 2014 and is obsessed with tech of all sorts. You can follow Dan on Twitter @DthorpL and Instagram @heyitsdtl.
Arrrghhh ! Those few months are killing me :(

Can we get some new banking apps too?

I think that depends on the developers for the Bank right?

It's a sarcasm I think. Related to those banks which pull their support for customer who using Windows Phone.

Waiting for Daniel's remark..

Just because you said that, he won't post. And because I said that he will. And because I said THAT he won't LOL

Pretty cool since a couple of my music sources routinely distribute FLAC files. I'm just waiting on a new UI for Media Player on Xbox. What happened to getting Ford Sync-like capabilities in Xbox? The processing power and recognition is there!

Ya all see that "insider" graphic, right? Tic, tic,..

How do I get that insider app?

Here you go TRay: http://www.windowsphone.com/s?appId=ed2b1421-6414-4544-bd8d-06d58ee402a5

So the dev preview app isn't necessary anymore?

Maybe once ten is out. But they'll probably still have a dev preview.

dev preview is a finished os, insider preview is a beta/alpha

You guys know what I'm sayin.

This is a very important distinction. With Developer Preview, you're getting access to finished bits without having to wait around for your carrier to approve them. Win Insider Preview, you're getting unfinished bits that very well might break your phone. You'll need a much higher tolerance for pain to enjoy the latter. The fact that there's no way to reflash my One M8 is making me slightly regret it. I'll have to do all my W10 testing on my retired L920 since, if things go south, I can always put that one back to scratch.

Have you already installed W10 on the M8 or are you referring to the Dev Preview? If you are referring to the Dev Preview does HTC not have a rollback tool similar to the Nokia Software Recovery Tool?

No, I don't dare install Dev Preview. I'm running stock. In any event, the One M8 has W8.1u1, so there's not much (any?) reason to bother yet. But I will definitely not be putting W10 on there because, when things go wrong (and they're supposed to, that's the point!) I have no way of backing out. That didn't occur to me before I bought my phone. I've been so used to just being able to flash my phone back to stock that playing around with the OS never worried me too much.

YES. 'Course, now we'll need a phone with some serious audio hardware in it. Perhaps a Lumia/Cowon mashup?

No Lumia 1530 with dual Wolfson 8741 chips. Fiio X5 is far better than anything Cowon have ever made.

I'd love it if Microsoft put some serious emphasis on audio in at least one of their phones. Nobody else does, as far as I know. Differentiation!

Would be great to have some extremely deep bass with great audio hardware, get the best out of my audiotechnica headphones

I know, right? Even if it's Beats-branded (thankfully not too likely now that Apple owns them--a match made in heaven), just give me some good DACs and amps with serious power!

I've emailed Nadella urging them to buy Quobuz HQ flac streaming service asap and incorporate with Xbox music, before someone else does!

Or Wimp, which has a much catchier name. :)

I think there is, xperia z3 from what I remember, but not that serious

JetEffects for WP 10 would be sweet!

I have an old Cowon J3 that I use for my commute and it sounds great with all my equipment. Cowon make some good stuff, irrelevant of what some people say. I'd like to see Opus support in W10 as well as FLAC.

I've had a cowon j3 also, it was better than any phone etc a few years ago... but present day Fiio x5, Astell & Kern AK series (ak100,120,240) as well as Cayin N6 etc are accepted as being significant improvement over cowon products these days regardless of what some people say. See www.head-fi.org for more info :)

"It is accepted that the new Porsche is a better car than the Toyota Prius. Check over at richpeoplescars.com for more Info." Dude, 8 gb and 10 hrs battery for ~600$ (Cayin N6, quick goo.. - binging.) Not everyones priority lies solely on the last 0,25% Sound Quality.

I miss my Nokia xpress music

Nice one Microsoft! Keep them coming.

Good news for those who use this kind of thing.

Well, I guess no more flac over that

Had to sign in just to approve this comment. *golf clap*

This is the kind of comment I expect on Reddit or Imgur.

Yeah, 'tis quite a departure from the typical let's-complain-about-pulled-banking-apps-in-threads-that-have-nothing-to-do-with-banking-apps comments that are so plentiful around here.

Well, I guess they wont take any more flac over that

Yay...need a 128GB microSD for my Nokia Lumia 1520 thought

flac is great, but you bring up a valid point. My 64Gb uSD is 50% filled with mp3s. Replace these with flacs I have and boom...

I'll use Spotify for most of the music and FLAC-files for the 'flavor of the month' tracks. :)

Pair your Lumia 1520 with a Cayin C5 portable amp, and of necessary use a separate DAC.

I already have a Fiio E11 and ATH-M50

You should def give a Cayin C5 a demo, I had a fiio E17 and the C5 rings around the E17 & E12. C5 is awesome. Powers my Mrspeakers Alpha Primes with ease, and sounds very impressive for a portable :)

Yup. This really makes me hope the next flagship has 64GB storage options and/or SD card support. My phone is already half full with just AACs on it, let alone if I tried to replace those with FLAC.

Would be awesome to have the option for FLAC in xbox music

It would actually get me to use it on my Surface if it ends up with it.

Look up Quobuz music streaming service (it's French). May be what you're looking for.

Dsd support next 2 years maybe?

Getting better and better (British accent l)

Almost, almost! (British accent in family guy episode... Hilarious!)

Not every Brit speaks like that lol, I guess some of you have been watching toooooo much downton abbey.......

Usb to go support for external DAC would be awesome

Lumia 1520 > fiio x5 (dac) > Cayin C5 or Audio-GD NFB15 > Mrspeakers *Alpha Prime* headphones.... ....Perfect!!

Kind of hard to believe this wouldn't happen when the OS and app are going to be the same.

True. Then again, it kinda reveals how much separate customization/work each version still needs - coming to desktop soon, mobile version "in a few months". :) or :(

This is terrific news for me.. Long have I been wishing for native FLAC support. All hail superior audio!!!

Great news! I hate having to convert my music files!

Won't have any benefit at all if the files are already in a lossy format.

I think he means he hates having to convert his FLAC files into a lossy format.

Well finally.. But why a few months? I use VLC tho :P

Windows X will be a beast! This is good news.

Wow it never occurred to me how X (in roman numerals) instead of 10 is so much more badass... C'mon Microsoft :'( sell it to us!!

Apple already beat them to that one with OS X. I personally would prefer them to keep the Arabic numerals. Posted via my HTC One (M7)

Joe needs to take to why ask the bank apps are leaving WP and pay them or whatever needs to be done to keep them

They could help make the transition from xp less troublesome

I think that's why Windows 10 will be free for Windows 8 &7 users. They are hoping for a large Windows 10 base, for which people will write universal apps for.

That's exactly what will happen. You'll see. Developers won't be able to pass a user base that big up. If I'm wrong, Microsoft as a company will be gone by 2020.

Huh? What will they become then?

Even if they get people to upgrade to Windows 10, which won't be easy for Windows 7 users, they will still need to get them to use the app store. If the current quality of apps doesn't improve greatly in the next few months, there will be no reason to use it. Basically, all the current apps are straight garbage. I have not found any worth the time when you have a full web browser and x86 support.

Maybe you haven't looked far enough, there are alot of decent apps in the store.

Don't know if its just me but I don't hear a difference between FLAC and lossless 320kbps mp3 file. Also FLAC files are much bigger so I would need much more storage on phone.

Check out Wikipedia. Ps. Drop a few thousand on a HQ HiFi system and you'll notice.

now you tell me how you do that on a phone

MoliPlayer maybe or FLAC player? Check the Store please.

Oh, I'm using WCentral app so I don't know who you were referring to. Pardon me. Cheers!

Batabole said he didn't hear a difference. I hold him to use a HiFi system. I didn't say anything about a phone. Pretty much the only way you'll be able to tell

and he was referring to phones here, maybe you can bypass the phone's subpar quality audio internals using a Bluetooth set with better DACs and audio cpu, but I mostly hear complaints about bt not having enough bandwidth, so maybe a pair of wifi headphones with an asus xonar would do

It's you or maybe your equipment

Lossless 320kbps mp3? Hmmm...

Well guys we are taking about phones here. I believe FLAC support means new hardware. Software update won't bring us noticeable changes.

Get copy of a song, one is flac other is mp3, play it with the highest volume possible, now you'll notice that mp3 files will distort in high volumes compared to the flac files. Daft Punks album is a great sample especially the newest one.

Mpr 320kbps is not near lossless. It's a big loss.
Listen for example Metallica st.anger with mp3 and flac on high volume. Carefully listen to those metalic sounds (like metalic drums whatever they are) and you should hear the diffrence.
You can use your phone as a player conected to your pre-amp DAC, wich is connected to amp.
This is not for listening with budget headphones or poor speakers.

So I need to carefully listen to very loud music on very expensive equipment to tell the difference? Seems like 99% of the population wouldn't hear a difference.

No you dont need to do that just to hear the difference.You dont also need the most expensive "audiophile" equipment because even if you have a crappy headphone or speaker, properly mastered flac/lossless music files will make your gear sound better because it has a lot more information thats why flac/lossless sizes are enourmous and even if you put it in high volume it wont distort the sound that much and you will hear more detail than mp3 files, take the Daft Punk's "Random Access Memories" for example.

Mp3 files no matter the bitrate only encode the sounds you're most likely to hear. Imagine trying to hear someone talk over a lawnmower. Mp3 = only hearing the lawnmower. FLAC = lawnmower plus the person talking.

I'm banking on Windows 10

Won't be banking on Windows 10 if the trend of banks pulling out of WP continues... ba-dum-zing!

I am banking on banking apps coming to Windows 10.

Forwarding to TidalHiFi so they can get into an app for us.

What about ALAC? Almost my entire iTunes collection is encoded in Apple Lossless and I'm not really enjoying the idea of converting it all to something else.

You can convert but, you're right, it is a pain. It's why I buy only in FLAC which is universal vs. the Apple proprietary standard.

ALAC actually went open source back in 2011. But FLAC, tmk, still has the edge as far as overall hardware support. Except for Apple devices, of course. :)

Yeah, I've just bitten the bullet and converted to FLAC.

Lol, Apple is hilarious. They like to make sure everything is a pain for the user.

Haha true. I bend my iPod nano 7(before it was cool) because of this.

It's almost like they're listening......

They obviously are... haven't you seen everything they've been doing?

Not really, they only gave a spare of their attention on WP, most of it is in win10 PC version(and hololens I think) cause its a bigger priority right now

Windows insider app doesn't allow me to login,always it shows user name or password is incorrect

That's what you should expect, unless of course you are a Microsoft employee.

now get me a 128gb internal memory

That'd be lovely, but I'd settle for 64GB+128GB SD card.

What about Wifi-direct ? Usb HID/OTG ? Manual/static ip config ? ...

Static IP is present in WP 8.1.1

Yes , but it's limited to some Lumia. I have the latest denim firmware update and still no static IP on my 920.

But Android supports flac and ogg too came the support to the lossless formats late but it would be good an native support of those in Windows 10 I have lot, of flac that it's a nuisance convert in MP3 for listen it , I don't use formats that doesn't be universal I have an iPod classic but don't use the Sorenson codecs for get my music converted and later don't be able to playback in other non apple system.

I would love some OGG support, I have a TON of music in OGG from before i bought my Zune.

How about aptX ??? Any news on that ?

I've already got aptx on my 1520

Do you know some really good bluetooth headphones with aptx for Lumia 1520? o.o Or somebody knows xD

See www.head-fi.org you'll get loads of advice! HTH :)

Now all I need is line-out over USB!

Need BOTH mini coaxial out and line out!

I'm really excited for W10!

Hey, for those smoothly running win10 preview, what hardware are you using??

I'm using a mbp, the most recent build works really well. Though I'm annoyed there is no touch screen.

Surface Pro 3, Lenovo ThinkStation i5, IBM ThinkPad (XP vintage) and a Hyper-V VM. Running fine on all.

E6600 Core 2 Duo, Radeon 5750, 8 GB Ram on a Gigabyte 965P-DS3.
Don't laugh!
It's very outdated but I have an Xbox One for gaming so it more than meets my needs for PC games of its time. I also use it for Playstation and Nintendo/SuperNES/N64 emulation.
I partitioned my hard drive and left 100 GB for Windows 10. About 60 GB free currently. It runs very well still.

Asus Rog g751 , works perfectly. :)

I wonder do they pay for these codecs, can we get some support for apk files too hint hint lol

Sandisk, Adata, Kingstone please realease 256GB micro SD!!!!!!!!!!!!!!!!! My FLAC discography is 170+GB!!!!!!!!!!!!!!!!! T_T

i think most lumia's support max 128gb

So high-quality lossless audio tracks that end with a quick snippit of the next track then a click?

BOA and Chase will come back soon after the numbers start rolling like a slot machine. Lol

Hope Album Cover will supported too!

It just kills me sometime how they can develop and implement these things for the desktop and still be testing for phones and tablets. What's the justification for this?

Finally. I hope they also give their attention to hardware that makes good sound quality, my WP sounds really horrible compare to iPhone etc. No wonder why WPs dont sell that much because you can't enjoy these little things users love, Music and Sound Quality, I'd rather have a windows phone made by Sony or Apple over what MSFT offers if they only made one

My 8X sounds great honestly :) I'll be hanging onto it for awhile as an audio player once I get something to upgrade to. I mainly got it for the sound quality and unfortunately the camera "somewhat" let me down (front facing camera is wide angle but creates an odd look... stretched a little). I won't be able to hold much on just 16GB but I'm excited nonetheless.

Haha,what I meant are the Lumia Phones, Htc have better hardwares though and yes camera is also my problem on my htc one.

I misunderstood, but you did mention MSFT as the manufacturer so it was just me completely missing it LOL That's the exact reason I skipped buying the One. So disappointed in HTC's camera's so far. Pretty sure I'm going Lumia next time.

Interactive live tiles plz!!!

That's right. We need more format support.

well, flac isn't really useful without a good dac

YAY!!! "High Definition" audio support.

Now we need new established standard developed by Meridian audio. The MQA, but it's not free...

Now, please add playlist-format-support aswell, like .m3u and .wpl for example. I don't even understand how these basic functions doesn't exist as of yet - it's 2015....

Yeah how about gapless playback now? kills the pink floyd albums

Microsoft should make sure that windows 10 is truly one OS by ensuring that both OS share almost same functionality. ​ ​ ​ ​ ​ ​

W10 mobile is still the same as wp 8.1 though, just a few features added. I second your idea, Win10 should beat the android in terms of functionality and versatility.

now we need .avi support for video

The biggest problem is as I see, that on desktop platform o,e can play flac by wmp but one can not rip music to this format. Hopefully it will change in the final edition of Windows 10
Windows Central Newsletter
Thank you for signing up to Windows Central. You will receive a verification email shortly.
There was a problem. Please refresh the page and try again.