Flipboard adds Windows 10 Live Tile support in latest update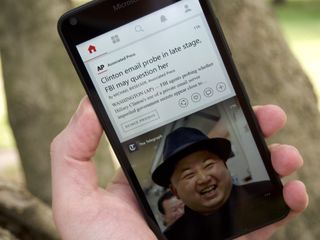 The popular news reader Flipboard recently updated its app for Windows platforms, adding support for Live Tiles in Windows 10 among other new features.
Here's the breakdown of what's new in Flipboard:
Now use Google+ SSO to sign into your Flipboard account on Windows 10 devices—we'll log you in with all your preferences so you have everything you've already saved ready for you to enjoy.
Get the latest stories right on your home screen with Flipboard's Live Tile now compatible with Windows 10.
Never miss the day's stories from Flipboard with push notifications now available.
Bug fixes and performance improvements.
Download Flipboard from the Windows Store (opens in new tab)
I don't understand the tile is live to begin with?

No, it was dead. The tile just showed the logo. And now, god knows how long after launch, they're adding the Live Tile.

The live tile always worked for me on Win 10 (desktop & mobile too). Posted with the Windows Central app for Windows 10 on HP 250 G1 notebook. It is a scary old monster, I think :D

It worked for me... not... had awkward pictures on the tile. I had fitness tips on Flipboard and so for three days the tile got stuck. I had to explain for those three days why there was some lightly clad dude on my start screen. Also randomly there would be some lady on there too. Thanks Flipboard! Posted from Windows Central

Posted with the IBM ThinkPad desktop pc running Windows 95 SP2.

does flipboard for windows flips now? Last time I checked, it did not flip....

No, and it will never flip, windows phone algorithms Posted from windows central for windows 10 mobile

WP APIs have nothing to do with it. It's simply how Flipboard chose to develop the app.

Does it actually flip now?

I just downloaded it yesterday, but I think I got the old version, because no live tile.

Flipboard...without the flip

It's just Board on Windows. -- Lumia 640 (Windows 10)

Ha that's good Posted from Windows Central

Trying now after long time in windows phone... I know it doesn't flip but it used to have dark theme!?!?!

Why do people keep asking if it flips now? They've already stated that it will never flip and it was a conscious decision on their part

Why do people keep asking if it flips now? They've already stated that it will never flip and it was a conscious decision on their part

Heard you the first time.

Oh gee I thought you may have missed it. Just making sure /s

On windows, it's live tile board not flip board

On windows, it's live tile board not flip bored

Flipboard needs to make an Universal App, this one is poor and slow

So they should make it from scratch then. If they copy current app to universal it would be same poor and slow

Kim Jong-un thinks Hillary's corruption is funny.

Can everybody chill with the 'flip'..? I learned that word had some negative connotations and I'd rather not O.o

Flipboard is one of my favorite apps on my phone. I still use 8.1 and Flipboard sure could use a decent update on 8.1. How about a cache clearing option in the settings for starters? Also, the point of Flipboard is to 'flip' the content and not to scroll. LOL. I use Flipboard on my laptop (W10) and it's awesome.

Can't manage you feed order or mange your own mags

The app is still useless to me, because you can't Share to Flipboard from Windows 10 Mobile. You can browse your magazines, but you can't add to them with a native Share option (which did exist in the 8.1 version.) A Flipboard rep told me there were no plans to support that functionality on Win 10 Mobile. Maybe I will become a power user again when Edge gets bookmarklet or extension support that allows me to back into the API that way. Disappointing.

The feature works on the PC app. I bet they'll add support. Those reps never know what they're doing.

Until I can change the font size it isn't very useful for me.

still doesn't flip. what a buch of idiots.

Nice app. Can substitute FB, Insta, U tube, G+, Linkdin, SoundCloud and lots more. Its an all in one app. Love it !! All social media and news in one app :)
Windows Central Newsletter
Get the best of Windows Central in in your inbox, every day!
Thank you for signing up to Windows Central. You will receive a verification email shortly.
There was a problem. Please refresh the page and try again.