Former Office leader returns to Microsoft to head up corporate strategy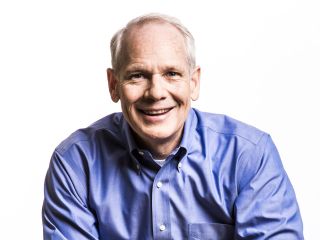 Kurt DelBene, the former VP of Microsoft's Office division who left the company in late 2013, is returning to Microsoft to be the company's new vice president of Corporate Strategy and Planning. He will report directly to Microsoft CEO Satya Nadella.
DelBene left Microsoft in December 2013 to help improve the US government's Healthcare.gov website under an appointment by President Barack Obama. Before returning to Microsoft, he also served as a partner at the Madrona Venture Group, an investment organization that helps to fund technology startups in the Pacific Northwest.
Microsoft said:
DelBene worked at Microsoft for 21 years before he left in 2013. He was the leader of the Office division from 2010 to 2013 where he helped to launch the company's Office 365 subscription service.
Source: Microsoft (opens in new tab)
Don't know that I would want the health care website on my résumé...

He was specifically hired to resolve the issues that plagued the site when it launched. Seeing how it improved while he was there, it's really not that bad to list. lol

His resume actually says 'Made healthcare.org not suck hard.'

Learn how to read, he fixed it not fuck it up...now go stand in the corner!

Learn some manners and be more decent.
With that mouth perhaps you should go stand in the corner. That is after you are done with the soap in your mouth.

Microsoft should go for here maps. But they say its expensive

Eeeh it's not immediate and simple like you can think.. :(

They'll only end of sacking most of the employees, focusing on the android and ios versions and adding hamburgers to the WP version, so probably best if they dont. :)

Definitely. They need the data and turn by turn built into their native apps.

But the maps data are already now part of the Windows Phone (since WP8)!

Here maps stink. That's why they had to add Bing map data in Win10. They do need a GPS app though.

Here is any day better than bing maps. It depends how well they market with windows 10. This may lead to growth growth of bing search too.

Try going to Japan or Korea with here maps. You'll be throwing your here maps down the toilet and wishing you had installed Win10 with Bing maps.

@asshish Yeah, that isn't really true

It is not Bing maps' data. That data is used in Win 10 by default is Here's...also, get your info right...Bing data comes from Here...

Clearly, you're the one that needs to get the facts rich. Here's an article for your enjoyment. http://wmpoweruser.com/japanese-and-korean-maps-much-improved-in-windows...

Here maps/drive etc are integrated into Bing maps for Win10 ..WC posted a demo video of it last week.

Go to bing maps and look in the lower right hand corner. What to see? You notice the Nokia 2015 copyright? It's there because bing uses the navtaq data from nokia.

Obviously Bing maps has multiple sources of data. Otherwise, how would you explain the fact that Here maps is missing the roads in Japan yet Bing maps does have the roads and transit info which is included in Win10?

Nokia spent all Ms gave them on their MWC stand this year hahahahaha
Don't give one cent more to Nokia, Microsoft, after the NokiaX blackmail (and how they tricked wp developers) they only deserve to die.

They tricked MS...? Don't kid mate...MS was lucky they had a partner as dedicated as Nokia (even though they had money pumped in for the exclusivity).
And what choice did Nokia have but to give up on WP and its phone division...? Their phones are their legacy so it was a difficult decision for them.
Look at lumias now. We've barely grown by 1.5 million phones since the acquisition. Can't blame Nokia for saving themselves from bankruptcy.
Anyway..i feel for a greater reason, it was a good thing MS completed the acquisition. There is no way their platform would have taken off without pumping in a solid amount of money.

Depends on the eventual strategy they undertake under his watch

Office 2013 UI is soo bad, I hope it will improves a lot in the next version.

Notice all the ????. It's because no one knows what the hell you atalking about. The Office UI has made finding functions a lot easier than the old menu driver UI with embedded folders.

I know what he's talking about. It sucks. It's a drab, dreary smear across the screen no matter which program you're using.

So this guy Was part of that failed website!
Or was he the guy brought in to clean Obama's mess?

TMFA says improve WTF
It's still a mess. Move on!

Probably realized it's not just the website that's a mess.

Some rough memory of the very near past and or a web search should help you with when the gov web site lauched vs when Dec 2013 was.

Actually he was brought in because of his wife. His wife is the US Rep for 1st district, Wa who is a big Obama supporter. They are multi-millionaires (estimated $80-$130 million net worth) who have had fundraisers at their home, where other multi-millionaires and multi-billionaires (such as the founder of Costco) got together with Obama to talk about how evil rich people are all while ignoring their own wealth. If he were not a big Dem supporter and she was not his wife, would he have received his position of trying to "fix" the healthcare website?

First on his table would be to fix the mobile division...or just get out.

They seem to think they're doing all right, with all their new ios and droid fans....

Cool cool. Cool cool cool. All the best wishes to him and Microsoft.

Who's in charge of consumer strategy? Please let me know so I can slap him!

I wonder if this is really a good idea. Not trying to get very political, but the healthcare website was a pretty huge fail.

Great, now bring J. Allard back to Xbox.

I had to buy insurance a few months ago through my broker, and I was pretty worried. The site might have been a big fail when it first went up a couple years back, but it clearly got fixed. We went on the site and I'm telling you, it was easy, I saved money, the site process worked smoothly, and the whole experience was done in less than a half hour. So if this fellow had anything to do with fixing it, he did one heckuva job.

What Microsoft says his new job entails is the epitome of gobbledy-gook corporate-speak.

Still shocks me how so many people have such attention spans that they only read the first sentence or so of an article and then head directly to post their "Educated Opinion" in the comments. This great thinker helped launch one of the best things Microsoft has ever given us (Office 365). He left Microsoft to FIX the failed Healthcare.gov website because they needed a superhero to get their act together. He is now back and I for one (or as many) am pretty excited to see where his oversight and direct access to the CEO will take us.
Windows Central Newsletter
Thank you for signing up to Windows Central. You will receive a verification email shortly.
There was a problem. Please refresh the page and try again.