Interview: Microsoft and Fortumo team up to offer mobile payments to developers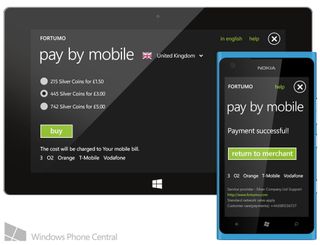 While everyone here has played a game or used an app that offers some kind of in-app-purchase (IAP), most of us probably don't give the mobile payment systems that work behind the scenes much thought. And yet developers certainly have to consider mobile payment systems if they're going to accept payments from users.
At GDC last week, we had the opportunity to speak with Rain Rannu, the Co-Founder of Fortumo Ltd. Fortumo provides mobile payment services for Windows Phone 7.5 and 8, Windows 8 and RT, and several other mobile platforms. They've recently teamed up with Microsoft to offer an exciting deal for developers who sign up to use Fortumo with their Windows products by the end of May.
Head past the break for more details and our video interview!
Mobile payments made easy
Fortumo describes itself as the single most developer-friendly mobile payments provider. Basically, the company allows developers to sign up for its service, integrate their API into the platform of their choice (Windows Phone, Windows 8, Android, Nook, HTML5, etc. – everyone but iOS), and start accepting mobile payments without expending much time or energy. Fortumo receives a percentage from each IAP, but otherwise there are no setup or monthly fees to worry about.
The Fortumo service adds carrier billing (as opposed to credit card billing) to games and apps and works in over 80 countries. Because credit cards aren't very common in countries like Brazil and Japan, carrier billing removes that barrier towards accepting payments. Even if the purchase is being made from something other than a mobile device, it can still be billed to the user's mobile carrier.
For an individual developer, manually setting up carrier billing in every country they want to sell their app in would be prohibitively difficult to do. But integrate Fortumo and it's all taken care of for you.
Special offer for Windows Phone and Windows 8 developers
Microsoft and Fortumo really want Windows Phone and Windows 8 developers to embrace the Fortumo mobile payment system. For that reason, any developer who signs up and integrates in-app payments for Microsoft's mobile platforms between now and May 31st, 2013 will receive free payment processing for six months. Neither Microsoft nor Fortumo will take any cut from the in-app purchases during this time – only the phone carriers themselves get a cut. Find out more about this offer at Fortumo.com/windows8.
Game developers and the future of Fortumo on Windows Phone
Rain Rannu of Fortumo
Fortumo's payment services have only become available on Windows Phone and Windows 8 within the last couple of months, and as such we haven't seen any Windows Phone games that use the service yet. But several are in the works, so it's only a matter of time.
A few game and app developers who already use Fortumo for their IAPs on Android other platforms:
Alawar (Farm Frenzy), Badoo (social and dating site), Digital Chocolate (Tower Bloxx New York), Rovio (Angry Birds and Amazing Alex), Facebook, PopCap (Plants vs. Zombies and Bejeweled), Vostu (Brazilian social games), and Zeptolab (Cut the Rope).
Update
We've had some confusion about how Fortumo can handle IAPs on Windows Phone 7.5. So here is the company's official response:
Paul Acevedo is the Games Editor at Windows Central. A lifelong gamer, he has written about videogames for over 15 years and reviewed over 350 games for our site. Follow him on Twitter @PaulRAcevedo. Don't hate. Appreciate!
Being a developer, that sounds cool..

Where the hell is instagraph anyway

You won't find it in artcles about Fortumo, that's for sure. :P

Its coming, stay tuned on wpcentral ;)

Good. Thank you for answering, Venetasoft. But when? And why has it taken sooo long?

By the way - I think you can improve the design of the app a bit, for example by using the Instagram font for the logo: http://myfonts.us/td-ER1Ewn

Just a suggestion! :)

I would laugh if Microsoft or Nokia released an 'official' app with Instagram's permission before you released instagraph.

No more instagraph.........go home, dude

This article says "Fortumo provides mobile payment services for Windows Phone 7.5" but their website says nothing of the sort. Typo?

They definitely told me it works for 7.5 - just listen to the interview.

I'm also wondering how could they provide mobile payments for 7.x. I was given the understanding that 7.x doesn't support in-app purchases.

Here's Fortumo's answer, which I am adding to the story:

Fortumo supports in-app payments for WP7.5. If WP7.5 didn't technically support in-app purchases on that platform before then our solution is totally separate and brings the capability.

Basically it's very simple, if you see a "metro interface"/"the tiles" on a windows computer or device then we're supported :)

Why isn't Microsoft doing in house IAP payments like a certain fruit based company?

This is great and natural way to be billed on a mobile phone app...in India most of ppl dont have credit cards, the success of Nokia and symbian in India is because local developers have tied up with carriers and ppl can download .jar games off carriers mobile site... WP doesnt support it as off now...and unfortunately this article wont help as Furtomo doesnt have India in its 73 countries list...

I have no need for this, but it's a neat addition.
Windows Central Newsletter
Get the best of Windows Central in in your inbox, every day!
Thank you for signing up to Windows Central. You will receive a verification email shortly.
There was a problem. Please refresh the page and try again.