Fujitsu IS12T pricing revealed--it ain't cheap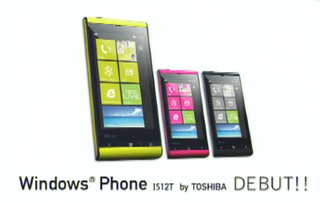 Even though Microsoft is reportedly shooting for that low-end price range, eventually, with Windows Phone, the Fujitsu IS12T won't be the phone to do it. In fact quite the opposite.
Pricing for the phone in various contexts i.e. out of contract, in contract, etc. have been revealed on the website for KDDI-AU, the carrier launching the device. From NanaPho who was kind enough to do the math for us:
IS12T New retail price $958
IS12T MNP retail price $753
IS12T New price with 2-year contract $458
IS12T MNP price with 2-year contract $252
(USD/JPY = 76.715)
(MNP price is for NTT docomo and Softbank users who want to switch to KDDI)
Yowsers that's a lot, even for a waterproofed, brightly colored, 32GB, 13MP camera phone running Mango. So far, this is the only announced device for Japan, so a lot is riding on it for success. While it's nice to have a flagship high-end phone, we're hoping that some other companies can bring some more mid-range offerings to Nipppon for competitions sake.
Source: Official AU Blog; via NanaPho
Windows Central Newsletter
Get the best of Windows Central in in your inbox, every day!
Daniel Rubino is the Editor-in-chief of Windows Central, head reviewer, podcast co-host, and analyst. He has been covering Microsoft since 2007 when this site was called WMExperts (and later Windows Phone Central). His interests include Windows, laptops, next-gen computing, and for some reason, watches. Before all this tech stuff, he worked on a Ph.D. in linguistics, watched people sleep (for medical purposes!), and ran the projectors at movie theaters because it was fun.
That's iLevels of pricing...

From what I've seen in the past at cell phone stores in Japan, the price is pretty much in line with other offerings, and in some cases, cheaper than other phones.

Holy _______ Mc _____ with a side of _______.

Doing a conversion to US dollars and claiming the price is high isnt really indicative of whether its expensive or not, much more relevant to compare to other devices in that country/region. This headline is only going to be picked up and quoted mindlessly by WP7 haters everywhere.

I totally agree. This is actually considered a mid-priced phone in Japan. I've seen feature phones (with One-Seg [free mobile TV]) in Japan go for more than this. Plus, cell phones are part of everyday fashion in Japan. I know lots of people in Japan who go through two phones in a year just because their fashions change and they want whatever reflects their current style.

Especially since the current exchange rates make Yen-priced items really expensive in a straight conversion to dollars right now.

Japan's cell phone market is vastly different than other countries'. Many people buy phones to match their fashion and style, not when they desperately need one or are finished with their contract. Therefore, the cell phone companies over there can demand these kinds of prices because a) people will buy them, and b) the device market is more competitive.

Uh no the mobile market is vastly different because for years now (over 10?) more Japanese have used their phones more than their computers. So while Europe and America are just becoming cultures that are highly dependent on phones (ie, not just for texting and calling), it's been like that for a while in Japan now, and thus creating ugly, boring phones like the vast majority of phones aimed at the US and Europe (actually, I'm not entirely sure of the European market) just won't sell. Plus, there is a lot more competition between the big three in Japan (AU, Docomo, and Softbank) than in other countries, where there always seems to be one company that has a majority. I remember switching from a Docomo phone to an AU phone, and with the money off my switch. (About 100$ gain, plus a better phone)

is that going to be available in the U.S. at a regular price...like $200?I want one only because it's waterproof...great to have while vacationing on a tropical island. ;-)

Phones that are released in Japan rarely see the light of day overseas. I wish, though!

Some do (like the Casio G'z on Verizon) but they get pitifully lower specs than their Japanese counterparts

Just for contrast the pricing for an iPhone4 in Japan (with Softbank) can be found here: http://mb.softbank.jp/mb/iphone_en/price_plan/standard_price_plan/A 32Gb iPhone4 with 2 year contract effectively costs the user $750 using the same 76.715 Yen per Dollar rate used above! Expensive? Not in that market :)

Exaaactly! It's all about the market, folks!

I don't think it's expensive for what you get. 32GB of storage. 13MP camera. Waterproof design which is really attractive and useful in my opinion. I hope we see phones of this caliber in the United States.

Wow, readers and commenters of WPCentral are winning right now. I got so tired of defending the pricing over at WMPowerusers. Combined with the poor journalism and comment wars over at that site, WPCentral is now my undisputed home for Windows Phone news. Plus their WP7 app is awesome. :D

oh there are some pendejos here too.

omg, wmpoweruser. I remember when they had this tool 'expert' write an editorial bashing WP7 and Nokia, and at the end of the day, all he was mad about was that he wasn't getting free phones. It was ridiculous. I'm all up for being self-critical and not blinded by fanboyism, but why feature someone that thrashes your platform of choice with nothing but unwarranted criticism and BS?

I guess that rules out buying one there and importing it to use in the States.

Haha. Good look selling WP7 if this is your price plan this fall. 13 MP is USELESS if you don't couple it with good optics and a larger sensor. For $900 I expect a crop-frame dSLR sensor. Waterproof ... right ... yeah ... that is ... "important". Other than that, this phone reeks of old hardware just like all the other WP7/Mango phones. You have to do better than this! Do you think Apple and the Android OEMs are gonna take a nap this fall?

do you even realize that the market in Japan is different than it is here in the US? do u also realize that WP doesn't need top of the line specs to provide a great user experience? and finally do u realize that the iPhone 4 in Japan costs more ON CONTRACT than this phone does ON CONTRACT? I guess u don't since u had the nerve to post such an ignorant post like this. it has troll written all over it.

...and suddenly, high range offerings became mid range...because of marketing... Is people really that stupid? I can't accept any smartphone priced at 500 euros as a mid range offering...
Windows Central Newsletter
Thank you for signing up to Windows Central. You will receive a verification email shortly.
There was a problem. Please refresh the page and try again.