The Full Skinny on Microsoft My Phone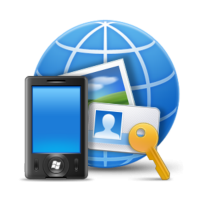 No, it's not the full skinny on my phone, it's the fully skinny on Microsoft's new My Phone service (we promise not to make that sad joke ever again). It was accidentally revealed and then copped-to by Microsoft, they are now laying out the full details on the service, which you can pre-register for here.
In essence, My Phone simply is a backup service with a side of over-the-web management for the following:
Contact, Calendar, and Tasks (with caveats)
Text Messages
Photos
Videos
Music
Documents
In detail, of course, there's quite a bit more to tell, which we do, after the break!
My Phone is going to begin life as an invite-only Beta with a wider release later on. It essentially consists of two parts — an app that runs locally on your phone and a web service that can be found at www.windowsmobile.com/myphone.
Setup is about as simple as you can get — install it on your phone, sign up, get backed up. Once you do, you're able to log into the website and manage your stuff. The site itself is pretty simple and straightfoward, as you can see here:
Now, a word on what My Phone can (and can't) back up. E-mail: No. Microsoft assumes that you've got your e-mail backup up on your e-mail server (you probably do), so there's no support for it in My Phone. The same applies to ALL PIM data for Exchange users — Microsoft figures that if you're using Exchange, your data is safe and sound on the Exchange server. It's a bummer, but not necessarily a deal-breaker.
My Phone can also back up most types of documents. It keeps an eye on your My Documents folder for those.
The overall limit is 200MB (though there may be a for-pay premium service with more space down the line). It's also currently in an invite-only technical preview, so if you're hoping to sign up, you're going to need to wait for an invite.
In addition to backing up your app, My Phone also lets you manage your information over the Web from its My Phone portal. You can, for example, add a contact to be synced back to your phone
One of the neat features of My Phone is that it's aware of the location of your various bits of data. For example: You can back up a photo to My Phone and then go to the web interface and set it to be web-only. When you do, the photo will stay just on the server and remove itself from your phone, freeing up space. If you want it back, just change its location status and it will be synced back over.
You can sync multiple phones to a My Phone account — there's no limit, really. That feature could be a godsend to lucky people (including me) who need to switch between various Windows Mobile phones and don't want to have to worry about whether a given document or photo was on your phone.
That, friends, is My Phone in a nutshell. You may have noticed the features we didn't mention. We didn't mention sharing your photos from My Phone out to your friends and family from the My Phone site. We didn't mention any sort of integration with Microsoft's Live services, neither Hotmail nor Live Spaces nor Live, well, anything. We didn't mention the ability to publicly publish your photos or documents on the web. In short, there are a lot of features that My Phone is missing.
Here's to hoping that two things happen and happen quickly. First, that My Phone escapes its invite-only status and provides some backup solutions to the masses. Second, that Microsoft finally gets its services picture straight and includes the My Phone picture in it. In the meantime, we're hard pressed to recommend people wait for My Phone when there's Dashwire providing the exact same service. It may be that My Phone can out-perform Dashwire on either performance or in some other way, we'll let you know when we get our invites.
Windows Central Newsletter
Get the best of Windows Central in your inbox, every day!
Phil is the father of two beautiful girls and is the Dad behind Modern Dad. Before that he spent seven years at the helm of Android Central. Before that he spent a decade in a newsroom of a two-time Pulitzer Prize-finalist newspaper. Before that — well, we don't talk much about those days. Subscribe to the Modern Dad newsletter!
What about mesh integration? Let's see... Myphone: phone MS cloud Mesh: phone MS cloud PC(s) looks to me like myphone could benefit from an additional feature of syncing data to a PC...oh...wait a second...that would be mesh...now I'm confused...

So I just installed the Beta, and it's pretty pointless, in my case. I do get my work email via exchange activesync, but I sync the rest of my PIM data to my personal computer at home via USB. Not especially surprising, but because my phone is associated with an Exchange server, My Phone refuses to sync any of my PIM data. Disappointing for me, but probably not too many people are in my boat. On the other hand, all my media (music and pictures) are on an external mini SD card, which is also not synced to My Phone by default. So what's left? Only my text messages get synced to the cloud! Hmm, uh, ok, thanks. That's not at all useful!

This is why we need a straight up linux phone, you could do all the above with scripts in the background with out the need to buy any software. This is basic shit were talking about here and the only service they are offering is webspace, which 200megs is worth nothing, tops $2/month. sftp all your stuff, infact I'm surprised no one in the OS community has written an sftp for windows mobile. ddns services and put it on your home computer. I wouldn't be surprised if google comes out with something along these lines. Wait they did. And its free. Its called google.com. Microsoft has really gone down hill. Google's interfaces not only backs up your stuff you can access it from your phone, home work. Kinda disappointed thought MyPhone would be some sort of Zune phone to fight iphone.

I used Microsoft my phone and my HTC HD died! I sent it to HTC for repair and they said my phone has been hacked and it needs a main board at $365.00.
It worked great at first but, one night I left the program running when I went to bed and the next morning my phone won't turn on.

I have the HTC HD2 and this saved my life. I lost all my contact information on my computer and on my phone. Microsoft MyPhone was the only thing that recovered my cell. THANK YOU!

For some of those who lose weight, losing weight means you can not eat enough to pay for their own things, can not just eating junk food, can not eat one day casual breakfast, lunch and dinner there. This life can be a very painful thing, when you can not do what you want to do the hell kind of heart is simply a man insane. But I think we can be so distressed after, and the birth of a new weight loss drugs, and he allows us to easily lose weight without dieting, my friends, what do you still hesitate to hurry to start our new Life!

Digital photo frames are common in 7 inch (17.8 cm) to 20 inch (50.8 cm) sizes.Digital Photo Frame Some digital photo frames can only display JPEG pictures. Most digital photo frames display the photos as a slideshow and usually with an adjustable time interval.Hiphone They may also be able send photos to a printer. Digital photo frames typically display the pictures directly from a camera's memory card, though certain frames also provide internal memory storage. Some allow users to upload pictures to the frame's memory via a USB connection, wirelessly via bluetooth technology. Few are able to send photos with cellular connectivity.car monitor Some frames allow photos to be shared from a frame to another.