GameStop posts $488 million loss for last quarter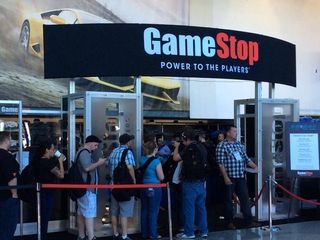 Every year, publishers reveal figures on physical and digital game sales. While in 2013 physical sales were going strong, digital sales have slowly taken over and now account for a massive chunk of the market. In many cases, certain developers — like those behind Earthfall — are releasing cheaper digital copies on platforms like the the Microsoft Store. It's hard to deny that there is a massive shift.
While digital stores are thriving, companies like GameStop aren't doing so well. According to a report by Game Rant, GameStop "reported a loss of $488 million in the third quarter of 2018 despite solid growth from hardware sales and accessories."
While the gaming industry is booming, it seems like pre-owned games aren't at all. The report stated that GameStop said there was a 13.4 percent decline in pre-owned sales. This might be due to the fact that a lot of gamers are buying digital copies that can't be traded. However, it might also be due to the fact that gamers are unsatisfied with the discounts GameStop offers on used items. No specific reason was given during the earnings call.
GameStop has recently ventured into publishing games and selling collectibles to increase profits, but game sales are still its bread and butter. We'll have to see what the future holds, but this trajectory is definitely not good for the company. Do you buy games from GameStop? Do you preorder physical or digital formats? Let us know.
Keep an eye on WindowsCentral.com/Gaming for all the latest in Xbox and Windows 10 gaming, accessories, news, and reviews!
Asher Madan handles gaming news for Windows Central. Before joining Windows Central in 2017, Asher worked for a number of different gaming outlets. He has a background in medical science and is passionate about all forms of entertainment, cooking, and antiquing.
GameStop offers nothing I cannot get at another store. In my town, there is a retro gaming store almost across the street and a Walmart in the same parking lot as GameStop. There is almost no incentive to go into GameStop over other options. In terms of hardware, I was able to get everything I wanted from Walmart or Amazon. NES Classic, SNES Classic, and Switch were all purchased on day one from Walmart and I got the Xbox One X from Amazon. I have fiber from AT&T now and with massive Day One patches, the disc is just a glorified DRM dongle now. I'd rather just purchase the digital edition and not deal with keeping the disc. I can download the games faster than it takes me to drive the five miles to the nearest GameStop, which would still result in a massive download anyway.

I forgot about that. Discs are useless now in the days of patches as big as games.

And people thought MS was crazy about thinking of making a disc driveless console this shows everything is going all digital it may have been premature before but next Gen would be the time to do it.

I never thought it was and even had no problems with the always connected Xbox. People who use social media nonstop got in a tizzy by the ultra conspiracy tribe who said that Microsoft will snoop on us. Now look at us, we have Alexa in microwaves/dots, always connected pcs, and Kinect is abandoned.

It's no surprise. I haven't set foot in a GameStop in years. If I was going to buy a physical copy of a game, it's easier and often cheaper for me to buy it online and have it sent to me. Now that I have unlimited internet with no data caps, I've jumped on the digital bandwagon though. I don't think I've ever sold a used copy of a game to GameStop either. They give you so little for them then turn around and charge almost new prices and it's pure profit for them. Not to mention the developers never see a single cent of that sale. Not that the developers are hurting, but if you're going to buy the game anyway, they deserve that support. I understand GameStop is a business and have to make money and I'm essentially "paying" for the convenience of not having to find a buyer myself, but their methodology and business practices are pretty shady in my opinion. Not to mention all the horror stories you hear from current and former employees.

They should do that Steam style. They still have a chance to do that. But like Blockbuster they will probably disappear

I had moved to digital copies and preorders only a while back mostly due to GameStop. I got tired of feeling sad when they would offer a few dollars for a game and then I would see what they were selling said game for used, it's honestly offensive so there is no brand loyalty.

The magazines are garbage and I really don't like going to a store anymore.

Here in Denmark they are mostly selling at double price or at least 20 dollars over others, even their second hand is pricey.
If you want to be in the game, you have to be competitive.

I buy lots of physical games, but the last time I buy from GameStop is last year, and not a game (cappy hat from Mario).
The reason? I could either buy game much cheaper, or get better pre-order bonus from other retailer. GameStop needs to have some kind of discount or good pre-order bonus otherwise I really can't support.

I buy new from Amazon and used from gamestop. I like having a physical collection. Unlike digital when I trade up a system I still have its legacy nice and neat. I also love buying used games. 65 for a new game as opposed to 50? I'll take the lower price please. I do hope Gamestop can find a way to over turn this unfortunate trend in sales.

Craigslist killed GameStop.

ABOUT DAMN TIME. People mocked microsoft for trying to go all digital, and now this MFCKER who was an instrument to fanboys outrage is GOING DOWN. I havent bought anything from this store since the birth of Steam PC gaming early 2000. If i wanted used games then, I would go on Ebay, but I mostly bought games new and over digital. its time for gaming discs to go away just like music, movies, and books. all need to go digital.

I don't miss going into Gamestop… as this was what I was experiencing :
(1) pushy cashiers trying to sell me 4 different types of ProCard
(2) seeing Used Games for $55 , that they paid the owner $12 for
(3) children screaming

It's funny how some are drawing conclusion from this. Some are trying to say that it's time for an all digital future. But this is not really proof.
Games are much cheaper in places like Amazon. This could just be that more and more people buy their product on internet. Right now we have option. Those who like physical can buy physical. Those who prefer digital buy digital. Everybody wins.
What I find amazing is that some people wants an option for the consumer to disappear.
This is like saying "I never use BC, so I don't want it in any system".
It's madness. For me all this looks like just another way of "supporting the policies of a certain company" even if it maybe anti-consumer and only benefits that "certain company". Oh and another thing. I personally wouldn't crap on gamestop. These type of retailers helped video game grow and become mainstream. It's sad news for gaming and the people working there...

Well, when they buy thousands of copies of the same games, then mark them up 3x, and then no one wants to buy those copies... of course they have an inventory problem. They should have begun to get out of the physical game 5 years ago and invested in a way to stream games. Now its too late cause Microsoft and Sony are knee deep in their efforts

GameStop's main problem is the incredibly low offer they give people who are trading games in and the incredibly small discounts that exist on the used games vs the new games. I can't tell you how many times I'll go into GameStop to buy a used game and there it sits at only $5 cheaper than the $60 new version. There is no point. I end up going and getting my 20% discount at best buy with gamers club. If there was a actual discount, I would willingly go buy a used game vs spending more for new or digital.
In addition, I always trade in physical games to them but ONLY when they are doing the "??% more for trade ins" promotions because they actually give you a fair amount. Make those amounts the standard and you'll see things come around. Taking a slightly smaller profit margin for a much much larger market share always succeeds more than the alternative.

I haven't been to Gamestop in a while. I bought an Xbox One X recently and went there to get some games. It's not too bad, but I haven't gamed in a long long time, so I got games that are old and most people have probably already played.
Windows Central Newsletter
Thank you for signing up to Windows Central. You will receive a verification email shortly.
There was a problem. Please refresh the page and try again.