Destiny 2 finally nerfs Heart of Inmost Light, its best Titan Exotic
The game's most overpowered Exotic finally got hit, but it could still be a top choice.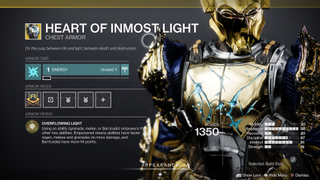 (Image credit: Future)
What you need to know
Destiny 2 developer Bungie has announced that when the new Lightfall expansion releases on February 28, the patch will include big nerfs to the Heart of Inmost Light Exotic.
This Exotic chest armor for Titan allows players to spam abilities rapidly, especially if they have high-stat armor that further reduces their cooldowns.
The armor has been a dominant meta pick in PvE for a full year now, with few other Exotics challenging its position.
Since few other Titan Exotics are strong in common situations, Heart of Inmost Light may remain a top pick even after the nerfs.
---
If you asked an experienced Destiny 2 player what the most overpowered piece of Exotic armor in the game is, there's a very good chance they'd say it's the Heart of Inmost Light Exotic Titan chest. The armor was added way back in 2018 during the Forsaken expansion and generally wasn't very popular, but its place in Destiny 2's PvE metagame soared in 2022 after The Witch Queen DLC overhauled abilities and made them more powerful. As a result, Heart of Inmost Light has been the go-to Exotic for Titan players for an entire year, with only the Lorely Splendor Helm and the Cuirass of the Falling Star standing out as situational alternatives.
The reason why this is the case is because Heart of Inmost Light empowers your other abilities whenever you use one of them, reducing their cooldown and increasing their damage (grenades and melees) or durability (class ability Barricades). This buff lasts for 10 seconds, is refreshed whenever you use another ability, and can stack to x2. Paired with some high-stat armor that further assist the recharge rate of your abilities, the Exotic's high uptime and potent effects allow Titans to spam abilities at a ridiculous rate.
When the new Destiny 2: Lightfall expansion goes live on February 28, though, the Heart of Inmost Light is finally getting the big nerfs everyone knew were coming. Specifically, developer Bungie has announced that the Lightfall patch will reduce the length of the Exotic's empowered buffs from 10 seconds to five, cutting their uptime in half. Additionally, bonus Barricade regen when empowered has been reduced to just +25% per stack of the buff in PvE and PvP. Originally, it was +150% and +38% in PvE and PvP, respectively.
These are some pretty huge nerfs that will definitely reduce the power of the armor piece. However, I'm not convinced that the Heart of Inmost Light still won't remain one of the best Destiny 2 Exotics at the top of the PvE meta. The vast majority of Titan Exotics are either not very strong or too niche to be viable in endgame content, and based on the official Lightfall patch notes, none of them are being buffed up
Perhaps Phoenix Cradle will see some play since Solar 3.0 Titan Sunspots are popular and both Lorely Splendor and Cuirass of the Falling Star are great for survivability on Solar and Thundercrash damage, respectively. Beyond that, why not still just use Heart of Inmost Light? Lightfall's Abeyant Leap Exotic sounds like a good fit for the new Strand subclass, at least, but there are still tons of useless Titan Exotics that need some help.
Ultimately, I don't expect that we'll see a sizable meta shift here. Heart of Inmost Light, even after these nerfs, still sounds like it will be significantly more useful than other options in most situations. We'll see how things play out when the expansion goes live tomorrow, though.
Destiny 2: Lightfall is slated to arrive on February 28 on Xbox Series X|S, Xbox One consoles, Windows PCs, and PlayStation systems. Note that Destiny 2: Lightfall preloads are live now on all platforms if you'd like to install the expansion ahead of its release. New to Destiny and looking for some tips before you jump in? Don't miss our Destiny 2 beginner's guide.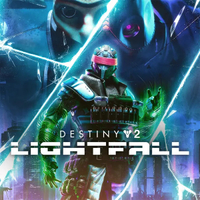 (opens in new tab)
Destiny 2: Lightfall
The upcoming Lightfall expansion takes players to the neon-soaked city of Neomuna on Neptune and pits them against the fearsome Shadow Legion — all while the threat of Darkness Pyramids, The Witness, and his new Disciple Emperor Calus looms overhead.
See at: Microsoft (opens in new tab) | GMG (Steam) (opens in new tab)
Windows Central Newsletter
Get the best of Windows Central in your inbox, every day!
Brendan Lowry is a Windows Central writer and Oakland University graduate with a burning passion for video games, of which he's been an avid fan since childhood. You'll find him doing reviews, editorials, and general coverage on everything Xbox and PC. Follow him on Twitter.