Destiny 2 Lightfall launch time: When you can play, preload, download size, and more
Here's when you'll be able to download and play Destiny 2's latest major expansion.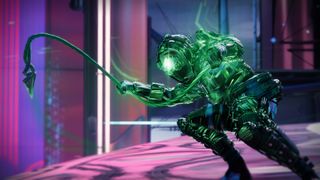 (Image credit: Bungie)
The new Lightfall expansion is only a day away from being available in Destiny 2, and based on everything developer Bungie has shown thus far, it looks like it's going to be one of the most expansive Destiny DLCs ever made. With a brand new location, campaign, and raid to enjoy along with fresh quests, loot to chase, and impressive Strand subclasses, Lightfall is poised to kick off Destiny 2 Year 6 with a bang.
Ahead of Lightfall's launch, Bungie has revealed important details about the planned rollout of the DLC, including when players can play, preload the expansion, what its download size is, and more. In the guide below, we've provided a complete overview of everything you need to know.
What is Destiny 2: Lightfall?
Destiny 2: Lightfall is the seventh major expansion for Destiny 2, and is primarily set on a futuristic Neptunian city called Neomuna. There, its citizens and a pair of nanotech-enhanced humans called Cloud Striders are battling against the forces of both the Vex and the Darkness itself. These include the Tormentors, which are juggernaut shock troops powered by Darkness Pyramid tech that serve the Witness, and the Shadow Legion, a faction of Darkness-worshipping Cabal that serve the Witness' new Disciple, Emperor Calus.
In Lightfall's campaign and questlines, Guardians will travel to Neomuna and help the Cloud Striders repel the invaders with their Light and a new Darkness power called Strand, which is mainly themed around suspending enemies in midair and unraveling enemies at the molecular level. We also know that a paracausal object with ties to the Traveler and its Light known only as "The Veil" will likely play a major role in the DLC's story, as Season 19's finale quest revealed its presence on Neomuna.
The expansion's new raid (advanced six-man cooperative PvE missions) is slated to arrive on March 10, and will likely involve players teaming up to thwart a faction or an individual serving the Darkness and the Witness. The raid's official description is as follows: "Ferried from an unknown time and place, a haunting presence has been detected. We must now confront the ancient threat growing at our doorstep."
Throughout Lightfall, there will be plenty of new loot to chase, including several new Exotic weapons and armor pieces and gear from the DLC's raid, Neomuna's open world space, its Terminal Overload activity, and other sources. Some of these will be earned from random drops, though certain Exotics will have quests attached to them. Season of Defiance (Season 20), the season that launches alongside Lightfall, will also have its own dedicated rewards. Note that the Season Pass for Season of Defiance is included with every copy of Lightfall.
Destiny 2: Lightfall release date and launch time
Like the vast majority of Destiny 2 updates and releases, the Lightfall expansion is scheduled to become available at the game's weekly reset time on Tuesday. Specifically, you'll be able to play Lightfall on February 28, 2023, at 9 a.m. PT / 12 p.m. ET.
Something important to know is that Destiny 2 has been brought offline for maintenance 24 hours before this time on February 27 at 9 a.m. PT / 12 p.m. ET. That means that there's no longer any time to do Destiny 2: Lightfall prep, so we hope you got the gear you wanted!
Due to time zone differences across the globe, Lightfall may release earlier or later in the day depending on your region. In the table below, you can check the DLC's release time in each major time zone.
Swipe to scroll horizontally
| Time zone | Release time |
| --- | --- |
| Pacific Time (PT) | Feb. 28, 9:00 a.m. |
| Mountain Time (MT) | Feb. 28, 10:00 a.m. |
| Central Time (CT) | Feb. 28, 11:00 a.m. |
| Eastern Time (ET) | Feb. 28, 12:00 p.m. |
| Brasilia Time (BRT) | Feb. 28, 1:00 p.m. |
| Universal Time Coordinated (UTC) | Feb. 28, 4:00 p.m. |
| British Summer Time (BST) | Feb. 28, 5:00 p.m. |
| Central European Summer Time (CEST) | Feb. 28, 6:00 p.m. |
| Moscow Time (MSK) | Feb. 28, 7:00 p.m. |
| Gulf Standard Time (GST) | Feb. 28, 8:00 p.m. |
| Indian Standard Time (IST) | Feb. 28, 9:30 p.m. |
| Singapore Standard Time (SNST) | Mar. 1, 12:00 a.m. |
| China Standard Time (CST) | Mar. 1, 12:00 a.m. |
| Japan Standard Time (JST) | Mar. 1, 1:00 a.m. |
| Australian Eastern Standard Time (AEST) | Mar. 1, 3:00 a.m. |
| New Zealand Standard Time (NZST) | Mar. 1, 5:00 a.m. |
Destiny 2: Lightfall download size
While some games have a mostly consistent download size across the platforms you can play them on, this is not the case with Lightfall. Depending on which system you use to enjoy Destiny 2, you may need more or less storage space than other players using other platforms. Thankfully, the developers have announced how much space players on each platform will need to download the expansion, which we've listed in the table below.
Note that in order to preload the DLC ahead of its release, you may need additional space, though this storage won't remain in use once Lightfall launches. This applies to PS4, Steam, and Epic Games Store users. Xbox, PS5, and Microsoft Store players will not require additional storage to preload.
Swipe to scroll horizontally
| Platform | Install size | Required preload space |
| --- | --- | --- |
| Xbox Series X|S | 108.59 GB | 108.59 GB |
| Xbox One | 89.21 GB | 89.21 GB |
| PlayStation 5 | 102.6 GB | 102.6 GB |
| PlayStation 4 | 88.21 GB | 184.64 GB |
| Steam | 102.60 GB | 233.2 GB |
| Epic Games Store | 101.51 GB | 223.3 GB |
| Microsoft Store | 102.13 GB | 102.13 GB |
Destiny 2: Lightfall preload
If you want to jump into the DLC as soon as it comes out, preloading it is a good idea. By doing so, so you can ensure that the expansion is installed before it actually arrives, saving you valuable time on launch day. Preloading is particularly beneficial for players with slow internet speeds, but ultimately, it's something that everyone can, and should, take advantage of.
Preloads for Lightfall are now available on all of Destiny 2's platforma, as the game the game was brought offline for maintenance on February 27 at 9 a.m. PT / 12 p.m. ET. ahead of the expansion's release. Though you aren't able to actually play the game at this time, you can make sure you're ready to go once the servers are back up by preloading.
---
Destiny 2: Lightfall is slated to arrive on February 28 on Xbox Series X|S, Xbox One consoles, Windows PCs, and PlayStation systems. The DLC costs $50 and takes players to Neptune and the city of Neomuna, where they'll face off against Emperor Calus and his powerful Shadow Legion. New to Destiny and looking for some tips before you jump in? Don't miss our Destiny 2 beginner's guide.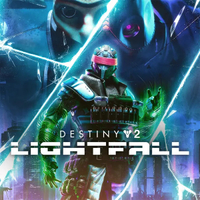 Destiny 2: Lightfall
The upcoming Lightfall expansion takes players to the neon-soaked city of Neomuna on Neptune and pits them against the fearsome Shadow Legion — all while the threat of Darkness Pyramids, The Witness, and his new Disciple Emperor Calus looms overhead.
See at: Microsoft | GMG (Steam)
Get the Windows Central Newsletter
All the latest news, reviews, and guides for Windows and Xbox diehards.
Brendan Lowry is a Windows Central writer and Oakland University graduate with a burning passion for video games, of which he's been an avid fan since childhood. You'll find him doing reviews, editorials, and general coverage on everything Xbox and PC. Follow him on Twitter.