Microsoft makes another cloud-gaming deal for Xbox despite CMA block
A match made in the cloud.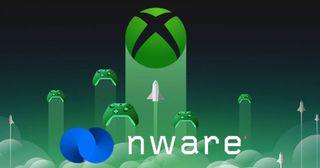 (Image credit: Future)
What you need to know
Microsoft and Nware have signed a 10-year deal to bring Xbox Game Pass to their platform.
The deal is part of Microsoft's strategy to expand its cloud gaming presence despite its setback from the CMA ruling over its Activision Blizzard King (ABK) acquisition.
The announcement from Brad Smith included confirmation that Activision Blizzard games will be included "after the acquisition closes."
---
Despite its knockback earlier this week with the shock result of the CMA ruling, Microsoft is steaming ahead with more 10-year cloud gaming deals and today has announced a further agreement with Nware.

Nware is a European-based cloud gaming platform that has over 10 million subscribers across 15 countries in Europe and offers a library of over 500 games currently. This new 10-year commitment from Microsoft will bring the Xbox Game Pass catalog over to its platform to be used on the Cloud.


Microsoft and European cloud gaming platform Nware have signed a 10-year agreement. Our statement here: pic.twitter.com/GWoSBg63P6April 28, 2023
The tweet from Brad Smith specified that this deal will also include Activision Blizzard games "after the acquisition closes." This is a bold statement considering the ruling from the UK Competition and Markets Authority (CMA). The CMA has moved to block the deal over concerns the deal will negatively impact Microsoft's rivals in cloud gaming. The deals made so far with other competitors have done little to alleviate the CMA's concerns.

Brad Smith's comment is telling and indicates that Microsoft is seeking to push this deal through regardless of the CMA ruling. Microsoft has already taken action to quell concern over any Cloud Gaming competition by offering deals to Nvidia Geoforce, Boosteroid, Nintendo, Ubitus, and even UK cellphone provider EE.
Phil Spencer retweeted the announcement in solidarity with his own statement "We are full speed ahead in our Mission to bring players more ways to play their favorite games."

This deal with Nware is not the first and definitely won't be the last we hear from Microsoft as they try to get more gaming platforms on their side in their attempted acquisition of Activision Blizzard, but time will tell if any of these aid their appeal to the CMA and the anticipated rulings from other regulators around the globe.


Get the Windows Central Newsletter
All the latest news, reviews, and guides for Windows and Xbox diehards.
Jen is a News Writer for Windows Central, focused on all things gaming and Microsoft. Anything slaying monsters with magical weapons will get a thumbs up such as Dark Souls, Dragon Age, Diablo, and Monster Hunter. When not playing games, she'll be watching a horror or trash reality TV show, she hasn't decided which of those categories the Kardashians fit into. You can follow Jen on Twitter @Jenbox360 for more Diablo fangirling and general moaning about British weather.