Not satiated by Activision Blizzard purchase, Xbox wants to buy Nintendo too
Hopefully this time Microsoft doesn't get laughed out of the room for wanting to buy Nintendo.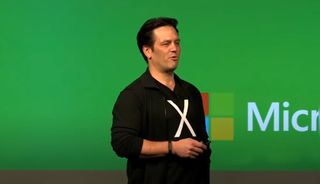 (Image credit: Microsoft)
What you need to know
Microsoft had hopes of purchasing Nintendo and may still want to buy the gaming company.
A leaked email from Microsoft Gaming CEO Phil Spencer called "THE prime asset for us in Gaming."
The long-term strategy mentioned in the email suggests Microsoft is likely still interested in purchasing Nintendo.
Microsoft's last attempt approaching Nintendo for purchase didn't exactly go well, but that occurred over 20 years ago.
---
Massive Xbox leak
- Xbox Series X refresh details leak
- Microsoft's initial thoughts on PS5
- Xbox Elite Controller Series 2 under $100
- Panos Panay leaving Microsoft
- Leak gives glimpse of the future of Xbox
Well, this certainly wasn't the news we expected to see today. As part of possibly the biggest leak in Xbox history, it has been revealed through an email from Microsoft Gaming CEO Phil Spencer back in 2020 that Microsoft is still targeting an acquisition of Nintendo.
In the email, Spencer stated that "Nintendo is THE prime asset for us in Gaming...". He continued, explaining that "gaming is our most likely path to consumer relevance."
The information comes from Tom Warren on X (formerly Twitter) who posted several leaks today. The new Xbox Series X refresh coming next year is only one of the stories that dropped today.
Spencer talked about how Microsoft is the only US-company that has a chance of acquiring Nintendo and that numerous conversations have taken place with them about having tighter collaboration.
We have seen these efforts earlier than 2020 with Xbox and Nintendo working together to push cross-platform play. Not to mention Xbox having its network on games like Minecraft meaning you can unlock Xbox achievements whilst playing on your Nintendo Switch.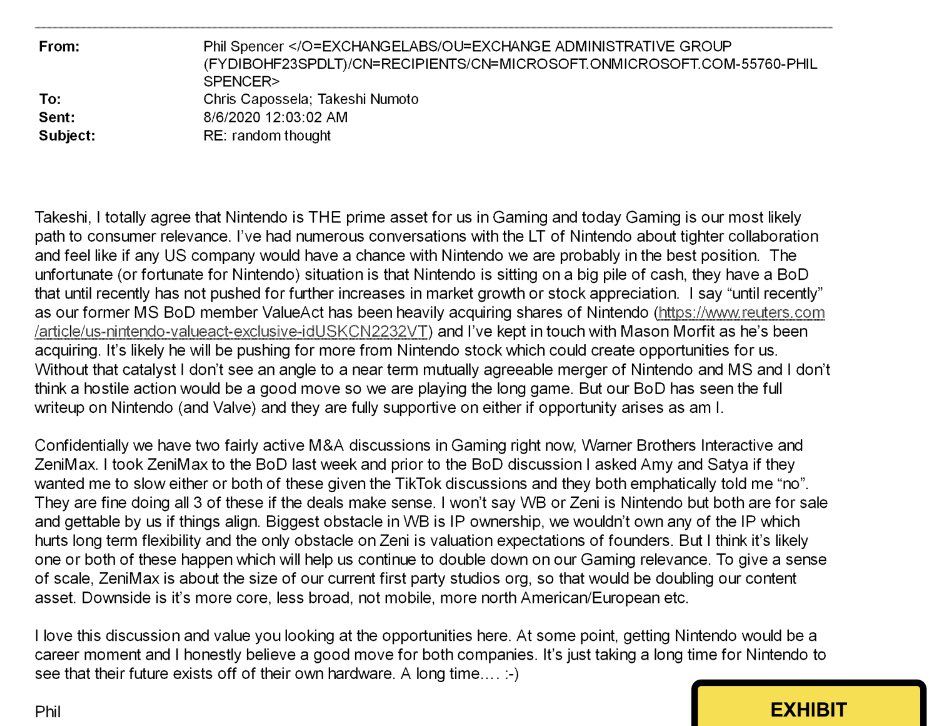 Spencer also made it clear in this email that he doesn't think a hostile takeover would be a good move and that they are playing the long game. There seems to be games at play regarding stock purchases, which he hopes will open more opportunities in the future.
Now, those of you that know your gaming history will be aware that Microsoft approached Nintendo for purchase before they made the first Xbox. This was back in 2000 and Microsoft was "laughed out of the room". It's safe to say a lot has happened since then, such as the two companies are certainly working together much more closely than they ever have. We'll have to see how Nintendo reacts to the news from this leak.
Get the Windows Central Newsletter
All the latest news, reviews, and guides for Windows and Xbox diehards.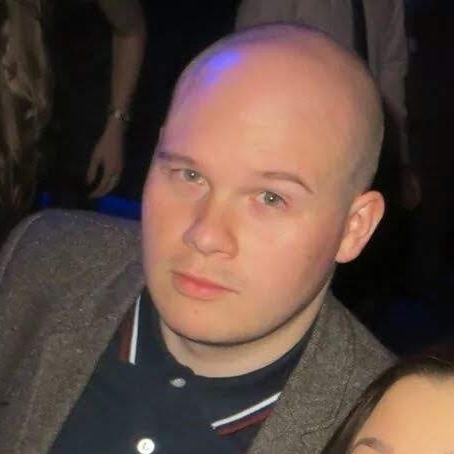 Dan is a tech contributor on Windows Central. A long time Xbox gamer and former partner on Microsoft's retired streaming platform Mixer, he can often be found crying into a cup of tea whilst thinking about Windows Phone. You can follow Dan on Twitter where you will find him talking about tech, Formula 1 and his latest victories in Battle Royale games.