New Baldur's Gate 3 hotfix patch stops your genitals from popping out
There are plenty of fixes for less important issues, too.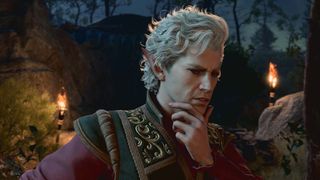 (Image credit: Larian Studios)
What you need to know
Baldur's Gate 3's second hotfix for the PC version of the game has been deployed by Larian Studios in a new update. It's available to download now.
The patch fixes nearly 300 issues, including tons of bugs with gameplay and cinematics.
Humorously, a handful of these bugs caused player nudity to occur in some unintended ways.
Additional multiplayer servers for the game have been added as well, which should make it easier to play online.
---
A few days after Baldur's Gate 3's release on Windows PC last Thursday and its first post-launch patch, developer Larian Studios has pushed a second hotfix live that resolves a number of problems players have had with the game. In total, nearly 300 crashes, progress blockers, and bugs have been fixed.
Of these, the most humorous are issues with character nudity and genitals, including a bug that caused certain types to poke through pieces of githyanki clothing and one that caused underwear worn by male gnome sorcerers to disappear. "We saw a video floating around on the internet this week of…an unintentional gnome sorcerer wardrobe malfunction, and have kindly asked them to cover up while descending into the Underdark," wrote Larian.
More Baldur's Gate 3
- Baldur's Gate 3 class tier list
- Baldur's Gate 3 races
- Baldur's Gate 3 system requirements
The update has brought some nice improvements to Baldur's Gate 3 performance and stability on PC as well, including rendering fixes for the Vulkan version of the game after minimizing it and a problem that caused the application of incorrect refresh rates if you weren't playing on fullscreen. More multiplayer servers have been added as well, making it easier and smoother to play online with other adventurers.
To see the rest of the hotfix's changes, including an extensive list of resolved crash and cinematics-related bugs, make sure to check out the section below. There, we've included the full patch notes taken directly from Larian's update post.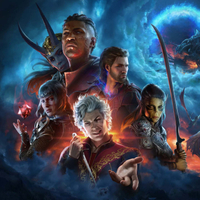 Baldur's Gate 3 | See at GOG
Enter the Forgotten Realms while playing as a customized character of your own choosing. The decisions you make determine what you encounter as you discover more and more about the stories and world around you.
Baldur's Gate 3 Hotfix #2: Patch notes
Crashes and Blockers
Fixed an issue causing you to get stuck in dialogue.
Fixed a potential crash when reloading a savegame made mid-dialogue.
Fixed being unable to enter the Shadowfell if you saved while the prompt was on screen.
Fixed a crash caused by the UI.
Fixed a potential crash when saving while standing on a surface during combat or in Turn-Based Mode.
Fixed a rare blocker when loading a savegame made in camp that would cause a party member to spawn outside of camp.
Fixed a potential crash when choosing to stop listening in on a dialogue.
Fixed a potential crash when applying dye to an item outside of the inventory or through non-conventional means, such as the Reward panel.
Fixed a potential multiplayer crash when the client touches the transponder on the nautiloid and leaves the party, and then the host tries to open Party View.
Fixed a potential crash caused by the game trying to load the Character Creation UI when you are no longer in Character Creation.
Fixed a potential crash related to the tooltips of items that grant skill advantages but don't have an owner.
Fixed a rare PhysX crash.
Fixed a rare crash related to moving items.
Multiplayer
Fixed long fade-outs when listening in on dialogues in multiplayer.
Gameplay
Penises C and D no longer clip through some githyanki clothing.
Male gnome sorcerers are no longer missing their undies.
Fixed an infinite loop that could occur with spells like Minor Illusion, where the enemy and the illusion would repeatedly enter and leave combat.
Fixed necromites not joining the combat with Ketheric.
Fixed enemies on the upper floor of Moonrise entering combat with those on the lower floor.
Fixed Voss' dragon reappearing after the githyanki scene near the Mountain Pass.
Fixed a book in Moonrise Towers showing an internal variable name instead of the correct content.
Fixed an issue preventing the boss fight with Ketheric from progressing.
UI
Removed the version number that was below the minimap.
Improved UI stability by preventing possible crashes and possible savegame corruption.

Engine
Fixed issues with rendering on Vulkan when minimising the game.
Added additional multiplayer servers and server scaling support.
Fixed an issue causing the wrong refresh rates to be applied if the game was not running in fullscreen.
Cinematics
Fixed pauses and long silences in over 200 dialogues.
Companions no longer block the camera in some dialogs.
Fixed a camera issue where you see the back of Gale's head when he asks you to place your hand over his chest.
Fixed a pop on Shadowheart when she hears the voice of Shar.
Fixed Gale's paddle hands in one of his dialogues.
Fixed Guex looking at the floor in his dialogue in the Emerald Grove.
Fixed a blocked camera in the dialogue with Benryn at Waukeen's Rest.
Fixed clipping and other issues in the scene where you hear the voice of the Absolute when approaching the Goblin Camp.
Fixed a camera issue and a pop in the dialogue with the owlbear in its cave.
Fixed players' feet sliding around in the dialogue with Jaheira after combat at Last Light.
Fixed one of Astarion's lines getting cut off in a camp dialogue.
Fixed several animation issues in the dialogue after some acquaintances of Astarion visit camp.
Fixed a pop for players using Body Type 4 in the scene with poor Liam at the Goblin Camp.
Fixed a camera issue in the dialogue with Edowin, Andrick and Brynna in the forest.
Fixed Kagha's eyes rolling backwards à la Exorcist after the goblin leaders are defeated.
Fixed a positioning issue with Lorin in the hag's lair.
Cleaned up some mocap in conversations with Astarion.
Fixed a head pop in the scene with the ogres in the Blighted Village.
Fixed Wyll's head animation in the dialogue with Florrick at Last Light.
Fixed Sceleritas Fel standing a little too close for comfort when he tells the Dark Urge to commit a certain misdeed.
Fixed a camera issue in the scene with Radija at Moonrise.
Fixed a minor pop when rescuing Zariel's asset for Mizora.
Fixed a clipping issue with a certain hag's arms and leaves in the Blushing Mermaid.
Fixed some character placement issues in an endgame scene.
Fixed a camera issue for female gnomes in a dialogue at Moonrise involving something coming through a wall.
Fixed a pop for the flesh golem when speaking to Balthazar.
Fixed a camera issue when talking to one of Therezzyn's dire wolves in Crèche Y'llek.
Fixed character placement issues in the lanceboard scene with Mol and Raphael at Last Light.
Fixed a character placement issue that caused Lae'zel to float off the edge of the nautiloid.
Fixed several issues in the dialogue with Bernard at the Arcane Tower.
Fixed a camera issue in the boat scene where you're heading to a particular pool.
Fixed a minor mocap issue with Fist Rowan at Wyrm's Crossing.
Fixed Minthara looking to the side with suspicion the night after the celebration at camp.
Fixed characters' heads popping downward when throwing a coin into the well in the Blighted Village.
Fixed a minor pop when Shadowheart tries to convince you that you need her at the Goblin Camp.
Adjusted Astarion's expression in dialogue with Gandrel in the Sunlit Wetlands.
Fixed Blurg being invisible and Astarion being stuck in the wrong animation in the Myconid Circle.
Fixed several issues in the dialogue with the monk's amulet.
Fixed several issues in the dialogue with Dammon and Karlach about her heart.
Fixed several issues in the dialogue with Fortuno Dibbs at Wyrm's Crossing.
Fixed several animation issues in the dialogue with Kansif and Warrior Vez in the Shadow-Cursed Lands.
Fixed a minor timing issue with a Dream Visitor line when talking to Therezzyn in the crèche.
Fixed issues with several voice-over lines.
Fixed characters' eyes looking in the wrong direction in the ambush scene in the Shadow-Cursed Lands if you side with the Harpers.
Cleaned up some mocap in conversations with Gale.
Cleaned up some mocap in the dialogue with Astarion about illithid powers.
Added some pained grunts for the player in a scene about Wyll in the Colony.
Added grunts in a scene for Dark Urge players after they resisted the allure of their Urges.
Drenn is no longer invisible in the scene at Moonrise when Minthara has to defend herself.
Fixed a very long pause in a dialogue with Halsin after the endgame fight.
Get the Windows Central Newsletter
All the latest news, reviews, and guides for Windows and Xbox diehards.
Brendan Lowry is a Windows Central writer and Oakland University graduate with a burning passion for video games, of which he's been an avid fan since childhood. You'll find him doing reviews, editorials, and general coverage on everything Xbox and PC. Follow him on Twitter.