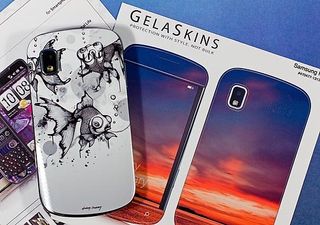 We mentioned the Gelaskins last week, liked what we saw and ordered a pair. Gelaskins are adhesive, protective skins for your Windows Phones that comes in a wide assortment of patterns. You also have the ability to order custom skins using your images.
First, the ordering experience went smooth. We ordered a stock skin and a custom skin for the Samsung Focus. Creating the custom skin was simple using Gelaskin's online wizard. The order shipped within twenty-four hours of placing it and, shipping UPS ground, the full turn around was six days. Not too shabby considering the order involved a custom skin.
The order arrived packaged with the skins in cardboard envelope that was inside another cardboard envelope. Sturdy enough to significantly reduce the chances of the skins being bent or folded in transit.
To read about the fit and feel of Gelaskins, slide on past the break.
The Skin
The skins are made of a thick but flexible plastic that helped make it easier to instal. A thinner skin would have been prone to curling or wrinkling when affixed to the phone. The thicker plastic also should give the Gelaskin a decent level of durability.
The larger, back portion of the skin was easy to align and place. The front portion of the skin, on the Focus, was divided into an upper and lower section. The challenge with aligning the lower portion was to align it with the lock screen wallpaper. The challenge with aligning the upper section was lining up the cut-outs with the Focus's front facing sensors and ear speaker.
Overall, the placement of the skins was easier than expected. Gelaskins uses a 3M adhesive that is durable enough to withstand removal for re-alignment. It took three or four attempts to get the upper section lined up correctly and the adhesive remained strong.
The matching wallpaper is emailed by Gelaskin when the order ships. You can install the wallpaper through Zune or forward the email from Gelaskin to your Windows Phone email.
Fit and feel
The skins added no noticeable thickness to the Samsung Focus. There is a texture to the skins that also adds a bit of grip to the phone.
Likely by design, the skins stop just shy of the sides of the Focus. Had they extended any further, I believe the skins would be prone to snagging on cases, pockets, and such causing the skin to peal back and weaken.
As far as protection, the Gelaskin does offer a decent amount of protection from scratches but not so much from dents and dings. The Gelaskin does excel in giving your Windows Phone a unique, customized look. Either through a stock design or your custom image, Gelaskins can make your Windows Phone better reflect your style and tastes.
Overall Impression
From the selection of designs to the ability to use your own images to the delivery turnaround to the quality of the product, Gelaskins is impressive. After using the skin for the past few days, I'm not seeing any signs of wear or frayed edges with the stickers.
The skins won't protect your phone as well as a hard shell case but combined with a pouch or a belt case, you shouldn't have an issue.
The key attraction to Gelaskins will be the appearance or "pop" they give your Windows Phone. They allow your phone to better reflect your personality. While Gelaskins do offer some protection and they look good on your phone, they don't add any noticeable thickness to the phone.
Gelaskins will run you $14.95 a set and from time to time, Gelaskins does run specials to reduce the cost. You can check out all the styles at the Gelaskin website. If your wanting your Windows Phone to stand out, Gelaskins is worth looking into.
Windows Central Newsletter
Get the best of Windows Central in in your inbox, every day!
George is the Reviews Editor at Windows Central, concentrating on Windows 10 PC and Mobile apps. He's been a supporter of the platform since the days of Windows CE and uses his current Windows 10 Mobile phone daily to keep up with life and enjoy a game during down time.
I just don't think I could give up my Speck case on my HD7 for this, though it does look amazing. Thanks for the review.

Good review, George. Gelaskins are perfect for those with black slab phones (i.e. Samsungs, HTC's, etc.) as it adds 'life' to the look of those devices, as well as personality, as you put it. But it's a good alternative for those who just want to change it up a bit.I really love the designs that they have and that they have selections for several device manufacturers. If my blue N8 EVER gets any cosmetic damages (which I will do everything in my power ensure that there are none) I will definitely get a Gelaskin to cover them up.BTW, they are having a 20% off sale now through Sunday, in case anyone is interested.

just ordered me some! and yes they're on sale now!!

How easy are they to remove. Don't they leave behind sticky goo? I may order two.

You've got to be careful in removing them (to re-position) to avoid curly or crimping the edge where you lift from. I didn't notice any sticky goo left behind but keep in mind, I only removed the stickers to re-position. I've got a pattern I like better on the way so give me a day or so and I'll know if long term use creates the goo. My guess is no.

DecalGirl skins are very good as well. Easy to apply and very easy to remove. They also come with a matching wallpaper.http://www.decalgirl.com/category.view/Skins-For-Cellphones-and-PDAs

Well the designs are too simple. I have seen some quality art at gelaskins :)

No Gelskin love for us Arrive owners. But for those phones without keyboards, these would look great.

Just removed my Gelaskin from the Focus. There was no adhesive residue at all. One word of caution in removing the back sticker, be careful that you don't stretch the plastic. I'm storing the Gelaskin on the wax card it shipped on and hopefully I can re-use them. Hated removing them but I've got a hard shell case I need to review. Once the review is done, I'll see if they will stick back on without difficulty.

It's been a while since you posted, but I thought I'd alleviate some concerns. The base material that the print itself is on, is called 3M IJ-180-C v1. It's the same material that sign shops use to completely cover vehicles. Though this fact means nothing to the average consumer, this stuff is manufactured to be cleanly removable for 5 years when it's outdoors and constantly subjected to UV light. The adhesive itself is made to be removable and repositionable should you put it down incorrectly. The vinyl is also made so that if it wrinkles or stretches, from you folding it over or removing it, you can simply heat it up to get it to go back to it's original "flat" shape. Where I work, we show off to customers by crumpling extra graphics into a ball and then flattening them back out, showing no wrinkles, by just pulling the ball apart and heating it up. A hair dryer will work sufficiently and has a low likelihood of burning the edges like an open flame would. I'm not sure what kind of overlaminate they are using and it might contort into weird shapes if you heat it up too much. So be careful. Overall, the stuff is known for it's near magical properties and it makes small stickers near impossible to mess up, once you line them up correctly.

GelaSkins have great designs and they look slick on your phone. There is a $50 giveaway on LuxeAusterity's web today!

Great review! Im on the fence with Gelaskins. I find that some of their designs are absolutely fantastic. Really good pieces of art but I also find they are expensive and don't provide much protection. I notice as well on some designs they leave gaps on the device so the skin doesn't easily peel off meaning that area can be easily scrathced. Its great that they can be used with screen protectors and cases though. See my Gelaskins review.
Windows Central Newsletter
Thank you for signing up to Windows Central. You will receive a verification email shortly.
There was a problem. Please refresh the page and try again.