Get prepped for driving in the EU with AA Theory Test for Windows Phone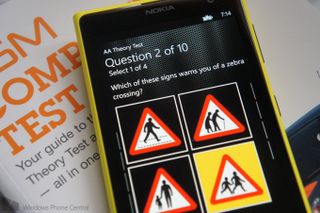 Driving provides freedom to millions of people across the UK (as well as beyond the borders), but learning to drive can be a stressful and/or tedious experience. There are numerous resources available for you to build up knowledge and prepare for examination, and now the AA (Automobile Association) has launched an app for Windows Phone to help you pass your theory test.
If you're not aware what the theory test is or haven't yet started driving lessons in the UK (or Europe), it's a section of the examination process that's required before taking the final practical exam. The actual test itself is made up of two parts - questions and hazard perception. AA Theory for Windows Phone helps you out with the former part of the test, providing official Driving Standards Agency (DSA) questions in an exam-like situation.
The cool thing about AA Theory is there's not simply a sample of questions, but also the option to view all questions, sorted by category.
So what are the main features of the official AA Theory app? You can choose in increments of 10 the amount of questions you wish to practice on - perfect if you're in a hurry and can only do a handful. Because the app sports the official questions, you'll also be prepared for whatever you'll face in the theory test, lifting a weight of your mind. If you happen to get a question or two wrong, you'll have a quick explanation of that correct answer.
When you're ready, test mode is available to mimic an actual test with 50 minutes to answer 50 questions. After you've completed the questions, a percentage score will be displayed, alerting you as to whether or not you've done well enough to pass. Strongest and weakest scored categories will be shown to help you focus on revision in certain areas.
The UI is well laid out and while following the Modern UI, AA has worked its own design into the app. The best part about AA Theory is you'll be able to practice the questions and more while on the move - no need to carry around a 500 page book.
You can download AA Theory from the Windows Phone Store for £1.99.
Rich Edmonds is Senior Editor of PC hardware at Windows Central, covering everything related to PC components and NAS. He's been involved in technology for more than a decade and knows a thing or two about the magic inside a PC chassis. You can follow him over on Twitter at @RichEdmonds.
This test is valid for any European Union country, since the driving codes of all member-States have been standardized. Now if only those darn Brits would start driving on the right side of the road...lol :P

Or the rest of EU on the left.

This is like USA people calling themselves Americans. The rest of the world will definitely agree that you are driving on the wrong side of the road... Lol

What would you suggest we call ourselves? And btw, the whole world calls us Americans too... I live in Spain and everyone calls me "americano," not "estadounidense." There is no proper word in English like "estadounidense" in Spanish. There are suggested alternatives, but nothing popular or officially accepted. And North American could refer to Canada, the US or Mexico. I've never known someone from Ecuador, Colombia or Argentina to refer to themselves as "American". It is always specific to their actual country of origin. So I'm not exactly sure what the issue is. Rant complete. Gracias. :-)

You mean the rest of the World. Sure. Why not? lol

That might be true but it can only be a subset. I'm sure some European countries have additional rules only applicable to their country. One example is traffic lights. They work slightly different in Germany and France (at least it used to be like that). Also some countries have more specialized parking traffic signs.

The main traffic rules are the same to every country. Then countries have, of course, certain liberties with respect to some rules. For example, the top speed isn't the same in every country. In freeways in Portugal your top allowed speed is 120km/h, in France it's 130km/h, and in Germany they don't have speed limits.
As for traffic lights, not really. I've been to Germany and France in the recent past and they worked the same way. There are some traffic lights, however, that do open the yellow light before turning green too, to indicate that the light will change soon. But those don't seem to be neither common nor standard in any country. Parking organization is outside the scope of the law. You have the signs that are common to everybody (those are in the European law) and then you can have additional signs for further organization (for example, in Germany they have a very rigidly organized parking system with extra signs, while such thing doesn't exist in France.)

My problem with this app is the imperial vs. metric units, and I think it won't be something you can change in the settings.

Ah just on the right time :)

The AA theory app, learn how to be a safe drunk driver..?

I thought this was a joke when I read the screenshot. Please tell me what a zebra crossing is? I'm use to zebras being in the zoo or on the field during some sort of sports match.

....a crossing with black and white stripes in the road....
Windows Central Newsletter
Thank you for signing up to Windows Central. You will receive a verification email shortly.
There was a problem. Please refresh the page and try again.