Get your tweets on with ceTwit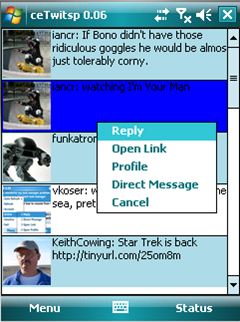 We've previously discussed Tiny Twitter (opens in new tab), a stand-alone Twitter client for WIndows Mobile pro and standard, and Twit Today, a today screen plug-in for touchscreen devices.
Now we bring you Kosertech's ceTwit (opens in new tab). Version 2.0 of the popular microblogging app recently was released, and here's what you get:
Timeline display (merged and filtered)
Account storage
Status Updates
Direct Messages
Click to reply
Automated Refresh
Smartphone support
Avatars in timeline
Local caching of avatars
Squeezer support
Relative Timestamps
Follow/Unfollow
Twitpic support
ping.fm support
timeline updates while device is sleeping
audible/vibrate alerts
retweet
favorite
delete
Also offered from Kosertech is ceSnipURL (opens in new tab), which makes long Web site addresses Twit-friendly right from your phone - a very handy feature.
To download the cab files directly to your phone: ceSnipURL, ceTwit 2.0 for touchscreen devices, and ceTwit 2.0 for non-touchscreen devices.
You can follow ceTwit's developer here (opens in new tab), and be sure to follow our feed, www.twitter.com/wmexperts.
Windows Central Newsletter
Get the best of Windows Central in your inbox, every day!
I've been splitting my time between ceTwit and PockeTwit of late.