getgeeked is coming to San Francisco and Windows Central is a partner!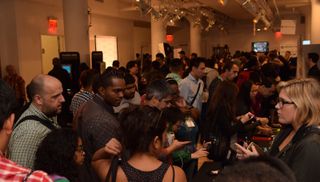 In case you haven't heard, getgeeked is coming to San Francisco on June 11th and here at Windows Central we are absolutely thrilled to be the lead media partner for their first West Coast event! So thrilled in fact, that we've teamed up with them to give away a simplicam home surveillance camera and a Logitech Keys-To-Go keyboard to kick things off. More on that giveaway coming later. For now, let's talk about getgeeked and the upcoming event!
Just what is getgeeked? Well, it's a new event series that Barry Myers, the guy behind gdgt Live and DigitalLife, launched last fall in New York. He's been doing this sort of thing for a while now so he really knows how to create a great experience for everyone involved. With the launch of getgeeked, he's just doing it now as the founder of his own company.
What makes getgeeked unique? Well, for starters, the event includes both a 2.5 hour press preview and a 2.5 hour showcase for tech enthusiasts so it's sort of one big party for geeks. It's also free to attend (conference sessions included), offers folks lots of chances to win gear, and, of course, involves great swag. There's even an online Shopping Zone at the show where sponsors are offering discounts on their products. All that plus, Windows Central is a partner!
The San Francisco sponsor lineup includes some big brands, including the aforementioned Lenovo, as well as HP, Logitech, Western Digital, and Slingbox alongside some really cool startups like MakerBloks, Plex, Moov, Korner, Dash Robotics, and others. If you're in the area, you'll definitely want to attend this incredible event.
Interested in attending either as a consumer or a member of the press? We know you are! Head over and RSVP now at the link below!
Get the Windows Central Newsletter
All the latest news, reviews, and guides for Windows and Xbox diehards.