Watch why Gibbets 2 for Windows Phone is not the typical hangman game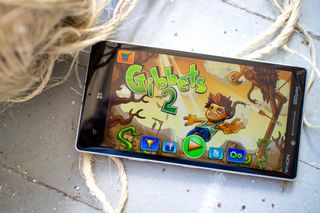 There are people hanging by their necks and it's up to your archery skills to free them before they die. The idea behind Gibbets 2 is a little disturbing, but playing the game is surprisingly fun. It has been available on iOS and Android for a while, but now Windows Phone users can start playing it too.
Want to see how it looks like? Head past the break to watch our gameplay video with the Nokia Lumia Icon.
In Gibbets 2, you use a bow and arrow to cut the ropes. To shoot, press and hold anywhere on the screen and swipe to pull back the arrow. There's an indicator on the screen that shows you where the arrow will be heading. Release your finger to shoot. It's similar to aiming with Angry Birds.
The victims have a life bar above their heads that is continuously depleting. You'll also notice that the color of their face changes as the life bar gets closer to zero. If you miss and hit the victims, their life bar goes down even more. What's a little strange is that if you hit them really hard with an arrow and they fall down, it's counted as a success. It works even if you hit them directly on the head!
You're given a limited amount of arrows per level. Completing a level with the smallest amount of arrows gives you a higher score. Watch out for bonus points inside bubbles located around the levels. Hitting those bubbles give you extra points. You can earn up to three stars per level.
There are over 50 levels available in Gibbets 2. It's a free download from the Windows Phone Store, but it has ads. We recommend removing those ads with an in-app purchase of 99 cents. Unfortunately, this initial version does not support low memory devices. Give this game a try and let us know what you think of it in the comments! We think you'll like it.
Windows Central Newsletter
Get the best of Windows Central in your inbox, every day!
But, but..... It was available for 512 ram before!I played it on my 620 on the day it was released but it was buggy and glitchy.But no lag!Idk whey they removed it for 512mb ram :/

True. I still have this game on my 520! And the reason for the discontinuation of support for low ram devices, I can think of probably is because the majority of users (512mb phones) left bad reviews in the store when the game failed to work correctly... Those reviews are still live

Good games like this should be coming with achievements. Love it.

Requires front facing camera. Why?

Why does it need so much RAM ??? Doesn't looks like a intensive graphical stimulation in this game...

Installed on my Lumia 925 but not on my new Lumia 525 backup phone.

My 525 has a gig of ram!!

Party!! :D
I'll give a try for this game.

525 doesn't have a front camera, which is what the app apparently requires.

It's made by the government to supply on people

LOL @ Marks description. "A little strange but actually very fun." lol. WPCentral, where strange is fun. lol.

The violence is games today is reprehensible. This is by far the worst example. Dead people are people too. They have feelings. Desecration of mortal remains is offensive to all but the Klingons. No. But seriously, the fictional violence on other humans is in poor taste. Demolishing aliens, robots, and other cartoonish manifestations seem to saciate my carnal component in a conciously healthier manner.

I hope you don't play COD or any other human killing gang. Posted via Windows Phone Central App

iOS and Android already have Gibbets 1, 2, 3 and 4 and we are just getting 2. it's better than nothing. not that popular anyways. Need EA mobile to bring Scrabble and King to bring Candy crush to the platform

You may play AE Jewels instead of begging KING for CandyCrush

Frozen free fall is very good in place of candy crush

Downloaded and played. Fun game.

Stupid people! This ain't a high end graphics game to require a 1GB ram to run.