Gigantic developer Motiga announces more layoffs, may impact beta test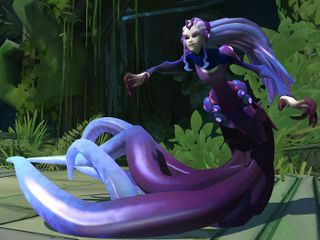 Motiga, the development studio behind upcoming Xbox One and Windows 10 title Gigantic, has hit another rough patch, announcing another round of employee layoffs. Motiga says that, while the layoffs are "temporary", they account for a "significant percentage" of the studio. Further, the layoffs may impact the currently ongoing closed beta test for Gigantic. From Motiga:
This is the second round of layoffs we've seen Motiga make in recent months, as the studio cut 25 percent of its team in early December and announced that it had delayed the launch of the title until sometime in 2016. Today's news comes just days after Motiga dropped the NDA for the ongoing Gigantic closed beta, allowing testers to speak openly about the game and stream their gameplay.
Source: Motiga (opens in new tab)
Dan Thorp-Lancaster is the Editor in Chief for Windows Central. He began working with Windows Central as a news writer in 2014 and is obsessed with tech of all sorts. You can follow Dan on Twitter @DthorpL and Instagram @heyitsdtl. Got a hot tip? Send it to daniel.thorp-lancaster@futurenet.com.
Dam, the game looks quite promising. Come MS, you seem to be in the mood for throwing money around. Throw some to these devs eh....

Ditto. They should buy Motiga and make them part of MS Studios.

The game is amazing, so I agree they should give some money and make a parnetship and sponsor their development. But they are not part of Microsoft so who knows... it was weird the way they structured people to make this game, and even with those "limitations" or oddities the game is really good. I am sure they will survive and make the game better even with these news or without Microsoft help.

Damn, hopefully this is the last.

Apparently the labor force was too Gigantic.... Does temporary have a timeline...

Wow! That was.. A really bad pun ;)

This is what happens when studios miss deadlines and go over budget. Star Citizen would be dead in the water right now without kickstarter.

Shoot! I've been loving the game! MS oughta buy them.

Such is business. This game didn't look any good to me, so I'm admittedly not missing out on anything, but layoffs always suck for those involved, as well as the cusomters of busiensses who face it.

haha oh please.... "didn't look any good to me" yeah right, and this shows how you jump and pull the trigger without EVEN TRYING IT! The game is amazing, and only because they haven't managed well their business side, it doesn't mean the game is bad or their idea is wrong. It of course needs many things as Beta game, but it's a great game, and it will be great with or without less people, if the game foundation is done, I am sure they will keep the minimun people to maintain it and make it better through the time. The game is great, anyway, so stop talking only for your eyes, if you haven't experience it. They didn't even have an Art Director so everyone had to do the job themselves in ground... and even with that weird company structure, the game looks and plays nice, and even in low hardware it's good (even if it still doesn't have low settings, high are fine enough for non powerful computers)

You understand that not everyone likes the same things right? He didn't say he hasn't played it, or watched gameplay videos or anything of the like. There's no such thing as something that everyone likes.

False
Sex, vacations, sleep, promotions
Things everyone likes ;S

Really? you've polled everyone and compiled results that supports that claim?

I mean, frankly I dislike or am disinterested in all of those things....

MS could maybe invest in them enough to do a good job with this game since it's something they've bigged up to Gigantic proportions *ahem* for a while now.

So wait.this is a microsoft excluive for xbone and windows 10. Yet MICROSOFT IS NOT ... I repeat IS NOT SAVING THEM ? BUT MAKING STUPID DEALS WITH TOMB RAIDER AND **** ? what the **** is wrong with that company. Seriously. Microsoft , get your **** together

There's going to be a lot more to it than that. Plus, if the meat and potatoes of the game is complete, there's going to be a lot of staff doing next to nothing all day. I doubt they've got anything else going on right now.

I don't know ... I really feel bad for them, but on the other hand I really don't know if they have any idea of what they are doing seeing that Gigantic is yet another MOBA. It is like just a little time ago when everyone suddenly felt the urge to develop a MMORPG, most of them going free 2 play in the first month and then offline for all ... at least there are more people playing MOBAs, I guess. Still, the competition is tough and I don't know if making games in such a saturated genre makes sense ...

Very sad to hear, i just got into the beta and am really liking it. So far it's the only MOBA I've ever liked.

Dammit, this game looked really cool. I hope it actually continues to the point of release.

And I thought the devleoper was "Gigantic". LOL.

Well I've JUST received a code for the beta... So yay!

Received a beta invite today.
Windows Central Newsletter
Get the best of Windows Central in in your inbox, every day!
Thank you for signing up to Windows Central. You will receive a verification email shortly.
There was a problem. Please refresh the page and try again.