GPS Tracking 4D - location management from your Windows Phone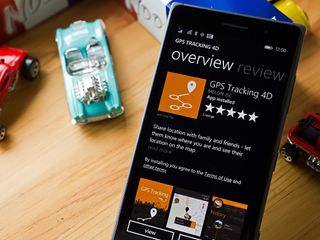 GPS Tracking 4D is a new Windows Phone app from the developers of GPS Voice Navigation and with the support of the AppCampus project. The app allows you to share your location with friends and family, as well as see their location from your Windows Phone. Much like you can do with Life360 or similar Windows Phone apps.
In just tinkering with GPS Tracking 4D for a short period, it comes across as a very appealing Windows Phone app. It can give parents a little peace of mind knowing where their children are and easy to use when you need to share your location with friends/family on where to meet up.
You will need to sign up for an account with GPS Tracking 4D (free) and in order to track friends or family, they will need the app installed on their phone and have an account as well. The developer is working on an Android and iOS version to help expand GPS Tracking 4D's coverage.
Along with locating friends or family GPS Tracking 4D will let your track routes, sync routes with friends and send your location to friends. Additional key features of GPS Tracking 4D include:
Geo-fencing with notifications that alert you when a friend/family member enters or leaves a specific location (e.g. school, movie theater, etc.)
Automatic location updates
Location history for the past month
Ping locations
Invisible mode
Live Tile support
GPS Tracking 4D is a free Windows Phone app but is limited to one pinned friend on a map, one alert and tracking your location history up to one day. You can remove these limits through a $4.99 in-app purchase.
It is an interesting app and if you have the need to manage your location or keep track of family members, GPS Tracking 4D is a Windows Phone app worth trying.
Download GPS Tracking 4D for Windows Phone (Free)
Windows Central Newsletter
Get the best of Windows Central in in your inbox, every day!
George is the Reviews Editor at Windows Central, concentrating on Windows 10 PC and Mobile apps. He's been a supporter of the platform since the days of Windows CE and uses his current Windows 10 Mobile phone daily to keep up with life and enjoy a game during down time.
Are these apps really needed by a normal user ??

Well, there can be some useful applications.

Needed? Normal user? If you have a family with kids, I think this app is self-explanatory. If you are by yourself and you don't need to track a loved one, then I mean, no. I have no idea what a "normal" user is. I know if you are reading this site about your phone, you are not normal, lol.

Hahaha
We have some abnormal 'smart'Phone users
That's new!

I think its supposed to be peace of mind...not piece?

That is very true. Very ate not normal..

How is that app you're working on for normal users progressing? I can't wait to see the Windows Central review on it.

Getting this for my little sister

Is it much better than squad watch?

I personally am very satisfied with squad watch

The alerts never work for me!

This a copy of Apple app Find My Friends. But it's ok, I like it

Without even looking it up, I can promise I know Apple didn't invent this.

You are right. Actually there are a lot of things believed as an Apple invention.

Which apps get covered by WC and which don't? Still a mystery to me :\

Effect on battery life? Is it as bad as running GPS all the time like a GPS logging app? I would use this when out in the woods on a bike ride, it's peace of mind for my spouse to know where I am, and the info has a decent probability of being helpful if I get into trouble and help needs to be sent. Even with spotty cell covereage, it's still more info than a quick "bye honey, I'm riding the canyon, see you at dinnertime".

Better than the app called track my life which doesn't work.

I'm so bored that I'm looking for comments in this boring post.

You are not alone, same here.

But this app will require the GPS to be turned ON all the time which will discharge the battery in 4 to 5 hours. Hence it is not a practical application.

Most trackers do, unless ms has changed so app can turn on and off.

No. When running as background task, GPS kicks off only every 20 mins. With life360, GPS will stay on all the time only when you are in the app. But the location sharing will continue as background task if you close it.

I would think tt cycles the GPS on/off as needed for periodic updates. It shouldn't be running the GPS constantly like a turn-by-turn navigation app would.

Does it run as a background task? It was my understanding that Life360 requires the person to open an app manually for it to send a ping of the current location? Let's say a ping every 20-30 minutes would be good enough for my purposes but it would need to be automatic.

Not anymore. Life360 runs as background task and sends a location update every 20 mins. Only remaining caveat is that the app must be opened at least once every three weeks or so, or else the background task will automatically stop. This is a Windows Phone "feature", not a bug :-)
Battery usage may vary depending on your phone. On my 920, it hits the battery significantly (around -30% over 12hrs). On my wife 925, it is negligible, like 5% or so.
"Where R U" is also a very good app in this category.

New WP app! WP is alive and well!!!!!

Looks good, but I need a cross-plateform app like Life360. Not all my familly has a WP.

Will it work across platforms do that I can track someone that will have this app for iOS using my WP app? Our after each of the platforms locked within each other?

I really wish people would stop doing things like this. It only furthers the unnecessary paranoia of many in modern society. You don't need to track your children. If you'd look at facts and figures instead of just headlines, you'll see that they're more safe than they've ever been. And if you feel the need to track a significant other like this, then you're in the wrong relationship.

Similar app already exist in native WP messaging . Just select attach and then select my location on the menu . Then sms . Nothing new here ... Sorry .

Good article. Well said, today's global tracking systems are primarily used to track routes and no doubt it already helps there. GPS tracking system in Chennai will help you to detect the location where you are and it is a required add-on for all.

This blog is really a great source of information for all. This technology is very popular today especially, the GPS tracker in chennai is very famous among people.

Very Nice article you have shared .This would be real helpful for the people who are looking for tracking services. Keep doing this work... __________________ GPS Vehicle Tracking System in Chennai

Nice technology!!! It has seen a great advancement during these past few years, especially this GPS Vehicle Tracking System in Chennai is more accessible today.

Nice!!!! GPS Technology.. Love it when these kinds of technology are available for people to take advantage of. GPS Tracker
Windows Central Newsletter
Thank you for signing up to Windows Central. You will receive a verification email shortly.
There was a problem. Please refresh the page and try again.