GT Racing 2 races onto Windows 8, RT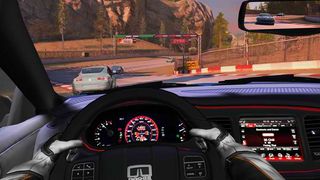 Thought GT Racing 2 delivered impressive performance on Windows Phone? Well, for gamers who like a little bit more screen real estate, the title is now available for Windows 8 and Windows RT, meaning that you can game on 8-inch tablets or even larger slates like the Surface Pro 3 for more immersive game play.
With GT Racing 2 on Windows, you can join teams and compete against friends from around the world.
The game brings 67 licensed cars from over 30 manufacturers to race on 13 different tracks. You can test your driving skills by completing 1,400 events.
Windows Central Newsletter
Get the best of Windows Central in your inbox, every day!
Chuong's passion for gadgets began with the humble PDA. Since then, he has covered a range of consumer and enterprise devices, raning from smartphones to tablets, laptops to desktops and everything in between for publications like Pocketnow, Digital Trends, Wareable, Paste Magazine, and TechRadar in the past before joining the awesome team at Windows Central. Based in the San Francisco Bay Area, when not working, he likes exploring the diverse and eclectic food scene, taking short jaunts to wine country, soaking in the sun along California's coast, consuming news, and finding new hiking trails.
My 27" XPS is having fun now

About to try it on my Venue 11.

Downloading it on my HP Elitebook Windows 8.1 :D

Doesn't work on my yoga 2 pro, gets stuck at the splash screen

Try disconnecting from the internet and then launching it. The game is a little buggy at times. My desktop is connected to the internet but the game always says that there isn't a connection. Maybe the game only counts WiFi as a connection. The Xbox controller support needs to be improved for the menus as well. Some onscreen buttons cannot be pressed with the buttons on the controller and other on screen puttons that say tap here can only be clicked with the mouse as the control stick does not move the "selection" to those buttons. Overall, an excellent port with a few controller quirks. The game was designed for touch screen enabled phones so I imagine the controlling the game with the controller will be cleaned up in future updates. I hope they fix the LAN connection bug so the game will recognize a wired internet connection.

Glad to know I'm not the only one having "internet connection" issues on my Win8 PC version of GT Racing. Was hoping it would sync with my phone/Surface through Facebook at least.

oops, it was my resolution. had to adjust it for the screen fits!

Can't wait to try this out on my SP3 when it gets here tomorrow. I played it on Android before, and despite the huge IAP push, it is still a pretty cool game. Posted via Windows Phone Central App

Hey off topic but how do I sign into the WP Central app if I used my Microsoft account to register for this site?

With your Microsoft account credentials.

that doesnt work but thanks ill keep searching for a solution

Go to your account settings and change your password first, do it on a computer.

Is the save game sync between wp8 and w8 version?

Yep it works. Just tried it

Finally a racing game with controller support!

Will try this out on my Surface 2 tonight... IF I have enough space for it! Might have to temporarily uninstall something to make room errghh

Will surely download on my W8.1 PC...

Seems like it doesn't sync between devices.

Is it just me, or did I play one level, get forced into the store to upgrade my car with no way out other than an IAP?

Thought the same thing just happened to me and chalked it up as a glitch.... Maybe not though.

I really hope this isn't the case...

Upgrade your car with money you earned from the race. If you don't have enough money, play other races that you already won, not only will it make you a better driver but you will earn coins and if you master all the turns in a race, you get 5 green bucks. You don't have to spend real money/use any IAP that needs real money. Just play the game. Earn enough money and buy a second vehicle so when you are waiting 7 minutes for an engine swap, you can drive a second car and the engine will be finished when you finish your race. Click Shop to browse for other cars. Some races reward 4,000 per race so a couple of races will build your bank account. There is strategy and time and budget management in this game. The optional IAP are for people who don't want to worry about those things.

my my laptop for coding becomes laptop for gaming.......

Same same... with me LOL!

Does not install on Surface RT Gen 1. It loaded all the way then said "unable to download app" anyone else own an RT device and get the same issue?

Downloaded and installed fine on my Surface 2 RT. You sure you had enough storage space?

Installed just fine on my Surface RT Gen 1. Been playing all evening. Does your surface have all of its updates? Sorry not much help.

Worked fine on my Surface RT, gen 1.

Will windows 8 games eventually be able to be played on the Xbox one? That would be cool. Also, do people prefer this game over Asphalt 8? They seem pretty similar and both gameloft

Asphalt 8 is more of an arcade style game and this is more like a racing sim (Gran Turismo). At least thats what i can collect.

You're right. It's more like Real Racing series... I tried both asphalt 8 and this one and found asphalt 8 better, just my opinion!

Well the first time i tried downloading it my Wifi broke because i had to re sign in. I will try for updates. Do a restart and try again. Nice to see i'm alone in this and at least i know it works on Gen 1 Surfaces haha

Yeah...2 updates haha Windows 8.1 update 1 kind of updates. lets see if that does anything!

Yes finally a proper game on the surface RT!!

Doesn't run as smooth as Asphalt. Also, there are other "proper" games as well for RT, E.g. FIFA14, Halo:SA, Asphalt 7, Asphalt 8, Guns 4 Hire, Reckless Racing, Six-Guns, Zombie HQ, ARMED!, Grand Theft Auto:SA, etc. etc.

Your purchase could not be completed Something happened and your purchase can't be completed. Error code 0x80073cf0

Here is a quick preview of what it looks like to play GT Racing 2 on a desktop PC with a Xbox 360 controller: http://m.youtube.com/watch?v=VHy2q-gQS3g

It's only this game too. I donwloaded "Elmos ABC" right after trying that and that worked just fine :(

I got 768p screen and game is a bit pixelated like It would be in lower resolution... why? Car edges are not smooth but resemble tiny stairs... Only in both games from gameloft I have such problem.

Now the only thing missing is Real Racing 3...much better physics engine and better car roster...and made by Firemonkeys :) Only gripe is the excruciating IAP system...but the game is free so can't really complain...hope EA brings it over....

Are there more cars in the PC version? My complaint was only one Nissan car.

I haven't seen signs of cross platforming between my Surface Pro and Lumia. That's a big drawback. Also, it runs much smoother in my 1020 than in the SPro. So far...

Free racing games: thanks microsoft and gameloft :)

I am experiencing no audio and crashing issue if i switch between other apps and GT Raceing 2. Can any one help me? (I am using a PC with Windows 8.1 Pro).

i doubt it will be as impressive as Asphalt 8.

It's not, I personally think that asphalt 8 has better graphics and effects.

How to eneble internal view on surface rt first gen?

There is a camera icon in the top right of the screen, tap it to change the view.

I hate in app purchases so much!!! I would rather pay 5-6$ once than to play a "free" game that constantly asks me for money to be able to play the next race. Congratulations Gameloft you destroyed great game.

You don't have to spend any real money. Just play the game, win races and earn the in game money to purchase your upgrades. Even the 5 green $ can be earned in every race by mastering each corner. The game rewards players for playing better. If you don't have $20,000 ingame cash to buy a second car, race a few races that you have already won and build up your stash. Some races reward up to $4,000 per race. Spending real money is for people who don't want to play the game much to earn the cars or for those that don't want to wait. The whole IAP is paying for Cheat Codes. Back in my day, the only time we paid for cheat codes to skip ahead or unlock stuff is when we bought the latest edition of the Tips and Tricks magazine. I buy IAP to support the developer, not because I have to. NONE OF US have to buy IAP, we can unlock things by playing. Developers know that people are increasingly impatient and developers capitalize on that fact. Impatient players can skip the time factor and unlock things or they can gain patience and play the game. Personally, I would prefer to pay $5-6 and own it and race and play at my own pace but that doesn't mean I don't understand the value of IAP for consumers that don't want to or don't have the time to earn by playing and I also understand the increased revenue options for developers. In the end, it is a free game. It is entirely up to the player to decide if you want to spend money or not.

It feels like a more serious version of asphalt (although I admit I haven't played it much). Still pretty fun. Love that driver seat view.

I have no sound ingame! anyone an idea?

Same here! And the game is buggy as heck. Xbox controller problems; crashing problems; sound problems. Gameloft can surely do better than this.

Okay, looks like I have the solution for "no sound" and "crashing problem". This problem occurs due to using a surround sound configuration with your system. Simply set your PC audio output from surround sound to stereo and this will solve the audio issue and crashing issue. Asphalt 7 for Windows 8 also had this audio problem.

Thank you for your Solution. I Have an external soundcard and it doesnt help. BUT it works if I put on my laptop-speakers ;)

Nice! Going to test it with a controler and my Surface 2 connected to a 42" screen. would love to have a nice racing game... oh man... I would LOVE to have Super Meatball on my Surface... But well...untill then all the other nice games will do it for me :)

Super smooth on my 7 year old hp desktop :)

hey i got a problem, i am using lumia 920 and after playing for a while it is not loading, when i launch game i can see ubisoft logo and then straight goes back to desktop. any suggestions?

it lags badly on my surface 2, and I cant compare the graphics with my android phone. Its much smoother there and projects much better graphics. I think that Gameloft need to work on game optimalization for win rt. At the moment im dissapointed about performance issues.

Does anyone know how to hack it with cheat engine?!?!?

I`ll have to discourage you.Since the game is online your account will be banned if caught cheating.

Do you know, this GT Racing 2 is now available free to download for windows store. View this link - http://www.cyberfreewishes.com/blog/gt-racing-2-the-real-car-experience-...

...And then Gameloft abandoned the port last year and no new updates will be made on the platform... Lucky that Windows 10 has native iOS and Android app support huh?

Can i Restore saved game from gamecenter IOS to W8 ?