Halo 5 Guide: How to create and join a Spartan Company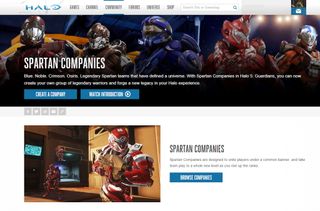 Halo 5: Guardians, the latest entry in Microsoft and 343's long-running sci-fi first-person shooter series has finally arrived on Xbox One. The new Halo features a campaign with 4-player online co-op (though sadly no split-screen) and two extensive online multiplayer modes: Arena and Warzone. The large-scale Warzone and new REQ pack unlocking system will keep competitive Halo fans busy for years to come.
You'd expect a large-scale competitive game like Halo 5 to offer clan support, and Halo 5 does just that in the form of Spartan Companies. Unfortunately, Spartan Companies aren't very well integrated into the game itself – you might not have even figured out how to create or join one. Luckily your pals at Windows Central not only have a Spartan Company, but we'll also tell you how to join or create your own.
Welcome to Halo Waypoint
Now of course, the best way to create or join a Spartan Company would be if we could just do so directly through Halo 5 itself. But sometimes games have deadlines to meet, and what should be an in-game feature ends up shoved off on some web developer. Bummer.
Still, getting into a Spartan Company just require a visit to the Halo Waypoint website. Once there, sign in with your Gamertag and then you'll be able to either Create a Spartan Company or Browse Companies.
When creating a company, you'll be able to name the company, input its motto and description, edit its emblem (using only stock emblem pieces, unfortunately), and link to its official website, Twitch channel, Twitter and Facebook pages, and more.
Next you can invite individual players by Gamertag and maybe tweet out the URL for your Company so that others can request to join. Invites must be accepted through the Halo Waypoint website, unfortunately.
A Spartan Company only becomes "active" once four or players join up, so don't bother making one if you don't have friends to invite.
Join the Windows Central Spartan Company
If you're reading this, there's no need to make your own Spartan Company. Just join ours! The Windows Central Spartan Company is already populated by several members of our writing staff and active members of our website and Twitch communities. Why not make our Company cooler with your presence?
To join, just visit the Windows Central Company homepage, sign in, and pick the Request to Join button. Spartan Companies are limited to 100 members, so only ask to join if you're an active Halo 5 player! Be sure to enter a message indicating why you'd like to join (and preferably your Windows Central and/or Twitch username) and we'll get you in.
Once our Spartan Company fills up, we'll try to clear room periodically as needed.
Benefits of Joining a Company
There are a few benefits to joining a Spartan Company, but one matters more than the others: a free REQ Pack!
After creating or joining a Company like ours, you'll receive a message in your Halo Waypoint inbox notifying you that a REQ Pack has been rewarded. If you were already playing Halo 5 when you joined, you might need to close and relaunch the game in order for the REQ Pack to appear in your inventory.
The Intermediate Supply Pack awarded for joining a Spartan Company contains three random items. One has a very high chance of being a permanent cosmetic unlock. With so many unique items to unlock through the REQ Pack system, every little bit helps.
Besides the REQ Pack, joining up also gets you access to the Spartan Company's individual Forum at the Halo Waypoint website. We have a forum there right now, so you'll be able to engage in Halo and Company-related discussions with your fellow readers.
A Spartan Company can have one leader and four Lieutenants. These officers can send messages to all members of the company, which should help with organizing group play sessions and activities. Members must enable email notifications in their profiles to actually be notified of those messages – otherwise they'll only see them when visiting the Halo Waypoint website.
Room to grow
The availability of Spartan Companies (clans) and the free REQ Pack players get from joining them is a welcome feature for Halo 5.
The problem is the feature is almost completely divorced from Halo 5. As far as I know, Spartan Companies don't integrate with the game in any way (beyond the free REQ Pack) at this time. At the bare minimum, a player's Spartan Company name and logo should appear on his or her in-game profile. And the ability to message or otherwise interact with fellow Company members within the game would be even more useful.
Hopefully, Microsoft and 343 have greater plans for Spartan Companies in the months to come. Let's hope they properly integrated the feature into the game soon, so that Spartan Companies can become the fun social experience they were meant to be.
More Halo 5 coverage
Don't miss our other big Halo 5 stories!
Get the Windows Central Newsletter
All the latest news, reviews, and guides for Windows and Xbox diehards.
Paul Acevedo is the Games Editor at Windows Central. A lifelong gamer, he has written about videogames for over 15 years and reviewed over 350 games for our site. Follow him on Twitter @PaulRAcevedo. Don't hate. Appreciate!
I miss the good old Clan days of Halo 2 where when I was getting pwned I could see what Clan they belonged to and avoid them in the future. The KSI team comes to mind, although I'm sure there were numerous other groups that gave me a spanking.

Join request sent by the way, GT is the same as my username. Hope to play with ya'll this weekend!

I got my invite on the site and just joined. Off work at 3 PM CT, then probably going to be around to play Arena (currently ranked Gold 5), if anyone in the group wants to play.

Ill be joining later today. I love free stuff.

You also need to get the game, as I recall. :)

it would be nice to have a Windows Phone app for this

The Halo channel app does have Halo 5 stats, but you can not engage in the company forum yet

I can't play everyday so I likely won't join one. But great for people who have the time.

I would join you Paul, only if I have Halo5 haha

I think we all know that Windows Central has the best Spartan Company. :)