Halo 5 Limited Edition Xbox One Controllers review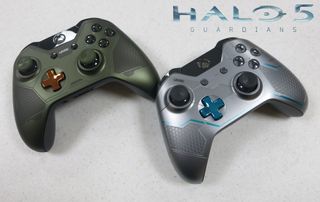 With Halo 5: Guardians launching on Xbox One, we've all got Halo fever. And sometimes the only cure for Halo fever is to buy more Halo stuff. With that in mind, Microsoft has kindly released a pair of Halo 5 Limited Edition Wireless Xbox One Controllers.
One controller is themed after Master Chief, traditional protagonist the Halo series, while the other features a design based on Halo 5's new antihero Spartan Locke. Each comes with a download code for a unique REQ Pack and Visor accessory in the main Halo 5 game. Watch us put both controllers under the microscope in our detailed review with video.
Packaging, inserts, and DLC
The Halo 5 Limited Edition controllers each come in a unique decorative box, not unlike the Titanfall Limited Edition Controller's box. The Master Chief controller box mentions the Master Chief's name, whereas the Spartan Locke controller box does not mention Locke's name. Presumably that owes to Locke being a new character in Halo 5 rather than an established one.
Master Chief appears on the front of his box, and also in profile on the rear of that box. The same profile shot shows up on Locke's box but paired with a profile of Locke as well – the ultimate stare down.
Inside each box, you get the controller, 2 standard AA batteries, a double-sided insert describing both controllers, and a DLC card. Each DLC card contains a code for a unique REQ pack that only comes with that specific controller. The REQ pack consists of five REQ cards, one of which is an Ultra Rare item.
The Master Chief controller's pack gets you the Dauntless visor, whereas the Locke controller's pack includes the Resolute visor. Visors appear on your character in Halo's Arena and Warzone competitive multiplayer modes. They're barely visible during gameplay, but they do offer a nice touch of customization when looking at the larger profile images of your character.
Master Chief Controller
The front and sides of the Master Chief controller come in a fetching textured green color based on Master Chief's Halo 5 armor. These portions feature laser-etched detail lines (meaning they are actually cut into the controller) and several areas painted dark gray.
Etched honeycomb patterns adorn the front of the handgrips – these hexagons show up on Master Chief's actual armor in Halo 5. The UNSC (United Nations Space Command) logo appears on white between the standard black View and Menu buttons. Both sides have a single red triangle pointing towards the face of the controller.
The tops of the analog sticks are dark green, matching the rest of the controller. The neck and base of the analog sticks are black though, like those of a standard Xbox One controller. The Forza 6 controller used a similar effect, but with blue tops instead of green. On both cases, the designers likely kept the black parts to make the tops stand out more.
Standing out even more than the analog sticks are the Master Chief controller's d-pad and analog triggers. The d-pad features a gold chrome finish and the triggers, while not chrome, still come in shiny gold. The Halo controllers are only the second Xbox One controllers to include colored triggers, following the Forza 6 controller.
The four primary face buttons (X, Y, A, and B) are black with green letters. The traditional colors for those buttons appear as colored triangles below and left of the buttons. That should help reduce confusion when playing games that require knowledge of the standard button colors.
The back portion of the controller is black, just like with most standard controllers (and even special ones like the Titanfall and Special Forces controllers). The battery compartment has a unique touch, though – six etched dots represent the numbers 117 (Master Chief's Spartan Tag) in Braille. This same dot pattern appears on John-117's armor in some Halo games.
The top portion of the controller comes in glossy black plastic, as with most Xbox One controllers. The glossy plastic shows smudges and fingerprints very easily; I wish Microsoft would go with matte plastic instead.
Spartan Locke controller
This controller is a bit less recognizably based on Halo, but only because Spartan Jameson Locke first appears in the recent Halo: the Master Chief Collection and Halo 5 games. The front and sides of this controller come in a sleek textured silver color based on Spartan Locke's Halo 5 armor.
The Locke controller still features plenty of laser-etched details, including a honeycomb pattern (in a different shape) on the front hand grips. Some of the laser etched portions are painted slightly darker silver, but the effect might be too subtle for some users to notice.
A dark gray UNSC logo appears above the left analog stick. A series of dots – some silver and some gray – show up between and to the right of the Menu and View buttons. The number 10282558 sits to the right of the face buttons. Rather than one of the Spartan's service numbers, the number seems to represent the date 10/28/2558. A bit obscure there, Microsoft.
The four main face buttons, View, and Menu are all gray with dark gray labels. The Locke controller is the second one to have colored View and Menu buttons, after the Forza 6 controller. Colored triangles appear directly above the face buttons – a different position than on the Master Chief controller.
The analog sticks are entirely dark gray here, making this the first Xbox One controller with no black on its analog sticks. The back of the controller and battery share the same dark gray color. No Braille designs on this battery cover. The top portion of the controller matches the rest closely, as it uses dark gray glossy plastic. All firsts for an Xbox One controller.
The d-pad here is painted chrome blue. A subtle pattern of three slashes occupies the right direction on the d-pad. How long will the chrome and slashes last under regular use? Probably not forever, but hopefully a good while. Six blue lines of metallic paint appear on the controller's face as well – Locke's armor features similar blue accents.
The analog triggers are a dark but shiny silver. They look lovely, but I'd still have preferred blue to match the d-pad. The Master Chief's controller's triggers catch the eye better.
The right side of Locke's controller has five different Halo emblems painted in dark gray. The left side has four Spartan call signs in dark gray as well: F-104, J-117, K-087, and L-058. Oddly, these are the call signs of Master Chief's Halo 5 team, not Locke's. I guess they represent a checklist of Locke's enemies or something, but Locke's call signs would have made more immediate sense.
Prepare for the showdown
Both Halo 5 controllers do a great job of capturing the looks of the characters they represent. The Locke controller comes across as more neutral, but only because Spartan Locke has yet to become an iconic character in the way that Master Chief has. These green and silver controllers are among the most beautiful to grace the Xbox One to date, especially thanks to their chrome d-pads and colored triggers.
Should you buy a Halo 5 controllers even though it costs $10 more than a standard controller's retail price? If you're a Halo fan, I say yes. You get a memorable controller, a piece of unique DLC for halo 5, and an attractive box to stick on a shelf somewhere. These controllers also feature the 3.5mm headset jacks and improved bumper buttons that debuted in June 2015, which should help justify the upgrade for anyone stuck with an older controller.
Like the Titanfall controller, the Halo 5 controllers really are limited edition. I suspect the Locke controllers will stick around retail longer than the Master Chief version, but they'll still disappear eventually. Grab one or both controllers and you'll be ready to celebrate Halo 5 in style.
Note that the Spartan Locke controller also comes with the Halo 5 Limited Edition Xbox One console, so owners of that controller won't need to purchase it separately.
Paul Acevedo is the Games Editor at Windows Central. A lifelong gamer, he has written about videogames for over 15 years and reviewed over 350 games for our site. Follow him on Twitter @PaulRAcevedo. Don't hate. Appreciate!
I've got the Master Chief one, and it's a really awesome design. Much more than just a paint job. I love it!

Bought both so I can use the Locke one while playing as Locke, and use the Chief one while playing as Chief ;) p.s. I don't care if it's sad, im happy

That, my friend, is dedication.

That's quite amazing, actually.

My only complaint is no rear grips, like the ones found in the Luna white and Forza controller. If it was present it would be a perfect controller...

Agreed. I have the Locke one (love it) but wish it had the rubber grips.

I also agree. Super happy with my MC controller, but I would've liked tho feature.

They both look cool, but I just picked up the Lunar controller myself, and I have the Elite coming in the mail tomorrow. I think I'm set for a while now on controllers. :)

Looks really cool. Did you notice if the bumper shoulder buttons are easier to click on the lunar controller? (compared to day one and standard edition) They are on the halo ones.

i7 512gb surface book, an i5 8gb surface pro 4, a new Xbox one Spartan locke...im officially broke come tomorrow....

One less tech savvy would either assume your i7 Surface Book has 512GB of RAM or that your i5 Surface Pro 4 has 8GB of internal storage.

Shit....since the white edition xbox MCC came out and all the halo fun since has left me eating ramen noodles for months. (I should probably see a doctor)

Nothing wrong with noodles

I got my elite controller in the mail and on its way and I order pre-ordered halo 5 $90 digital edition and already installed can't wait for 27

Paul your articles continue to be the highlight of this website. Well written, comprehensive, and no useless speculation or fanboying over Microsoft products. The other editors need to step it up! Posted via the Windows Central App for Android

Yeah man totally.
Posted via the Windows Central App for Android sucks balls

I like the Chief controller

I like the green/gold combination more than the silver/blue yet I like the blue way more than the gold.

It's coz it's the chief ;)

Gamespot had a trade in deal for old controllers so I picked these up for 30 bucks each. Awesome deal if it's still going on jump on it folks.

I did the same. But just for one of the new controllers.

I've got both, but you forgot something about the Locke Controller. On the right side you actually do have the Emblems for Osiris. Awesome Controllers. And an awesome Console too!

On the right side there's the ONI insignia and a couple of others I'm not sure of. I'm sure one of them is the sabre program insignia

Wow great review Paul thanks

Great reviews--what happened to your finger (there's a bandage on it in the video), Paul? My friend has the Master Chief controller. Saw it yesterday, and if it's not in very bright lighting, it's almost disappointing in how muted the green is. The Locke controller definitely stands out more and seems to have more work put into its accents (the side emblems and call signs and the center etching, specifically). The one thing I'll say I don't care for with Locke's controller is that the triggers are silver. Why the Chief controller's triggers match the gold D-Pad, but the Locke triggers didn't get that awesome blue, I don't quite understand (maybe recreating it in a matte form was too tough?). I'm going to get both to pair with my Titanfall controller eventually, just deciding on if I want to get the Halo 5 console to get the Locke controller, or if I want to stick with my current console and buy the controllers separately.

I remember the master chief controller but the other is not Spartan loch. It's the same controller you get with the halo 5 themed xbox one. Thus it is just the halo 5 themed controller for people that got the new console and want controllers that match. Or the odd person that just wants one ;) like me. I want the halo 5 themed controller.

I think officially you're right it's not specifically advertised as a Spartan Locke controller, but considering halo 5s entire advertising campaign of Locke vs Chief, hunter vs hunted, team Osiris vs blue team... It's safe to say this blue and silver controller, similar to Spartan Lockes armour and visor, is probably slightly representative of Spartan Locke. Especially in conjunction with the green and gold Chief controller.

Yes im sure. I would have expected paul to get the name right ;)

I calls it what I wants to calls it!

I haven't had much of an interest in halo before 3 and 4. So my knowledge about this brand is quite limited. Besides my poor taste in a typical controller colour or color is the standard black.

I'm all about Master Chief!!!!! But the Blue Controller would be my choice here, especially as it matches the console as well!!!! They did a great job with both controllers, not just simple paint jobs, but proper attention to detail!!!! I'm impressed!!!!

I'm going to pick up a Master Chief one this morning. It looks awesome and I can't wait for tomorrow to play Halo5.
Windows Central Newsletter
Get the best of Windows Central in in your inbox, every day!
Thank you for signing up to Windows Central. You will receive a verification email shortly.
There was a problem. Please refresh the page and try again.